Bernie Sanders Says Reconciliation 'Only Way' on $15 Minimum Wage, but Joe Manchin Is a No
Senator Bernie Sanders warned that budget reconciliation was the "only way" Democrats could pass the $15 an hour minimum wage, as Senator Joe Manchin indicated that he would only support a smaller boost for the lowest paid Americans.
Posting on social media on Sunday, the newly-appointed Senate Budget Committee chairman told Democrats that they would not find 10 Republicans to vote in favor of the $15 federal minimum wage under normal rules.
But, under the budget reconciliation process, Democrats would only need to be united on the measure to pass it into law, as they have an effective majority when Vice President Kamala Harris uses her tiebreaker vote.
"We will never get 10 votes from Senate Republicans to pass a $15 an hour minimum wage," Sanders tweeted. "The ONLY way we can do it now with 51 votes is through the reconciliation process."
Appearing on CNN's State of the Union with Jake Tapper earlier in the day, the Vermont independent said he had a "room full of lawyers" working on the $15 an hour minimum wage proposal, setting out a defense of using budget reconciliation to pass the measure.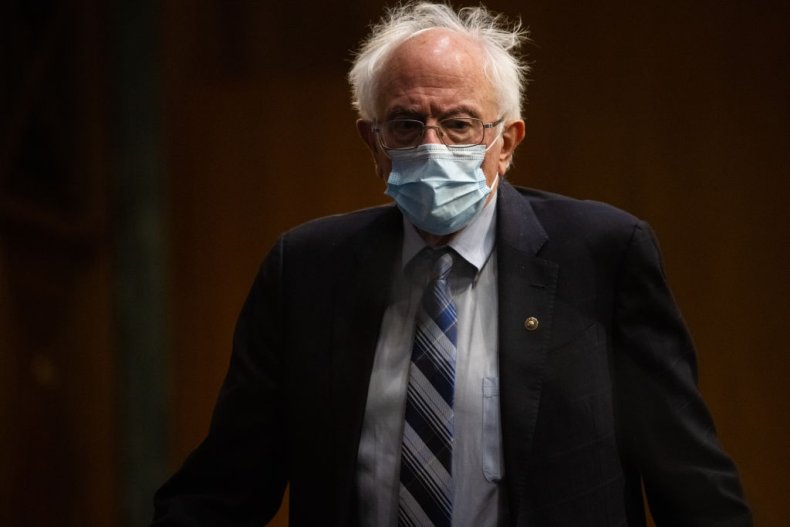 "We have a room full of lawyers working as hard as we can to make the case for the parliamentarian that, in fact, raising the minimum wage will have significant budget implications, and in fact should be consistent with reconciliation rules," Sanders told CNN.
He later added that he was working hard to find 50 votes for the minimum wage hike—meaning he is likely relying on Vice President Kamala Harris to back the measure with her tiebreaker vote, should it be the difference between a win or a loss.
Asked whether he would compromise for Manchin's vote, Sanders said the $15 an hour proposal was not a "radical" idea, and said the existing minimum wage was "not a lot of money."
"These are the debates we're going to have within the Democratic caucus, but I hope, and believe, that at the end of the day, members of the Democratic caucus understand that we do need to pass a $15 an hour minimum wage," he said.
Senate Democrats are not all united on the minimum wage issue. Senator Joe Manchin (D-WV) has publicly opposed the proposal to hike the lowest wage to $15 an hour, but would back a moderated increase.
The West Virginia Democrat told The Hill last week that he would support a "responsible and reasonable" minimum wage hike, and argued that would be somewhere around $11 an hour in his home state.
An amendment opposed to an immediate hike in the minimum wage passed a Senate vote on Thursday last week, as lawmakers in the upper chamber voted on hundreds of amendments to a resolution on budget reconciliation.
The amendment put forward by Sen. Joni Ernst (R-Iowa) was backed in a voice vote, meaning Democrats opposed to a $15 minimum wage in the short term were not forced to go on the record with their position.
Newsweek has contacted Manchin's office for comment. This article will be updated with any response.