On $15 Minimum Wage, Will Kamala Harris Overrule the Senate Parliamentarian?
The Senate parliamentarian has ruled that Democrats' proposed $15 national minimum wage increase cannot be passed as part of Democratic President Joe Biden's $1.9 trillion COVID-19 stimulus bill.
Elizabeth MacDonough is the Senate parliamentarian, a nonpartisan advisor on how the congressional chamber's rules and protocols are applied. MacDonough ruled that the policy violated the Byrd Rule—meaning it doesn't qualify for passage via budget reconciliation.
In a statement obtained by Newsweek, White House Press Secretary Jen Psaki said that Biden was "disappointed" at the decision.
"President Biden is disappointed in this outcome, as he proposed having the $15 minimum wage as part of the American Rescue Plan. He respects the parliamentarian's decision and the Senate's process. He will work with leaders in Congress to determine the best path forward because no one in this country should work full time and live in poverty," Psaki wrote.
"He urges Congress to move quickly to pass the American Rescue Plan, which includes $1400 rescue checks for most Americans, funding to get this virus under control, aid to get our schools reopened and desperately needed help for the people who have been hardest hit by this crisis," she added.
MacDonough's ruling could possibly be overruled by Vice President Kamala Harris, but it's unclear if Harris will do so. If she doesn't, Democrats will have to introduce a minimum wage hike as its own standalone Senate bill. Rulings by the parliamentarian are advisory, though the vice president can overrule the parliamentarian's advice.
It is rare for a vice president to use this authority, however. The most recent incident of a vice president overruling the Senate parliamentarian is was in 1975 when Nelson Rockefeller, vice president under President Gerald Ford, ignored then-Parliamentarian Floyd Riddick's advice about procedure to change rules governing the filibuster.
Newsweek reached out to Harris for comment.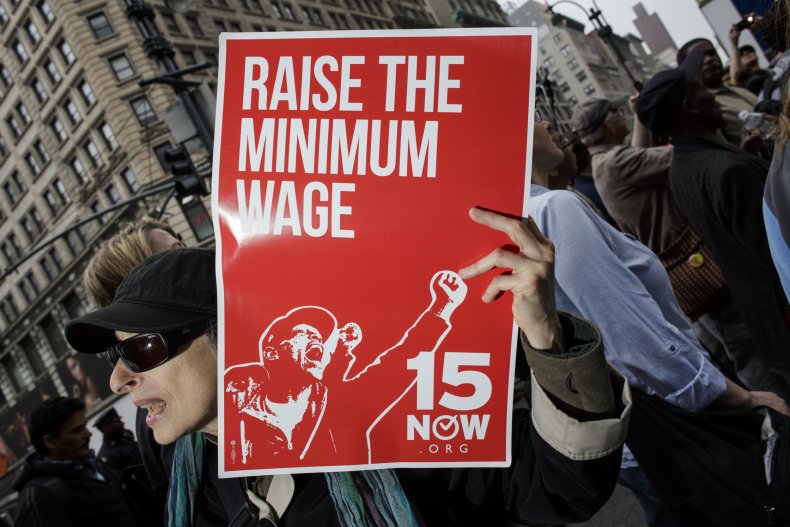 Congressional Democrats are aiming to use reconciliation to enact President Joe Biden's $1.9 trillion coronavirus relief package with or without Republican support. The legislative route would allow Democrats to avoid the 60-vote filibuster and pass legislation through a simple majority.
The main restriction to reconciliation is the so-called Byrd Rule, named after the late Senator Robert Byrd, that allows a provision to be removed if it is deemed "extraneous" to the budget. It's up to the parliamentarian to decide what is extraneous.
There has been widespread debate whether a minimum wage increase could be done through reconciliation. House Budget Committee Chairman John Yarmuth of Kentucky had deemed it a "stretch," and Republicans were strictly opposed to the idea.
Even Biden himself reportedly acknowledged to mayors and governors that the policy may not make it into the final package. According to Politico, the president said he really wanted it in there, but "it just doesn't look like we can do it because of reconciliation."
But Democrats were confident of their reasoning as to why it should be included in the final bill. House Speaker Nancy Pelosi (D-Calif.) said Thursday, just hours ahead of the parliamentarian's announcement, that they felt they had "a very, very strong argument."
The Byrd Rule doesn't apply to the House of Representatives, and the chamber is expected to vote on and advance its COVID-19 bill—which includes a minimum wage hike, $1,400 stimulus checks, expanded unemployment benefits and more—on Friday.
But Gordon Gray, the director of fiscal policy at the American Action Forum and a former staffer for GOP Senator Rob Portman of Ohio, told Newsweek ahead of Thursday's announcement if the parliamentarian ruled it out, "then I wouldn't expect to see it in the final bill."
Democratic Senators Joe Manchin of West Virginia and Kyrsten Sinema of Arizona have repeatedly expressed skepticism about including the proposal in reconciliation. Manchin told The Hill in early February that he was "supportive of basically having something that's responsible and reasonable" but not a $15 minimum wage. Sinema told Politico that " it is not a budget item" and that "it shouldn't be in there."
Democrats, who control the 50–50 Senate by the slimmest of margins, cannot afford to lose any of their members in the final vote. So far, zero Republicans have expressed total support for the $1.9 trillion package.
"Ultimately, the imperative is to pass the COVID relief," Gray said. "To the extent that the administration and the majority is talking about public support for this package, I'm going to take a big flying leap and guess that it's not contingent on minimum wage. Rather, it's $1.9 trillion in vaccines, checks and other kinds of relief. I don't think they're going to sacrifice that for a minimum wage increase."
On Monday, Republican Senators Tom Cotton of Arkansas and Mitt Romney of Utah introduced a $10 national minimum wage plan. It is called the Higher Wages for American Workers Act. The GOP plan would gradually raise the federal minimum wage from its current rate of $7.25 an hour to $10 an hour by 2025.
The plan was criticized by Democratic legislators and others for being lower than the minimum wage in Cotton's home state—$11 an hour.
Romney and Cotton's plan would only raise wages for around 3 percent of American workers, compared to 21.2 percent of workers under the Democratic proposal, according to an analysis published Wednesday by the Economic Policy Institute.