Only 3 Percent of Workers to Receive Raise Under Romney, Cotton Wage Hike: Analysis
A little over 3 percent of workers would receive a wage hike by 2025 under the federal minimum wage increase proposal put forward by Republican Senators Mitt Romney of Utah and Tom Cotton of Arkansas, a new analysis shows.
Romney and Cotton released a significantly more modest federal minimum wage increase proposal on Tuesday as President Joe Biden and Democratic lawmakers push to raise the hourly wage in a phased approach to $15 by 2025. The GOP senators' plan would raise the federal minimum wage to just $10 by the same deadline, up from the current $7.25 per hour that has been in place since 2009.
To put the two proposals in perspective, assuming an individual worked 40 hours a week without any vacation for an entire year, they'd earn about $20,800 under the Romney-Cotton plan and about $31,200 under the Democratic plan. Currently, a worker being paid the federal minimum would earn just $15,080 under the same circumstances.
While both proposals would of course raise wages for millions of workers, the Democrats' Raise the Wage Act would go much further to benefit working Americans. Just 3.2 percent of workers would see additional money in their paychecks by 2025 under Romney's and Cotton's plan, compared to 21.2 percent of workers under the Democratic bill, according to an analysis published Wednesday by the Economic Policy Institute. In different terms, the Democratic plan would give a raise to 32.2 million workers and the Republican proposal would provide a wage hike to just 4.9 million workers.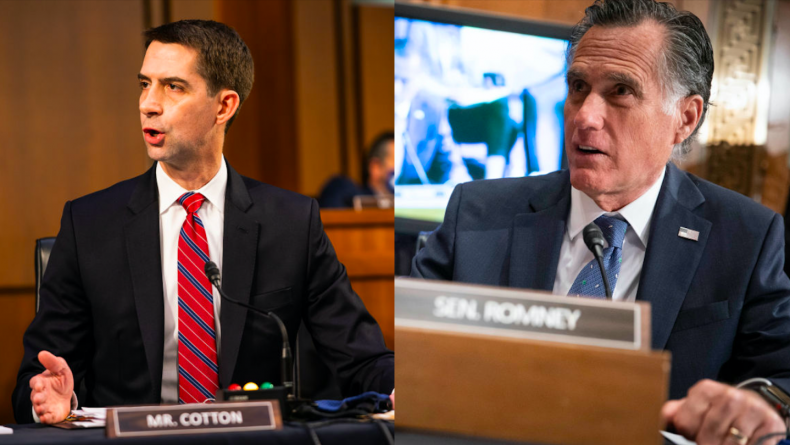 "Romney-Cotton's $10 target by 2025 is the equivalent of $9.19 per hour in today's dollars, about 13 percent less than what the minimum wage was at its high-water mark in 1968," the new analysis by EPI's Ben Zipperer and Daniel Costa explained.
"It is unconscionable that we should pay the lowest-wage workers today less than what they earned five decades ago, while the economy's productivity has more than doubled over the last 50 years," the economic experts argued.
Newsweek reached out to Romney's and Cotton's press secretaries for comment but did not immediately receive a response.
When it comes to minorities, the new GOP proposal would provide a raise to over 11 million fewer Black and Hispanic workers than the Raise the Wage Act. Just 6.1 percent of Black workers and 3.9 percent of Hispanic workers would get a wage hike in comparison to 31.3 percent and 26 percent, respectively, under the Democratic plan.
Progressive Democrats are attempting to push through the $15 federal minimum wage bill as part of Biden's COVID-19 stimulus package—dubbed the American Rescue Plan. However, Biden and some moderate Democrats have suggested it may not survive the budget reconciliation process.
In order for the $1.9 trillion package to pass, it looks increasingly likely that it will require all 50 senators in the Democratic caucus to vote to approve it, as no Republican senators have endorsed the plan. Meanwhile, Democratic Senators Joe Manchin of West Virginia and Kyrsten Sinema of Arizona have expressed opposition to raising the wage to $15. Manchin has suggested he'd back an increase to $11, raising concerns about small businesses being able to afford a larger hike.
Critics of the $15 per hour minimum wage increase point to a Congressional Budget Office report from earlier this month that projected 1.4 million workers would lose their jobs if wages were raised to that level. However, the report also found that nearly 1 million workers would be lifted out of poverty. Previous analyses have shown a more negligible impact on jobs, which could come as a result of businesses being unable to afford the higher wages.