Progressive Democrats are digging in and pressing forward with their demand to include an increase of the federal minimum wage to $15 per hour in the next coronavirus relief package, despite President Joe Biden's suggestion that it can be dealt with in future legislation.
Raising the federal wage, which was last increased more than a decade ago, to $15 was a key Biden campaign promise. Progressive lawmakers and activists have long pushed for significantly increasing the base federal wage, as it has remained at just $7.25 per hour since 2009. But as Democrats have turned to the Senate's budget reconciliation process to push through Biden's $1.9 trillion relief plan, which allows them to pass the legislation without Republican support, moderates and the president have suggested a wage hike won't make the cut.
"I put it in, but I don't think it's going to survive," Biden told CBS News last week. "My guess is it will not be in [the stimulus bill]."
But progressives are pushing for the wage increase to remain, and the Congressional Progressive Caucus (CPC) has already ensured that it will be included in the House Democrats' version of the legislation.
"A $15 minimum wage would raise the pay of 27 million people across our country and lift nearly a million people out of poverty. Twenty-seven states and localities have raised the wage to $15 an hour—including my hometown of Minneapolis—and job growth and consumer spending has only grown," Representative Ilhan Omar, a Minnesota Democrat who serves as the CPC whip, told Newsweek Tuesday.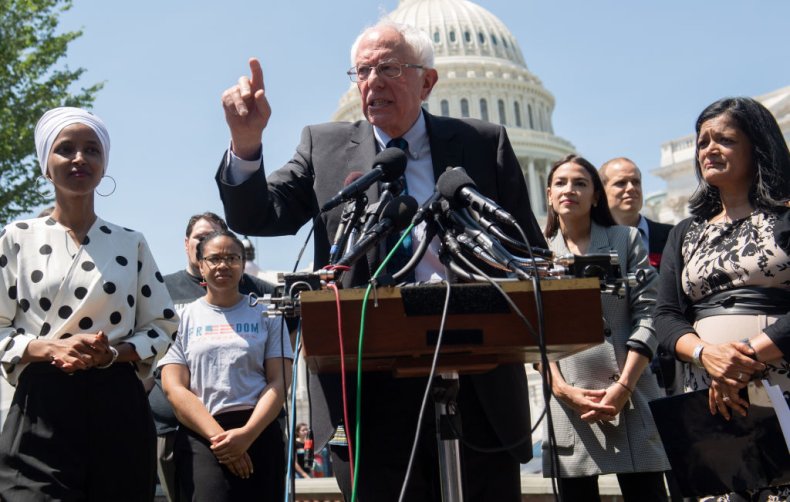 Omar pointed out that the wage increase is supported by the "overwhelming majority of Americans, including in swing states." The congresswoman said that passing the $15 per hour wage hike is "imperative," as the pandemic has "ravaged families" nationwide.
But one major hang-up to passing the wage increase could be a moderate Democrat, Senator Joe Manchin of West Virginia. While Manchin has said he supports raising the wage, he believes $15 is too high for much of the country and would harm small businesses. He's suggested he could support $11. Meanwhile, many Republicans have come out against a wage hike altogether.
Democrats can pass Biden's massive relief package through the budget reconciliation process without any Republican votes, avoiding the 60-vote threshold generally required by the Senate's legislative filibuster rule. But with an evenly split Senate, not even one Democratic senator can defect in order for the reconciliation process to succeed. As a result, Manchin's approval carries extra weight.
Representative Pramila Jayapal, a Washington Democrat who chairs the CPC, told MSNBC on Monday evening that her party needs to "fight with everything we've got" to keep the $15 minimum wage in the final package.
If the wage increase goes forward, she explained, "$330 billion in wages will flow to workers over the next 10 years, 27 million workers will get a raise, and 1 million workers will be lifted out of poverty. This is a core important issue and structural reform that will also persist past COVID, so it is one of the most important things we can do."
In a December interview with Newsweek, Jayapal stressed that the CPC would have "some real leverage and power" with its nearly 100 members and new structural reforms. The congresswoman expressed optimism that her caucus could help push Biden, once in office, further to the left.
On social media, progressives are pushing their message and demanding that the wage increase move forward—not be left for later.
"Raising the federal minimum wage to $15 would give 32 million American workers a raise. People keep asking how can we afford to do it - my question is, how can we not?" Representative Ro Khanna, a California Democrat, tweeted on Sunday.
"A country with our level of wealth should never accept poverty as an inevitability. Raising the minimum wage to $15/hour is a crucial step to building an American future where one job is enough," freshman Representative Jamaal Bowman, a New York Democrat, wrote in a Monday Twitter post.
For legislation to be passed through the budget reconciliation process, it must be shown to have a direct impact on the federal budget. Some analysts and lawmakers have argued that increasing the federal minimum wage would not meet that threshold. But Senator Bernie Sanders, a prominent Vermont progressive who chairs the Senate Budget Committee, disagrees.
On Monday, the nonpartisan Congressional Budget Office (CBO) released a report showing that the minimum wage increase would lift some 900,000 Americans out of poverty. However, it also found that the wage hike would cost about 1.4 million workers their jobs and increase the deficit by some $54 billion over a decade. Previous studies have shown significantly more positive outcomes.
Despite the negative aspects of the CBO report, Sanders pointed out that it clearly shows the wage hike would affect the budget.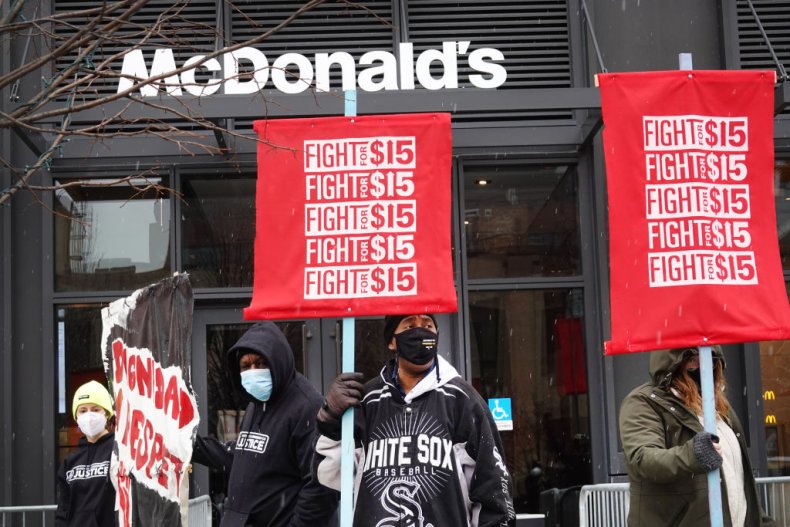 "The CBO has demonstrated that increasing the minimum wage would have a direct and substantial impact on the federal budget. What that means is that we can clearly raise the minimum wage to $15 an hour under the rules of reconciliation," the senator said in a statement. Sanders previously cautioned via Twitter on Sunday that the reconciliation process would be the "only" way Democrats could pass the wage increase, as he does not expect 10 Republican senators will back the effort in the near future.
Although there are concerns among many lawmakers about the impact the minimum wage could have on small businesses—potentially leading to significant job cuts—most economists believe that the negative impacts would be minimal. At the same time, many see the benefits as far outweighing the costs.
"The real value—corrected for inflation—of the federal minimum wage is 24 percent lower than when it was last raised in 2009. A gradual increase to $15 would be in line with other countries and is overdue," Michael Reich, a professor of economics at the University of California, Berkeley, told Newsweek. "It will have [a] beneficial effect in low-wage states, such as Alabama and West Virginia."