With Slim Democratic Majority, Progressives Aim to Leverage Power and Push Biden, Congress Left
The Progressive Caucus announced an ambitious agenda this week, with hopes of pushing the incoming administration of President-elect Joe Biden to back left-wing priorities as he takes office.
Caucus chair Representative Pramila Jayapal, a Washington Democrat, presented the agenda, which has been backed by 37 outside groups—including The Poor People's Campaign, MoveOn, Progressive Democrats of America and labor unions—along with other caucus members on Monday evening. The agenda outlines seven key priorities, which are providing COVID-19 relief while addressing the disproportionate harm to minority communities, getting Americans back to work while giving workers more power, ensuring health care for everyone, expanding voting rights while ending corruption, dismantling racism, ending endless wars and bringing an end to corporate greed and monopolies.
Although Jayapal knows that the results of the Georgia Senate runoffs will impact how progressives, and Democrats at large, are able to proceed next year, the congresswoman told Newsweek in a Tuesday interview that she believes the priorities are achievable.
"We're just excited to have a united movement to really push the Biden administration and Congress to meet the scale of the crisis," Jayapal said.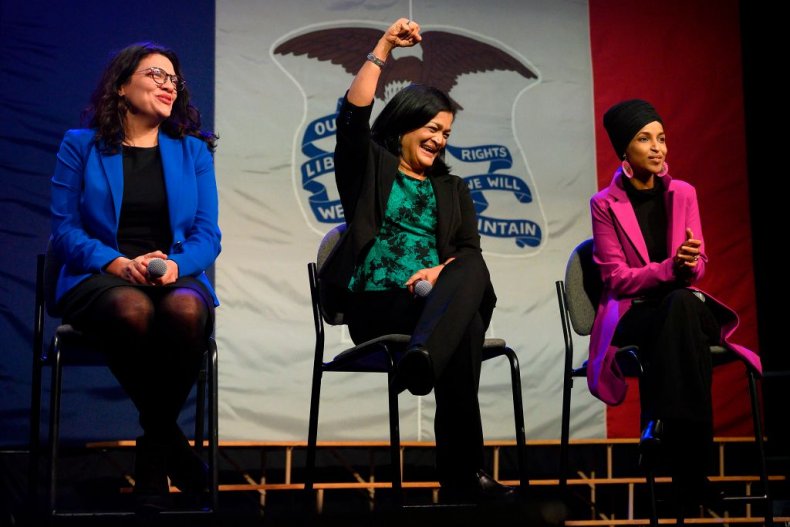 Georgia will hold Senate runoffs on January 5. The results of those two contests—between incumbent Republican Senators David Perdue and Kelly Loeffler and Democratic candidates Jon Ossof and Raphael Warnock—will determine which party narrowly controls the Senate. If both Democrats manage to win, then the Senate would be evenly split 50-50. But Vice President-elect Kamala Harris would cast the deciding decision on tied legislation, giving Democrats a slight upper hand.
"Anytime you have a very narrow majority it gives a lot of different parts of the caucus power. Progressives will have power but so will more conservative Democrats. So this will have to be a case where we are thoughtful, careful on how and when we weigh in on things and work as much as we can across the caucus as well," Jayapal said.
"I think there are going to be cases in which we will really want to clearly state our position," she said.
With 94 members in the incoming 117th Congress, the Progressive Caucus will be the largest ideological caucus within the Democratic Party. While the caucus was often urged to tow the party line and align with moderates during the administration of President Donald Trump, progressives could have more freedom to assert their priorities with a Democratic president in the White House. Recent changes to the caucus' structure were made with the goal of wielding the block's power more effectively.
"The Progressive Caucus was established a long time ago, and it was really sort of a social club almost, for members who shared ideological perspectives to come together and speak. But there wasn't a deep structure to it," Jayapal explained.
Among the significant changes, members will now be required to co-sponsor at least 70 percent of the caucus' flagship bills, such as Medicare for All or a Green New Deal. Additionally, members will be required to vote as a block at least two-thirds of the time. Instead of two co-chairs, the caucus will now be chaired by only Jayapal, which the congresswoman pointed out is the norm in other congressional caucuses. She believes the changes, particularly to the caucus' voting requirements, will give progressives "some real leverage and power."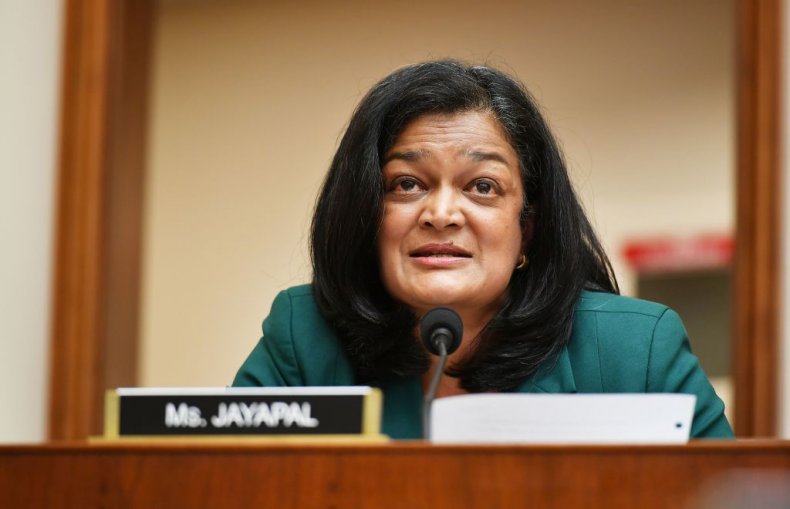 Hans Noel, an assistant professor at Georgetown University who researches political coalitions and political parties, told Newsweek that progressives will still need to work with moderate Democrats to get things done.
"It's unlikely that progressives will get anything in the next several years without the cooperation of the rest of the Democratic Party. So they want to demonstrate that they are a significant force within that party," Noel said. "Showing that they will vote as a block shows that they can negotiate as a block, which would give them influence."
Jayapal signaled that the primary goal is to work with Democratic leaders, while pushing them leftward. Although she and her caucus have been in touch with the Biden transition team, they have not yet met with the president-elect and vice president-elect. "We're still waiting for those meetings to be scheduled but we hope it'll happen within the next month," she said.
During the Democratic presidential primaries, Jayapal joined other prominent progressives—including Representatives Alexandria Ocasio-Cortez of New York, Ilhan Omar of Minnesota and Rashida Tlaib of Michigan—in endorsing former Democratic presidential hopeful Senator Bernie Sanders of Vermont over Biden. But when Sanders failed to secure the nomination, progressive lawmakers rallied behind Biden.
The president-elect has vowed to be the "most progressive president" in U.S. history. But he has also promised to work with Republicans in an effort to govern in a bipartisan manner. Some progressives have raised concerns that Biden will listen more to conservatives within his part, along with Republicans, while disregarding progressive goals.
"We have to deliver and we have to deliver bold, it cannot be incremental because the scale of the crises that we face is so enormous that the small changes are not going to help," Jayapal said.
Since the election, tensions have emerged between progressives and moderate Democrats. Although Biden won the presidency, Democrats' majority in the House of Representatives was narrowed significantly by a slate of losses. Moderates quickly blamed slogans such as "defund the police" and the "socialist" label some progressives have embraced. Progressives responded by pointing to what they described as poor online campaigning, noting that incumbents who embraced a progressive agenda easily won reelection. How those points of tension play out moving forward remain to be seen.
"I think that at the end of the day, on every issue that Joe Biden, [Speaker of the House] Nancy Pelosi and [Senate Minority Leader] Chuck Schumer have to think about is if we don't provide immediate structural changes that affect real people's lives—their livelihood—we will not be able to hold our majority in the House in 2022," Jayapal warned. "And frankly, we open up the possibility that another Trump-like person gets elected to the White House in 2024."
In an interview with The Intercept last week, Ocasio-Cortez, one of the Progressive Caucus' most high-profile members, suggested that Pelosi should be removed as speaker. However, the congresswoman added that it's unclear right now who among Democrats could fill the leader's post.
"If you create that vacuum, there are so many nefarious forces at play to fill that vacuum with something even worse," Ocasio-Cortez cautioned.
The New York congresswoman declined Newsweek's request to be interviewed for this article.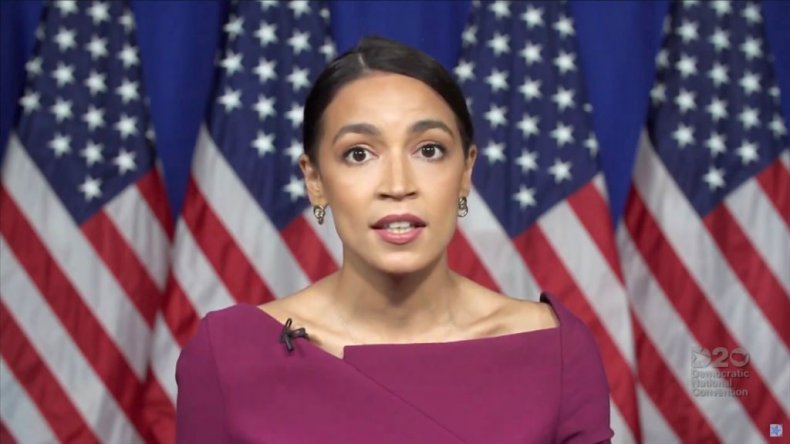 Jayapal suggested she agrees with Ocasio-Cortez's position. However, the caucus chair noted that she currently supports Pelosi to be the next speaker.
"I just think that it is always good to have new leadership and revolving leadership on a regular basis," the representative explained, pointing out that recent changes to her caucus included term limits for chairs.
"But the leadership fight that is before us right now is Speaker Pelosi versus [GOP House Minority Leader] Kevin McCarthy. And there's no question in my mind of who I'd rather have. And so I think it's about the present moment and how we deliver on relief we want," Jayapal said. "But it's also about the future of the Democratic Party, and how do we have leadership that is constantly regenerating and matching the changing needs and demographics of the country."
Noel told Newsweek that whether or not progressives succeed in pushing their agenda forward will depend a great deal on its "working relationships" with the rest of the party.
"The leadership of the parties aim to hold the party together. So it will be trying to satisfy this block, and also to satisfy the other blocks within the party," he said. "Unity helps, but so do numbers."