Labor Rights Activists Say Minimum Wage Proposals From Manchin, Romney Aren't Living Wages
The battle to increase the minimum wage for American workers continues in Congress, but labor rights activists say counteroffers from senators like Joe Manchin of West Virginia and Mitt Romney of Utah are too low to provide a decent living wage.
"What we're telling people, if we settle for less, is that rather than having a week in the month where you can't find food, we're saying you'll have three or four days in the month where you can't find food," Adam Shah, policy director at Jobs With Justice, told Newsweek.
"When the minimum wage is not close enough to the living wage, you're still dealing with families having to struggle to make ends meet and their paychecks not being enough to cover it," he said. "It's not something to be negotiated down from."
As President Joe Biden tries to push his $1.9 trillion coronavirus relief package through Congress, the inclusion of a $15 federal minimum wage hike has emerged as a contentious issue.
While the Biden administration was hoping to quickly pass the legislation without Republican support through the budget reconciliation process, opposition from fellow Democrats has thrown a wrench in the president's plans.
Democrats Manchin and Krysten Sinema of Arizona have both objected to including the $15 minimum wage, with Manchin offering an $11 compromise instead.
"$11 is the right place to be," Manchin told reporters on Monday. "Throwing $15 out there right now just makes it very difficult in rural America."
On Tuesday, GOP senators Mitt Romney of Utah and Tom Cotton of Arkansas proposed an increase to $10 per hour.
But progressives and other congressional Democrats have stood by the Raise the Wage Act 2021, which would bump up the current federal rate of $7.25 an hour—a number that has not been raised in over a decade—to $15 an hour by 2025.
Labor rights advocates argue that even the larger increase is already a concession for the working class at this point.
"The $15 minimum wage itself is a compromise," Shah said. "The $15 minimum wage started in 2012 and it hasn't been adjusted for inflation."
"Plus, the fact that the Raise the Wage Act doesn't kick in in-full for several years, it's not even a $15 minimum wage today, it's a $15 minimum wage several years from now," he said.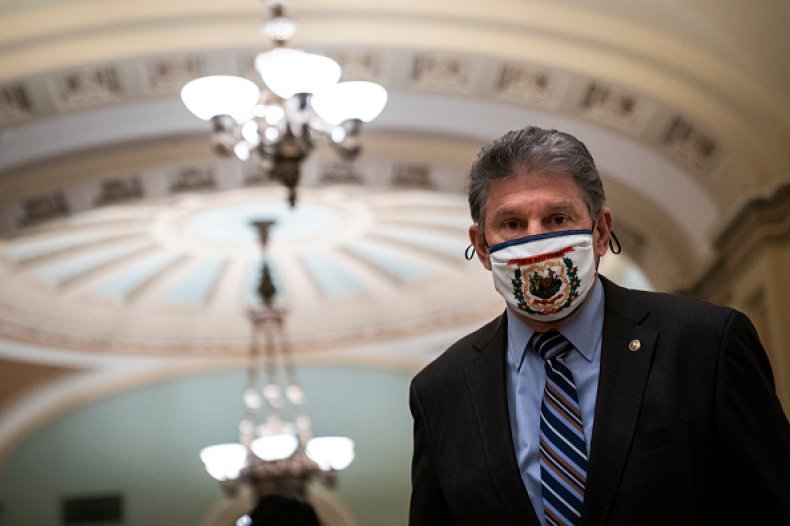 Despite the fact that inflation was almost nonexistent in 2020 due to the coronavirus pandemic and has been relatively low in recent years by historical standards, "by the time they raise the wage and $15 comes into account as the full minimum wage in 2025, $15 will be even less," Shah argued.
"We're at a point where it's not very easy to get a minimum wage increase. We can't just say, 'We'll take what we can get and fight another day,'" he continued.
Activists are being backed in the legislative chambers by progressive figures like Senator Bernie Sanders and Representative Alexandria Ocasio-Cortez, who have also vowed not to accept anything less than $15.
Sanders was quick to shut down Manchin's proposal on Tuesday, saying, "We have tens of millions of workers working for starvation wages. It is an absolute national disgrace. $15 an hour is not a radical idea." Ocasio-Cortez, for her part, called Romney and Cotton's offer "legislated poverty."
Although 29 states and Washington D.C. currently have higher minimum wages than the nationwide standard of $7.25, advocates for an increase say a hike could also benefit workers in jurisdictions like New York City and San Fransisco, where the cost of living is already much higher than elsewhere in the country.
"It doesn't just have an effect in states where it's scraping the bottom of the barrel, it has an effect everywhere, even places that have $15," Shah said. "They now are much more free to consider raising the minimum wage higher."
Daniel Graff, the director of the Higgins Labor Program at the University of Notre Dame, said a minimum wage increase is not only long overdue, but it would also be significant to states, like Graff's home of Indiana, that have not lifted wages at all.
"Indiana has not and will not raise the minimum wage," Graff told Newsweek. "So if the federal minimum wage goes up, that's going to boost those like in Indiana who have no chance through the legislative process of raising it."
He noted that even local jurisdictions in the state are prohibited from increasing the minimum wage or intervening in employment relationships at all.
"Millions of Americans live in that kind of scenario, so the federal government raising it would make it possible for many, like in my state, who just have no way to do it otherwise," Graff said.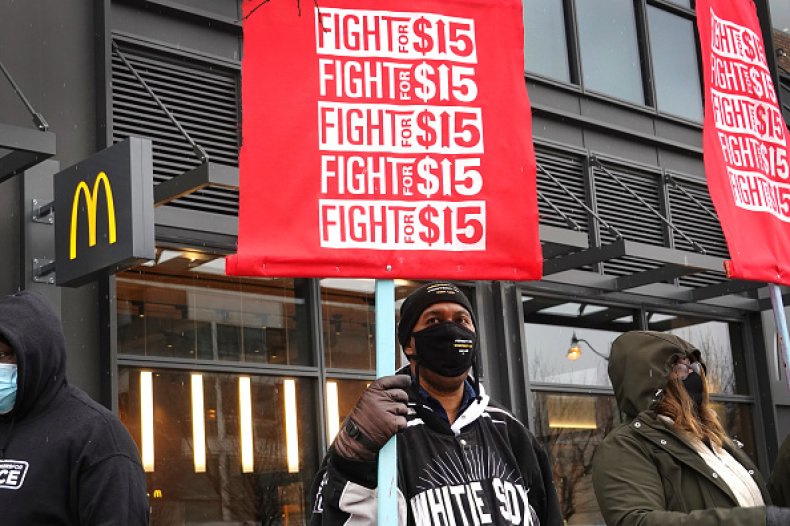 Shah said the increase would also be incredibly powerful for marginalized communities, who disproportionally work minimum wage jobs, and tip workers, whose employers are required to pay them only $2.13 per hour under the Fair Labor Standards Act.
"Minimum wage workers are particularly grouped among people of color, women and other disadvantaged groups because of societal discrimination," he said. "Societal discrimination always comes out in economic effects, so it would have the greatest impact on women, Black people and other people of color."
"It also would have an effect on places where state governments have been hostile to workers, particularly states in the South," he continued. "They have a state minimum wage and just rely on federal regulators to enforce minimum wage laws. You can see the effects of places that have the lowest unionization, that have the most oppression of workers, are also the states that are least interested in making sure people have access to a living wage."
Shah noted that these areas are often those that have the highest percentage of the nation's Black workers.
"The Raise the Wage Act includes a $15 minimum wage for everyone, including tip workers," he said. "[It] would really have a large effect on tip workers who are paid a sub-minimum wage, slightly over $2 an hour and supposed to make the rest up in tips, but many of them rarely do so."
"To even scrape by, they have to deal with sexual harassment and other types of harassment in order to make sure to get tips. [A minimum wage increase] would have a profound effect on their lives," Shah added.
Graff argues that a minimum wage bump should be indexed to inflation so that increases don't rely on an act of Congress every time workers demand a living wage as costs fluctuate overtime.
He and his colleagues at the Just Wage Initiative, where Graff is a co-director, have attempted to create a framework that seeks to define a "just wage" beyond an hourly amount, taking into consideration the quality of work, rest periods and access to vacation or sick days.
Shah said it is critical for lawmakers to understand the importance of providing minimum wage workers enough to get by, especially as part of a COVID-19 stimulus package that should aim to help those who have been dealt the biggest blow from the health crisis.
"We've learned a lot about the category of essential workers since the beginning of this pandemic, especially during the lockdowns, when people who were defined as essential workers were exempted from the lockdowns and required to work," he said. "At the same time, we saw ads from companies, many who pay their workers minimum wage, thanking their essential workers.
"Essential workers have been the hardest hit by the pandemic and, despite million-dollar ad campaigns thanking them, are also the most oppressed by big corporations and their CEOs," Shah added. "We've seen not only ads, but also speeches from politicians thanking them and noting that they are the backbone of our economy and of our society in general. Now it's time to actually pay the bill that's due for all of the risk and unemployment that they've had over the last year."