$15 Minimum Wage Won't Be a Reality for Most Americans Until 2025, Even if It Passes
Democrats may be poised to pass a plan to increase the federal minimum wage to $15 per hour; however, the immediate impact on Americans' paychecks would be much smaller, and it'd be four years before most of the country reaches the $15 threshold.
President Joe Biden's $1.9 trillion package includes a plan to gradually increase the federal minimum wage, starting with an increase to $9.50 in 2021. States are required to meet the federal minimums, meaning its passage would bring the entire country to $15 in 2025, but employees across five states could reach the threshold sooner.
Eight states and the District of Columbia have passed $15 minimum wage plans of their own. Eligible D.C. employees already make $15 per hour and California, Connecticut and Massachusetts will make the increase in 2023. New Jersey's minimum wage will increase to $15 in 2024 for most employers, followed by employers with fewer than six employees in 2026.
Florida and Virginia were expected to reach $15 in 2026, a timeline that would be sped up with the passage of Biden's relief package. New York also approved a $15 minimum wage plan, but it's unclear if the whole state will reach the benchmark before 2025.
In 2016, Governor Andrew Cuomo signed legislation enacting a statewide plan with rates differing based on regions and industries. Employees in New York City already have a $15 minimum wage, and in the Long Island and Westchester regions employees are expected to see the boost at the end of the year. The rest of the state is at $12.50 an hour, and with annual increases of $0.70, New York is on track to have a state-wide $15 minimum wage on December 31, 2024.
Newsweek reached out to the state's Department of Labor for confirmation of the timeline but did not receive a response in time for publication.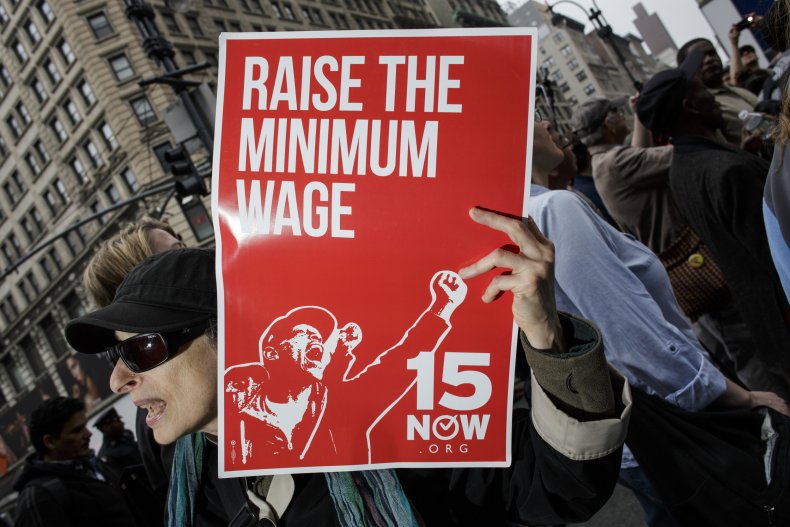 As Biden's package stands now, the initial minimum wage increase will begin on the first day of the third month following its enactment, making June the soonest it could take effect.
Employees statewide in Illinois and those working at eligible Maryland companies with more than 15 employees will see paychecks increase to $15 per hour in January. That's at least five months sooner than the national $15 minimum would take effect.
Under the American Rescue Plan Act of 2021, minimum wage hourly rates will increase to $11 in 2022, $12.50 in 2023, $14 in 2024 and $15 in 2025. The immediate increase to $9.50 would impact employees in 25 states, where the minimum wage is lower than the proposed increase.
Republicans have pushed back on Biden's package, balking at the size and scope of the measures. However, Democrats may not need Republican support to move forward. Through a process known as reconciliation, Democrats may be able to pass the package with a simple majority, which they have in both chambers.
It remains to be seen if a $15 minimum wage measure could pass under the Byrd rule, which allows senators to block provisions deemed extraneous to the purpose of implementing changes to the budget. During an interview with CBS Evening News With Norah O'Donnell, Biden said he didn't think the provision would "survive" the Senate rules but said he was prepared to engage in a separate negotiation on minimum wage.
Senator Bernie Sanders, chair of the Senate Budget Committee, has a more optimistic outlook, though. In a statement, he said he was "confident" raising the minimum wage "permissible" under the reconciliation rules, as it has a greater impact on the federal budget than other measures that were deemed to have not violated the Byrd rule.