Joe Biden's $15 Federal Minimum Wage Pledge Makes Businesses Nervous
Increasing the federal minimum wage to $15 an hour is a big obstacle for President Joe Biden's $1.9 trillion coronavirus relief bill to overcome. Elizabeth Scott says such a rise would be a big obstacle for her Alabama business.
Savage's Bakery has been a key part of life in Homewood, Birmingham, since 1939. Scott's father took it over in 1978 and she grew up in the business.
Overseeing between 20 and 30 staff, she worries what might happen if the Raise the Wage Act 2021, which is part of the Biden Administration's COVID package being haggled over by lawmakers, comes into force.
"We would have to make some tough decisions," she told Newsweek. "It is not something that would close us down, but it would force us to consider cutting back from six days to five days a week."
Congress has not raised the federal minimum wage, currently, $7.25, since 2009. Although 29 states and Washington D.C. have higher rates, the Biden Administration says setting a $15 an hour minimum rate by 2025 is essential to narrowing America's inequality. Its opponents say it will kill jobs.
Caught in between are businesses reeling from the coronavirus shutdowns and question marks over whether a one-size-fits-all policy can work in a country where the cost of living differs markedly according to your state zipcode.
"We can't charge the high prices that New York bakeries can or Washington D.C. because it is a different playing field here," Scott said.
"We can't absorb the costs labor-wise, we have to pass that on and the consumer in our market is only going to bear so much.
"The challenge is that if you enforce something that you are already doing willingly, it increases our costs overall because we are bringing in folks with no experience at a rate of pay equal to that of those who have worked for us for 20 years."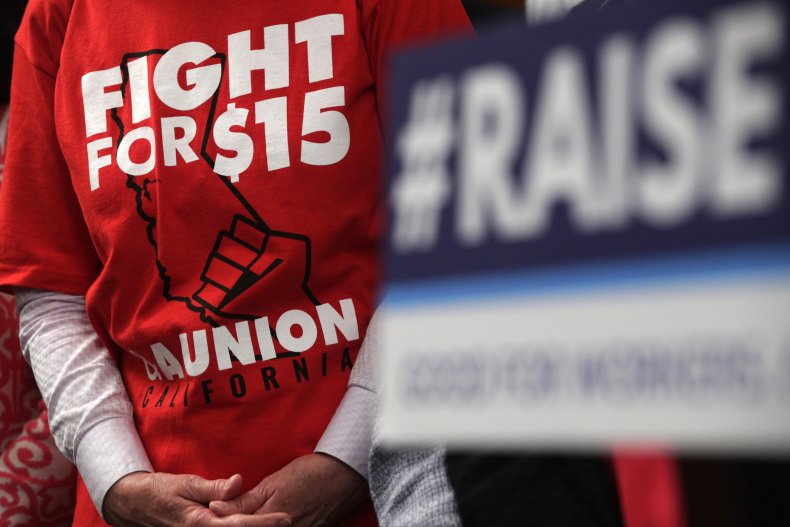 Many of her staff are paid hourly rather than on a salary and if demand requires it, she believes they should be rewarded for overtime. However, she fears a higher minimum wage would force her to cut back on overtime, and put her off hiring people without any experience.
"We would have to cut back on some of the products and that is not what you want to do. You don't want to cut away at the meat of some of your business just to be able to adhere to a law that doesn't benefit us in any way."
More than 2,500 miles away by road, in Seattle, a seven-year goal to raise the hourly minimum wage to $15 an hour was finally reached last month.
Approved by Seattle City Council in 2014, the hourly wage went up gradually each year to hit $16.69 per hour for employers with more than 500 staff.
It is $15 an hour for those with fewer than 500, if they pay $1.69 per hour towards medical benefits, or the worker earns $1.69 per hour in tips.
"The feeling here is that Seattle is an expensive city and that people should be paid a fairer wage and $15 an hour here is tough to get by on," Mark Rosen, acting president and CEO of the Greater Seattle Business Association (GSBA), told Newsweek.
"It is sort of the philosophy of economic equity of rising tides float all boats and don't we want everyone to have a more of a liveable wage? The societal impact of a higher minimum wage is well documented but it's good for everyone. So far, it has not yielded the breakdown of all society.
"We haven't seen some of those things come to fruition, like price compression where people are worried that an increase in the minimum wage would lead to all prices rising—that has not borne out to be true."
However, opponents of the minimum wage hike leaped on the findings of a report this month by the Congressional Budget Office (CBO), the government's budget scorekeeper.
It concluded that raising the federal hourly minimum wage to $15 would mean more income in the pockets of 17 million Americans by 2025—but it comes at a cost.
It predicted a budget deficit increase of $54 billion over the next 10 years due in part to higher government costs through unemployment insurance and health care spending.
Most significantly, it said there would be 1.4 million fewer jobs by 2025.
It also found that worker pay would be boosted by $333 billion over the next decade and there would be 900,000 fewer people in poverty by 2025.
"If the intent is to put a big dent in poverty, that is a relatively small number," said David Gulley, professor of economics at Bentley University, Massachusetts.
"A disproportionate impact of the increase will be seen in the South and among young and low skilled workers in many parts of the country. Smaller businesses would also be more hard hit than larger businesses."
He says that many of those affected are not poor, such as students who work part-time. Also if someone lives where there are few job opportunities, a minimum wage increase won't help them much.
The higher wages might spur fast food companies to automate production processes to reduce those needed per shift. Plus, an employer will expect more qualifications and higher productivity, crowding out younger and unskilled workers.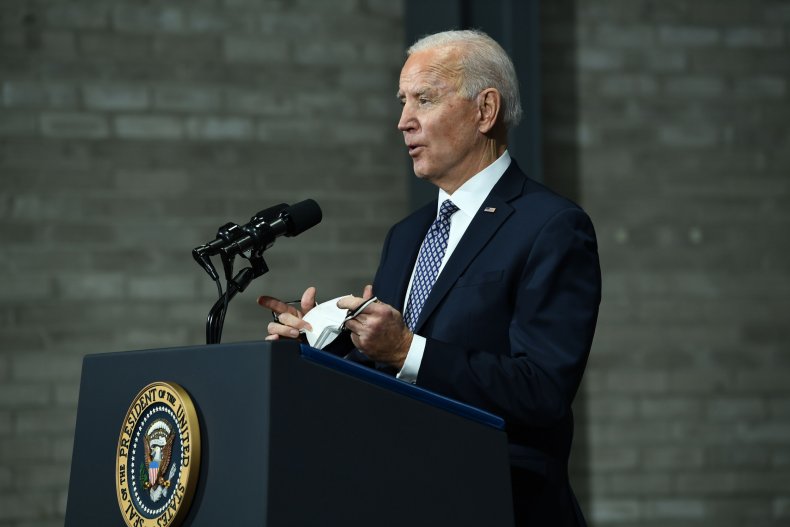 "Employers will figure out how to make do with fewer low skilled workers if they are more expensive," he said, "It's also possible that the overall economy will be much stronger in 2025, when the full $15 per hour takes effect.
"If so, then it won't be so binding to employers who may be competing for all workers—this actually might also be an argument in support of the wage hike. But, if this scenario unfolds, then the impact of the $15 wage won't be very large."
Progressives and some economists have pushed back on the CBO analysis that higher wages can only come at a cost of a higher deficit and fewer jobs. A report this month by the Economic Policy Institute (EPI) said that higher wages would in fact save the government money on major public assistance programs and increase tax revenues.
The graphic below provided by Statista lists the minimum wage state by state.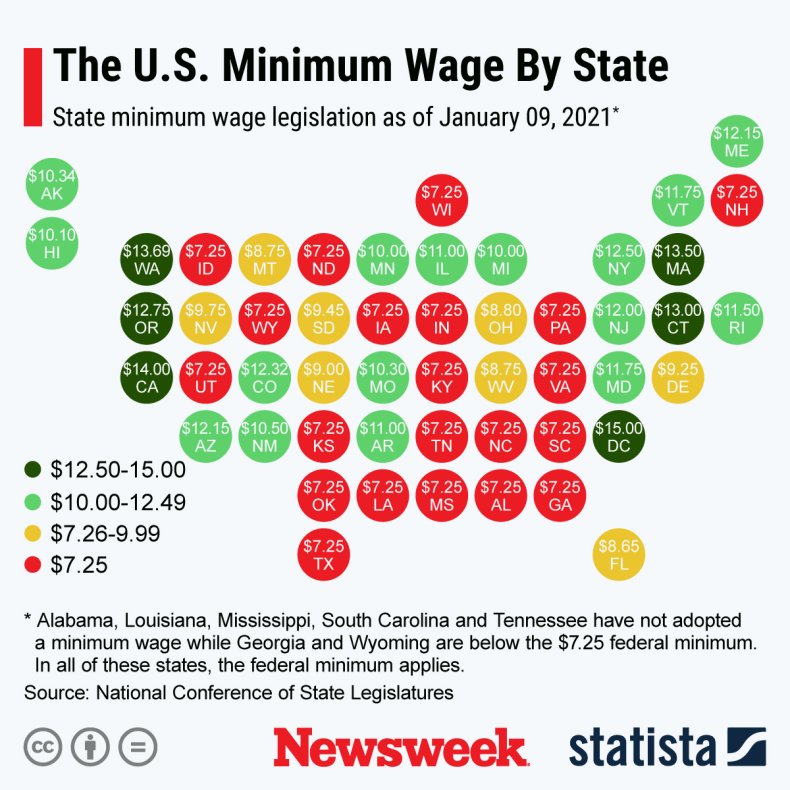 Bobby Williams opened his first Lizard's Thicket restaurant in Columbia, South Carolina in 1977. The chain he is CEO of comprises 14 branches throughout the state and has around 550 employees, down from around 700 pre-COVID.
South Carolina also has a $7.25 minimum wage, but Williams says virtually nobody pays that rate because if they did, they would get no applicants. In an industry reliant on tips, he is worried that staff would actually be making less money with a higher minimum wage.
"They would balk at a flat rate of $15—there is no incentive," he told Newsweek. "I think minimum wage should be set by the state not the federal government. Here in South Carolina it's gracious plenty, but in New York City that's not enough to live on."
Williams, who also chairs the South Carolina Restaurant and Lodging Association, says the businesses he represents are struggling due the pandemic. "It has been the worst economy ever. The restaurants and just hanging by a thread," he said.
"We will raise our prices but at a certain point it is not good value anymore. We have to be realistic, what I sell now for $10 would not be good value at $15 or $16 a plate. I could see us not being good value and it not being worth it for customers."
It is still uncertain whether the minimum wage hike can even be wrapped into the COVID relief package.
The Senate parliamentarian, Elizabeth MacDonough, will decide whether it can pass through via the budget reconciliation process as an item linked to spending and taxation.
Senator Bernie Sanders (I-VT), a champion of the legislation, is confident it will be allowed. That would mean only a simple Senate majority is needed, rather than the usual 60-vote majority in the upper house to get past the filibuster.
But his case that the minimum wage needs to pass urgently because coronavirus shutdowns have financially hurt Americans is also an argument against asking struggling businesses being asked to pay more when the pandemic makes them most vulnerable.
"Small businesses are looking at the past year and thousands of them have closed for good," said Molly Brogan Day, vice president of public affairs at the D.C.-based National Small Business Association (NSBA), told Newsweek.
"It's going to be a long road to recovery, things aren't going to bounce back in a year when wage increases start to kick in. It doesn't take in the nuances of a small town in Idaho versus living in New York City. I think it would be a tough sell."