15 Most Outrageous Examples of Police Misconduct in the DoJ Report on Ferguson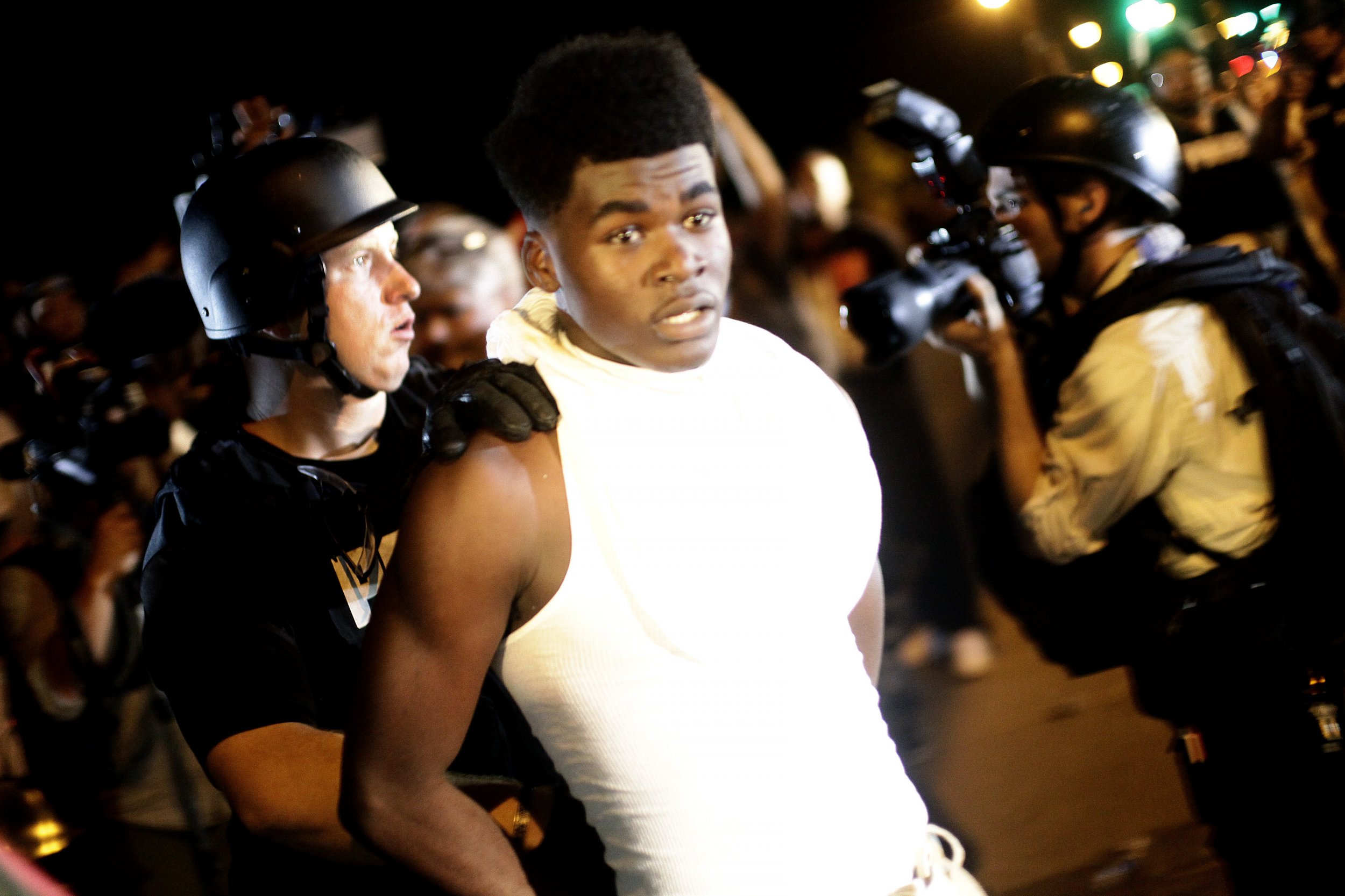 The Department of Justice today released a report of its investigation into claims of civil rights abuses by police officers in Ferguson, Missouri, where Darren Wilson, a white officer, shot and killed Michael Brown, an unarmed black 18-year old, over the summer.
The report paints a police department and municipal court system driven by revenue rather than "public safety needs" and engaged in "a pattern or practice of unlawful conduct….that violates the First, Fourth, and Fourteenth Amendments to the United States Constitution, and federal statutory law."
Here are the 15 most egregious examples of misconduct by police and court officers:
A woman's parking ticket, which began as a $151 fine (plus fees), ballooned to more than $1,000 after she failed to appear in court several times:
We spoke, for example, with an African-American woman who has a still-pending case stemming from 2007, when, on a single occasion, she parked her car illegally. She received two citations and a $151 fine, plus fees. The woman, who experienced financial difficulties and periods of homelessness over several years, was charged with seven Failure to Appear offenses for missing court dates or fine payments on her parking tickets between 2007 and 2010. For each Failure to Appear, the court issued an arrest warrant and imposed new fines and fees. From 2007 to 2014, the woman was arrested twice, spent six days in jail, and paid $550 to the court for the events stemming from this single instance of illegal parking. Court records show that she twice attempted to make partial payments of $25 and $50, but the court returned those payments, refusing to accept anything less than payment in full. One of those payments was later accepted, but only after the court's letter rejecting payment by money order was returned as undeliverable. This woman is now making regular payments on the fine. As of December 2014, over seven years later, despite initially owing a $151 fine and having already paid $550, she still owed $541.
The DoJ alleges Ferguson police frequently dispensed with justice, instead policing with the goal of generating profit for the municipality through fines and fees. For example, they enacted a "traffic enforcement initiative" with the sole stated goal of generating revenue:
In an April 2014 communication from the Finance Director to Chief Jackson and the City Manager, the Finance Director recommended immediate implementation of an "I-270 traffic enforcement initiative" in order to "begin to fill the revenue pipeline." The Finance Director's email attached a computation of the net revenues that would be generated by the initiative, which required paying five officers overtime for highway traffic enforcement for a four-hour shift. The Finance Director stated that "there is nothing to keep us from running this initiative 1,2,3,4,5,6, or even 7 days a week. Admittedly at 7 days per week[] we would see diminishing returns." Indeed, in a separate email to FPD supervisors, the Patrol Captain explained that "[t]he plan behind this [initiative] is to PRODUCE traffic tickets, not provide easy OT." There is no indication that anyone considered whether community policing and public safety would be better served by devoting five overtime officers to neighborhood policing instead of a "revenue pipeline" of highway traffic enforcement. Rather, the only downsides to the program that City officials appear to have considered are that "this initiative requires 60 to 90 [days] of lead time to turn citations into cash," and that Missouri law caps the proportion of revenue that can come from municipal fines at 30%, which limits the extent to which the program can be used. See Mo. Rev. Stat. § 302.341.2. With regard to the statewide-cap issue, the Finance Director advised: "As the RLCs [Red Light Cameras] net revenues ramp up to whatever we believe its annualized rate will be, then we can figure out how to balance the two programs to get their total revenues as close as possible to the statutory limit of 30%."
The City Council voted to keep a municipal judge after one council member said, "[the Judge] does not listen to the testimony, does not review the reports or the criminal history of defendants, and doesn't let all the pertinent witnesses testify before rendering a verdict" because " the City cannot afford to lose any efficiency in our Courts, nor experience any decrease in our Fines and Forfeitures."
The City has been aware for years of concerns about the impact its focus on revenue has had on lawful police action and the fair administration of justice in Ferguson. It has disregarded those concerns—even concerns raised from within the City government—to avoid disturbing the court's ability to optimize revenue generation. In 2012, a Ferguson City Councilmember wrote to other City officials in opposition to Judge Brockmeyer's reappointment, stating that "[the Judge] does not listen to the testimony, does not review the reports or the criminal history of defendants, and doesn't let all the pertinent witnesses testify before rendering a verdict." The Councilmember then addressed the concern that "switching judges would/could lead to loss of revenue," arguing that even if such a switch did "lead to a slight loss, I think it's more important that cases are being handled properly and fairly." The City Manager acknowledged mixed reviews of the Judge's work but urged that the Judge be reappointed, noting that "[i]t goes without saying the City cannot afford to lose any efficiency in our Courts, nor experience any decrease in our Fines and Forfeitures."
Ferguson police officers frequently fail to document arrests, the DoJ says:
In Ferguson, officers will sometimes make an arrest without writing a report or even obtaining an incident number, and hundreds of reports can pile up for months without supervisors reviewing them. Officers' uses of force frequently go unreported, and are reviewed only laxly when reviewed at all. As a result of these deficient practices, stops, arrests, and uses of force that violate the law or FPD policy are rarely detected We identified several elements to this pattern of misconduct.
FPD officers handcuffed and held a man without reasonable suspicion while looking for another man. The handcuffed man was never charged with a crime.
For example, in July 2013 police encountered an African-American man in a parking lot while on their way to arrest someone else at an apartment building. Police knew that the encountered man was not the person they had come to arrest. Nonetheless, without even reasonable suspicion, they handcuffed the man, placed him in the back of a patrol car, and ran his record. It turned out he was the intended arrestee's landlord. The landlord went on to help the police enter the person's unit to effect the arrest, but he later filed a complaint alleging racial discrimination and unlawful detention. Ignoring the central fact that they had handcuffed a man and put him in a police car despite having no reason to believe he had done anything wrong, a sergeant vigorously defended FPD's actions, characterizing the detention as "minimal" and pointing out that the car was air conditioned. Even temporary detention, however, constitutes a deprivation of liberty and must be justified under the Fourth Amendment. Whren v. United States, 517 U.S. 806, 809-10 (1996).
The DoJ claims Ferguson police officers often detain suspects without reasonable suspicion to run checks for warrants — a significant source of revenue for the municipality.
At times, the constitutional violations are even more blatant. An African-American man recounted to us an experience he had while sitting at a bus stop near Canfield Drive. According to the man, an FPD patrol car abruptly pulled up in front of him. The officer inside, a patrol lieutenant, rolled down his window and addressed the man:

Lieutenant: Get over here.

Bus Patron: Me?

Lieutenant: Get the f*** over here. Yeah, you.

Bus Patron: Why? What did I do?

The lieutenant ran the man's name for warrants. Finding none, he returned the ID and said, "get the hell out of my face." These allegations are consistent with other, independent allegations of misconduct that we heard about this particular lieutenant, and reflect the routinely disrespectful treatment many African Americans say they have come to expect from Ferguson police. That a lieutenant with supervisory responsibilities allegedly engaged in this conduct is further cause for concern.
A Ferguson police officer jailed several young African-American men for disorderly conduct after he claimed to have smelled marijuana, despite the fact that an investigation of the car did not produce marijuana or any other contraband.
As with its pattern of unconstitutional stops, FPD routinely makes arrests without probable cause. Frequently, officers arrest people for conduct that plainly does not meet the elements of the cited offense. For example, in November 2013, an officer approached five African-American young people listening to music in a car. Claiming to have smelled marijuana, the officer placed them under arrest for disorderly conduct based on their "gathering in a group for the purposes of committing illegal activity." The young people were detained and charged—some taken to jail, others delivered to their parents—despite the officer finding no marijuana, even after conducting an inventory search of the car. Similarly, in February 2012, an officer wrote an arrest notification ticket for Peace Disturbance for "loud music" coming from a car. The arrest ticket appears unlawful as the officer did not assert, and there is no other indication, that a third party was disturbed by the music—an element of the offense. See Ferguson Mun. Code § 29-82 (prohibiting certain conduct that "unreasonably and knowingly disturbs or alarms another person or persons"). Nonetheless, a supervisor approved it. These warrantless arrests violated the Fourth Amendment because they were not based on probable cause. See Virginia v. Moore, 553 U.S. 164, 173 (2008).
A Ferguson police officer arrested a man for "refusing arrest." The man had committed no other crime. He claims to have lost his job as a direct result of the arrest.
For example, in the summer of 2012, an officer detained a 32-year-old African-American man who was sitting in his car cooling off after playing basketball. The officer arguably had grounds to stop and question the man, since his windows appeared more deeply tinted than permitted under Ferguson's code. Without cause, the officer went on to accuse the man of being a pedophile, prohibit the man from using his cell phone, order the man out of his car for a pat-down despite having no reason to believe he was armed, and ask to search his car. When the man refused, citing his constitutional rights, the officer reportedly pointed a gun at his head, and arrested him. The officer charged the man with eight different counts, including making a false declaration for initially providing the short form of his first name (e.g., "Mike" instead of "Michael") and an address that, although legitimate, differed from the one on his license. The officer also charged the man both with having an expired operator's license, and with having no operator's license in possession. The man told us he lost his job as a contractor with the federal government as a result of the charges.
Ferguson police set a police dog on an unarmed, fleeing man.
In November 2013, an officer deployed a canine to bite and detain a fleeing subject even though the officer knew the suspect was unarmed. The officer deemed the subject, an African-American male who was walking down the street, suspicious because he appeared to walk away when he saw the officer. The officer stopped him and frisked him, finding no weapons. The officer then ran his name for warrants. When the man heard the dispatcher say over the police radio that he had outstanding warrants—the report does not specify whether the warrants were for failing to appear in municipal court or to pay owed fines, or something more serious—he ran. The officer followed him and released his dog, which bit the man on both arms. The officer's supervisor found the force justified because the officer released the dog "fearing that the subject was armed," even though the officer had already determined the man was unarmed.
An officer received a 30-day suspension after he was arrested for DUI and no punishment for instigating a bar fight.
We found additional examples of FPD officers behaving in public in a manner that reflects poorly on FPD and law enforcement more generally. In November 2010, an officer was arrested for DUI by an Illinois police officer who found his car crashed in a ditch off the highway. Earlier that night he and his squad mates—including his sergeant—were thrown out of a bar for bullying a customer. The officer received a thirty-day suspension for the DUI. Neither the sergeant nor any officers was disciplined for their behavior in the bar. In September 2012, an officer stood by eating a sandwich while a fight broke out at an annual street festival. After finally getting involved to break up the fight, he publically [sic] berated and cursed at his squad mates, screamed and cursed at the two female street vendors who were fighting, and pepper-sprayed officer received a written reprimand.
Ferguson police tasered a man who bit an EMT while having a diabetic seizure.
In August 2011, officers used an ECW device against a man with diabetes who bit an EMT's hand without breaking the skin. The man had been having seizures when he did not comply with officer commands.
The DoJ uncovered a trove of racist emails from city officials:
We have discovered evidence of racial bias in emails sent by Ferguson officials, all of whom are current employees, almost without exception through their official City of Ferguson email accounts, and apparently sent during work hours. These email exchanges involved several police and court supervisors, including FPD supervisors and commanders. The following emails are illustrative:

A November 2008 email stated that President Barack Obama would not be President for very long because "what black man holds a steady job for four years."
A March 2010 email mocked African Americans through speech and familial stereotypes, using a story involving child support. One line from the email read: "I be so glad that dis be my last child support payment! Month after month, year after year, all dose payments!"
An April 2011 email depicted President Barack Obama as a chimpanzee.
A May 2011 email stated: "An African-American woman in New Orleans was admitted into the hospital for a pregnancy termination. Two weeks later she received a check for $5,000. She phoned the hospital to ask who it was from. The hospital said, 'Crimestoppers.'"
A June 2011 email described a man seeking to obtain "welfare" for his dogs because they are "mixed in color, unemployed, lazy, can't speak English and have no frigging clue who their Daddies are."
An October 2011 email included a photo of a bare-chested group of dancing women, apparently in Africa, with the caption, "Michelle Obama's High School Reunion."
A December 2011 email included jokes that are based on offensive stereotypes about Muslims.

Our review of documents revealed many additional email communications that exhibited racial or ethnic bias, as well as other forms of bias. Our investigation has not revealed any indication that any officer or court clerk engaged in these communications was ever disciplined. Nor did we see a single instance in which a police or court recipient of such an email asked that the sender refrain from sending such emails, or any indication that these emails were reported as inappropriate. Instead, the emails were usually forwarded along to others.
Ferguson police arrested a man who was attempting to help his girlfriend, who had been injured in a car accident and was "bleeding profusely."
We also reviewed many instances in which FPD officers arrested individuals who sought to care for loved ones who had been hurt. In one instance from May 2014, for example, a man rushed to the scene of a car accident involving his girlfriend, who was badly injured and bleeding profusely when he arrived. He approached and tried to calm her. When officers arrived they treated him rudely, according to the man, telling him to move away from his girlfriend, which he did not want to do. They then immediately proceeded to handcuff and arrest him, which, officers assert, he resisted. EMS and other officers were not on the scene during this arrest, so the accident victim remained unattended, bleeding from her injuries, while officers were arresting the boyfriend. Officers charged the man with five municipal code violations (Resisting Arrest, Disorderly Conduct, Assault on an Officer, Obstructing Government Operations, and Failure to Comply) and had his vehicle towed and impounded.
The DoJ alleges Ferguson police often failed to take allegations of misconduct seriously and in many cases did not even record them, contrary to clearly outlined regulations:
FPD appears to intentionally not treat allegations of misconduct as complaints even where it believes that the officer in fact committed the misconduct. In one incident, for example, a supervisor wrote an email directly to an officer about a complaint the Police Chief had received about an officer speeding through the park in a neighboring town. The supervisor informed the officer that the Chief tracked the car number given by the complainant back to the officer, but assured the officer that the supervisor's email was "[j]ust for your information. No need to reply and there is no record of this other than this email." In another instance referenced above, the district manager of a retail store called a commander to tell him that he had a video recording that showed an FPD officer pull up to the store at about midnight while two employees were taking out the trash, take out his weapon, and put it on top of a concrete wall, pointed at the two employees. When the employees said they were just taking out the trash and asked the officer if he needed them to take off their coats so that he could see their uniforms, the officer told the employees that he knew they were employees and that if he had not known "I would have put you on the ground." The commander related in an email to the sergeant and lieutenant that "there is no reason to doubt the Gen. Manager because he said he watched the video and he clearly saw a weapon—maybe the sidearm or the taser." Nonetheless, despite noting that "we don't need cowboy" and the "major concern" of the officer taking his weapon out of his holster and placing it on a wall, the commander concluded, "[n]othing for you to do with this other than make a mental note and for you to be on the lookout for that kind of behavior."
Ferguson police officers who lied to investigators were not reprimanded in many cases:
Our investigation raised concerns in particular about how FPD responds to untruthfulness by officers. In many departments, a finding of untruthfulness pursuant to internal investigation results in an officer's termination because the officer's credibility on police reports and in providing testimony is subsequently subject to challenge. In FPD, untruthfulness appears not even to always result in a formal investigation, and even where sustained, has little effect. In one case we reviewed, FPD sustained a charge of untruthfulness against an officer after he was found to have lied to the investigator about whether he had engaged in an argument with a civilian over the loudspeaker of his police vehicle. FPD imposed only a 12-hour suspension on the officer. In addition, FPD appears not to have taken the officer's untruthfulness into sufficient account inseveral subsequent complaints, including in at least one case in which the complainant alleged conduct very similar to that alleged in the case in which FPD found the officer untruthful. Nor, as discussed above, has FPD or the City disclosed this information to defendants challenging charges brought by the officer. In another case a supervisor was sustained for false testimony during an internal affairs investigation and was given a written reprimand. In another case in which an officer was clearly untruthful, FPD did not sustain the charge in another jurisdiction was assigned to monitor an intersection in that city because an FPD-marked vehicle allegedly had repeatedly been running the stop sign at that intersection. While at that intersection, and while receiving a complaint from a person about the FPD vehicle, the officer saw that very vehicle "dr[iving] through the stop sign without tapping a brake," according to a sergeant with the other jurisdiction. When asked to respond to these allegations, the officer wrote, unequivocally, "I assure you I don't run stop signs." It is clear from the investigative file that FPD found that he did, in fact, run stop signs, as the officer was given counseling. Nonetheless, the officer received a counseling memo that made no mention of the officer's written denial of the misconduct observed by another law enforcement officer. This officer continues to write reports regarding significant uses of force, several of which our investigation found questionable.
You can read the report in its entirety below:
Ferguson Police Department Report