Ferguson Police, Courts Violated Minorities' Civil Rights, Justice Department Says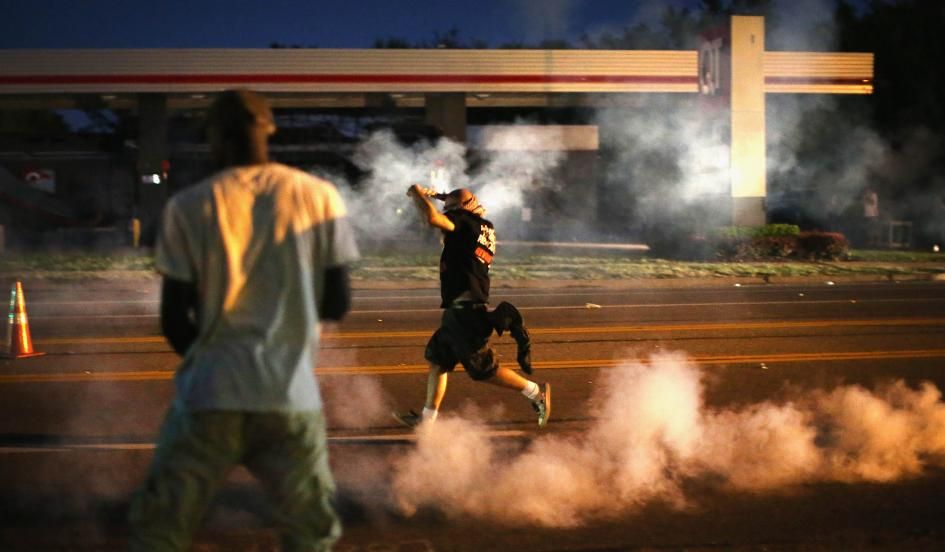 Ferguson, Missouri's Police Department and municipal courts routinely discriminated against African-Americans, burdening them with excessive use of force, jail terms, traffic stops and fines—and evidence suggests department leadership perpetuated a culture of "explicit racial bias," a just-released U.S. Department of Justice (DOJ) civil rights investigation charges.
"As detailed in our report, this investigation found a community that was deeply polarized, and where deep distrust and hostility often characterized interactions between police and area residents," Attorney General Eric Holder said in a statement. "Our investigation showed that Ferguson police officers routinely violate the Fourth Amendment in stopping people without reasonable suspicion, arresting them without probable cause and using unreasonable force against them."
Holder demanded the probe after the August 9 shooting death of Michael Brown. Ferguson Police Officer Darren Wilson, who is white, fatally shot Brown, an unarmed, African-American teen. Brown's death came after the July 17 death of Eric Garner, another unarmed black man, on New York's Staten Island, who died after he was placed in a policeman's choke-hold. Brown's death catalyzed extensive criticism of the Ferguson Police Department and other departments in St. Louis County, including allegations of systemic racial bias. Ferguson and Staten Island grand juries later declined to indict the officers involved, spurring ongoing protests and calls for criminal justice reform.
"Ferguson's approach to law enforcement both reflects and reinforces racial bias, including stereotyping," the report said. "The harms of Ferguson's police and court practices are borne disproportionately by African-Americans, and there is evidence that this is due in part to intentional discrimination on the basis of race."
African-Americans were involved in 85 percent of vehicle stops, 90 percent of citations and 93 percent of Ferguson police arrests, although they make up only 67 percent of Ferguson's population, the DOJ, citing police statistics from 2012 to 2014, said. In addition, African-Americans are "more than twice as likely as white drivers to be searched during vehicle stops...but are found in possession of contraband 26 percent less often than white drivers."
The Ferguson Police Department also "appears to bring certain offenses almost exclusively against African-Americans." From 2011 to 2013, 95 percent of "manner of walking in roadway" charges were brought against African-Americans. The department filed 94 percent of all "failure to comply" charges against African-Americans. Some 90 percent of documented use of force cases were against African-Americans. And when it came to police dogs, in "every canine bite incident for which racial information is available, the person bitten was African-American."
The DOJ's criticism of Ferguson's municipal courts was similarly scathing. African-Americans, the DOJ notes, "are 68 percent less likely than others to have their cases dismissed by the court, and are more likely to have their cases last longer and result in more required court encounters."
In addition, African-Americans are "at least 50 percent more likely to have their cases lead to an arrest warrant, and accounted for 92 percent of cases in which an arrest warrant was issued by the Ferguson Municipal Court in 2013." When the Ferguson Police Department arrested individuals solely due to an outstanding municipal warrant, 96 percent of those arrests involved African-Americans.
"Our investigation indicates that this disproportionate burden on African Americans cannot be explained by any difference in the rate at which people of different races violate the law," the report stated. "We have found substantial evidence of racial bias among police and court staff in Ferguson."
Emails swapped between police department supervisors and court staff denigrated minorities as criminals, and one correspondence "joked about an abortion by an African-American woman being a means of crime control," the DOJ said.
City officials dismiss allegations of racial bias in Ferguson's law enforcement, and "frequently" claim that racial disparities in arrests exist because "certain segments" of the city lack "personal responsibility," the report said.
Investigators also found a November 2008 email that said, "President Barack Obama would not be President for very long because 'what black man holds a steady job for four years.'" A May 2011 email read: "An African-American woman in New Orleans was admitted into the hospital for a pregnancy termination. Two weeks later she received a check for $5,000. She phoned the hospital to ask who it was from. The hospital said, 'Crimestoppers.'"
Later, a June 2011 email cited by the DOJ joked about a man seeking "welfare" for his dogs because they are "mixed in color, unemployed, lazy, can't speak English and have no frigging clue who their Daddies are." In October of that year, an email "included a photo of a bare-chested group of dancing women, apparently in Africa, with the caption 'Michelle Obama's High School Reunion,'" the DOJ said.
And these emails came from the top of the department, according to the DOJ.
The DOJ's report includes recommendations for fixing the department. They focus on policing and court policies "so that they are based on public safety instead of revenue." The DOJ calls for improved training and oversight and reduction of racial bias. In addition, the DOJ is demanding that Ferguson end its "overreliance on arrest warrants as a means of collecting fines."
The DOJ said it will work with Ferguson officials and community members to reform the police department and court.
A spokesman for Ferguson told Newsweek that officials will hold a press conference and release a statement on the report later today.
The DOJ's findings coincide with independent investigations of Ferguson's criminal justice system. ArchCity Defenders, a legal aid practice representing poor defendants, released a paper August 14 that found similar disparities between Ferguson's treatment of whites and minorities. The paper said that much of the racial tension in Ferguson stemmed from traffic-ticketing practices.
African-Americans weren't just taking to the streets because they'd experienced the "driving while black" phenomenon. Clients of ArchCity complained that traffic prosecution propelled them into poverty—because they couldn't pay tickets, they wound up in jail, prompting job and housing losses. In February, ArchCity and Equal Justice Under Law filed two federal class-action lawsuits against Ferguson and nearby Jennings, claiming these practices constituted illegal, modern-day debtors' prisons.
"What we're seeing here is small towns using their police and courts to generate revenue through fines and fees,"ArchCity's executive director, Thomas B. Harvey, said in a statement.
Before the ArchCity report, St. Louis County Police Sergeant Daniel O'Neil filed a lawsuit against the county, alleging racial bias in policing practices and retribution for whistle-blowing.
"This system makes people poor and keeps people poor, and it mostly impacts the communities of color," Harvey said.