15 Percent of Mississippi's K-12 Students Quarantined Due to Positive COVID Tests, Exposures
About 15 percent of Mississippi's entire K-12 student body has been quarantined due to possible COVID-19 exposure.
About 65,525 of Mississippi's 443,000-person student body has been forced into quarantine since classes began this year, according to data from the Mississippi State Department of Health (MSDH).
In August alone, 11,766 students have contracted COVID-19. By this point last year, only 533 students had contracted COVID-19, Mississippi Free Press reported. During last year's fall semester, a total of 7,212 students contracted COVID-19.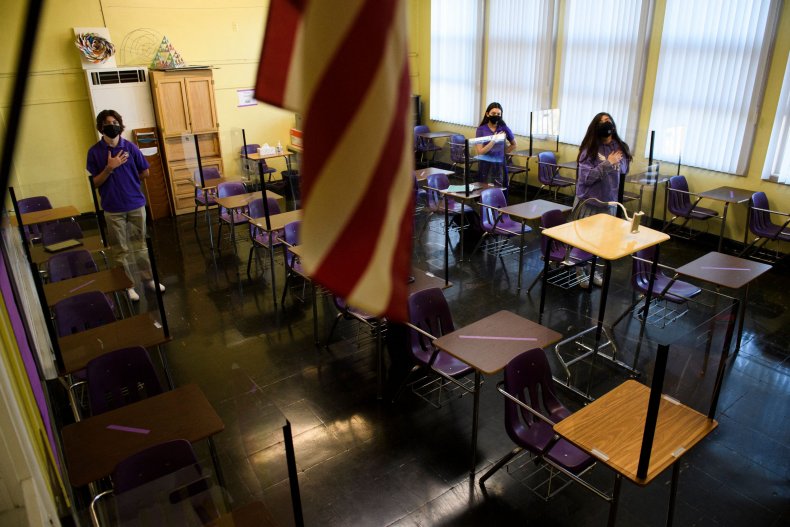 Additionally, 8 percent of all K-12 faculty and staff in the state have been quarantined since the start of the fall semester. The percentage represents 5,540 school employees. About 2,383 faculty and staff members have tested positive for COVID-19 this school year. By this point last year, only 364 had tested positive. The total number of COVID-19 cases during the previous fall semester was 3,928.
The figures above neither account for statewide private schools nor for schools in seven of the state's 75 counties, the MSDH said.
Students and teachers who have been possibly exposed to COVID-19 undergo a mandatory 10-day isolation period. As a result of exposures and outbreaks, dozens of schools across the state have temporarily suspended in-person learning and moved to all-virtual classes, the Free Press reported.
"I don't think that you can necessarily make the leap from those individuals testing positive to the transmission occurring in schools," Republican Mississippi Governor Tate Reeves said in a Tuesday press conference. "Some of it most likely occurred in schools, some of it most likely occurred in the community, and so I think it's important that we make sure we don't jump to irresponsible conclusions without having the data to verify that."
The Mississippi Association of Educators has called on Reeves to issue a statewide mask mandate for schools, but state health and education officials haven't yet issued any such requirements, USA Today reported. Reeves hasn't issued one, citing individual freedom and responsibility. While school districts can mandate masks, many have made it optional.
Intensive care units inside of Mississippi's hospitals are at 94 percent capacity due to COVID-19, according to data from the U.S. Department of Health and Human Services. As a result, some COVID-19 patients and others seeking treatment for other reasons risk being turned away.
Mississippi has one of the lowest vaccination rates in the country. The state's 37 percent vaccination rate makes it the second least-vaccinated state in the United States.
Starting on July 26, Mississippi began reporting more COVID-19 cases than it ever had at any other point of the ongoing pandemic. As of August 24, the state has a seven-day average of 3,291 cases a day.
As of August 24, Mississippi ranks 24th among U.S. states with the highest number of overall COVID-19 deaths. The state ranks 30th among U.S. states with the highest number of overall COVID-19 cases.
Newsweek contacted the Mississippi Department of Education for comment.