These 6 States' ICUs Are Over 90 Percent Full as Delta Surges
The Department of Health and Human Services' (HHS) latest figures place intensive care unit (ICU) capacity of hospitals at over 90 percent in the states of Alabama, Arkansas, Florida, Georgia, Mississippi and Texas.
Numbers gathered through HHS' Protect Public Data Hub place taken ICU beds in Alabama at 100 percent, leading the nation. Florida and Mississippi face similar challenges with their ICU beds at 94 percent capacity. Similarly, Georgia and Texas each find their ICUs 93 percent full. Arkansas was the final state to crack the 90 percent mark, with its ICU at 90.4 percent capacity.
Hospitals across the nation continue to face crowding issues as the Delta variant surges across the country. Latest estimates by the CDC hold the emerging variant responsible for 93 percent of all new cases. As the variant continues to infect both vaccinated and unvaccinated people, states have started reimplementing COVID-19 precautions. However, many of the states listed have placed individual freedoms over public health interests.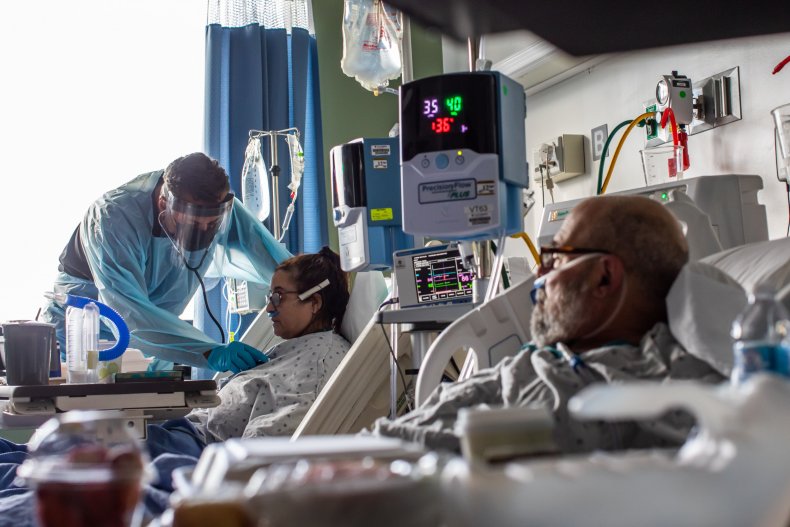 "We are not shutting down," Florida's Republican Governor Ron DeSantis said in early August as cases began to surge. "We are going to have schools open. We are protecting every Floridian's job in this state. We are protecting people's small businesses. These interventions have failed time and time again throughout this pandemic, not just in the United States but abroad."
DeSantis issued an executive order on May 3 that banned local government and school systems from instituting COVID-19 restrictions, including mask mandates. Texas' Republican Governor Greg Abbott issued a similar ban on masks. Republican Governors Brian Kemp of Georgia and Asa Hutchinson of Arkansas briefly tried to implement similar bans but were thwarted in their efforts. Despite receiving calls to implement bans, Republican Governors Kay Ivey of Alabama and Tate Reeves of Mississippi have not issued bans.
Messaging around vaccination has differed between the six states but all feature some of the lowest vaccination rates in the country. Alabama holds the lowest rate of fully vaccinated people in the United States at 37 percent. Mississippi holds the number two spot, also at 37 percent. Arkansas is the sixth least vaccinated state at 40 percent. Georgia is eighth, also at 40 percent. Texas is the 17th least at 46 percent, and Florida is the 30th most vaccinate state at 52 percent.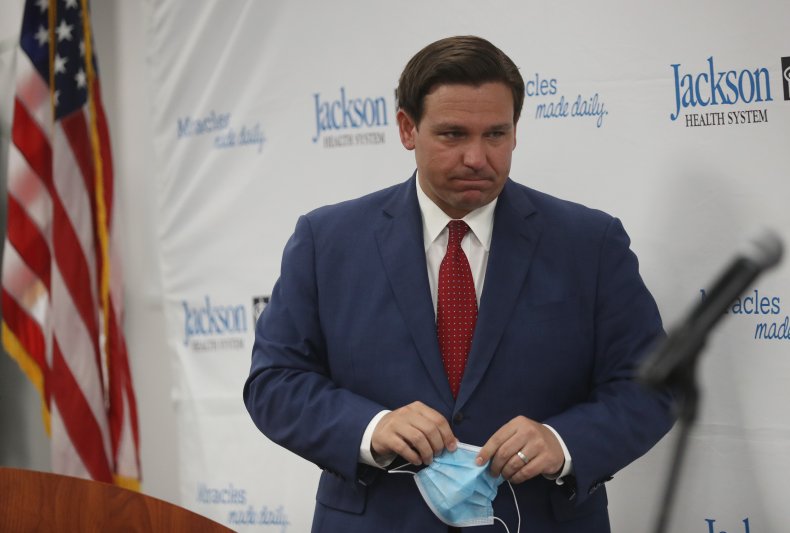 While the vaccine has been shown to protect against hospitalizations and death in studies in reports by the CDC, the agency stated that vaccinated people can still catch and spread the disease. The CDC urges indoor mask wearing and exercising caution in crowded spaces.
Despite catching COVID himself, Abbott remains set on keeping Texas regulation free. The governor recently asked the State Attorney General to file an appeal to a ruling by the state's Supreme Court that granted a county the right to implement a mandate in its school. While masking and vaccines will remain optional in Texas for the foreseeable future, Abbott had this to say about his experience being infected despite having the vaccine.
"I am told that my infection was brief and mild because of the vaccination that I received, so I encourage others who have not received the vaccination to consider getting one," he said. "I will continue to quarantine as recommended by doctors. And, I will keep working on issues affecting Texas."