15 Writers Confess the Worst Thing They Wrote in 2015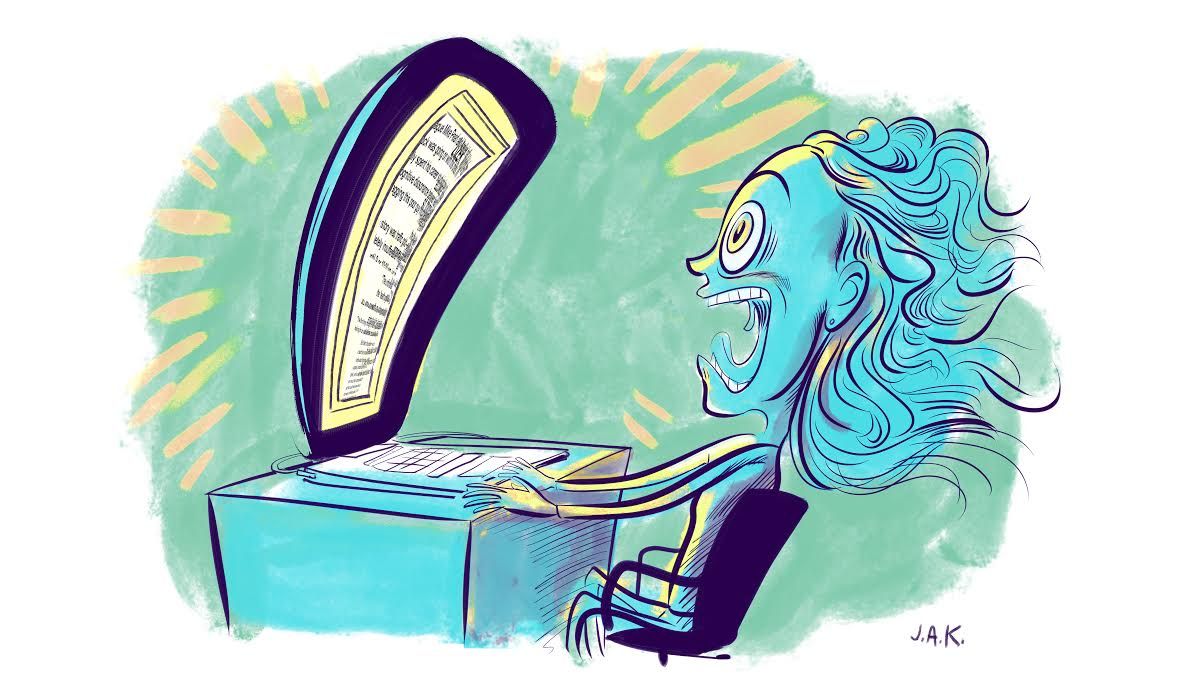 Previously: 12 Writers Confess the Worst Thing They Wrote in 2014
If you're a writer who has Internet access, you probably wrote some terrible things in 2015.
It's OK. We all did. It's part of the game—an ever-faster media metabolism that necessarily makes writing more disposable than ever. We're drowning in mediocrity. Happy holidays.
Some have sought to round up the worst journalism of 2015. But it's more fascinating to let writers reflect on their own failures. So, for the second year going, we asked a bunch of good writers to confess the worst thing they wrote in the past year. (We included some music writers and comedians as well as journalists this time.)
Hopefully, it'll give some insight into the insecurities even "successful" writers face. But one plea: Be easy on the writers featured below. They were among the few bold enough to participate in this exercise openly and willingly (many others declined). Look on their works, but do not despair.
Tom DeLonge (@tomdelonge), member of Angels & Airwaves, author of Poet Anderson...of Nightmares
"It's this rated-R children's book that's coming out at Christmas. It's not for children and it's got some really bad shit in it, and I'm kind of thinking it might have been one of the worst things I've put down on paper. Worst in terms of just really bad taste. [Laughs.] I'm very happy with it. I'm using your term worst in a different way. Basically, a poor choice for me to do such an off-color work of art."
Dan O'Sullivan (@Bro_Pair), freelance writer
"Perhaps this was wishful thinking. Donald Trump's likely exaggeration of his wealth and frail ego seemed like pretty compelling reasons to me as to why he'd avoid shining a light on his ledger. Trump did in fact end up filing the necessary financial disclosure forms with the FEC, yet didn't have much to fear; as CNBC reported, 'It will be difficult for analysts to determine if the new filing support's Trump's assertion that he is worth $10 billion, because the value of assets reported on presidential disclosure filings is given in broad ranges, making them challenging to tally.' Or, as one of his flunkies put it, 'This report was not designed for a man of Mr. Trump's massive wealth.'
"Whether he is worth $10 billion or $1 billion, he is a still a legitimate presidential candidate with roadkill for hair, and America is worse for it. I wish I'd been right on this one and that Trump was still safely ensconced in his gold-plated tower, far away from any Latino immigrants, Syrian refugees or babies."
Slavoj Žižek, world-famous philosopher and cultural critic
"The worst thing I wrote in 2015 is 'In the Wake of Paris Attacks the Left Must Embrace Its Radical Western Roots.' Published online in In These Times, it provoked much rage in leftist circles for its defense of radical-emancipatory Eurocentrism. It is the worst because it is almost the best: I am quite proud of it, I just missed the opportunity of being even more aggressive in describing how the fake 'radical' left never misses the opportunity to miss an opportunity."
Arielle Pardes (@pardesoteric), assistant editor of Vice
"Like so many other Internet writers in 2015, I fell into the black hole that was #TheDress. We were pretty quick to jump on the story, but since it was rapidly blowing up, the actual writing in this piece is really rushed and sloppy ('We Asked a Color Vision Expert About the Color of That Dress'). I don't do a whole lot of news reporting, so this was probably the closest I've been to really working a 'breaking' story, which makes me feel pathetic and hate myself.
"Anyway, my colleague Mike Pearl and I called half a dozen 'vision experts,' trying to get a quote about what the fuck was going on with this dress. When I finally got an expert on the phone—a guy who's literally spent his career studying how individuals see colors differently!—I had to confront this cognitive dissonance between feeling psyched about this quote and feeling like an asshole for dragging this poor guy into the debate.
"Obviously, the story was traffic gold—even if the writing was rough and the topic would soon become completely insufferable. There was randomly a keg in our office that night, so Mike and I stuck around until 9 or 10 p.m, just drinking beer and watching the traffic climb on Chartbeat. I will probably never reconcile how much I hate myself for writing this and how elated I was at the time about my little stint with 'breaking news.'"
Peter Sterne (@petersterne), reporter for Politico Media
"This was a fun story to write ('Hulk Hogan Paying "Journalism Expert" $350 Per Hour'), and I thought it was funny that this ex–newspaper guy was paid thousands of dollars just to read old Gawker posts and opine on journalistic ethics. But as a bunch of smug lawyers were happy to point out after the piece was published, it turns out that $350 an hour is actually a pretty reasonable rate for an expert witness in this kind of case."
Lynn Bixenspan (@lynnbixenspan), writer/comedian
"This made me realize that almost all of what I wrote this past year was comedy, both online and for live performance. And the line between what's funny and what's awful can be really thin, depending on delivery and the moment.
"Example No. 1: I wrote this tweet the other day and was convinced it was utterly hilarious and would put me over the edge to Fame:
"The Twitter public disagreed, with a measly five faves.
"Example No. 2: I decided to talk about a fairly serious topic to me for the first time in my stand-up: having tried to freeze some of my eggs last year. The joke was pretty cheesy: 'So now when people ask me if I have any kids, I can say, "None—that I know of!"' Get it, like a guy? Even though they're frozen? 'Cause maybe the doctor impregnated them or the clinic sold them?
"I don't know. The audience didn't either."
Jessica Firger (@jessfirger), reporter for Newsweek and formerly for CBS News
"The unfortunate part about being a health reporter is that editors frequently call on you to find the 'health angle' of a news story. These ideas are often questionable, to say the least. So it was with my story about the injuries sustained by teens who were trying to emulate a Kardashian sister's pillow-lipped look on a social media dare tagged the #KylieJennerChallenge ('#KylieJennerChallenge Causes Big Problems'). I deeply appreciate that Dr. Andrew Salzberg, director of integrated plastic surgery services at the Mount Sinai Health System, took the interview seriously when he told me, 'The practice of trying to engorge your lips by suctioning can be dangerous. It's a traumatic injury when you're suctioning anything.'"
Jill Krajewski (@JillKrajewski), columnist for Apt613 and freelance music writer
"The first thing I thought of was some late-night, poorly written feedback I gave to an artist looking for an opinion on their LP. I was working with a label at the time and thought notes like '"The Rain Song"–esque' and 'Owen Pallett after listening to a lot of Drake' would be constructive, but really I came across as a jerk who reads too many stories where writers use artist names as adjectives.
"Here's the highlight reel, if you'd like."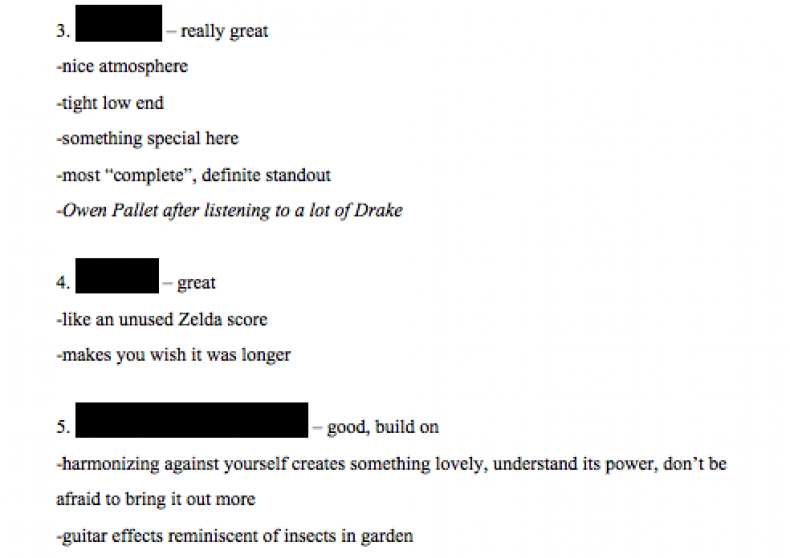 James Fallows (@JamesFallows), national correspondent for The Atlantic
"What was the worst? Sadly, that's easy. Or maybe I should say not-so-sadly, because I don't think very many of the zillion other items I churned out last year need to be taken back or apologized for.
"But this one does. When Donald Trump kicked off his presidential campaign with his charming 'they're sending rapists' announcement speech, I did an item for The Atlantic's website called '3 Truths About Trump.'
"My No. 3 truth was some inside-baseball twist I don't have to get into.
"The No. 1 truth I'll still defend. ('Donald Trump will not be the 45th president of the United States. Nor the 46th, nor any other number you might name. The chance of his winning nomination and election is exactly zero.') He's not going to be president; he could be the nominee; but this was not so bad.
"But No. 2, I boldly (and wrongly) said:
Anyone who has seen previous elections knows that Trump is this cycle's Herman Cain....Everyone knows, for certain, that he will fade as the novelty of his histrionic act gets old and as Republican voters begin to think about actually winning. If you doubt this, tell me how much you'll bet on Trump, and we'll have a deal.

We know what will happen—that Trump will drop out—even though we don't know exactly when. We know too that each day spent covering his alleged 'campaign' means a day of lost time for the Republicans in choosing their real candidate and developing their themes.
"And so on. I wasn't the only one to make this mistake, as people ranging from Reince Priebus to Jeb Bush can attest, but I shouldn't have been so categorical.
"On the other hand, he is not going to become president."
Miles Raymer (@milesraymer), freelance writer
"From what I can faintly remember about creating this post ('Citizens! Get Emotional on the Dance Floor With "Are You Ready"—Exclusive'), Citizens! were a decent enough group, and almost certainly deserving of something better than this hacked-together string of music-crit clichés: 'taut,' 'postpunk-flecked,' 'disco throb,' etc. Unfortunately, I wasn't particularly invested in their band or, at that point, in my job, since I'd been unceremoniously laid off a few weeks prior, so this content was generated entirely on autopilot. And now there's a permanent record of me using the phrase 'serious feels' in the year of our lord 2015. The shame."
Adam Rotstein (@madamepotstein), comedian and contributor to College Humor
"The unfinished piece was called 'Texts With My Brutally Honest Therapist Who Is Also a 13-Year-Old Girl.' This concept was revised and rethought so many times that the premise no longer makes any sense. The idea started as a thought experiment for what it would be like to hear your therapist's thoughts while you talked. But then I realized that since this would be written, it might make more sense as a possible text conversation with your therapist (something that doesn't happen, but bear with me). Then I realized that the therapist sounded like a bitchy tween—not even just a judgmental licensed mental-health professional as intended. Then it just became this asinine piece of writing, too absurd to be satire and too reworked to resonate in any concrete way. Enjoy."
Jehnny Beth (@jehnbeth), singer and songwriter for the band Savages
"It was a very bad line [from my notebook]. It was 'Don't worry, be horny.' That was part of, I don't know, some kind of lyric I had written at some point. It was a text or something I had in my notebook. That was my worst line, for sure."
Nina Corcoran (@Nina_Corcoran), music editor at DigBoston and contributor to Pitchfork
"Sometimes your love for an artist is so strong that it renders you useless. This was one of those times. After turning down a niche pitch on Joanna Newsom, Fact magazine gave me the chance to write a long-form review of her album—so I went long and wound up getting caught in wordy admiration. Lots of awkwardness, touch-and-run points and way too many adjectives kept it from staying cohesive. Given it was assigned the week of the release, it left them with too much editing to do before the album dropped, so they chose not to run it. Rightfully so. I may as well have submitted a hundred heart-eyed cat emojis."
Eric Thurm (@EricThurm), freelance writer and contributing editor for Paper
"It feels odd to call out in this forum, but the thing I wrote this year that makes me most uncomfortable is probably this piece guessing the plot of True Detective solely through other people's tweets—for Newsweek ('Tweet Detective: Guessing the Plot of "True Detective" Through Other People's Tweets'). (Sorry!) It's not that I think the piece is particularly bad. It's not. And it's certainly not that it was poorly edited (infinite shouts to Cady Drell, who is like the chorus of 'Edge of Seventeen' in human form). The piece is pretty funny, I think, and gets at the kind of insanity that defines much of the True D–verse, especially if you're already inclined to dislike the show. But that's the problem. As much as I love, love, love making fun of showrunner Nic Pizzolatto, I'd rather reach the conclusion that he is a risible human being who practically demands our mockery each time I write about the show, justifying myself anew, rather than [get] entrenched in a grudge. Forming an ungodly number opinions on a deadline for a living makes it easy to get enmeshed in a certain sort of groupthink, and to carry things from outside the work into critical engagement. So rereading this piece, it just bums me out that I approached the show in such bad faith. There was probably a way of executing the concept that could have been kind and cutting, but I didn't want to put the work in to write it. I'm interested in finding ways of talking about TV that aren't straightforward reviews, and this seemed like a pretty good way of doing that, but I don't think I quite got it right this time. The format (and my cold, dead heart) needs a little tweaking first."
Jake Fogelnest (@jakefogelnest), comedian, writer for Wet Hot American Summer and other shows
"I thought it would be fun to post a tweet that was just the toilet emoji. I don't know. I'm re-evaluating my relationship with social media."