16-Year-Old Petitions Congress to Ban Products Made Through China's Forced Labor of Uyghurs
A 16-year-old girl from North Carolina is taking matters into her own hands and petitioning Congress to pass legislation banning the import of products made by Uyghur Muslims.
As of February 16, the teen, whose parents asked that she be identified as Sydney S., has received over 2,100 signatures on her Change.org petition calling on members of Congress to pass the Uyghur Forced Labor Prevention Act.
"No one should be in forced labor, and the fact that big companies and American and other foreign nations profit from the plight of these people is awful," she told Newsweek on Tuesday.
Sydney said she first learned about the Uyghurs back in September when she came across a post on Instagram.
"I started writing letter to big brands who outsource their products and factories that use Uyghur forced labor," she recalled. "I never got any responses so I did some research and found out about the bill in October."
The Uyghurs in China's Xinjiang region have gained national prominence as a persecuted group largely of Muslim ethnic minority. They have been detained in what the state defines as "re-education camps" and forced to work in poor conditions for little or no pay.
Human rights organization and news reports have linked many multinational companies to suppliers in Xinjiang, including Coca-Cola and Nike.
Last September, the House passed a bill that would ban goods made in East Turkestan from being imported into the U.S., impose sanctions on human rights violators and investigate factories participating in the forced labor program.
Companies like Coca-Cola and Nike and business groups have lobbied to weaken the legislation arguing that while they condemn the cruelty against the Uyghurs, new import requirements could destroy supply chains that are deeply rooted in China.
A New York Times report revealed that in the first three quarters of 2020, Coca-Cola spent $4.68 million on in-house lobbying, while Nike spent $920,000. Disclosures don't break down expenditures by topic, but the Uyghur Forced Labor Prevention Act was among the issues lobbied against.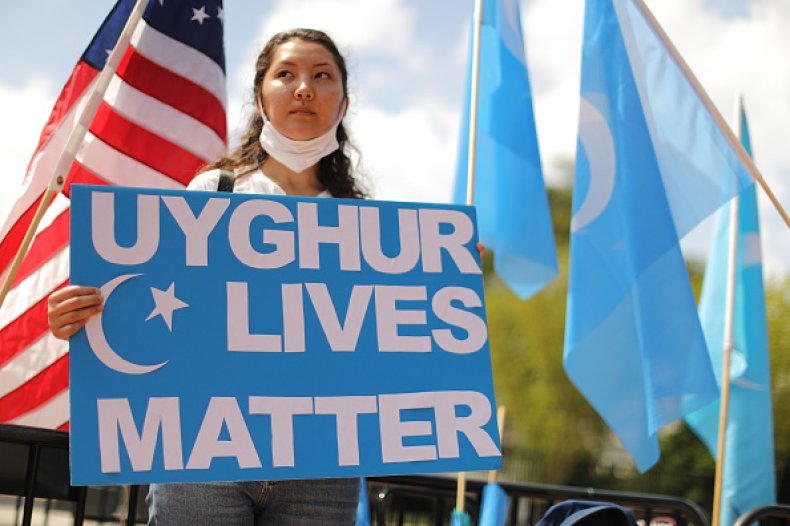 Although the bill gained bipartisan support, passing the House by a margin of 406 to 3, the Senate failed to vote before the end of the year. On January 27, Senators Marco Rubio, Jeff Merkley and 27 other co-sponsors reintroduced the legislation into the Senate.
"As the Chinese Communist Party is committing egregious human rights abuses against Uyghurs and other Muslim minorities, including genocide and crimes against humanity, there is no excuse to turn a blind eye. We must instead do everything in our power to stop them." Rubio said in a press release announcing the re-introduction. "This bill is an important step in that direction."
Sydney has contacted both members of Congress and company executives in hopes of helping the Uyghurs from Waxhaw, North Carolina.
"I've been calling, faxing and emailing senators and encouraging them to co-sponsor and pass the bill," she said.
"I've been boycotting as much as I can. I've been emailing the CEOs of companies to make sure they don't use forced labor anymore and I also recently started an Instagram account about the bill and its importance," she added.
While she has received little response, the her determination has earned her a meeting with the team of her local senator. On Thursday, she will bring her petition and concerns to the office of Senator Bill Burr, who did not co-sponsor the bill last month.
"I'm hoping he co-sponsors the bill and pushes it on," Sydney said. "I know he's not a member of the committee that the bill is currently stuck in, but I hope he'll become an advocate for the bill and that he'll encourage his colleagues on that committee to make that decision and push the bill through."
The Uyghur Forced Labor Prevention Act has been referred to the Committee on Foreign Relations, chaired by Senator Bob Menendez of New Jersey.
On January 19, the U.S. became the first country to officially declare China's treatment of the Ugyhurs an act of "genocide."