17 Features on the 2021 Chevrolet Suburban That Make Road Tripping Easier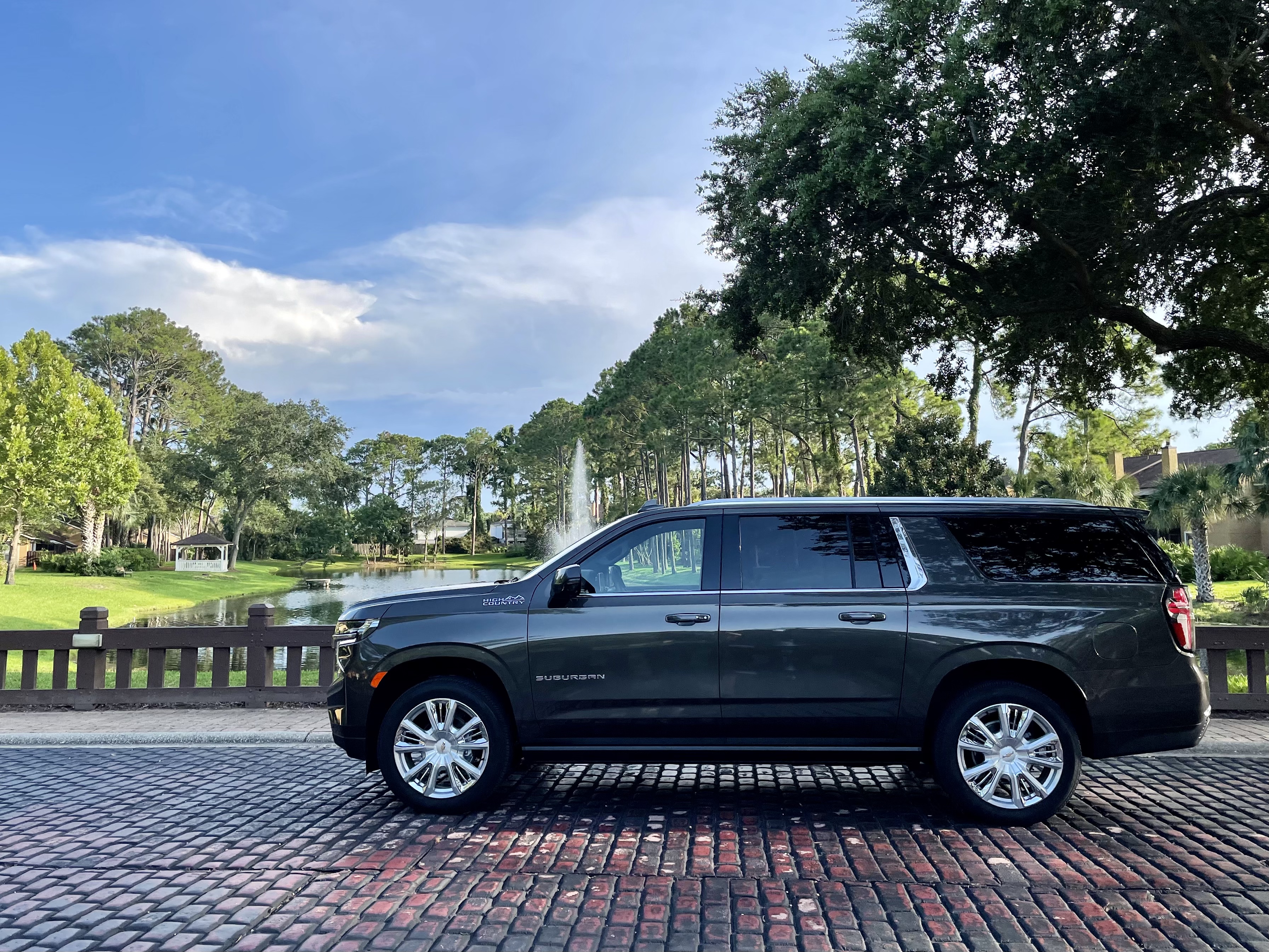 The 2021 Chevrolet Suburban is the perfect road trip vehicle with an array of features that we fell in love with while putting over 1,600 miles on the large SUV with two kids and a golden retriever in tow.
Like many families, we set out this summer for a vacation that included reconnecting with family members for the first time in over a year. This trip started in the early hours, taking two adults, two teens and a 7-month-old Golden Retriever from Ohio to the North edge of Florida.
This is a long trip, about 14 hours one way, with breaks. Like all road trips, it can feel longer if you aren't in the right vehicle. Luckily we had the 2021 Chevrolet Suburban High Country equipped with the company's relatively new diesel engine.
From adaptive cruise control to rear-seat entertainment and fuel economy, there is a lot to love. The only thing we would add is more second-row drink holders since teens tend to stack up drinks as the trip progresses.
Adaptive Cruise Control
One of the best features on a long road trip, especially when driving through heavy traffic, is adaptive cruise control. This feature lets the driver select the following distance behind the vehicle in front of theirs and set the cruise control to the desired speed. If traffic slows below the set cruise control speed, the vehicle automatically slows and then speeds back up when traffic allows to keep you cruising.
This was especially handy during long stretches of slow-moving stop-and-go traffic, allowing us to cruise safely at slow speeds. Of course, this is not a substitute for paying attention while driving and is not a hands-free feature. It is, however, a useful technology to employ while on a road trip.
Wireless Apple CarPlay & Android Auto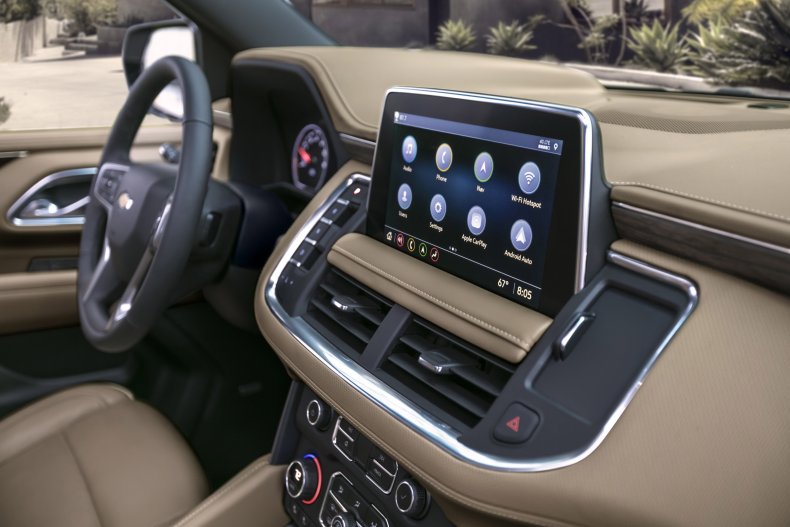 The 2021 Suburban High Country included the Chevrolet Infotainment 3 system with wireless Apple CarPlay and wireless Android Auto. On this trip, we focused on Apple CarPlay, which let us use Waze, Spotify and other apps on the big screen without plugging in.
Wireless support for these options is great for short trips but also really convenient on longer trips where you switch drivers around. The 10.2-inch infotainment display is easy to see and use while driving.
Second-Row Entertainment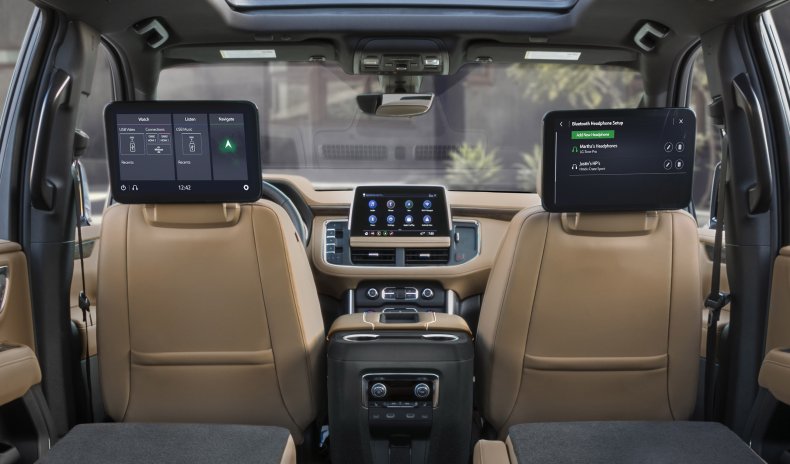 With two teens in the car, entertainment is a must, and the twin 10.1-inch displays, similar to what you'll find in the 2022 Lincoln Navigator, stood the test of the toughest critics.
With two HDMI inputs, both rear-seat passengers could connect a gaming system or other entertainment device to the system. In our case, one teen played the Nintendo Switch and we mirrored it for the other to watch. We are able to control the mirroring and some other functions from the main infotainment screen on the Suburban's dashboard.
A standard outlet in the second row makes powering a game system as easy as plugging in. No adapters are required.
Great Handling
The 2021 Suburban drives more like the Silverado than the last-gen or older Suburban. While it isn't as agile as the new Jeep Grand Wagoneer, we did enjoy the way it handled on the highway and in tight parking lots. If it's been a while since you've driven a new large SUV, the Suburban will seem like a heck of an upgrade.
Tons of Charging Ports
We kept connected on the trip with USB-A and USB-C ports in the Suburban. Up front, the driver and passenger have access to one for each of them, and there's a wireless charger.
The second row included USB-C chargers that allowed our passengers to keep charged up, and the third row also features USB-C chargers, but our golden retriever puppy had no gadgets to charge.
We didn't need to buy any new cables, splitters or adapters to keep everyone charged up on the trip.
Spacious Throughout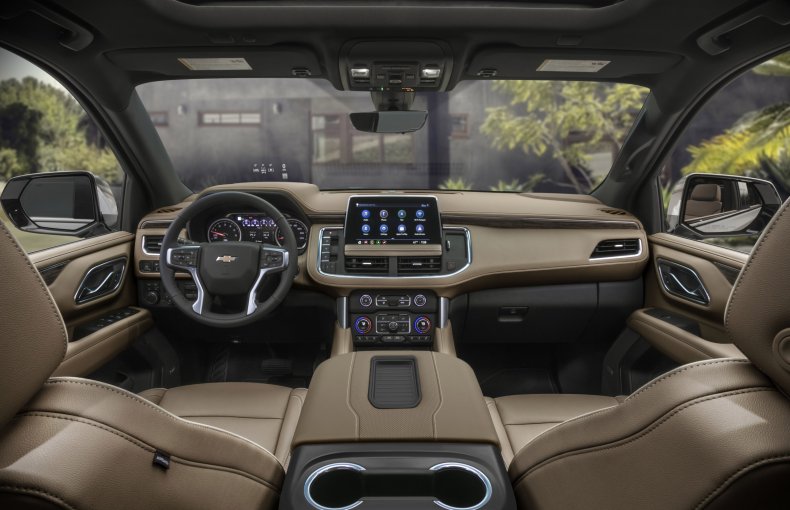 The longer a road trip lasts, the more cramped a vehicle cabin can start to feel, amplifying the "Are we there yet?" questions and shortening tempers of everyone in the car, but we didn't run into that problem in the Chevrolet Suburban.
In the front row, we enjoyed the spacious legroom and headroom. The second row proved big enough for the teens, a cooler and a snack bag without cramping legroom. The third row offered a ton of room for our 60-pound puppy too.
While at our destination, we could easily accommodate additional family members with a third row that is big enough for adults to comfortably sit on short trips.
4G LTE Wi-Fi Hotspot
The 4G LTE Wi-Fi hotspot proved handy in areas with poor cell service, keeping teens connected even when their phone signals were almost nonexistent. Owners get a 1-month trial or 3GB of data with a new Suburban and can purchase additional plans after this trial runs out.
Our teens used the connectivity feature to watch TikTok and stay in touch with friends, but you can also use it to play online games or get work done while on the go without tapping into your existing cell phone plan.
The Perfect Amount of Cargo Space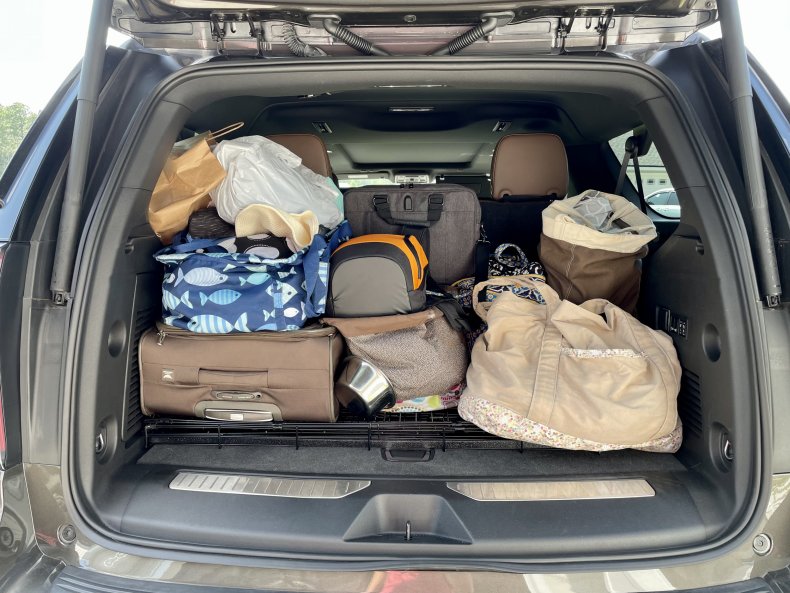 The 2021 Chevrolet Suburban offered the perfect amount of storage space for our road trip. We set out with luggage for four people and a puppy (plus his cage and toys) with room to spare in the back end. We packed the vehicle tight with souvenirs and gifts from family members on the trip back but didn't run out of room.
The cargo space is well designed so that there is relatively little lost space due to unusable and impractical cutouts, etc. in the back of the Suburban. Once we unpacked from the trip, we used the Suburban to start our move to a new house and with the seats laid down, and cargo space dramatically expanded, it allowed us to haul four large wardrobe boxes easily.
Backup Camera and Rearview Mirror Camera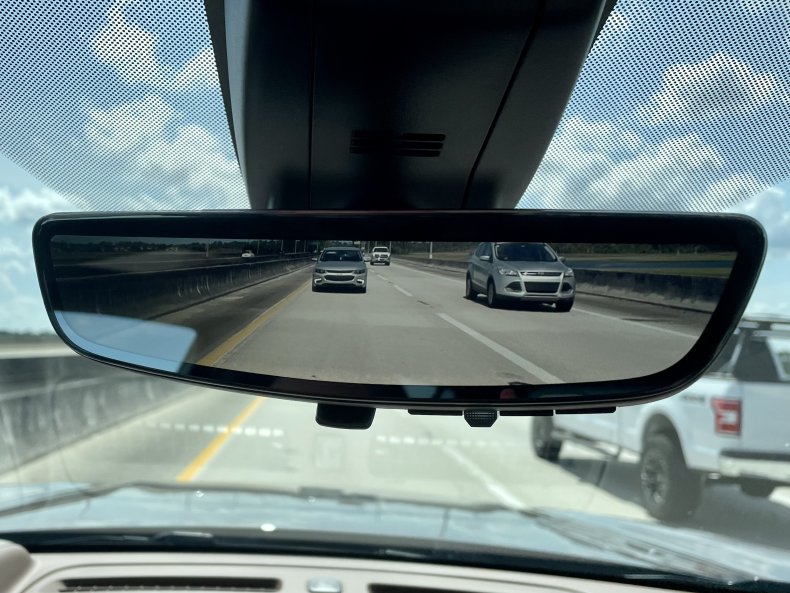 Backup cameras are standard fare, but a great surround view system offers more confidence when navigating tight parking spots. The 2021 Suburban's camera system shows a rear view and can automatically show a forward-facing view as you start to go forward after backing out, which allows you to make sure that you are clearing anything in front of you. Additional camera angles allow you to see the SUV from overhead or check how close you are to a curb.
The rearview mirror on the High Country also packs a trick in. Flip the mirror up, and it switches to a video display that shows a live feed behind you. This proved incredibly useful when the back end fully loaded. It allowed me to see a clear view of the traffic behind the SUV while on the road with suitcases and puppy gear stacked from the floor to the roof.
Great Storage Areas Throughout for Snacks and More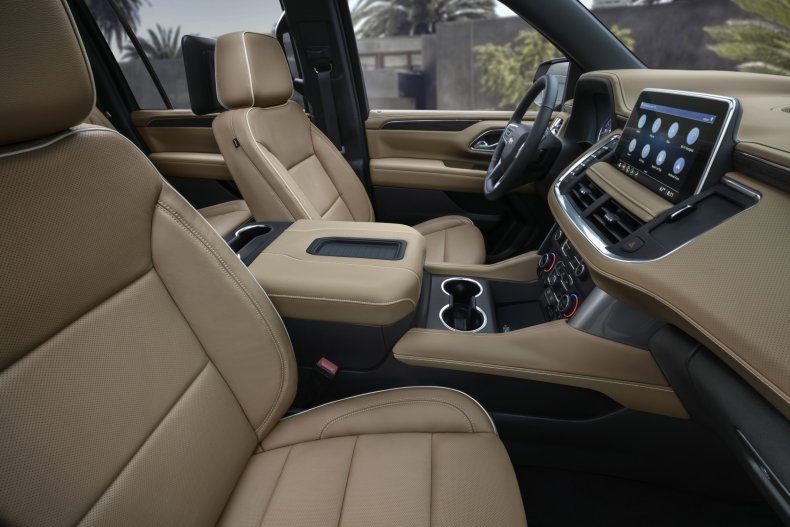 There are plenty of storage areas throughout, including perfect places to stash purses, cameras, phones and other gear in the front. In addition, small storage in doors for snacks, cables, sunglasses and other items are well thought out and readily available.
The center console on the High Country trim is motorized to move forward and backward with controls up front to open up more small storage in the front row.
Tri-Zone Automatic Climate Control
The tri-zone automatic climate control helps keep everyone happy on a long road trip. The driver and passenger can each choose a temperature to stay comfortable, and the back seats make up the third zone.
Passengers can control the third zone from the second row, and control is also accessible to front-row occupants via the infotainment screen. We like that a dedicated button opens up the rear climate control screen.
Ease of Getting In and Out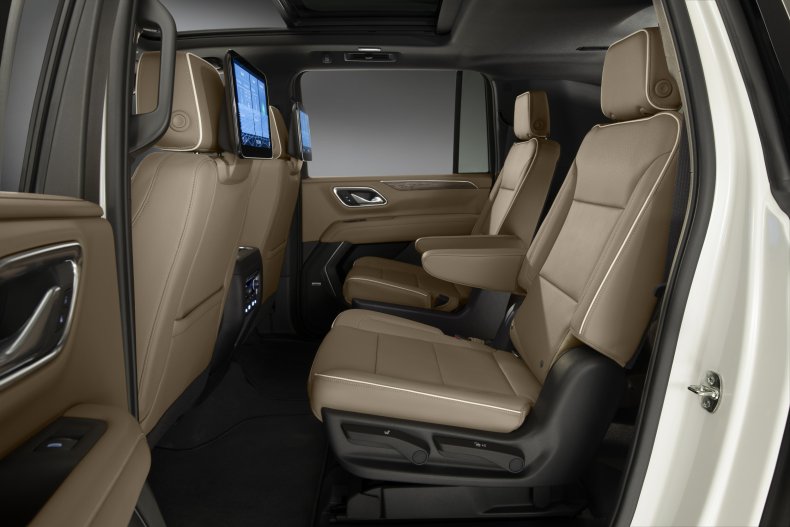 It is easy to get in and out of the 2021 Suburban thanks to the grab handles, wide-opening doors and ability to move the second-row seats forward. The seat controls make sense, and they are simple to operate, even for a younger child or older adult.
Heated and Ventilated Seats
The front row offers heated and ventilated seats, which proved perfect for cooling off in the hot Florida weather and staying fresh on the long drive. The second row features heated captain chairs in the High Country trim, which one of our teens used despite the hot weather.
Diesel Fuel Economy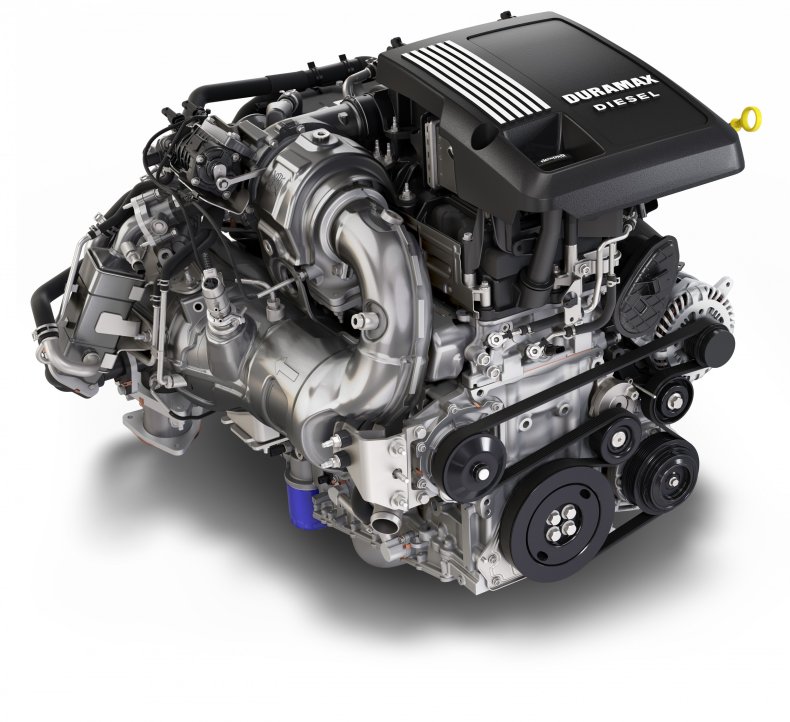 The fresh diesel engine in the 2021 Chevrolet Suburban delivers excellent highway fuel economy. We saw around 22.6 miles per gallon with mainly highway driving, which included a mix of 70+ mile per hour speeds and stop-and-go traffic. This kept our cost for the road trip in check and meant less time looking for fuel stops.
Folding Running Boards
The folding running boards automatically extend when you open a door, providing a step to get in or out of the Suburban. We liked this for our shorter passengers and older passengers who were able to get in the tall SUV more easily with a step. Also, with the step folded back up while not in use, the Suburban keeps a very clean look.
Head-Up Display with Speed
The large head-up display makes it easy to keep your eyes on the road while still seeing the speed that you are traveling, adaptive cruise control information, infotainment details and other information. The projected image is large, easy to see and offers a wide range of adjustment options to fit taller and shorter drivers.
Comfortable Seats
The power-adjustable front seats on the 2021 Chevrolet Suburban are comfortable for long stretches of driving. While they aren't as comfortable as the Zero Gravity seats in Nissan vehicles, we liked the overall comfort and the multitude of power adjustment options to get the right fit for multiple drivers.