17 Top Republicans Ask Nancy Pelosi to Remove Eric Swalwell From Intelligence Committee
Seventeen House Republicans called upon House Speaker Nancy Pelosi to remove Rep. Eric Swalwell of California from the House Intelligence Committee following a report about his former ties with an alleged Chinese spy.
The alleged spy, known as Christine Fang or Fang Fang, contributed to Swalwell's re-election campaign in 2014, according to an Axios report published last week. A spokesperson for Swalwell's office told Axios the congressman cooperated with the FBI in 2015 when investigators told him about Fang's alleged ties to China's civilian spy organization.
Some Republicans were quick to raise concerns about the Axios report, in part due to Swalwell's role on the House Permanent Select Committee on Intelligence (HPSCI). In a Tuesday letter addressed to Pelosi that The Washington Examiner obtained, 17 Republican congress members—including Chairman-elect of the Republican Study Committee Jim Banks and House Minority Whip Steve Scalise of Louisiana—cited national security concerns and said Pelosi "must remove Rep. Swalwell from his position on HPSCI."
"Because of Rep. Swalwell's position on the House Permanent Select Committee on Intelligence, his close interactions with Chinese intelligence services, however unintentional they may be, are an unacceptable national security risk," the letter said. "HPSCI handles some of the most sensitive information our government possesses—information critical to our national defense. As such, we urge you to immediately remove Rep. Swalwell from his position on the House Intelligence Committee."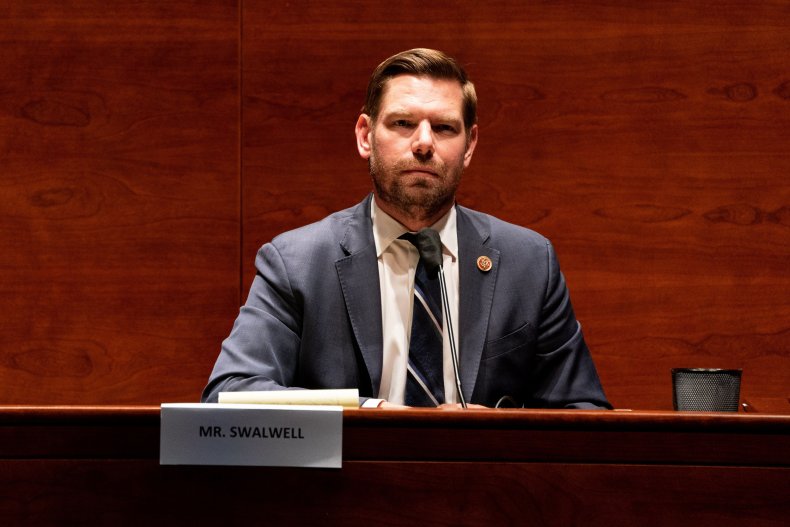 The letter said Swalwell "withheld information" from the House Intelligence Committee for five years, an action the signees compared with former Attorney General Jeff Sessions' failure to disclose meetings he had with Russian officials before accepting a role in President Donald Trump's administration. The letter also cited acknowledgments from FBI Director Christopher Wray and Department of Homeland Security Acting Secretary Chad Wolf about the threats China poses to national security.
"The House Intelligence Committee is instrumental in overseeing our national effort to counteract our chief global rival's espionage initiatives; for one of its members to have had an undisclosed relationship with a foreign asset in the manner described by recent reports is unacceptable and dangerous," the letter said.
Pelosi dismissed earlier Republican calls for Swalwell's removal during a news conference on December 10. She told reporters Democratic and Republican leaders in the House learned of investigators' concerns about Fang in the spring of 2015 and said "it was over" after investigators told Swalwell and other members of Congress about China's alleged attempts to infiltrate politicians' inner circles.
"I don't have any concerns about Mr. Swalwell," Pelosi said last week, adding that she has battled Chinese influence in American politics for decades. "In terms of Mr. Swalwell, in the spring of 2015, the leadership of the House and the committee were informed that overtures from a Chinese person were being made to members of Congress. When that was made known to the members of Congress it was over."
Newsweek reached out to Pelosi's office and Swalwell's office for comment but did not receive responses in time for publication.