Since George Floyd's death last May while in Minneapolis police custody, 181 Black people in the U.S. have been killed by the police, according to data from research group Mapping Police Violence.
Of the 966 police killings reported since May 25, 2020, the database shows that Black people account for 18.7 percent, despite making up 13 percent of the U.S. population, according to the Census Bureau.
Police killings of white victims made up 37 percent of the total deaths. White Americans are 76.3 percent of the population, the Census Bureau says.
Mapping Police Violence's data also indicated that of the total police killings since Floyd's death, 11.7 percent were Hispanic victims, 1 percent were Native American, and another 1 percent were Asian or Pacific Islander. The race of the victim was unknown in 359 deaths.
Last summer, Floyd's death ignited racial justice protests across the nation, with millions taking to the streets to demand police reform. Some also called on local governments to defund their police department by reinvesting in other community services as a way to address police violence against people of color.
Despite the renewed push for law enforcement changes, data from Mapping Police Violence shows that police are still killing at rates similar to past years and that 319 people have been killed by police in 2021.
On Tuesday, a jury found former Minneapolis police officer Derek Chauvin guilty of all charges, including murder, in Floyd's death. A video of the arrest shows Chauvin kneeling on the Black man's neck for over nine minutes while Floyd told officers he couldn't breathe.
In the 1,127 police killings recorded in 2020, only 16 cases, or about 1.4 percent, resulted in a charge against the offending officer. Of the officers identified by Mapping Police Violence, at least 14 had shot or killed someone in the past.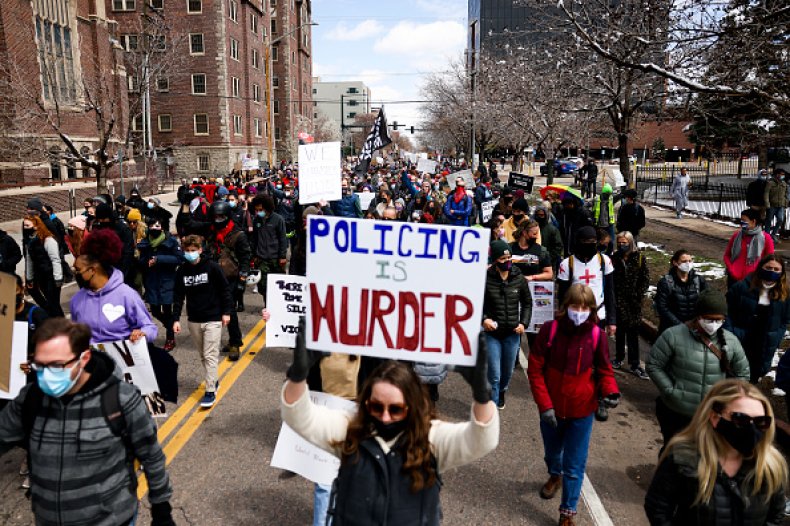 Numbers gathered between 2013 and 2020 indicate that Black people are three times more likely to be killed by police than white people, despite being 1.3 times more likely to be unarmed than white people. These figures are amplified when looking at the country's largest cities.
In 47 of the 50 largest U.S. cities, police killed Black people at higher rates than white people. In Chicago, police killed Black people at a rate 22 times more than that for white people, based on killings per 100,000 population. In Miami, racial disparities could not be calculated because every person killed by the city's police department was Black or brown.
Over time, police killings have decreased in cities. However, these deaths have been on the rise in suburban and rural areas. And while some cities have seen substantial reductions in police killings, like Chicago, other cities, like Denver, have not.
Of the 181 police killings of Black people since Floyd's death, the highest number of killings occurred in Florida, with 19 victims, followed by California, where there were 17, and Texas and Georgia, which each recorded 13.
Of the police killings documented in 2020, traffic stops were listed as the initial police encounter in121 deaths.
On April 11, a few miles away from the Chauvin trial, Daunte Wright, a Black man, was shot by police during a routine traffic stop in Brooklyn Center. Wright's death has once again reignited demands to end police brutality.