Hated Vase Stashed in a Family's Loft for Decades Sells for $19 Million
A porcelin vase that had sat for decades in the loft of a French family's home has sold for $19 million at auction—more than 20 times its guide price.
The vase turned out to be an 18th-century Chinese relic that triggered a 25-minute bidding war in Paris when it was auctioned by Sotheby's.
It is now the single most expensive item sold by the auction house in France and the most expensive piece of Chinese porcelain ever sold in the country, AFP reported.
The piece arrived at the auctioneer's office inside a shoebox and wrapped on newspaper. After unwrapping it, Sotheby's Asian arts expert Olivier Valmier vase was shocked to see extremely-rare vase delivered in such a humble fashion.
Related: Champagne lost for over a century has been dug up and it may still be drinkable
"When she put the box on my desk and we opened it we were all stunned by the beauty of the piece," Valmier told Reuters. "This is a major work of art, it is as if we had just discovered a Caravaggio."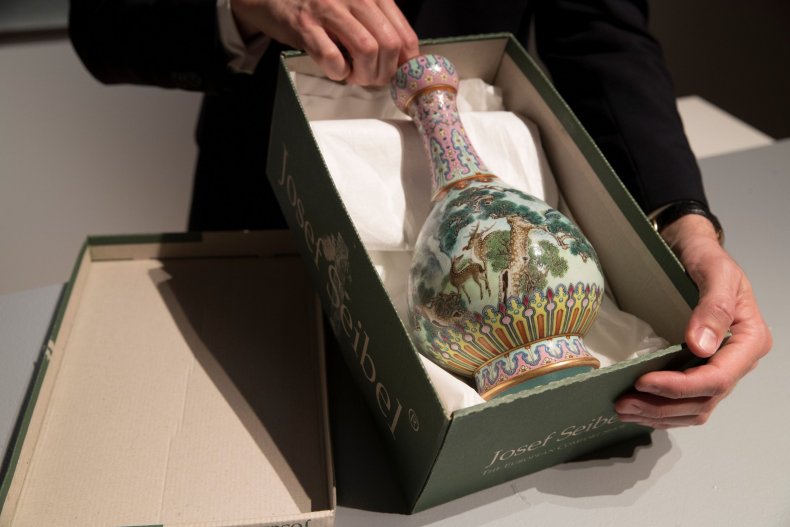 Embroidered with gold around its neck, the vase is decorated with deer, cranes and pine trees and bears the mark of China's Qianlong Emperor, who ruled the country between 1736 and 1796. The vase is the only known example of its kind from the period, according to Sotheby's. Besides the colors and the detail, the rare imperial mark also likely inflated its price.
The imperial workshops in Jingdezhen, often referred to as China's "Porcelain Capital," once produced such vases, but today experts can trace only four pieces with appropriate documentation.
The French family that put the vase for auction may have bought in France, several generations ago, because the piece had a Japanese perfume burner near it, with a receipt from the Exposition Universelle world fair held in Paris in 1867. This is conjecture however, and the vase's history before 1947 is unclear.
Stashed in the attic of a house outside Paris, the vase came into the possession of the current owners via their uncle, who, in turn, received it from their grandparents, French broadcaster RFI reported. The family did not much care for displaying it, however.
"We didn't like the vase too much, and my grandparents didn't like it either," said the owner of the piece, who only dug the item out of the attic and contacted Sotheby's in March. "They knew it had some value but nothing like that, nor that it was from the Qian dynasty," A Sotheby's spokeswoman said of the owners.
Despite a maximum guide price 700,000 euros ($820,000), the vase sparked a serious bidding war that went on for over 20 minutes. The firm did not wish to reveal the name or nationality of the buyer.