19-Pound Tuxedo Cat, Missing for a Month, Saved After Being Trapped in Neighbor's Chimney
A portly tuxedo cat was found living while lodged in the chimney of a neighbor's house at the conclusion of a Washington state woman's month-long search for her missing pet.
Caitlyn Wertenberger, of Union Gap, Washington, found her 19-pound cat Piper stuck in the fireplace damper of a nearby house after a 28-day search-and-rescue campaign that involved posting flyers and knocking on doors around her neighborhood, according to ABC affiliate KOMO-TV. Weeks into the search, the new occupants of a nearby house that had been vacant when the search began heard meowing but could not identify the source. After one week, they contacted Wertenberger and invited her to investigate.
"She's a big cat, I didn't think she could fit down a chimney," Wertenberger told the outlet on Monday. "I didn't want to get my hopes up too much, just in case, you know. So, it was always kind of in my head that she possibly wasn't coming back but I still kind of had that feeling, you know, that she wasn't really gone yet."
A veterinarian later determined that piper had lost seven pounds and was dehydrated following her mishap but was otherwise in "excellent condition." It is not clear whether Piper weighed 19 pounds after being rescued, down from 26 pounds, or had dropped to 12 pounds after her ordeal.
Newsweek reached out to the Yakima Humane Society, which provides animal control services in the area, for comment.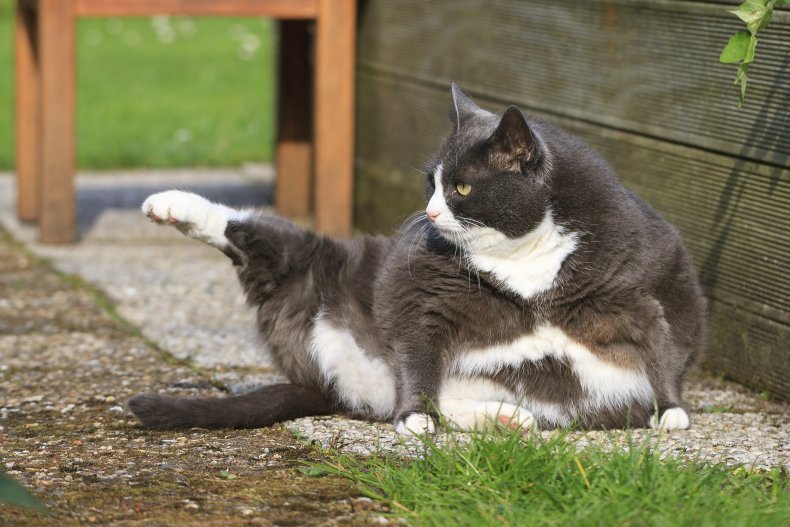 Although Piper's survival after the month-long disappearance is especially unusual given the location that she was found in, other pet cats have been found after being missing for far longer periods.
Earlier this month, the discovery of a microchip on a stray orange and white tabby that staff at a New Jersey animal shelter dubbed "Roscoe" led to the revelation that the cat was named Alexander and belonged to a family that lived only miles away. Alexander was reunited from his family on Friday after being missing for more than a year.
In February, a 15-year-old tabby named No-no was discovered in a Nanaimo, British Columbia RV park after being missing for over three years. The Canadian feline was identified by the British Columbia Society for the Prevention of Cruelty to Animals after staff noticed an ID tattoo. No-no's family, living over seven miles away, was surprised to learn that their long-missing pet had been found alive, while the cat was said to have made peace with another cat the family adopted after it went missing.
"I never expected him to be coming home," Laura Brethour, No-no's owner, told Vancouver's Citynews1130. "The two cats fight for a spot on the bed now. They have to share bedtime."