19-Year-Old Abducts 16-Year-Old, Tries to Take Her Into Canada Before Arrest: Police
A 19-year-old man was arrested on Thursday after allegedly abducting a minor and attempting to cross the border into Canada.
Christopher Jesus Constanzo was taken into custody at the border by U.S. Customs and Border Protection (CBP) agents while attempting to cross into Canada early in the morning. Costanzo was reportedly denied entry into the country due to his lack of proof of a negative COVID-19 test, according to CTV. He was arrested after agents were told by his passenger, a 16-year-old, that he had abducted and sexually assaulted her.
Constanzo allegedly kidnapped the girl somewhere in Connecticut and kept her in the trunk of his 2007 Toyota Camry during a drive to Burlington, Vermont, according to a statement from the Vermont State Police. In Burlington, he stopped at a Maplefields convenience store off of Interstate 89 and had the girl, whose name has not been released to the public, move to the back seat of his car before continuing on to the border crossing near the town of Highgate Springs.
The investigation into the alleged kidnapping and assault is being handled by Homeland Security Investigations with assistance from the Vermont State Police. Constanzo is expected to face charges, but none have been formally leveled against him at this time.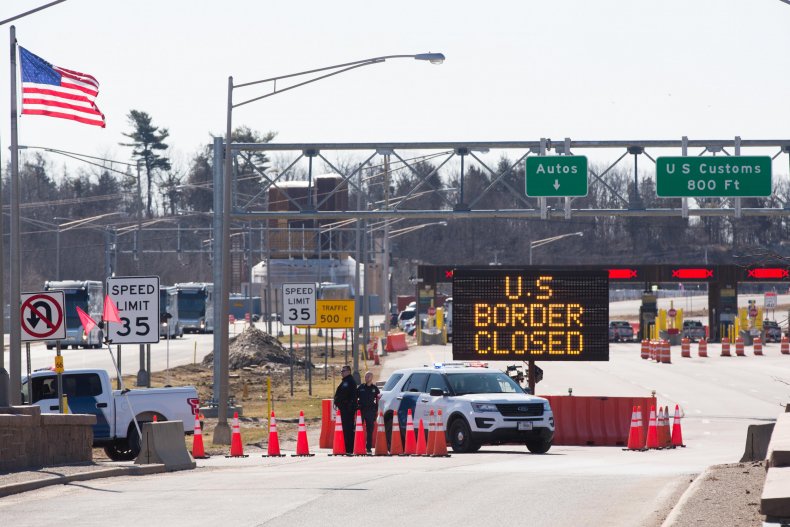 Authorities were able to obtain security footage from the convenience store in Burlington where Costanzo stopped on his journey. Based on the footage, he appeared to go inside at one point and approach the counter at around 3:40 a.m. on Thursday. It is believed that witnesses may have seen him and the girl during this stop but none have come forward so far.
"State police investigators are asking that anyone who saw something out of the ordinary at the Exit 16 Champlain Farms or Maplefields convenience stores in Colchester between 3 a.m. and 7 a.m. Thursday contact the authorities," the official release from the Vermont State Police said.
Newsweek reached out to the Vermont State Police for comment.
A teen in Florida was abducted on November 27 and driven cross-country after willingly getting into the car of an adult she had been chatting with in a video game. The girl, Jeimy Henrriquez, 15, was found safe in an undisclosed state two days later and taken into the custody of the FBI and Department of Homeland Security.
During her abduction, she made multiple phone calls home, telling her mother that she was being taken far away, had not eaten, and regretted her actions. One of these calls was traced to somewhere in North Carolina and authorities at one point believed that she could have been as far away as Philadelphia.