2 Carry Guns as Crowd Marches Through Kenosha to Protest Kyle Rittenhouse Verdict
A protest against the acquittal of Kyle Rittenhouse had security provided by a surprising duo.
Several dozen people traced the route that Rittenhouse took when he shot and killed two people in August of 2020. Two of those participants were Erick and Jade Jordan, a father and daughter who carried rifles in the crowd of protesters. The duo acted as security forces against counterprotesters, some of whom were also armed.
The New York Post reported that the Jordans were invited by event organizers to ensure safety among the participants. The duo had also been present at the protests in which Rittenhouse killed Anthony Huber and Joseph Rosenbaum and injured Gaige Grosskreutz. On the night of the shooting, Erick and Jade were protecting a restaurant and two parking lots from potential vandalism and looting.
"We just do security for different groups," Erick said. "We're doing a favor for them."
The older Jordan said he had been training his daughter on firearms use since she was 4 years old. However, it was not until she reached 14 that she began using them. When asked about Rittenhouse's claim of self-defense, Jade said that she "probably wouldn't have fired [her] weapon." However, her father said that the jury "did their job" in acquitting the Illinois man.
According to the Associated Press, the older Jordan began carrying a rifle and holstered handgun during Rittenhouse's trial. Hours after the acquittal, he participated in a news conference during which he explained his motives.
"I got a job to do—protect these people. That's it," he said. "This is my town, my people. We don't agree on a lot of things, but we fight, we argue, we agree to disagree and go home safe, alive."
Around 75 people were reportedly participating in the march. Some carried signs that said "Reject Racist Vigilante Terror" and "The Whole System is Guilty," among others.
For more reporting from the Associated Press, see below.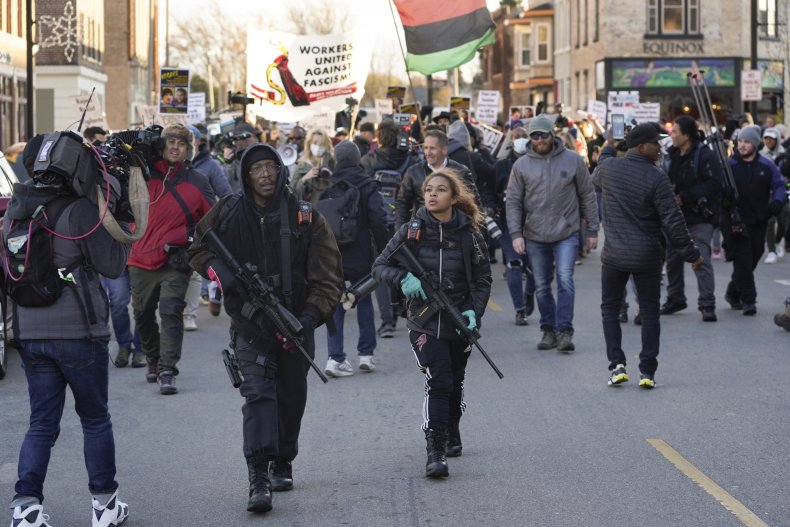 Protesters regularly chanted, "No justice, no peace" and "Anthony and Jo Jo," the latter referring to Anthony Huber and Joseph Rosenbaum.
The Rev. Jesse Jackson, 80, who walked the first leg of a protest march in Chicago on Saturday, was scheduled to appear in Kenosha but did not come. Organizers said he instead was working with congressional leaders to ask that the Department of Justice investigate the case for further prosecution. A release from Jackson's Rainbow PUSH Coalition earlier Sunday said the Justice Department should also consider aiding and abetting charges for Rittenhouse's mother.
"The verdict of not guilty is very revealing of the state of criminal justice in America," Bishop Grant, the Rainbow PUSH Coalition National Field Director, said in a statement.
While Grant's statement said Rittenhouse violated federal laws, he did not explain further and experts say Rittenhouse is unlikely to face federal charges because federal law applies only in very limited cases for homicides.
The shootings happened during a tumultuous night of protests over the shooting of a Black man, Jacob Blake, by a white Kenosha police officer.
Rittenhouse is white, as were those he shot, and his acquittal led to new debates over racial justice, vigilantism and policing in America.
Derrick Johnson, NAACP president and CEO, said Sunday that the verdict was hard for African Americans to reconcile.
"Here you have a 17-year-old who illegally purchased a gun, traveled across state lines to protect property that was not his, for owners who did not invite him, and he put himself in harm's way based on the rhetoric that he's seen on social media platforms," Johnson told CBS' Face the Nation. He called it "a warning shot that vigilante justice is allowed in this country or in particular communities."
Rittenhouse's lawyers described him as a scared teenager who shot to save his life.
"I didn't intend to kill them," Rittenhouse testified. "I intended to stop the people who were attacking me."