2 Florida Neighbors Dead Following Dispute Over Security Light, Deputies Say
A pair of neighbors in Florida are dead following what appeared to be a murder-suicide on Monday afternoon that allegedly grew out of a dispute over security lights.
According to the Lake County Sheriff's Office, deputies responded to a call about a reported shooting in Paisley, Florida, at around 12:30 p.m. Once on the scene, deputies said they found Timothy Patch, 59, dead in his driveway, the sheriff's office told WESH 2 News. The neighbor who allegedly shot Patch, Martin Hilderbrand, 61, was found dead in his backyard.
"The shooter himself had made his way to his backyard where he apparently took his own life," Lake County Sheriff's Lieutenant Fred Jones said.
Hilderbrand was found in a backyard chair, dead from what deputies said appeared to be a self-inflicted gunshot wound. Hilderbrand shared the home with his sister, who was present during the altercation but was not harmed, deputies said.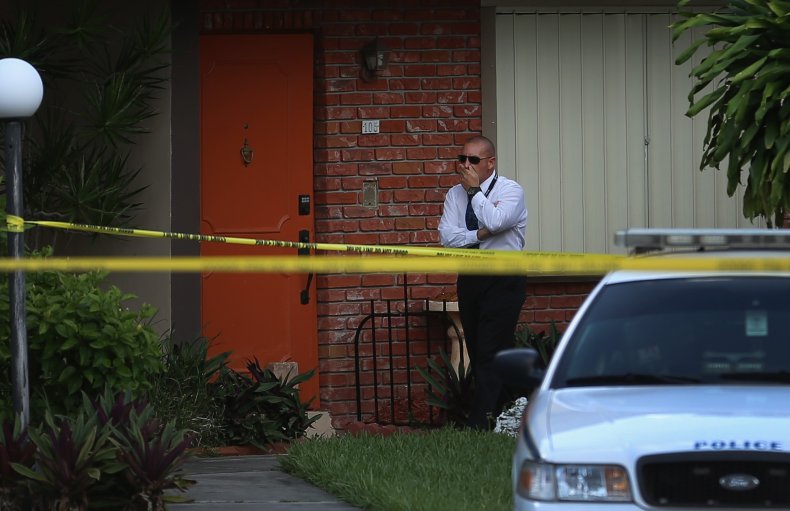 "All I know is I went out the side door I heard bang, bang, bang three times," another neighbor, Gary Moran, said.
Investigators said that the incident might have been related to an ongoing dispute between Patch and Hilderbrand that began in October. According to neighbors, Patch's residence had a security light or floodlight that reportedly shone into Hilderbrand's bedroom at night. The local code enforcement office was reportedly contacted about the issue, but it is unknown what became of that call.
"And so, this is something that's been going on since October and I guess today it just finally came to a clash," Jones said.
Relatives of both men spoke to WESH 2 News and claimed that the dispute between the two concerned more than the light. Details about what else the two were feuding over have yet to be revealed. No criminal complaints have been filed at this time.
According to Moran, Patch and Hilderbrand were recent arrivals to the neighborhood, each having moved in within the past year.
"I think in terms of just the holidays and this is what's going to be remembered on the holidays, so you know it's sad, and it could have been avoided," Jones added.
Newsweek reached out to the Lake County Sheriff's Office for a comment on this story.
Another murder-suicide occurred in Florida in early November. Orlando police responded to the incident on November 4 while conducting a wellness check. In the home, they found the bodies of three family members.
"We believe a 48-year-old mother and her 16-year-old daughter were killed by the husband and biological father of the child, before the suspect may have committed suicide," Orlando Police Chief Orlando Rolón said.