20 Bedroom Organization Products That Will Transform Your Room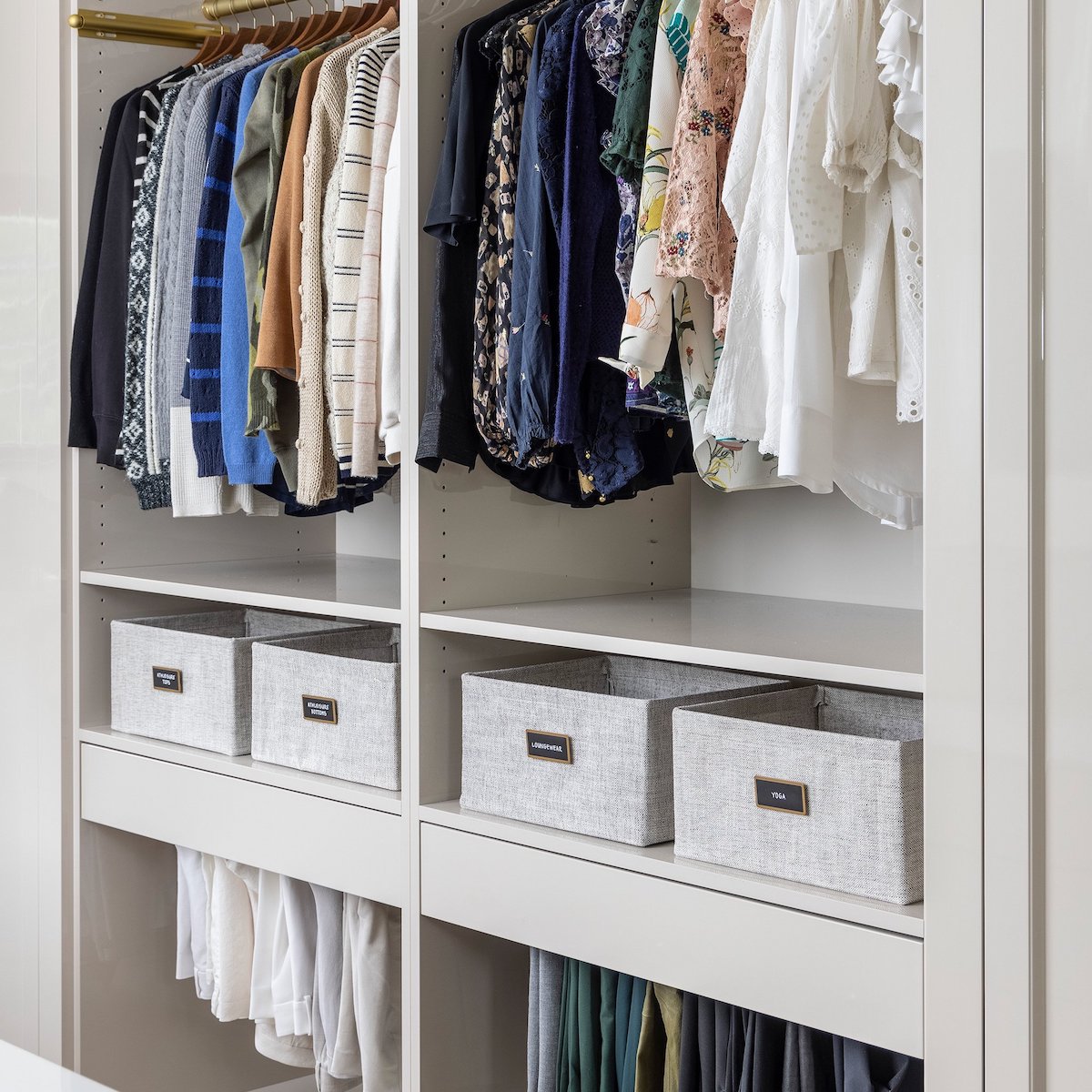 Have you ever wished for a bigger space to call your own? You're not alone. According to a recent survey done by Pier 1, 89 percent of participants said they "wish they lived in a bigger home" and 45 percent said that "not having enough storage" was their most significant challenge of living in a small space. Luckily, this concern isn't a space problem—not if you know how to maximize your space.
The bedroom is a common problem area. Do you have more clothes than you have closet space? Shoes everywhere—even under the bed? If your room isn't neat and organized, you can't expect the rest of your house to be, so it's best to start here and handle things before the mess starts creeping into your kitchen and living space.
If you're ready to get started, these are the 20 best products for stepping up your organization game in your bedroom. As always, the prices listed may fluctuate over time as products go on sale.
20 Best Bedroom Organization Products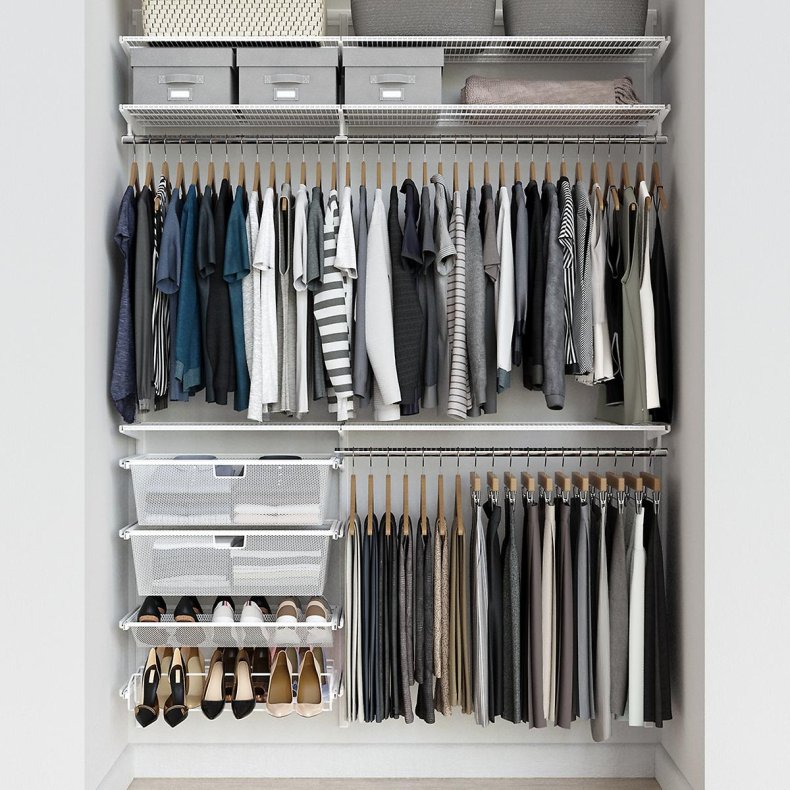 The best thing you can do to keep your closet in check is to invest in a closet-organization system. The brand Elfa can be found at the Container Store and is one of their most popular systems, too. Systems can range price-wise, but you can find the Elfa 5-Foot Classic White Reach-In Closet for less than $1,000. If you're working with a small closet (that's not a walk-in), this system's ventilated shelves, 2-foot mesh drawers, 2-foot mesh gliding shoe shelf and mounted horizontal top track are all you need to most effectively store your essentials. (Pro tip: We also recommend arranging your clothes by color, but that's just us!)
Buy at the Container Store for $720.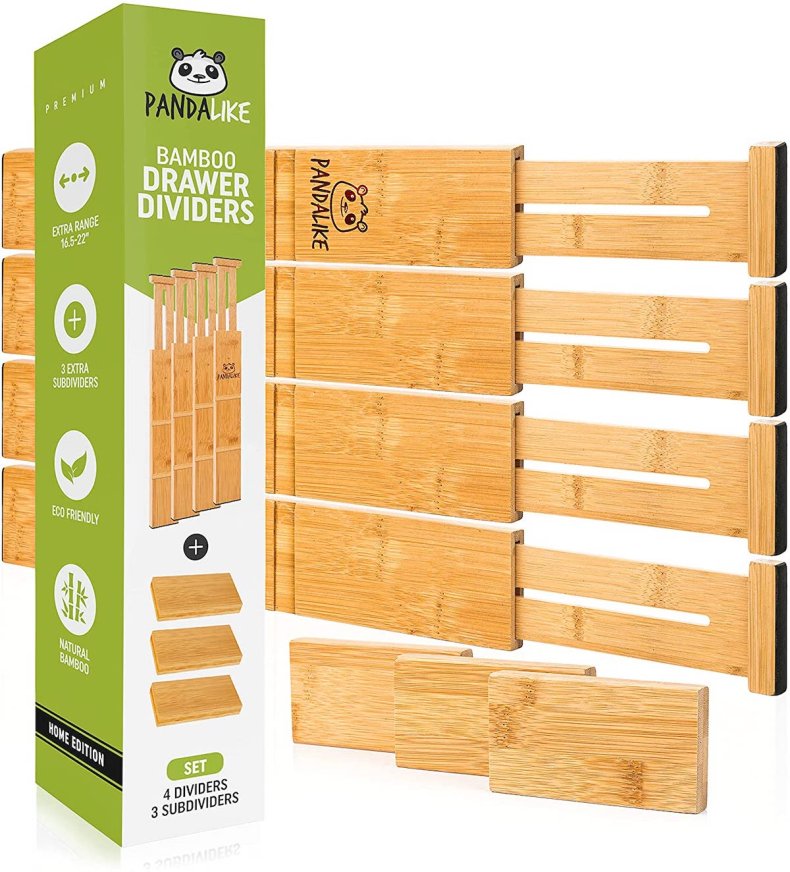 Though using drawer dividers is crucial to keeping items in their designated zones (at least inside the drawer), you'll find that most dividers are made from acrylic—aka plastic. If you prefer to be a bit more eco-friendly, we recommend the Pandalike Bamboo Drawer Dividers made from premium organic Moso bamboo wood. This three-piece expandable set works just as well as the plastic stuff to sort your items and keep them in place.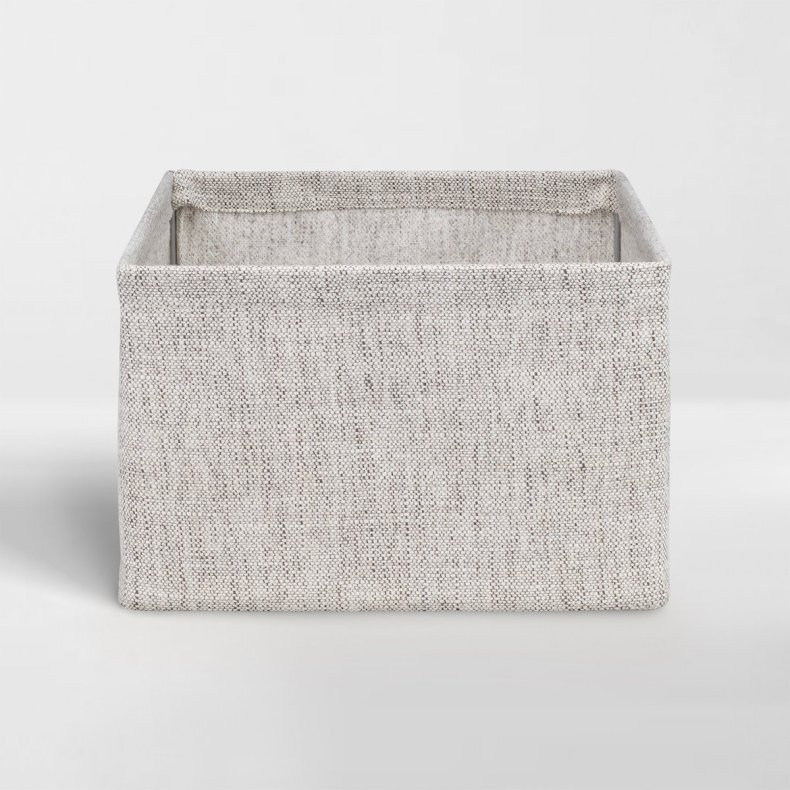 Bins are every amateur organizer's best friend, and when it comes to style, you can't do much better than the Neat Method Oxford Bins. These classic bins are crafted from stone-colored polyester and jute fabric with a metal frame. The smallest bin, or "cube," runs 12 inches by 12 inches by 10 inches and can fit up to five medium-size stuffed animals or up to four dress-up outfits.
Buy at the Neat Method for $18.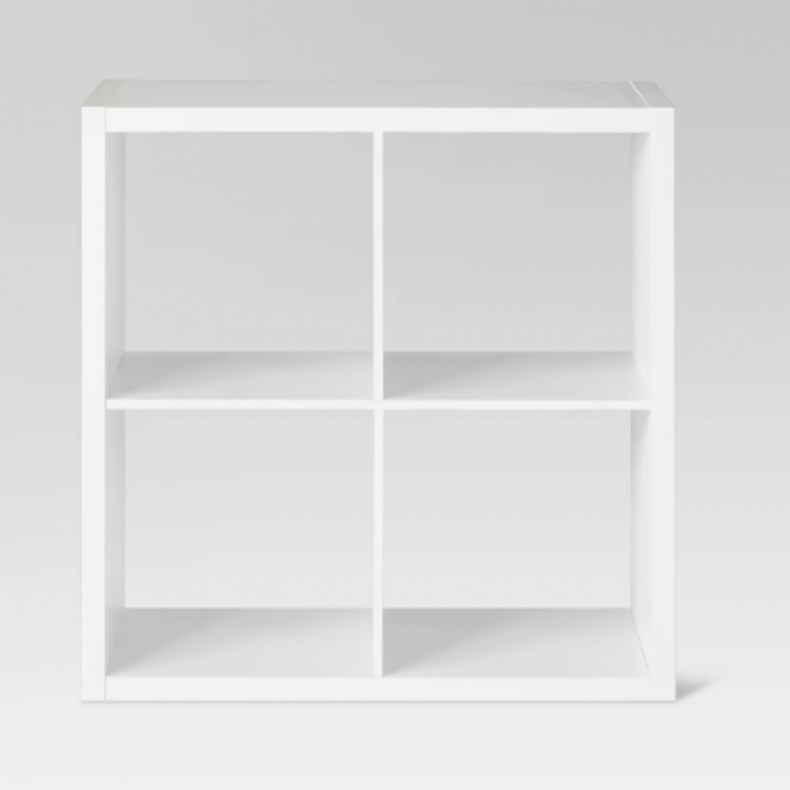 Target may not brand itself as a hub for organization-related products, but it's an excellent spot for snagging the good stuff (for cheap!). The Threshold 13-Inch 4-Cube Organizer Shelf perfectly fits most standard-size bins. You can fill the bins with just about anything—toys in a kids' room, clothes in your own room, shoes, etc.—then display the bin in plain sight with an organized, put-together aesthetic.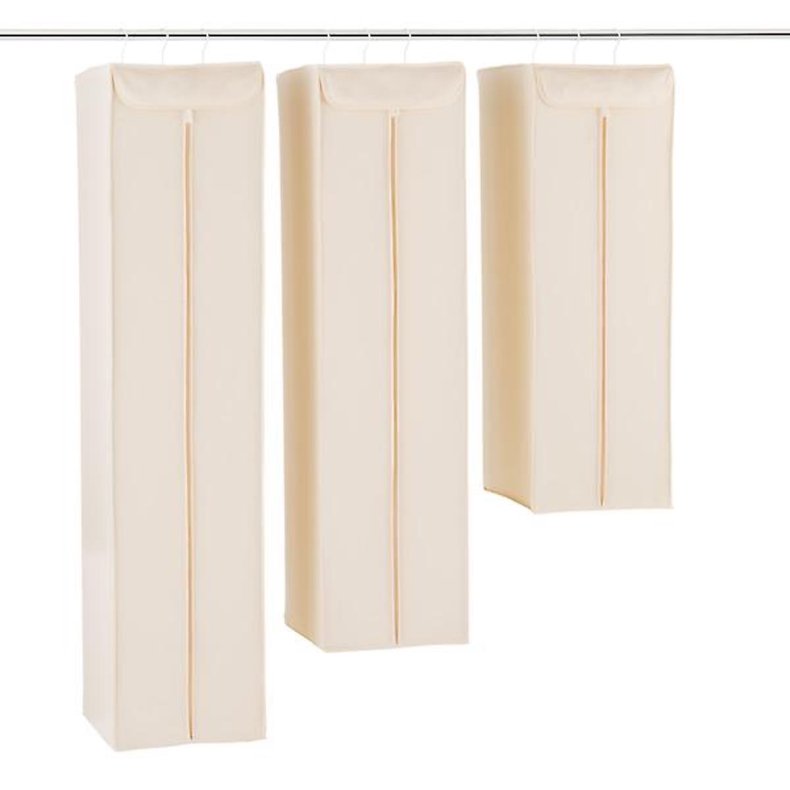 For those extra-special items that don't need to be out in the open or displayed, the Container Store's Natural Cotton Hanging Storage Bags make the perfect organization solution. Great for bridesmaid or wedding dresses, suits and tuxedos, these bags are made from 100 percent unbleached cotton and feature full-length zippers and integrated hooks for easy hanging. Hang those items in the storage bag at the back—or place in storage—and never worry about those special clothes getting dirty, dusty, stained or wrinkled again.
Buy at the Container Store for $19.99 to $27.99.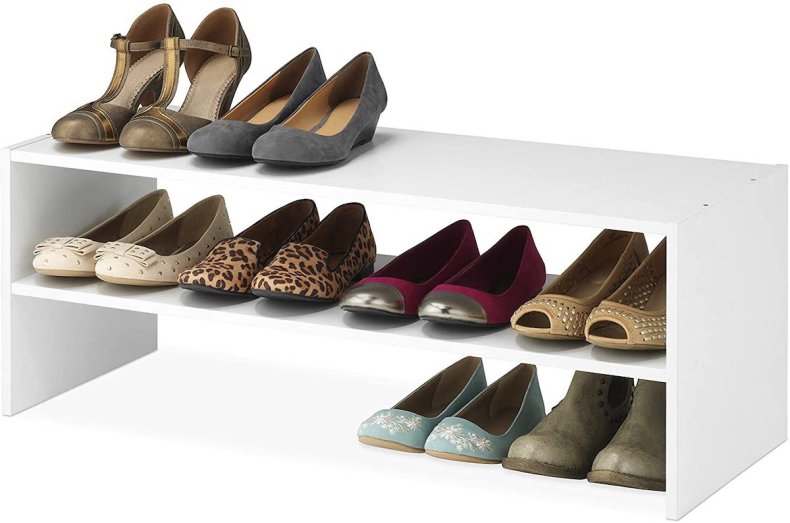 The Whitmor Wood Stackable 2-Shelf Shoe Rack solves any shoe connoisseur's problem of having "too many shoes." (Girl, you don't have too many shoes, for the record. You've just been storing them wrong.) Anyway, this sleek white shoe rack is stackable, meaning you can purchase multiple, then work upward in your closet's vertical space to store as many shoe pairs as you need to.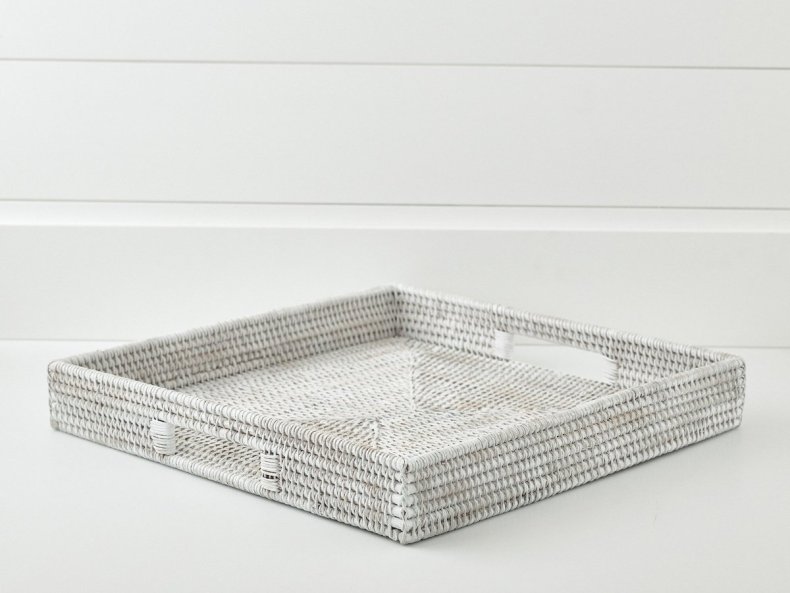 Isn't she pretty?! The Salt by Sabrina Venice Tray is a hand-woven storage basket with dimensions of 20 inches by 20 inches by 3 inches. Made from natural rattan and available in either Whitewashed or Pepper Gray, the Venice Tray is a staple that can rest anywhere in your room—on a pouf, an end table or a vanity—to display statement items. Throw a coffee-table book on it, a candle, a coaster and some beads and you'll have yourself an Architectural Digest–worthy display.
Buy at Salt by Sabrina for $180.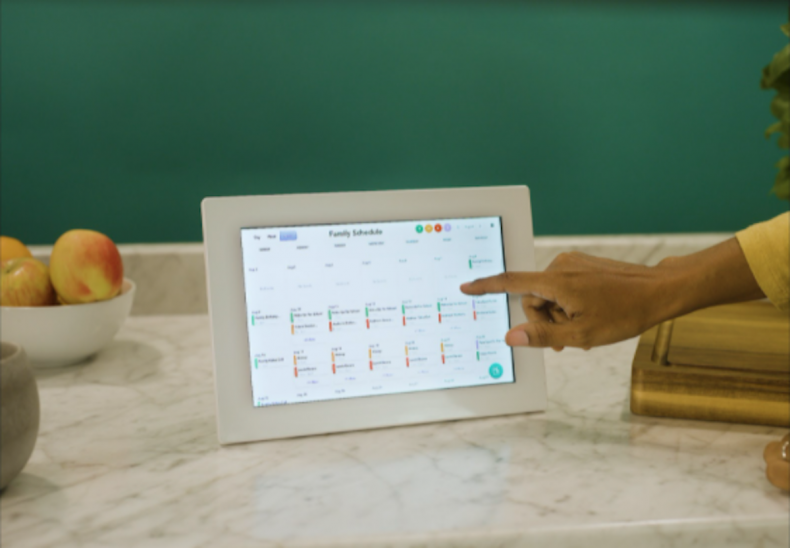 The Skylight Calendar is our new favorite way to keep not our closets but, really, our lives in order! A simple and clean-looking touchscreen device that means no more handwriting the family calendar on the fridge, the Skylight Calendar autosyncs with all the most popular calendar apps: iCal, Google, Outlook, Yahoo! and Cozi. It addition to displaying your digital calendar, it can also shuffle your personal pics into a slideshow with its digital picture frame feature.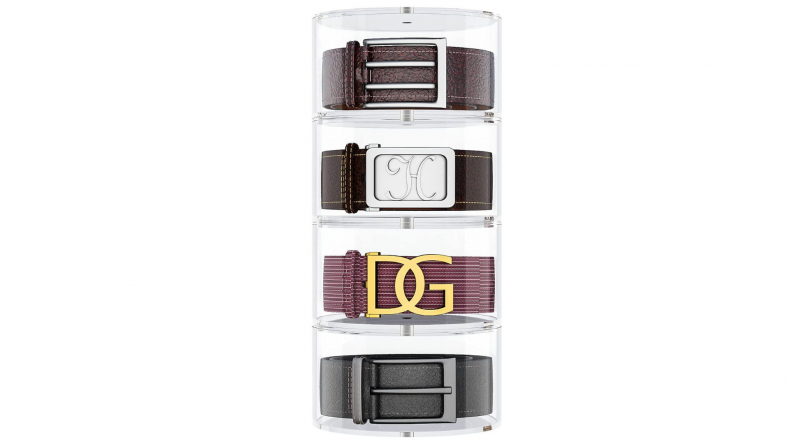 Belts, am I right?! This acrylic organizer has four vertical layers, one for each belt, and also features a lid to keep out dust.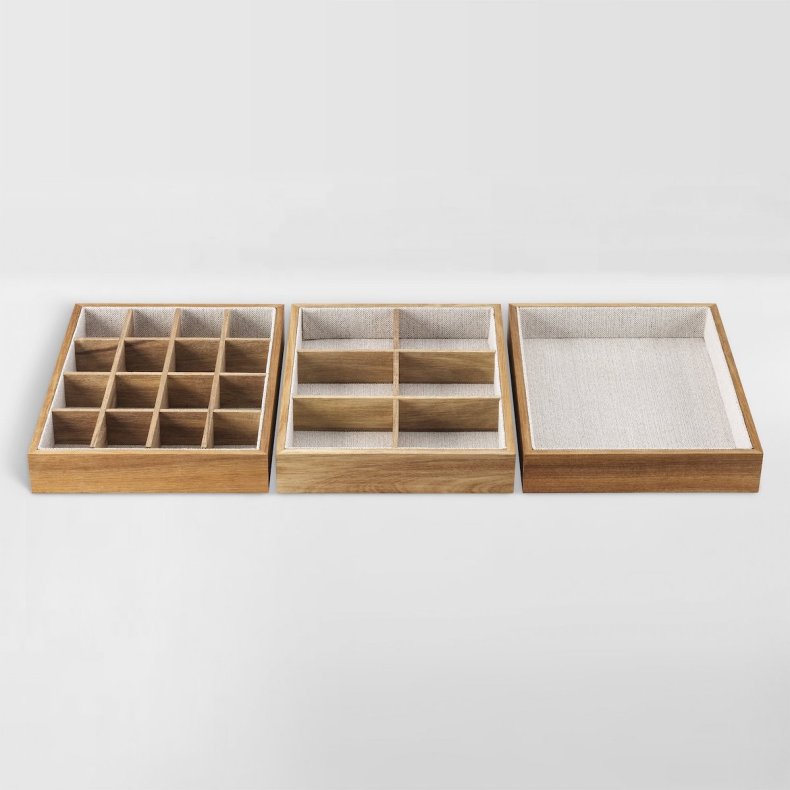 Available in three different configurations, the Neat Method Lined Acacia Tray features a polished, expensive aesthetic as well as removable inserts. This gorgeous, luxe tray is also stackable and even has a felt-covered bottom to protect surfaces.
Buy at the Neat Method for $32.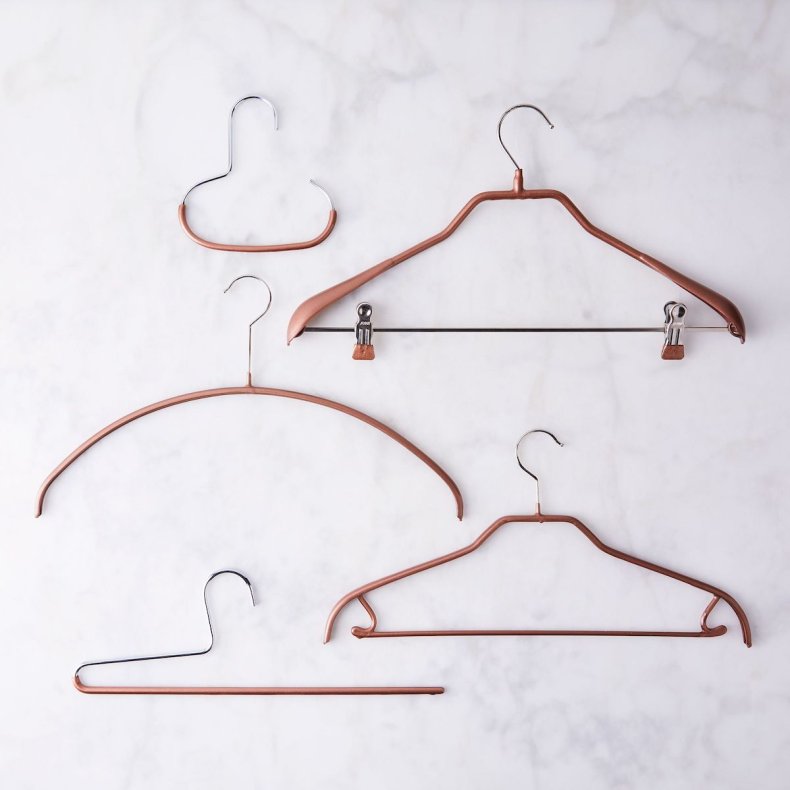 Nothing drastically transforms a closet like space-saving hangers. The Mawa European Space-Saving Hangers are a bit different from the rest. They're German-engineered and made with sturdy steel, which can hold as much as 8 pounds. Each copper-colored hanger also features a nonslip coating for ultimate grip, and each type—except for the single-rod—have a swivel hook.
Buy 36 hangers at Food52 for $210.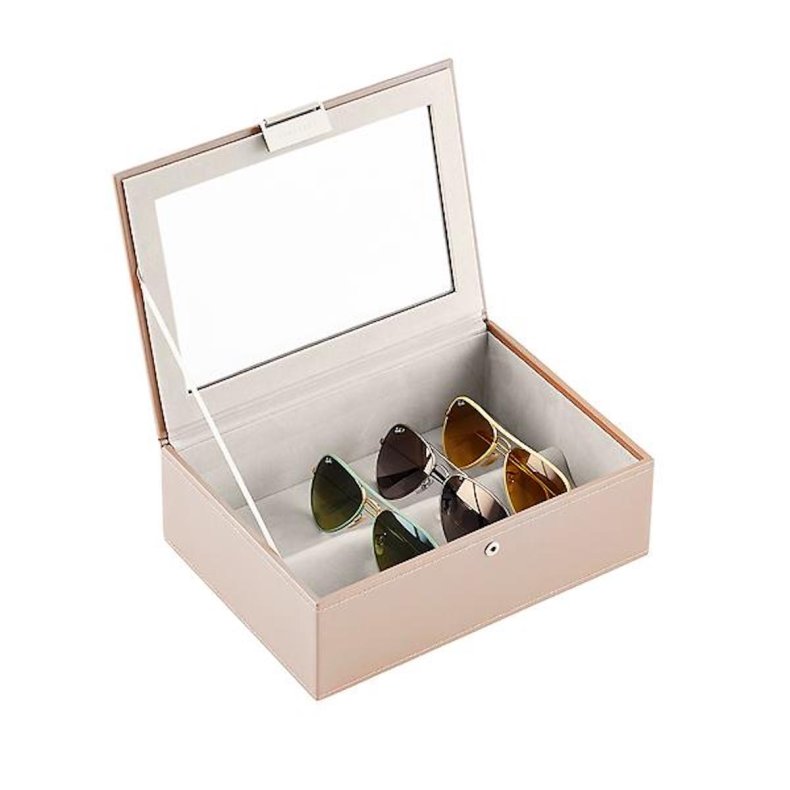 Stop losing your glasses! The Stackers Blush Classic Lidded Eyewear Storage Box isn't just for displaying your sunnies. It also ensures that every accessory in your closet has a home—even the glasses.
Buy at the Container Store for $34.99.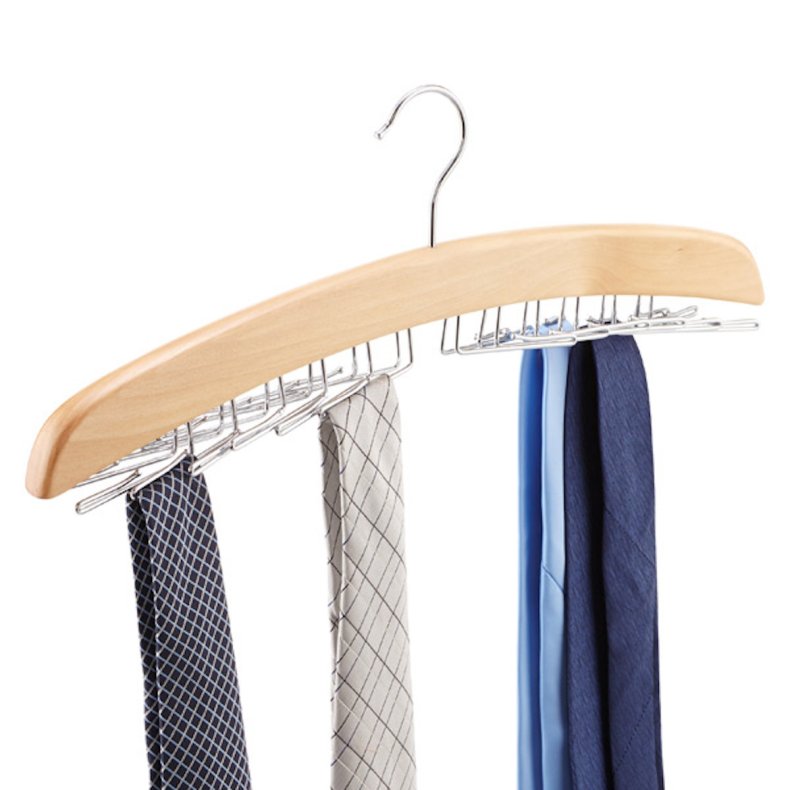 Ties can be some of the most difficult pieces to store because, well, there really is no good way to store them. The Natural 24-Tie Wooden Hanger from the Container Store is the most efficient solution there is. It keeps ties organized, and wrinkle- and tangle-free, but it also keeps all 24 visible and accessible as well as compact.
Buy at the Container Store for $9.99.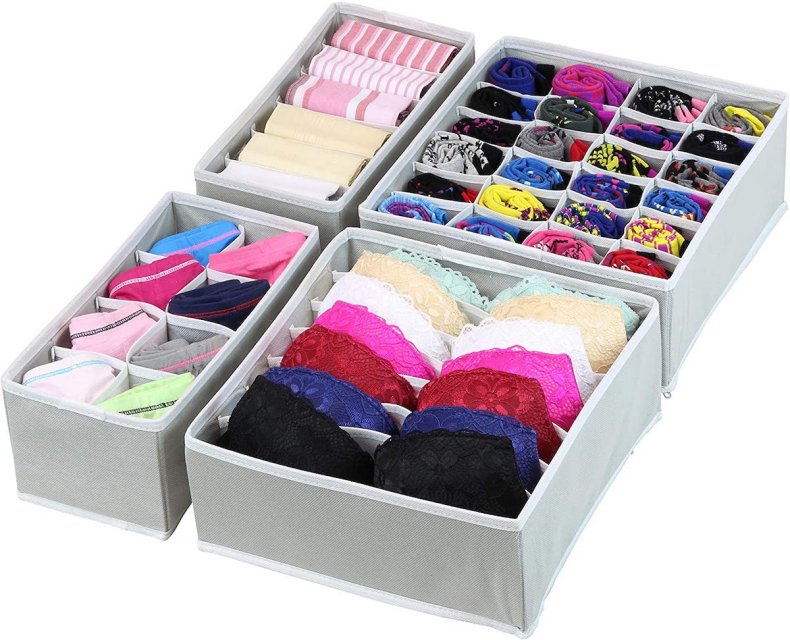 Underwear is a close second behind ties when it comes to the difficulty of storing them. Whether you fold or don't fold, undies always somehow get lost, pushed to the back or stuck in the drawer hinges. The Simple Housewear Closet Underwear Organizer four-piece set makes drawer storage easy—no folding required! Just simply ball up underpants, bras, socks and whatever else into each compartment. Now, every item in your underwear drawer has a home.
Buy this at Amazon for $14.97.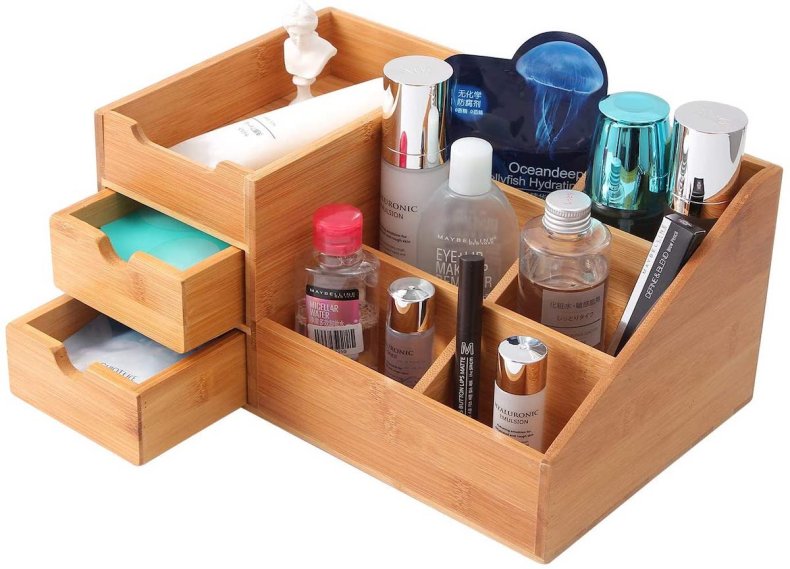 If you're tired of your most-used makeup rattling around at the bottom of your cosmetics bag, use the Homode Makeup Organizer to place all your items in sight. You'll never have to go digging for your favorite lipstick again.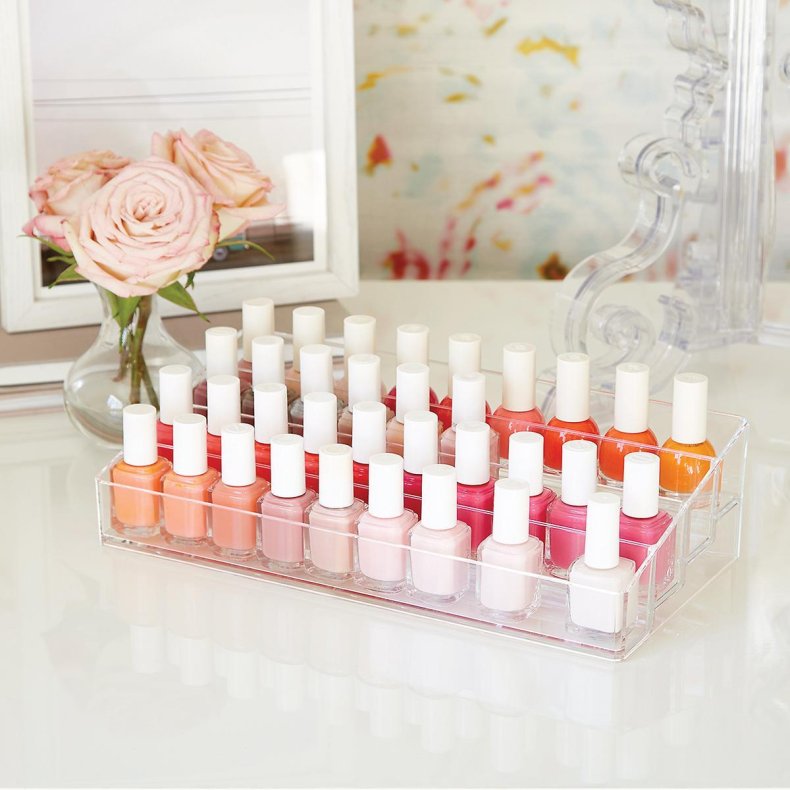 Another cosmetic that gets thrown at the bottom of a bag or bin is nail polish. But the 40-Bottle Acrylic Nail Polish Riser keeps all polishes out in the open so that you can access the color you need when you need it, simply because you can see it. And yes— you guessed it—we recommend color coordinating your nail polish, too.
Buy at the Container Store for $18.99.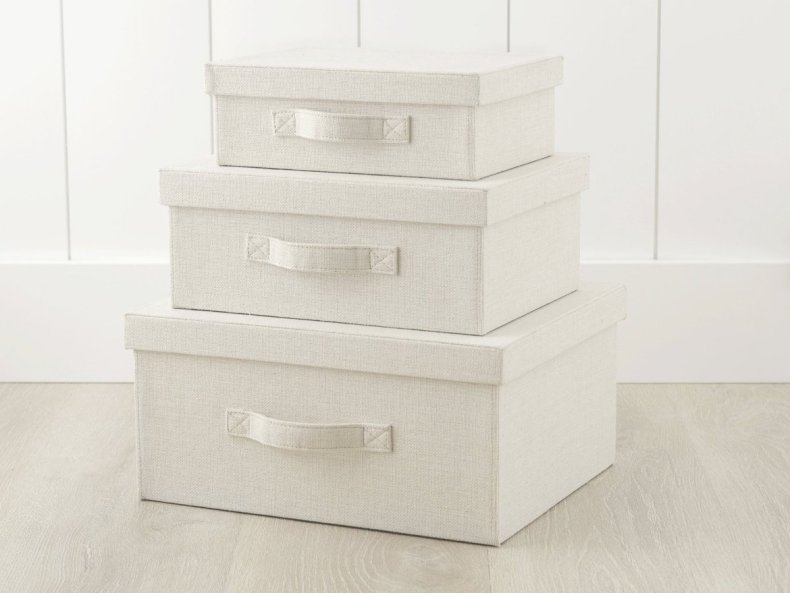 As is the Salt by Sabrina standard, the brand's Vienna Set of bins in the Carolina Sand color (above) is exquisite. This three-piece set of stackable storage boxes are sturdy and designed with high-quality material that's Proposition 65 certified in California and safe for all family members. Use these boxes to store those silly little things that end up all over the vanity or nightstand—clips, hair ties, perfumes, colognes, chargers, USBs and whatever else you'd prefer to hide.
Preorder at Salt by Sabrina for $110.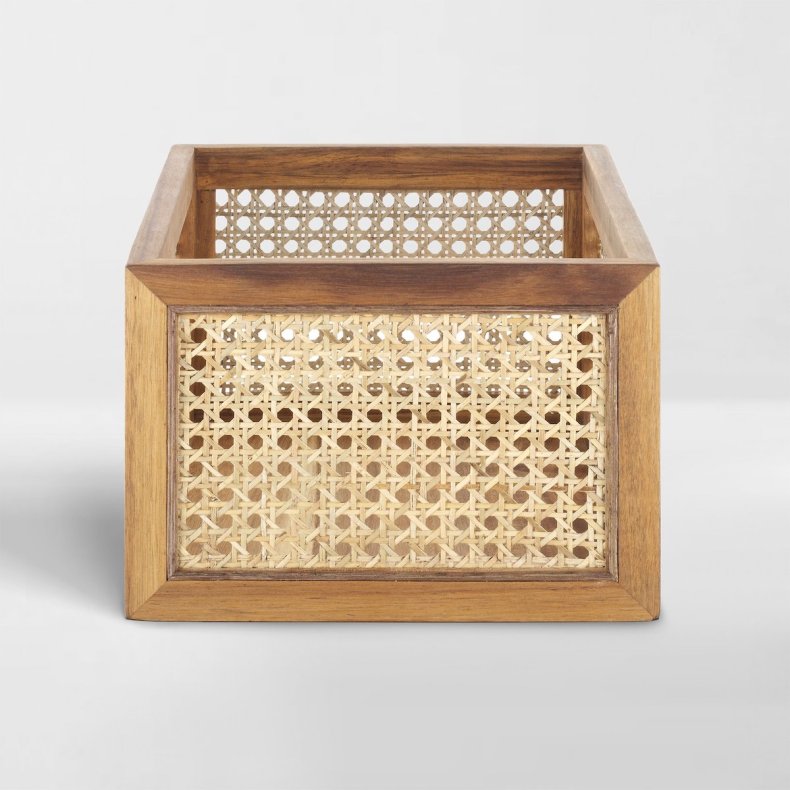 Have you ever seen a storage basket so fancy? The Neat Method Cane Basket plays on the current trend of caning with a streamlined, expensive look. You can store just about anything in these 10 inch by 14 inch by 7 inch baskets (which fit on just about any standard-size shelf), including face or hand towels, TV remotes and other electronics, or even cosmetics and hair tools.
Buy at the Neat Method for $54.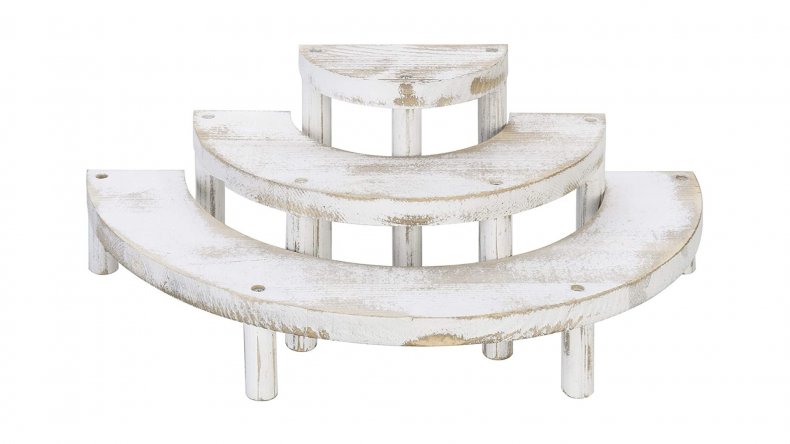 This shabby-chic display riser says in its Amazon description that it's perfect for displaying cupcakes and other desserts at parties, but it can be used for so much more! With a whitewashed, farmhouse-esque aesthetic, the MyGift Shabby White Washed 3-Tier Half Moon Display Riser can visibly store everything from cosmetics and nail polish bottles to perfumes and boxes of jewelry.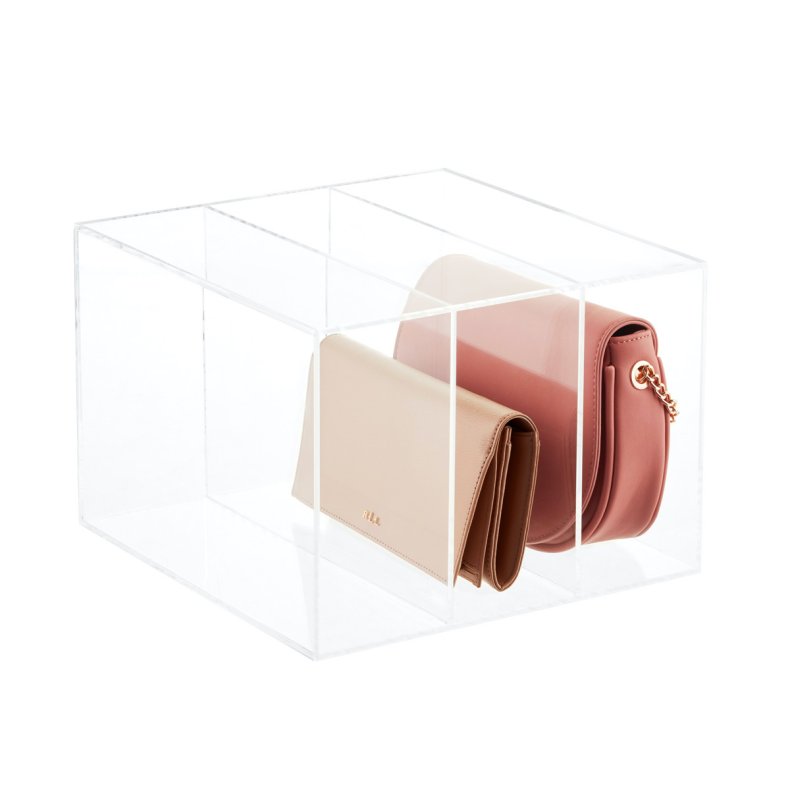 Thanks to long straps, purses can be pretty difficult to store in an orderly fashion. And clutches? Well, it's their lack of straps that makes them tough to store. The Acrylic 3-Compartment Clutch and Small Purse Organizer offers the ideal solution for both. Simply slide your purses and clutches into the clear acrylic shelves for easy access and an effortless-looking display. Place several of organizers next to each other for even more space and a filled-out look.
Buy at the Container Store for $39.99.
Newsweek may earn a commission from links on this page, but we only recommend products we back. We participate in various affiliate marketing programs, which means we may get paid commissions on editorially chosen products purchased through our links to retailer sites.