20-Something Who Thought COVID Was 'Bull****' Pleads From ICU to Wear Masks
A 29-year-old man sent a strong warning to others from his bed in an intensive care unit following a battle with COVID-19: "I paid the price. I have got no underlying health issues. I don't want anyone making the same mistakes as me."
Chris Grailey, a sales manager from Ancoats, a neighborhood of Manchester, England, filmed a video message from his hospital bed talking about his condition and warning others about the seriousness of the virus. Grailey was the "first to say [coronavirus] was all bull****."
"I paid the price... Now I'm in intensive care, waiting to get more treatment, and not knowing if I'm coming out the other side," he says in the video, which he shared with the Manchester Evening News. "So I really want you to take this message on board because it could happen to anyone. Please, please take care."
Grailey caught coronavirus while vacationing recently in Tenerife, the largest of Spain's Canary Islands, he said. The man described his mindset while there "thinking I was invincible, not wearing a mask," he says in the video.
He was sick for most of his vacation, having cold sweats and losing his taste and smell, Grailey told the Evening News. But his condition worsened even further upon his return to Watford, a town located northwest of London where Grailey is currently based for a work project.
The man went to the hospital Sunday morning for tests and scans to see what could be wrong, but doctors ended up sending him home later that night. Grailey returned to the hospital again Tuesday morning, and was rushed "straight onto a COVID ward," he told the Evening News.
There, doctors diagnosed Grailey with the virus as well as acute pneumonia. As part of his treatment plan, he is on four different antibiotics and steroids, and receives oxygen 24 hours a day to help him breathe, Grailey said.
"The way I have felt in the last week has been as close to hell I have ever been—I honestly sat there and was ready to just give up," he wrote in a Facebook post. "I can't breathe, walk, move. I'm like a zombie."
Grailey is sharing the details of his condition in hopes that others will be reminded of just how ill they can get.
"The reason I'm showing you all this is because I was the first to say it was all bull**** and 'nah f**k it were young we won't get it, it's only bad flu, government conspiracy Bla bla bla' wrong!" Grailey wrote in his Facebook post. "So before you think about going to house parties thinking your invincible getting off your heads sharing 10 pound notes, look at that picture and imagine it could be you."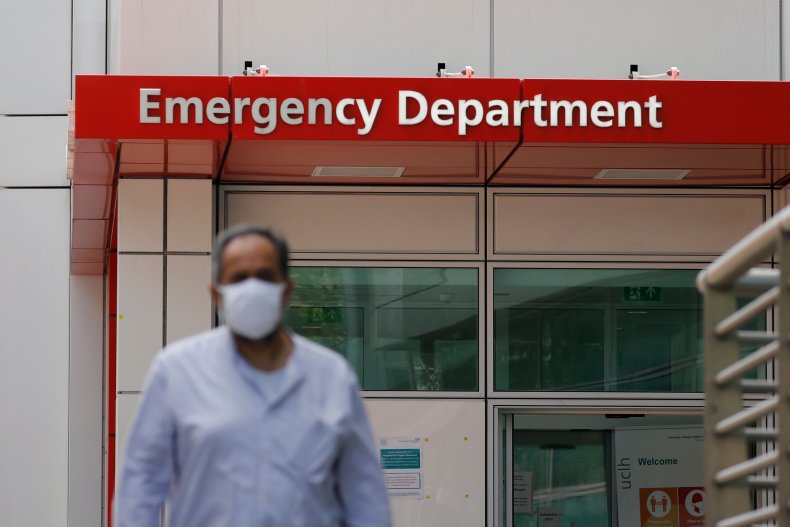 Grailey is one of 429,277 people in the U.K. who have been infected with COVID-19, according to the country's data page.
Prime Minister Boris Johnson announced Tuesday that restrictions on nightlife and gatherings would be imposed once again in an attempt to mitigate the virus' spread, which has entered its second wave in the country.
The U.K. reported 6,042 new infections on September 26—numbers which haven't been seen since the beginning of May, when the country was in the midst of its worst battle with the virus.
"We need to suppress the virus now," Johnson said in a televised address. "Unless we take action, we will have to take measures later when deaths have mounted."