$2,000 Stimulus Check Talk Gives Mitch McConnell, Georgia Senators Headache
President Donald Trump may have one month remaining in the White House. Regardless, Trump still seems to be on a mission from his 2016 campaign: Drain the swamp. That mantra could possibly threaten his own political party just as he is likely to leave the White House.
Trump on Tuesday threatened to veto a congressional bill that would send $600 into the pockets of Americans for COVID relief. Trump wants more money for American families, and he's getting support from Democrats for that sentiment.
If the president gets his way, it could leave headaches and black eyes to his longtime supporters, including those who need him the most right now.
The top Republican in the Senate and two Republican senators in Georgia in reelection runoffs have leaned on smaller payments to Americans during the stimulus bill battle. Now, the party leader has said otherwise.
In short: Congress passed a bill that would put $600 into pockets of Americans for COVID relief, and $1,200 for couples with an additional $600 for each child. However, the bill is loaded with huge chunks of money that aren't COVID-related. Trump said Tuesday night that the money for American citizens wasn't enough, and he cited several dollar amounts (some in the billions of dollars) to other countries.
Trump asked Congress to amend the stimulus bill to send $2,000 to each "American" or $4,000 to each couple. The president specifically chastised the original bill that stated "illegal aliens" would receive $1,800—and other portions of the bill, like millions of dollars to places like the Kennedy Center that are currently closed to the public.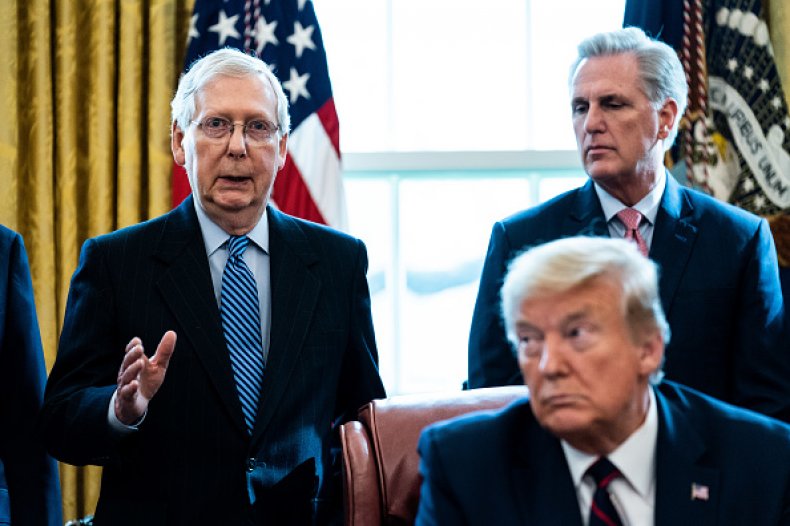 Democratic leaders have praised the president's disgruntlement, and it has handcuffed Republican leaders like Senate Majority Leader Mitch McConnell (R-Ky.). It could also hinder the Georgia Senate runoffs as it looks like, for some, the leader of their party has turned on them.
Georgia Republican senate incumbents Kelly Loeffler and David Perdue, who are both in runoff races, each voted "yes" on the recent stimulus bill. This will make them answer to constituents, and runoff voters, on their response to Trump's new stimulus suggestion.
After Trump sent his video through Twitter on Tuesday, Democrat representatives Alexandria Ocasio-Cortez and Rashida Tlaib hit Twitterverse saying they had legislation "ready to go" almost immediately.
"Let's do it," Ocasio-Cortez tweeted. "@RashidaTlaib and I already co-wrote the COVID amendment for $2,000 checks, so it's ready to go."
"Glad to see the President is willing to support our legislation," Ocasio-Cortez said. "We can pass $2k checks this week if the Senate GOP agrees to stand down."
Senate Minority Leader Chuck Schumer said that Democrats "spent months" trying to get $2,000 payments to Americans, much to no avail.
"We spent months trying to secure $2000 checks but Republicans blocked it," he tweeted.
"Trump needs to sign the bill to help people and keep the government open and we're glad to pass more aid Americans need," Schumer said. "Maybe Trump can finally make himself useful and get Republicans not to block it again."