Donald Trump Demands $2,000 Stimulus Checks as Supporters Call for Veto
President Donald Trump on Tuesday called upon Congress to amend the stimulus bill that has reached his desk, saying Americans need more than just $600 per person, and $1,200 per couple, in COVID-19 relief.
Trump said stimulus checks should be $2,000 per person and $4,000 per couple. The president released this video on Twitter around 7:30 p.m. Monday.
Trump has also asked Congress to "get rid of the wasteful and unnecessary items" and to send him a "suitable bill."
"Throughout the summer, Democrats cruelly blocked COVID relief legislation in an effort to advance their their extreme, left-wing agenda, and influence the election," Trump said. "Then, a few months ago, Congress started negotiations on a new package to get urgently-needed help to the American people. It's taken forever."
"However, the bill they are now planning to send back to my desk is much different than anticipated. It really is a disgrace," Trump added.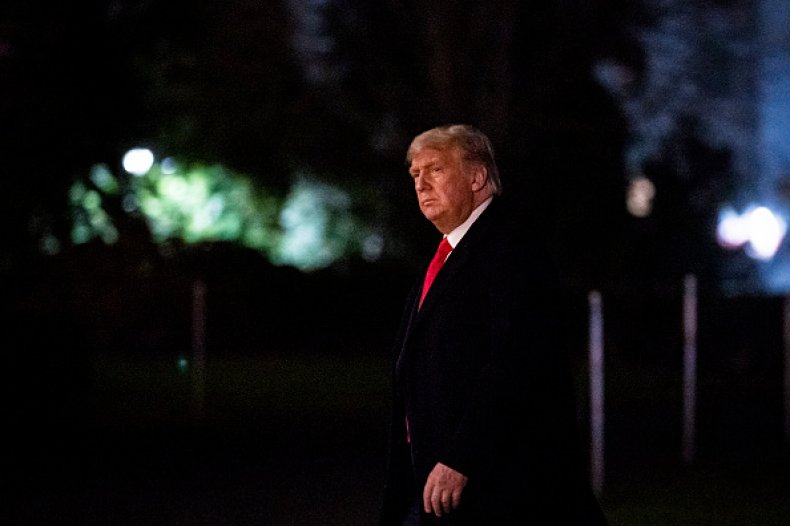 "For example, among the more than 5,000 pages in this bill, which nobody in this Congress has read because of its length and complexity, it's called the COVID Relief Bill, but it has almost nothing to do with COVID," the president continued.
Trump slammed Congress for dishing out millions, and billions, of dollars to foreign countries and programs that aren't related to the COVID crisis in the United States.
"Congress found plenty of money for foreign countries, lobbyists and special interests, while sending the bare minimum to the American people who need it, and it wasn't their fault," Trump continued. "It was China's fault, not their fault."
Trump cited spending measures in the bill, which are included, but not limited to:
$85.5 million for assistance to Cambodia.
$134 million to Burma
$1.3 billion for Egypt and the Egyptian military, "which will go out and buy almost exclusively Russian military equipment."
$25 million for democracy and gender programs in Pakistan
$505 million to Belize, Costa Rica, El Salvador, Guatemala, Honduras, Nicaragua and Panama
$40 million for the Kennedy Center in Washington, D.C., "which is not even open for business."
$1 billion for the Smithsonian, "which is not even open," and an additional $154 million for the National Gallery of Art
$7 million for Reef Fish Management
$25 million to combat Asian carp
$2.5 million to count the number of amberjack fish in the Gulf of Mexico. "A provision to promote the breeding of fish in federal hatchers"
$566 million for construction projects at the FBI
"The bill also allows stimulus checks for the family members of illegal aliens, allowing them to get up to $1,800 each. This is far more than the Americans are given," Trump said.
"Despite all of this wasteful spending, and much more the $900 billion package provides hardworking taxpayers with only $600 each in relief payments. And not enough money is given to small businesses, and in particular restaurants, whose owners have suffered so grievously. They were only given a deduction for others to use," he added.
After the passage of the relief bill in Congress late Monday night, conservative voices urged Trump to veto the bill.
"Every American left and right should be calling for a #VETO of this stimulus 'deal'—which provides MORE funding to foreign governments and to American arts centers, than to the American people," commentator Candace Owens tweeted.
Former Trump campaign adviser George Papadopoulos—who was pardoned Tuesday for lying to the Mueller investigation—called for a veto of the "disastrous" stimulus bill, criticizing the size of the $600 stimulus checks.
"My grandchildren will NOT be paying off Corporate Congress' foreign aid 'stimulus' package," she tweeted. "#VETO!" former Senate candidate Lauren Witzke wrote.
These calls are not new, as last week, 14 House Republicans wrote Trump a letter requesting a veto to the bill over concerns about the national debt.
"Our country will be better off if you veto this omnibus appropriations bill for fiscal year 2021," the lawmakers wrote. "We will strongly support your efforts to demand better from the fiscally irresponsible Congressional leadership."
Congress passed a bill through both the House and Senate late Sunday, that was supposed to reach the president's desk for Trump's final approval. Unless amendments are made, Trump could veto anything before him.