If hope is the thing with feathers, then dread is the thing with claws. A story like that of the Petit family sinks its talons into you and refuses to let go. "One of the worst crimes in Connecticut history," as The New York Times called it, was notable neither for a sensational body count nor for brainwashed perpetrators, à la the Manson "family." Only three people died on the night of July 23, 2007, at 300 Sorghum Mill Drive in Cheshire, Connecticut. Car crashes routinely exact a greater toll. Gang violence on the South Side of Chicago might take five times that number on any summer weekend. But dread is unencumbered by statistics, just as it is immune to reason.
When photos of the victims appeared on television screens the night after the crime, many Americans saw slightly better versions of themselves. The Petits—an endocrinologist and his nurse wife—were well-off but not rich, good-looking but not striking. Jennifer Hawke-Petit, 48, was starting to show her age; Dr. William Petit Jr., 50, could lose some weight. Their house, two beige stories in the colonial style, was no gaudy McMansion of a Wall Street derivatives baron. Their daughters were next-doorish, their smiles for the camera always properly awkward, as befitting that more innocent era before duckface. Hayley, 17, was going to attend Dartmouth. Michaela, 11, liked Rachael Ray. If their lives could be so thoroughly rent apart, then so could yours. So could anyone's.
The two men who intruded on the Petits' blissfully average existence were Steven Hayes and Joshua Komisarjevsky. They too, in a sense, were average, at least as far as criminality was concerned. They weren't people-hurters but, rather, stuff-takers. They dealt drugs and took drugs. They were, until that night, two down-and-out white guys in a state with some of the richest white people in the nation. They later said they thought the robbery at 300 Sorghum Mill Drive would be a simple transaction, conducted with minimal violence.
Arriving at the Petit house a little before 3 a.m., they went around back and found Dr. Petit asleep in the sunroom, where he had been reading reports for work. Komisarjevsky beat the doctor over the head with a baseball bat. The doctor awoke, horribly confused. The two men tied him up. Later, they took Petit down to the basement, where they bound him to a pipe. Komisarjevsky propped him up on some pillows. He presumably did not want the doctor, who was bleeding, to be uncomfortable.
Upstairs, Michaela was in bed next to her mother, having fallen asleep while reading a Harry Potter novel. Hayley was snoozing in her own bed. All three women were bound, and pillowcases were put over their heads.
Hayes and Komisarjevsky spent the next several hours looking for valuables and cash, without finding much of anything. By morning, they were frustrated. Around 9 a.m., Hayes took Jennifer Hawke-Petit to a Bank of America branch, where she withdrew $15,000. In the midst of doing so, she was able to alert a bank teller. The teller told a manager, who called the police.
That first call came at 9:21 a.m. "We have a lady who is in our bank right now who says that her husband and children are being held at their house," the manager said, adding that the woman who withdrew the exorbitantly large sum appeared to be "petrified."
Police did not intercept Hayes, who drove away from the bank with Hawke-Petit. Maybe if he were a little smarter, he would have left Hawke-Petit on some stretch of suburban road and fled, $15,000 in his pocket. But instead of bolting, he dutifully returned to 300 Sorghum Mill Drive and discovered that while he had been at the bank, Komisarjevsky had performed oral sex on Michaela, an act he captured on his cellphone. Hayes later testified that Komisarjevsky ordered him to "square things up" by raping Hawke-Petit, which he did on the living room floor.
It remains unexplained why, as the police circled the house at 300 Sorghum Mill Drive, nobody even thought to knock on the door, ring the bell, just call the house phone. Something so simple could have saved three lives.
At 9:51 a.m., a bloodied Dr. Petit emerged from the basement. His feet still bound, he rolled across the lawn toward the house of a neighbor, who emerged in confusion, not recognizing the bloodied form before him. A police officer also approached.
"The girls are in the house!" Dr. Petit shouted.
The exact sequence of events is unclear, but it seems that, in quick succession, Dr. Petit escaped from the basement and Hayes strangled Hawke-Petit in response. Then the two men doused the house in gasoline, in hasty preparation for a gruesome final act they had not known they were about to stage. Both men later said the other lit the match.
At 9:56 a.m., Hayes and Komisarjevsky burst out of 300 Sorghum Mill Drive. They tried to drive away in the Petits' SUV but rammed a police vehicle and were quickly apprehended. The Petit house, meanwhile, burned as a summer rain fell on Cheshire. By the time firefighters made it inside, there was nobody left to save. Michaela had died of smoke inhalation in her bed while Hayley managed to free herself, only to succumb to fire and smoke at the top of the staircase.
In the eight years since the crime, the two killers and the night's lone survivor have spoken haltingly and contradictorily to the press, so that some of the most fundamental questions about 7/23/07 remain unanswered. The most recent entry in this morbid oeuvre is The Rising: Murder, Heartbreak, and the Power of Human Resilience in an American Town by magazine writer and editor Ryan D'Agostino. The book is notable for its access to Dr. Petit, who has remarried and become a father again.
Komisarjevsky, who was 26 at the time of the murders, gave his version of events to true-crime writer Brian McDonald for his 2009 book In the Middle of the Night: The Shocking True Story of a Family Killed in Cold Blood. McDonald allegedly paid Komisarjevsky $300 for his story and in the course of visiting and corresponding with him, appears to have been charmed by the killer. McDonald's affection for "Joshua" is almost as creepy as "Joshua" himself.
Two years ago came an HBO documentary, The Cheshire Murders, which was the first time many outside Connecticut saw images of the crime: the charred remains of the Petit house, baby photos of the girls, jerky security camera footage of Hawke-Petit at the bank, looking like an average suburban mother, which is exactly what she had been until the previous night. "People in town refer to it as 'Cheshire's 9/11,'" a friend of the Petits says in the HBO documentary. "Life was one way, and then it's another."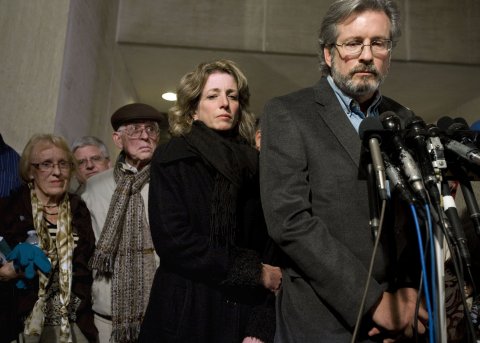 The pairing of Komisarjevsky and Hayes would have been comical, were it not so horrible. The duo were a malevolent Quixote and Panza, transplanted from dusty Spain to Connecticut, a state of silent factories, hedge fund mansions and strip malls, rivaled only by New Jersey in its juxtapositions between wealth and poverty.
Steven J. Hayes was a pudgy crack addict who could barely mastermind a ham sandwich. As a child, he was abused by a baby sitter, which a forensic psychiatrist would later testify led him to develop a sneaker fetish. His two brothers, both of whom appear in The Cheshire Murders, show an arresting absence of compassion for their sibling, their bloodlust at once deeply personal and utterly dispassionate.
"Fuck the trial," says Matthew Hayes. "Flip the switch."
"I hope it doesn't even go that far," says Brian Hayes. "I hope somebody puts a bullet in his head outside the courtroom."
Hayes was an adolescent when he started drinking and smoking weed. He was first arrested at 16; by the time of the Cheshire murders, when he has 44, Hayes had been in jail or prison on 26 separate occasions, mostly for minor stuff that portended no murderous intent. This was a guy who prowled the parking lots of parks, looking for cars in which joggers or walkers had left purses or wallets. When he wasn't stealing or doing time for stealing, he worked in restaurants.
Joshua Komisarjevsky is the more intriguing of the two, a kid with money and looks who never managed to trade on either. He was adopted at birth by a family that, on the paternal side, boasted both White Russians and New England blue-bloods. His adoptive grandfather was Theodore Komisarjevsky, one of the preeminent figures of belle époque Russian theater. After Theodore Komisarjevsky died, his widow, Ernestine Stodelle, a dancer, married John Chamberlain, a Yale man who wrote for The New York Times. A good deal of Joshua Komisarjevsky's childhood was spent on Chamberlain's 65-acre Cheshire estate.
Komisarjevsky's adoptive father, Benedict, was an electrician, while his mother was a school librarian; both parents were devout Baptists who sometimes spoke in tongues. As a child, Komisarjevsky was diagnosed as having oppositional defiant disorder. He was abused by an adoptive brother and, later, abused an adoptive sister. His mother pulled him out of school and educated him at home and, for a time, at a Christian academy.
Whether out of boredom or psychic distress, Komisarjevsky started to come apart around the time he turned 14. His mother later said he came under the influence of a "satanic cult," though it may have been only some local hooligans. Whatever the case, "he was breaking into an average of eight houses a week in Cheshire" by 1994, according to McDonald. "There was something sexual about the act of burglarizing houses for Joshua." The following year came the death of his grandfather, Chamberlain, whom Komisarjevsky would call "one of the most pervasively inspiring role models of my life." Shortly thereafter, Komisarjevsky was sent to a psychiatric hospital, after what appears to have been a suicide attempt.
But, as McDonald wrote, his parents were distrustful of psychiatric medicine: "For the Komisarjevskys, Jesus Christ was the answer to their son's problems." They sent him to a religious camp in Maine where he'd previously spent summers. He toured with a Christian music group, which proved a happy time, maybe the happiest time. Back in Connecticut, he joined the Army Reserves, less out of duty than as a way to escape jail (stolen sneakers, concealed knife). He wanted to become a sniper, but he left after basic training and drifted, once again, back to Connecticut. There, he dealt drugs and used drugs. "He was out of money," McDonald wrote, "and had very few friends."
In 2006, both men were at a halfway house in Hartford. The narrative of ablution and renewal must have been, to them, both familiar and preposterous, an official fairy tale meant to pacify castaways. In Connecticut, an ancient colony of Puritans, there were some who had clearly been blessed by that severe and silent God, graced by good things from birth. Others, though, languished in the shadows, mired in some cosmic disfavor they could not escape.
If there is a sacrosanct ritual in American civic life shared by all constituencies, ethnic and otherwise, then it is surely the visit to the supermarket: the selection of cereals, the palpation of produce, the bored gazes at celebrity tabloids and dieting magazines in the checkout line. It was outside just such a temple of culinary commerce, in the Stop & Shop parking lot, that Komisarjevsky noticed Hawke-Petit and Michaela, a budding gourmand who wanted to pick up some groceries for the pasta dinner she was going to make that night. He waited for them to emerge and followed them home.
Komisarjevsky later told detectives that he "started thinking it's a very nice house and very nice car and thought it would be nice to be there someday." Note that his main desire, at least here, was to simply occupy the Petit household. It's like he wanted to be adopted all over again.
That evening, Hayes and Komisarjevsky met up in the same Stop & Shop parking lot. They went for "a few beers" at Sports Rock USA in Bristol, according to McDonald's book. They considered mugging people leaving bars or withdrawing money from ATMs, but these both seemed insufficient means of enrichment. So they drove to the very nice house Komisarjevsky had seen earlier that day. It was now nearly three hours past midnight. At 300 Sorghum Mill Drive, they went around the back, where Dr. Petit was sleeping in the sunroom.
"I hit him in the head with the baseball bat," Komisarjevsky told the cops the following day, until a bewildered and bellowing Dr. Petit "finally backed up into the corner of the couch and quieted down and was just staring at me with wide open eyes, just sheer confusion." They tied him up and proceeded upstairs, where the Hawke-Petit and the girls were sleeping.
A few years ago, you could listen to a confession like the one Komisarjevsky made only if you wrote letters and made phone calls, pestering the cops and courts until they finally relented, though probably not without calling you a voyeuristic creep. Today, you can hear the roughly 90-minute audio recording of the confession on YouTube, the screen filled with a mug shot in which Komisarjevsky looks like a kid still too drunk to know where he has woken up. Whether you should listen to that confession is a complicated question. The recording proved so unnerving when played in court that the judge excused the jury for the day partway through. So caveat emptor.
It's not that Komisarjevsky offers especially gruesome detail; nor does he have a psychopath's equanimity, a chilly lack of affect. He sounds, instead, like a freshman in the principal's office, aware that he has fucked up big time but still confident in his innate goodness and, maybe, his ability to get out of this very large pickle. He is definitely a killer, but he is just as definitely a child: "Obviously, I should have done better."
After details of the Cheshire murders came to light, some wondered why Dr. Petit had not escaped sooner. Why had it taken him over six hours to free himself? Why had he run out of the house, not up the stairs to the second floor? In a culture where masculine superheroes routinely save the day, the notion of an incapacitated paterfamilias was an uncomfortable one. From prison, Komisarjevsky charged Petit with having been a "coward."
In The Rising, D'Agostino argues against any such aspersion. He is not the first to speak on the record with Petit, who has been interviewed by Oprah Winfrey and others. But in the book, he gives an apparently full detailing of that night. D'Agostino wrote that Petit, who was taking a blood thinner at the time, "had lost seven pints of blood [and] thought the two able-bodied men upstairs had a loaded gun." D'Agostino describes Petit as "almost lifeless" as paramedics rushed him to a hospital in Waterbury.
Somewhat improbably, The Rising, a book about a triple murder, ends on a happy note: Petit is once again a father and a husband, "trying to add bricks and mortar to his new life, a little more every day," in D'Agostino's words. Petit sought—and got—the death penalty for both men (although the state's highest court recently ruled against capital punishment, effectively relegating both men to life in prison). He also started a charitable foundation commemorating his wife and daughters, which he continues to run today.
The best true-crime books—Fatal Vision, Helter Skelter, The Onion Field—hit with a nihilistic thunderclap. Petit's survival tempers that blow, introducing the discordant element of hope. On television during the trials of Komisarjevsky and Hayes, Petit, with his graying mane and plangent voice, looked the part of a modern-day Lear: deposed, injured, furious at fate yet refusing to surrender his fundamental dignity.
Some in the state's Republican establishment wanted him to run for office, but Petit refused, citing a desire to spend time with his family. It was his second family. He knew it could be taken away, just like his first.