Almost 20 years ago, a Jewish extremist named Yigal Amir fired two hollow-point bullets into the back of Yitzhak Rabin as he left a peace rally in Tel Aviv, leaving him fatally wounded. Political assassinations don't always alter the future of a country, but the murder of the Israeli prime minister delivered exactly what his assassin had prayed for: a fatal blow to a fragile peace process, which many hoped might end a century of communal warfare between Jews and Palestinians.
Since Rabin's death, the two peoples—living as neighbors and enemies on a land they both claim—have been caught in a seemingly endless cycle of deepening hatred, failed negotiations and growing violence. The most troubling legacy of Rabin's assassination is how easily animosity can burst into bloodletting. The latest paroxysm occurred in October, as more than three dozen Jews and Arabs died in a series of Palestinian stabbings and Israeli gunfire across the country, in the West Bank and along the border fence with Gaza.
The front lines of this conflict are now anywhere Jews and Palestinians routinely encounter one another—riding a bus, shopping in a market or walking down the street. Rattled Israeli officials are urging Jews to carry licensed firearms wherever they go. Other Israelis are stocking up on pepper spray and stun guns, suspicious of every Arab who lives or works among them. "How can I trust the Arab guy who is working in the supermarket?" retired Major General Amnon Reshef, leader of a group of former senior officers calling for stronger security measures, tells Newsweek. "I consider him my friend, but who knows what will be in a couple of minutes?"
Related: Israelis Turn to Self-Defense as Anxiety Rises Over Knife Attacks
Palestinians are calling the current round of violence the third intifada, the Arabic word for "shaking off" or rising up against Israel's military occupation, now in its 48th year. But the first insurrection, which began in December 1987 , never really ended. That initial round of Palestinian stone-throwing and mass demonstrations subsided in 1993, after Rabin signed the Oslo peace accords, which supposedly ended the conflict and raised hopes for a final settlement. But since Rabin's murder, Oslo has steadily unraveled, and the conflict has continued.
In this chronic struggle between neighbors, only the weapons have changed. With the failure of peace talks at Camp David in 2000, the same Palestinian security forces that had begun to work with their Israeli counterparts under Oslo turned their guns against them, and Hamas militants carried out their signature suicide bombings, killing nearly 1,000 Jews. In response, Israel deployed blast walls and barbed wire for a security barrier that largely sealed off the West Bank and Gaza Strip from the main Jewish population centers. Today, more than five months after Secretary of State John Kerry aborted the most recent U.S. diplomatic effort, young, frustrated Palestinians are using whatever weapons are handy—kitchen knives, screwdrivers and, in one case, a potato peeler—in what appear to be lone wolf attacks that almost always end with the assailant dying in a hail of Israeli gunfire. Some Palestinians have even used their cars as weapons, plowing into crowds of pedestrians.
Israeli officials blame Palestinian President Mahmoud Abbas for inciting the violence with his calls to defend a sacred compound in Jerusalem's walled Old City—known to Muslims as Haram al-Sharif, the noble sanctuary, and to Jews as the Temple Mount. Abbas was reacting to noisy demonstrations by Jewish extremists and right-wing Israeli lawmakers demanding a change to the nearly 50-year-old arrangement that forbids Jews from praying at the site. The violence has continued despite Israeli denials of any planned change. "The claim that Israel is trying to change the status quo on the Temple Mount is just a bunch of lies," Jerusalem's Israeli mayor, Nir Barkat, tells Newsweek. "Unfortunately, some of the teenagers believe it. The wave of violence is based on that."
Kerry is headed back to the region in a fresh bid to quell the unrest. Diplomatic sources tell Newsweek the effort may involve assurances from King Abdullah II of Jordan, which still maintains authority over the holy site, and possibly a high-profile Israeli declaration that it will not upend the status quo. But on October 19, Abdullah declined to get involved in the crisis, and Israel rejected any Jordanian role in the matter.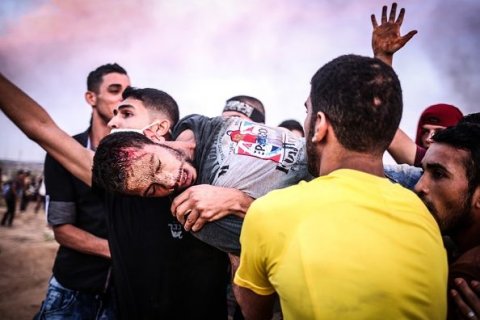 In the meantime, many believe the violence is primarily the result of a deepening Palestinian despair over a seemingly endless occupation and the absence of any active peace process. Mustafa Barghouti, a veteran Palestinian politician and activist, points to the two decades since Rabin's assassination as a period when the late prime minister's successors slowed the implementation of the Oslo accords and expanded the colonization of the West Bank, establishing unequal sets of laws for Jewish settlers and Palestinians, among other things. Barghouti says the violence is also a revolt against Abbas, who has appeared powerless to stop Jewish settlements and end the occupation. "They are challenging the political leadership, which has failed to produce what they're asking for, which is independence and freedom," Barghouti told the BBC. "They've been promised that negotiations would lead to a solution for 20 years now, and all they see is more oppression and a system of apartheid."
Such pessimism is in sharp contrast to the hopes that buoyed both Israelis and Palestinians on September 13, 1993, when Rabin and Palestinian leader Yasir Arafat shook hands on the White House lawn after signing the Oslo accords. The historic agreement was the first between Jews and Palestinians to end their conflict. It included mutual recognition and a schedule for Israeli troop withdrawals from the Gaza Strip and parts of the West Bank and opened a path to a broader peace between Israel and the Arab world. President Bill Clinton, who presided over the ceremony, praised the two leaders for their "brave gamble that the future can be better than the past."
Just how much of a gamble Rabin and Arafat were taking quickly became clear. Extremists on both sides tried repeatedly to scuttle the accords. Hamas bombers killed scores of Israelis on buses and in cafés, rejecting any deal that didn't replace Israel with an Islamic state. On the Israeli side, right-wing settlers and religious extremists opposed any deal that ceded any Palestinian territories, which they believed God had promised to the Jews. In increasingly vitriolic demonstrations, they portrayed Rabin as a terrorist, a Nazi and a traitor. Some, like Amir, believed they had a religious duty to kill Rabin to save Israel. And to this day, the assassin, now serving a life sentence for his crime, remains unrepentant.
Related: Palestinian Kills Israeli Soldier, Wounds 11 Others
At the forefront of the anti-Rabin demonstrations was Benjamin Netanyahu, then the new leader of the right-wing Likud opposition. Instead of speaking out against the demonization of the Israeli prime minister, Netanyahu fed the country's anxiety over security in hopes of deposing him.
Today, Netanyahu is in his fourth term as the leader of Israel, the clear beneficiary (and agent) of the country's steady drift to the right. Analysts believe this is largely because of security fears and a growing Israeli conviction that the Palestinians are too politically fractured to sign and execute a peace deal. Many observers say these divisions are one of the reasons why Arafat turned down what the Israelis called a generous offer to withdraw from much of the West Bank during the Camp David negotiations.
But Israeli leaders since Rabin haven't made the peace process any easier. After Netanyahu was elected for his second term in 2009, he refused to endorse an offer by his predecessor, Ehud Olmert, to withdraw from 93 percent of the territory. Abbas also complains that Netanyahu has continued to expand existing Jewish settlements during peace talks, which some analysts have compared to two people negotiating over a pizza while one of them eats it. More recently, the Israeli leader made a new demand: that the Palestinians recognize Israel as a Jewish state. Abbas says that would disenfranchise Israel's non-Jewish Palestinian citizens, who make up 25 percent of the country's population. Besides, Palestinian officials point out, they formally recognized Israel in 1988 and again in the Oslo accords.
During Netanyahu's most recent national campaign in March, he disavowed the two-state solution, a move that angered President Barack Obama but that analysts say helped him win the election. The prime minister now leads the most right-wing government in the country's history, with key coalition partners demanding the annexation of the West Bank. Meanwhile, Rabin's Labor Party has been unable to win over a majority of Israelis, who largely blame the recent violence on what they see as a blind Palestinian hatred of Jews and give little importance, as Rabin did, to the corrosive effects of the occupation.
Reflecting on the 20th anniversary of Rabin's death, Roberta Fahn Schoffman, an American-born political consultant living in Jerusalem, offers a grim assessment of its impact. "Yigal Amir murdered both the man and the vision for a peaceful resolution to this tragic conflict," she wrote in an online commentary for the Israel Policy Forum, a think tank that advocates for a two-state solution. "Without another leader like Rabin, willing to stand up even in these horrendous days and state loudly the need for a political process...we will see more acts of terror, we will build cement obstacles to block off Palestinian villages, we will call upon more Israeli civilians to arm themselves whenever they leave their homes and we will watch more children on both sides become both victims and martyrs."
Joshua Mitnick contributed reporting from Jerusalem.