Three days after the recent death of David Bowie, the British singer's longtime producer, Tony Visconti, said in an interview with Rolling Stone that Bowie had been planning a new album shortly before he died and had written and recorded demos of at least five songs.
The news of the unreleased music from Bowie provided some comfort for the millions of fans still mourning the singer. But Visconti's revelation also prompted questions among fans and even people who knew Bowie well and did not want his publicly available work to end with his last album, Blackstar, which was released two days before his death on January 10. What other products of Bowie's often highly-productive imagination are in his archive, fans began to ask online and in conversation. Will those works be made public? Did he ever write the autobiography that he had at times openly considered and that publishers have previously described as the biggest possible get in the big­-money category of rock memoirs? And whose decision will it be to release Bowie's work?
Bowie's output can be roughly divided into two categories: his music and the physical objects he left behind. People who were close to him have shared with Newsweek previously unpublished details about what's in the archive.
First, the bad news. There is no Bowie memoir, according to one of those close to the star, who spoke to Newsweek on condition of anonymity out of respect for the family. The long­standing rumors of an autobiography, snippets of which the journalist Cameron Crowe published in 1976, are unsubstantiated. At the time, Crowe hinted that the autobiography might never be written: "Despite David's enthusiasm, one suspects it may never outlast his abbreviated attention span," he wrote.
Nor is a book, which Bowie agreed to produce for Penguin, likely to be published (if it was ever completed). The book was titled Bowie: Object, and the singer's website confirmed its existence in 2010. "Bowie: Object features 100 fascinating items that give an insight into the life of one of the most unique music and fashion icons in history," the statement read. "The book's pictorial content is annotated with insightful, witty and personal text written by Bowie himself."
But Matthew Hutchinson, a spokesman for the publisher, tells Newsweek, "Penguin is not expecting it to happen." The person close to Bowie says that Bowie didn't complete the book before he died.
Victoria Broackes, who curated an exhibition of Bowie's possessions in 2013 at London's Victoria and Albert Museum, has a theory: In the singer's mind, the V&A's sold­-out show served as a substitute for Bowie: Object. Broackes is one of the few people outside Bowie's staff or inner circle who has seen more of Bowie's archive than what was in the V&A show; she says only about 300 objects—as well as film and photography—from the archive were in the V&A's exhibition. The 2013 show, "David Bowie Is," is still touring and is now in the Netherlands. Bowie's office is in talks with various cities regarding where it will travel after Japan, its next stop, in 2017.
In London, the V&A sold over 67,000 tickets before the exhibition opened, more than three times the advance sales for any other V&A exhibition. Now that the singer is dead, the appetite for seeing the clothes, writings, instruments, artwork and numerous other items he left behind will likely grow. (Amazon sold out almost all of its stock of Bowie CDs and vinyl albums following his death, and the day after his death, Spotify reported that streams of his music were up 2,700 percent.)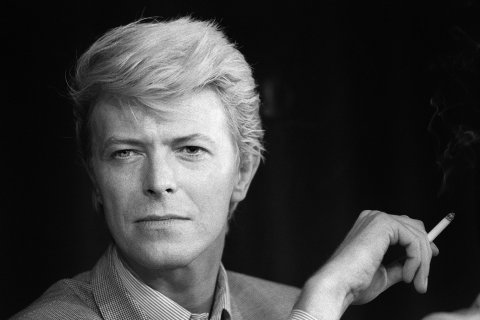 Broackes had long thought Bowie would make a fascinating subject for an exhibition. So when, in late 2010, she heard from music industry professionals about the existence of his archives, she approached his team in the hopes of a collaboration. Bowie, communicating through his staff, agreed to give the V&A unprecedented access to his archives.
"The archives are unique in pop music and would be unusual, in their scope, for any artist or indeed any individual," Broackes says, referring not just to their size but also to the amount of "process material," which shows how Bowie worked. His office first showed her and co­-curator Geoffrey Marsh an online catalog of more than 75,000 items at a warehouse in New York state, one of three that house the collection. They then drew up a short list and began viewing the objects over the course of six weeklong visits in 2011. Members of Bowie's staff handed Broackes and Marsh photos, costumes, handwritten lyrics, storyboards, video footage and even tiny sketches on the back of cigarette packets that they had catalogued by number.
"It's always a thrill to see objects you've only seen on stage or screen," Broackes says.
It's unclear what drove Bowie to hold on to so many of his possessions, but in the 1990s he began approaching fans and collectors and asked to buy back their archives of Bowie memorabilia. Kevin Cann, a writer and graphic designer, was one of the collectors Bowie approached. His archive, which is in secure storage in London, encompasses thousands of items, from which the V&A took 20 for its exhibition. Bowie once told Cann, "I was a bit lax early on, I used to give things away." Cann bought up some of these gifts from musicians and old managers who had worked with the singer.
"Bowie's collection is like its own museum," Broackes says. One of the oldest items in it is a photo of Bowie aged just 10 months old. The one object Broackes most wanted to exhibit but couldn't was a Grafton saxophone, crafted out of white Bakelite, that Bowie's father gave him when he was 13. Ultimately, it proved too precious and too fragile for Bowie to part with and remains in storage.
Cann says Bowie once indicated to him just how big his archive was. One day in 1994, when the singer was at Cann's apartment in Watford, just north of London, to work on an exhibition for the charity War Child, Cann showed him a drawing he had obtained that either Bowie or a bandmate had sketched in 1965. Cann suggested to Bowie that the drawing might be the oldest known surviving piece of art made by Bowie. "No, I've still got all my stuff from school," Bowie replied, according to Cann.
Bowie presumably laid out in his will what he wanted done with this rich trove of material, and those instructions are likely to be most intriguing when it comes to his music. Sharing Bowie's tens of thousands of possessions with the hundreds of thousands of people who would love to see them—more than a million people saw the V&A show when it was in London—would pose a logistical challenge so great that most of the items in storage may never be seen up close. But the creative output Bowie was most famous for—his music—could be made instantly accessible to billions of people.
According to the person close to Bowie, there is "a long list of unscheduled musical releases that Bowie planned before he died." These releases, Newsweek's source says, have been divided into eras and will not necessarily be released in chronological order. It is not yet known whether they will contain previously unheard work, though past rereleases of Bowie's work have. The first of these compilations will be on sale before the end of 2017.
A cast album for Bowie's off­-Broadway play Lazarus, which opened in December, is also in production. A music industry source close to the singer tells Newsweek, "Bowie was one of those artists who was very engaged and liked to control what was released from the vault."
Bowie, Cann adds, was smart too. His new projects came out in drips, not a flood. And despite the vastness of the archive, Cann doesn't think we'll be seeing much of it anytime soon. "Bowie only gave you just enough of everything to still keep you hungry," he says. "Blackstar has only come out recently, which is enough for the moment. There's plenty of time for other things."