Very early one morning, six days before Christmas, 19-year-old Siobhan walked through her college campus in the dark on the way to a nearby bus stop. She saw no one until she got to the stop and met an international student she knew. Both young women were waiting for a bus to take them to Dublin Airport. The student told Siobhan she was going home to Germany. In response, Siobhan lied. "I'm going to Liverpool for shopping," she said.
When she landed in Liverpool, Siobhan switched on her phone. She hoped that her parents, who thought she was still at college, wouldn't try to contact her for the rest of the day. Then she sent a text to her friend, the only person who knew why she was in Liverpool. "Does my number come up weird?" she typed. "Does it say I'm in England?"
Siobhan hailed a taxi at the airport. When she told the driver the drop-off address, he looked at her. "Oh, you're from Ireland," he said, and trailed off. It seemed that he had taken several Irish women to that address. They came there to do something that could land them in prison if they were to do it in Ireland. They came to end their pregnancies.
Abortion under nearly all circumstances is illegal in Ireland, and so women like Siobhan, who do not want to carry their unborn fetuses to term, have to find ways to terminate their pregnancies. Many take the short flights from Ireland to cities in England or Wales, where abortion is legal. From 1980 to 2014, a total of 163,514 women—or between 3,300 and 6,700 women every year—have traveled to Britain to obtain abortions, according to the U.K. Department of Health. To the anti-abortion community, every termination is a tragic loss of life. To abortion rights campaigners, every time a woman travels to an abortion clinic outside Ireland represents a degrading, infuriating compromise of a woman's right to decide what happens to her body.
The debate over abortion in Ireland has always provoked strong feelings on both sides. But in recent months, the rights and actions of women like Siobhan have been at the center of the country's political life like never before. On February 26, voters will go to the polls to elect the next Irish Parliament. As campaigners from all parties knock on doors to canvas support, voters often ask them the same two questions: "Where do you stand on abortion? And do you want to repeal the Eighth?"
The second question refers to the Eighth Amendment of the Irish Constitution, which states that the life of a fetus is equal to that of the mother. The amendment, which Parliament adopted in 1983, confirmed the Irish government's commitment to prevent abortion under any circumstances. Though abortion was already illegal, the Irish Constitution gave couples the right to privacy in marital life. Anti-abortion campaigners at the time worried that a court might at some point rule that couples were therefore legally entitled to terminate their unwanted pregnancies.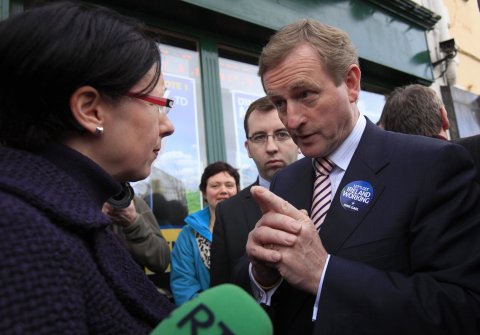 But the Ireland of 2016 is not the Ireland of 1983. Long one of Europe's most Catholic and conservative countries, its identity is still greatly informed by its Catholic heritage, but it is also a place of high-tech entrepreneurs, well-traveled and multilingual graduates and a generation or two of young people who increasingly identify as European as much as they do as Irish. (The country joined the EU in 1973; Irish people have generally embraced the union.) And the Europe they are drawn to, as Vatican officials have long lamented, is increasingly a place of secularism and empty churches. "Since the 1970s, Ireland has become more urban and aligned with Western and European standards," says Carole Holohan, assistant professor in modern Irish history at Trinity College Dublin. "There isn't such a strong voice emerging from the conservative side."
If those are the pull factors of the globalized world, there are also push factors that have created distance between the Irish and the church—chief among them a series of sex abuse scandals that horrified Catholic-majority countries in recent decades. The first widespread allegations of priests and nuns abusing children in Ireland began to emerge in the 1990s. In 2000, the Irish government commissioned a report that took years to compile and was published in 2009. The 2,600-page document found that the sexual abuse of children in Catholic-run schools and orphanages had been "endemic," with thousands of children falling victim. "The Catholic Church has obviously lost its moral authority since the child sex abuse scandals and subsequent cover-up of that," says Holohan.
It's hard to trace cause and effect in matters of faith, but the church plays a less important role in the lives of many Irish people today: In 1984, nearly 90 percent of all Irish Catholics attended church weekly. By 2011, this figure had dropped to 18 percent. A decade ago, the idea of allowing gay marriage in Ireland was barely discussed. In May 2015, a majority of Irish voters chose to legalize gay marriage, making it the first country in the world to do so by popular vote.
But abortion provokes much stronger feelings in Ireland than gay marriage. Same-sex marriage, with its themes of tolerance and love and its pre-vote celebratory street parties, was a much easier sell. Even the most vocal activists for the right to choose are unlikely to hold parades celebrating abortion.
Repealing the Eighth Amendment would represent only a tiny step toward full legalization of abortion. Even if the next Irish government holds a referendum on the amendment and a majority of voters opt to overturn it, Ireland would still be a long way from sharing the same policies as England, Scotland and Wales, where abortion is legal in all circumstances providing the fetus is under 24 weeks old. If the fetus is older, an abortion can still be carried out if there is serious risk to the mother's life, if permanent injury would be caused to her mental or physical health, or if the fetus has a severe abnormality. But campaigners who are in favor of repeal say it would mean doctors could prioritize the mother's life. Further legislation would be needed to allow for abortion in other cases, such as rape and incest. As for abortion for any other reason—that's not on any political party's agenda for the foreseeable future.
Both the Irish Labour Party, which is in the coalition government, and Sinn Fein, which is polling in third place, have said they support a referendum on repealing the amendment. Enda Kenny, Ireland's prime minister and leader of the center-right Fine Gael party, has said that if he is re-elected, he will appoint a group of citizens to determine whether Parliament should hold a referendum on the amendment. Several polls predict that the majority of the electorate would vote to repeal it. For many Irish Catholics, such a decision would be a betrayal of their nation's religious tradition—and of God.
"It's a strange kind of human right that says a human being can have its life ended," says Cora Sherlock, deputy chairwoman of the Dublin-based Pro Life Campaign. "The most important human right is the right to life."
Sherlock believes abortion inevitably leads to great suffering. She points to women who took pills to cause a miscarriage and suffered bleeding so extensive they were hospitalized, and women needing intensive psychotherapy after opting for a termination. "We can always have something better than abortion; it is never a happy outcome for the people involved," she says.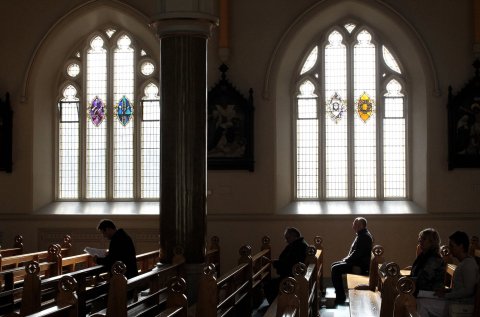 Sherlock's views are common among conservative Catholics in Ireland. The official catechism of the faith reads: " Life must be protected with the utmost care from the moment of conception: abortion and infanticide are abominable crimes." That is the sort of unbending dogma that has alienated Irish people who have increasingly questioned the moral authority of the church. But even among many Irish Catholics whose attachment to the church has weakened, there remains a deep reluctance to change the laws on abortion. Centuries of history and faith are not so easily cast aside.
In the village of Dungarvan in the south of Ireland, not far from where she grew up, 38-year-old Vicky Wall pours coffee and offers biscuits while her newborn son, Odhran, all wrinkles and soft, downy hair, sleeps in a stroller nearby. Wall has two other children, a 17-year-old daughter named Shannon and a 13-year-old son named Taidgh. And not so long ago, there was also Líadán.
In February 2014, Wall, who worked as a retail assistant for the clothing company New Look, found out that she was pregnant. Wall was delighted when she realized she was expecting, but as she entered her second trimester, she began to feel uneasy. Unlike with her first two pregnancies, Wall remembers experiencing an inordinate amount of pain. During a routine scan at 23 weeks, the nurse stopped performing the ultrasound. "Something's showing up," she told Wall. As Wall started to cry, the nurse went to find the doctor. When the doctor arrived, he wrapped his arms round Wall. There was excessive amniotic fluid around the fetus, which appeared to have club feet—signs, perhaps, of a genetic disorder. The doctor referred her to a specialist antenatal clinic in Dublin.
Wall made an appointment, and the doctor there performed an ultrasound. "It looks like trisomy," the doctor told her. Trisomy is a genetic disorder; sufferers have an extra chromosome in their cells. Down's syndrome is the most common form of trisomy, but there are several other types. Wall's fetus was diagnosed with Edwards syndrome, or trisomy 18. Babies with the disorder typically suffer from a range of mental and physical health issues, and only 1 in 12 live beyond the first year. Survival to early adulthood is extremely rare.
The doctor told her, "This baby is incompatible with life." His choice of words jarred the expectant mother. She was already in love with her baby. Wall recalls thinking: No, that's not true—she is compatible. She's compatible with me. Once the doctor had explained that the fetus was likely to die if carried to term, he suggested that Wall "pop to England"—a coded reference to having an abortion.
Wall wept, she says, for the whole three-hour journey home, as she read information about trisomy on her phone. She found reasons both to despair and to believe that her child could, despite the odds, survive outside of the womb.
In the end, Wall did not make the visit to England that thousands of Irish women make every year.
Wall and her partner, Michael, had decided to name their baby, whom they knew was a girl, Líadán, meaning "the gray lady." Thirty-two weeks into her pregnancy, Wall delivered a baby girl. The baby was stillborn. She had no regrets. "[My baby] was never disposable. She was always going to be mine," she says. "It meant so much that I got to meet her and knew that she called the shots."
Like most people in Ireland, Wall was raised Catholic. "I was made to go to Mass every week as a kid, but I was terrified of the priests," whom she saw as harsh figures of authority. When she turned 12, she stopped attending church because she no longer felt any connection to its teachings. As an adult, she married but then divorced; the Catholic Church refuses to recognize divorce. She says the religion's doctrines do not matter to her. "Catholicism in Ireland is dying," she adds.
Though Wall no longer practices the faith, her two children have participated in the Catholic rites of christening, baptism and confirmation. This is less out of residual loyalty to the church, she says, and more because they attend a Catholic school where the other children have gone through these ceremonies. Even now, she says, Catholicism pervades so much of daily life in Ireland, from education to health care.
Wall says she will be voting against any referendum to repeal the Eighth Amendment but not because she feels bound by Catholic doctrine. She adds that she voted in support of Ireland's referendum on gay marriage in May 2015. Sixty-two percent of voters backed the legalization of same-sex marriage, surprising commentators who thought the country's religious tradition would guarantee a "no" vote.
Wall has never regretted her decision to carry the fetus to term, a decision she says was not taken out of deference to religion, but rather because of her unwillingness to end a life. "I don't think abortion is love. I think it's panic and disposing of life," Wall says, echoing the views of people like Sherlock. She has friends who had to "pop to England," but she says she doesn't judge them. "I just think, if I had gone over to end my pregnancy, would I still have been able to celebrate Líadán's life?"
In that Liverpool clinic, Siobhan was waiting for her second consultation with the nurse. Her first appointment had been earlier that morning, and she was still preoccupied by the prospect that her parents—whom she describes as strict Catholics—would try to contact her. Her hands shook as she spoke. "I just hate lying, and right now it feels like lying to my parents, pretending everything's OK—that's been the hardest part."
Despite the guilt she feels in deceiving them, Siobhan says she has no regrets in choosing the abortion. "I'm in the middle of my college degree. I still have two years to do. I can't afford to have a baby." Though her parents would not support her decision, Siobhan says they would not support a baby either. "For my boyfriend, it would just be another bill in his eyes," she adds.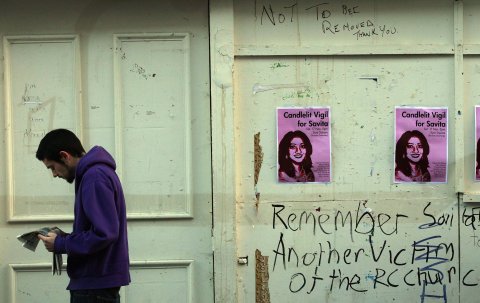 Unsure of how she became pregnant (she takes the contraceptive pill), Siobhan first thought she would go to Northern Ireland, not realizing that the laws in the British province are almost as restrictive as those in Ireland. (Though the North shares some laws with the rest of the U.K., it is free to set its own health policy.) In the North, abortion is permissible only if the mother's life is at risk or if there is a serious threat to her mental and physical health. Anyone convicted of procuring an illegal abortion there can face a life sentence. On January 11, for the first time in 40 years, a judge ruled that an unnamed 21-year-old woman must stand trial for having an abortion. But the abortion rights movement, in the North as in the South, is gaining momentum. In December of last year, a high court judge ruled that the law in Northern Ireland was incompatible with human rights. The Northern Ireland Assembly is not bound by the court's decision but could choose to debate the issue.
"This is the worst thing that could possibly happen to me at this moment in my life," Siobhan says softly. "I'm 19. I've been [praying], 'If there is a God, please don't let this happen.'" Brought up opposing abortion, Siobhan says her views changed at college. "There are plenty more 'me's in Ireland, and we all have to do this," she says. "They need to legalize abortion."
A nurse arrived to take Siobhan for her second appointment. Before she went, she mentioned Savita Halappanavar, an Indian woman who became a rallying point for Ireland's abortion rights movement in 2012. In October that year, Halappanavar, a 31-year-old dentist living and working in Ireland, began to miscarry and complained of severe back pain. But because a fetal heartbeat could still be heard, doctors refused to induce her. Over a week later, and four days after the baby had died, Halappanavar passed away from septicemia. After thousands of people protested, the Irish government passed a law in 2013 clarifying that abortion is permitted when the mother's life is at risk, including women who are suicidal.
However, critics say the Protection of Life During Pregnancy Act has done nothing to save the lives of women like Halappanavar because it is not as powerful as the Eighth Amendment. To be granted a legal abortion, a woman who says she is suicidal needs the approval of two psychiatrists and an obstetrician. In a case that was widely considered to be the first test of the new law, a medical panel of three public health officials ruled in 2014 that a woman who had been raped was suicidal. Patchy details of the case emerged in August 2014. Twenty-four weeks into her pregnancy, the woman's doctor referred her to the panel. At first the three officials ruled that the woman could not have an abortion but they changed their minds when she later went on hunger strike. After promising her a termination, the panel reversed its decision, saying that the pregnancy was too advanced and the woman would have to give birth. The baby was taken into the care of the state.
In a sign of how neither side wants to cede even the slightest ground, anti-abortion campaigners say they want the 2013 law overturned because it doesn't protect the fetus's right to life.
As both sides battle over which laws to repeal and which to keep, thousands of Irish women are terminating their pregnancies each year—and volunteers overseas are helping them. A Dutch collective named Women on Web began posting abortion pills to Northern Ireland in 2005 to help both women there and in the South. (It is against Irish law to order medication of any sort through the post, so the North is the only way to get abortion pills to the island of Ireland.)
Abortion Support Network, which was founded in 2009 and is based in England, helps Irish women pay for their trips to England or Wales—via donations from supporters—and finds them accommodation, if necessary. Mara Clarke, director of ASN, says the organization hears stories from Irish women who were initially unaware of the group's existence and who had tried to terminate their pregnancies. "We are told, 'I've been Googling ways to self-abort,'" Clarke says. "We had a woman who went out and bought heroin; she's not a drug user, but she thought it might cause a miscarriage. We had a mother of four who said, 'I'm trying to think of ways to crash my car so I miscarry but don't die.' Women tell us they have drunk bleach and floor cleaner or swallowed packets of birth control pills and a bottle of spirits. We always tell the women not to do it and that they should let us give them the money."
Many women, including Siobhan, make their own arrangements without any help from organizations like ASN or Women on Web. Siobhan paid her own way to Liverpool, using up nearly all her savings in the process.
During Siobhan's second consultation, the nurse took a blood sample and performed an ultrasound. "Please don't show me it," Siobhan said. The nurse printed out two pictures of the fetus and placed them face down on Siobhan's file. As the consultation ended, the nurse accidentally flipped one of the ultrasound printouts over as she handed Siobhan a form. "I saw it," Siobhan says, "I'll never forget that. I thought: That's me. That's inside me, but it's not going to be soon."
Another nurse led her upstairs to where the abortion would be performed, waited for her to put on a surgical gown and introduced her to the anesthetist. The nurse looked down at the address of Siobhan's emergency contact. "Your friend lives in Boyle," she exclaimed. "That's where I'm from!" It was meant as a friendly comment, but it horrified Siobhan, who had spent her whole day hoping she would go unnoticed, anonymous. "Oh no," she remembers thinking. "I'm going to be found out."
Once the nurse had reassured Siobhan that she was protected by patient-doctor confidentiality, she told her it was time for the general anesthetic. As the anesthetist prepared the drip, Siobhan told him: "Please don't let me wake up for this."
When she came to, she was in a green room, lying on a bed next to two women she didn't recognize. A nurse appeared from a door to Siobhan's right. "Am I done? Is it definitely done?" she asked. The nurse told her that she was no longer pregnant. "It's over," she says she remembers thinking. "That's it—it's finally over."
Siobhan was one of three Irish women at the Liverpool clinic that day. The youngest was just 16. Kally Worthington, the practice manager, said she expected numbers to increase after the holidays, when women could travel more cheaply and without their families noticing.
No matter how the country votes on February 26, Irish women will still have to go abroad to secretly obtain terminations. Their hope; that future generations will not have to follow in their footsteps. Until then, their safest option remains the airport.