On July 6, Nakia Jones, a police officer in Warrensville Heights, Ohio, was awakened by her teenage son bursting into her room, on the verge of tears. "Did you see the shooting?" he asked. The day before, in Baton Rouge, Louisiana, someone had filmed two police officers tackling and then shooting to death a black man named Alton Sterling. The video showed in bloody detail how quickly an officer can take a life at point-blank range. The clip left Jones's son, a straight-A student and captain of the school band, sad and confused.
"Mom, not only am I afraid of being shot by another black male," she recalls him saying. "Do I also have to be afraid of somebody who wears the same uniform as you do?"
Jones says she is the first black woman to serve on her town's force, and she understands the split-second decision officers have to make when they face a threat (her husband is also a cop). But as a mother of four girls and two boys, she also knows that the next young black man killed by police could be one of her sons. As she watched the Sterling video, she felt torn in a way that she hadn't before, despite similar incidents. Other police killings seemed justified, she had told her children, but this one made her feel different, as if she had "half of my body in a uniform and half of my body in civilian clothes."
Jones was so upset she recorded a video on Facebook Live. "How dare you stand next to me in the same uniform and murder somebody!" she said, her voice growing louder as she lambasted racist cops. Her eyes filled with tears as she asked people to support good police officers and take a stand against the bad ones. The video now has 8 million views.
The next few days were hard on Jones. First, an officer in Falcon Heights, Minnesota, shot and killed a black man—Philando Castile—after pulling him over for a traffic stop, another act caught on camera. Then came the retaliation: five Dallas police officers shot dead by a black gunman and former soldier who officials said had targeted white cops. Ten days later, another gunman, a former Marine, killed three officers in Baton Rouge.
"It's almost like a nightmare," Jones says. "My heart goes out to the families of Alton Sterling and the other man that was killed…. But then, at the same token, these are my brothers and sisters in blue. Now their families have lost [loved ones].
"It feels," she adds, "like I'm torn on both sides."
Minority Report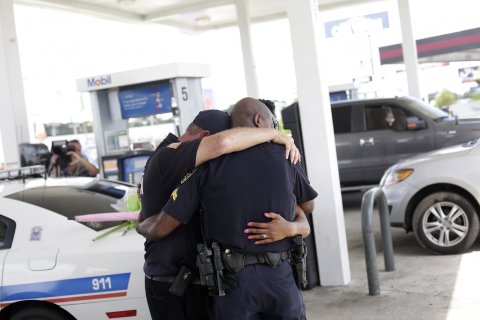 In police departments across the country, a growing number of officers have more in common with Jones than with those who make headlines for killing black men. Although sometimes portrayed as a white occupying army at war with black civilians, American law enforcement has never been so diverse. In 2013, around 27 percent of the country's 477,000 sworn local police officers were racial or ethnic minorities, up from 15 percent in 1987, according to the Bureau of Justice Statistics. There are now more female cops than there were decades ago—around 12 percent of local police—and more openly gay, lesbian and transgender officers as well.
Today's police are also entering the force with higher levels of education and more special abilities, such as foreign language skills and technological expertise. Once they join a department, they often receive better training and equipment than at any other time in history. And regardless of what the public has seen in shocking videos of shootings, today's cops have been trained to act with more sensitivity and restraint than previous generations of officers. The common refrain among those on the force is that they are guardians, not warriors.
And yet the tension between law enforcement and large swaths of citizens has not been this high since the 1960s and '70s, when riots and targeted cop killings were common. Many Americans feel the country's 18,000 police departments need major reform, especially when it comes to the use of deadly force. Last summer, a Gallup poll found that confidence in the police was at its lowest level since the beating of motorist Rodney King in 1991 led to massive riots in Los Angeles. That incident was when filming police using excessive force emerged as a new phenomenon.
What's angered many is the spate of high-profile homicides by police of unarmed African-Americans. Since Ferguson, Missouri, police officer Darren Wilson fatally shot Michael Brown in 2014, American police have killed nearly 3,000 people, whether justified or not, according to Fatal Encounters, a website that tracks deaths caused by law enforcement. A July report by the Center for Policing Equity, a think tank at UCLA, said police departments tend to use 3.6 times more force on black residents than on white residents. Police reform advocates decry the fines and fees municipalities make defendants pay for less serious crimes, sometimes in order to raise revenue, which can put poor offenders in debt or behind bars if they don't have the money. Advocates also criticize the billions in Defense Department equipment that now make many local cops look as if they're about to invade Fallujah.
The murders of officers in Dallas and Baton Rouge are part of another troubling trend that has some political commentators claiming there's now a "war on cops." A July report by the National Law Enforcement Officers Memorial Fund, a nonprofit that maintains the national monument to fallen officers in Washington, D.C., showed a 78 percent spike in firearms-related officer fatalities this year compared with 2015, with 32 shooting deaths of police since January 1 and a 300 percent jump in ambush killings. Demonstrators have upended or tramped squad cars in Ferguson and Baltimore, and in New York City they have chanted, "What do we want? Dead cops! When do we want them? Now!"
Not only are police increasingly having to protect people who despise them, but their jobs have expanded too. As social services in the United States fail and threats such as terrorism and mass shootings grow, officers are having to step into new roles, whether they're prepared for them or not. "This is the most challenging time I can remember," says Santa Barbara County, California, Undersheriff Bernard Melekian, a law enforcement veteran of four decades. "The public demand and the public scrutiny are more than I've ever seen."
It's no wonder fewer people want the job—departments are reporting low numbers of applicants. "We're hiring idealistic young men and women who want to protect the good people from the bad people," says Milwaukee Police Chief Edward Flynn. "Right now, they are being portrayed as faceless others. Automatons. Star Wars stormtroopers."
Jones has to deal with these conflicts and contradictions every day. Her 6-year-old daughter has started kissing her and begging her to come home safe before she leaves for her shift each night. "The tension is so high between the community and the police," she says. "It's like we have no middle ground…. Both of us feel like there's a target on our backs."
Dead Bodies and Broken Windows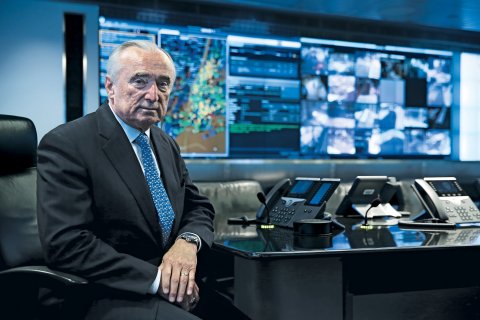 On a hot, overcast day in August, New York City Police Department Commissioner William Bratton stood beneath a portrait of Alexander Hamilton at New York's City Hall and announced he would soon resign. Bratton, dressed in a pinstripe suit and tie, his white hair neatly combed, projected confidence and optimism despite protests that morning from reform advocates (who called for his resignation) and his own officers (who are demanding better pay)—as well as a growing controversy over recent allegations that the NYPD roughed up a black state assemblyman.
"This department will have a seamless transition, and there has never been a time in American policing history when that is more important than now," Bratton said as he announced his successor, current NYPD Chief of Department James O'Neill. "As we go forward and face the crises of race in America, crime in America, fear of terrorism, and in the midst of the turmoil of this presidential election, there is no police department in America that will be better prepared."
In recent decades, few cops have been as influential—and controversial—as Bratton. He joined the Boston Police Department in 1970 and climbed the ranks to commissioner, a position he held from 1992 to 1993. But it was his first stint as the NYPD's top cop, starting in 1994, that made him legendary, or notorious, depending on whom you ask. Building on the work of social scientists James Wilson and George Kelling, Bratton popularized the "broken windows" style of policing, which considers no crime too small to fight, from turnstile jumping to public urination. The idea is that minor offenses can snowball and create an atmosphere of lawlessness and disorder.
During Bratton's first tour as NYPD commissioner, New York began to transform itself from a place where people were afraid to ride the subway at night to one of the safest, most desirable major cities in the world. In the five years after his appointment, crime fell by one-half, and murders dropped by two-thirds.
Bratton's detractors decried his methods, saying that the correlation between "broken windows" and crime was never clear and that his tactics disproportionately targeted minorities. Though Bratton left his post in 1996, his crime-fighting philosophy stuck, and distrust between the NYPD and minorities continued to grow thanks to the department's stop-and-frisk policy, which permitted officers to temporarily question and search people for weapons.
The backlash grew to such an extent that the current mayor, Bill de Blasio, made police reform one of the central tenets of his 2013 campaign. A year later, the day after he took office, he brought Bratton back as commissioner to keep the crime rate low, as well as repair the damage to community relations. This included scaling back stop-and-frisk after a judge declared it unconstitutional. Bratton also set out to implement some new strategies he had picked up in his almost two decades away, while leading the Los Angeles Police Department and consulting for the police in Oakland, California.
Days before he announced his resignation, the New York police commissioner sat down with Newsweek in what his team calls the command center, a windowless room in the police department's downtown Manhattan headquarters. The 200 monitors lining the walls show CompStat maps and statistics, 911 calls and surveillance footage from a network of 8,000 cameras.
"If we're having a demonstration, I can zoom in on all the cameras in that area," Bratton explains. He can monitor his officers too: Using GPS, he says, he can "basically see where any [squad] car in the city is at any time, who's assigned to it, what their call is."
During the interview, Bratton stresses the importance of coupling high-tech strategies with building on-the-ground neighborhood relations. He now advocates "precision policing," which he likens to zapping cancerous cells with a laser instead of using surgery to cut out large chunks of tissue. He also recently announced the department is spending $1.9 billion on improvements to facilities, training and equipment, including bulletproof squad car doors, stronger pepper spray and heavy-duty helmets and vests capable of stopping rounds fired from automatic weapons like those that felled the Dallas and Baton Rouge officers. But he still hasn't budged on his "broken windows" philosophy.
Going after quality-of-life crimes "is very important and I still believe an essential component of what we do," he says. "If we stopped dealing with minor crime, we're going to lose the trust of the public…. The vast majority of calls are coming from inner-city neighborhoods," he adds, stressing that ending "broken windows" would hurt minorities the most.
Yet as Bratton steps down and O'Neill takes over, some police reform advocates say Bratton's algorithms, fancy command center and RoboCop-like armor have done little to repair the rift between New York City's police and the communities they serve. "There's a change in face, but I think we also want to see some change in policy," says Jose Lopez, a lead organizer with Make the Road New York, a Latino and working-class community action group, and a member of President Barack Obama's Task Force on 21st Century Policing.
What's really broken, reform advocates say, is "broken windows" itself.
Bad Apples in Many Colors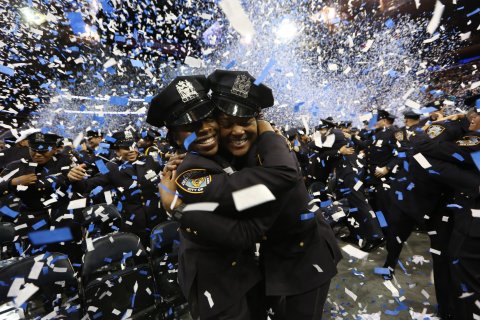 One important change implemented by Bratton this time around (along with his predecessor, Ray Kelly) was to ensure that the NYPD is more diverse. It's a trend in police departments nationwide. Across America, more and more officers reflect the communities they serve. Monica Only, a black female officer and recruiter for the police department in Orlando, Florida, says she hasn't had any race-related problems with her colleagues. Jim Ritter, a gay officer in Seattle, says he feels comfortable being out. His police chief, Kathleen O'Toole, says she hasn't faced any insurmountable obstacles due to her gender.
Several large departments today are even majority-minority, including those in New York, Detroit, Los Angeles and Washington, D.C. Adding women to the force has lagged, and much of the diversity has taken place only in bigger cities, but experts say the nearly all-white, all-male departments of the 1950s and '60s are fast becoming a relic.
And that's a very good thing, for the police and the communities they serve. Evidence suggests that diversity can improve the overall department, says David Sklansky, a Stanford Law School professor who first wrote about police demographics a decade ago. Having a more diverse agency can help break down the rigid mentality that often develops among officers and makes it easier to implement reforms. "Fifty years ago, there was one way, basically, to be a police officer, one way to think like a police officer," he says. "That's not true anymore."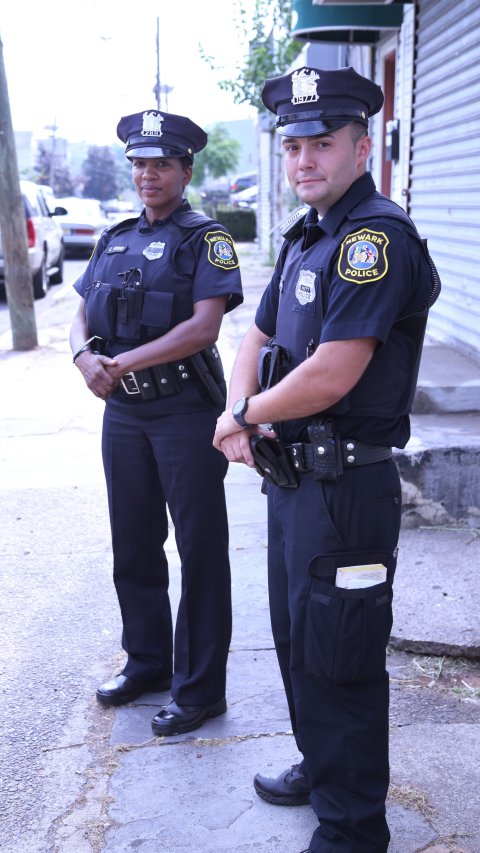 For instance, diversity advocates argue that female cops are better with domestic violence calls, which are the largest category of 911 calls in the U.S. One study found that 40 percent of police officers surveyed admitted they had "behaved violently against their spouse and children" in the previous six months. Kathy Spillar, a founder of the National Center for Women and Policing, points to untested rape kits (there are an estimated 400,000) as evidence that some men with badges do not take women's issues as seriously as a woman will.
Perhaps, but reform advocates say hiring more women and minorities isn't a panacea, and some police chiefs use Benetton-like diversity to mask the need for greater reform. Female or minority officers can still "do stupid things," says David Klinger, a criminology professor at the University of Missouri-St. Louis and a former Los Angeles cop. Rather than focus on race or gender quotas, he says, "the issue is, Am I getting sound policing?"
Newark, New Jersey, has a mostly minority police force, but in 2014 the Justice Department found evidence of widespread police misconduct, including unjustified stops and arrests, excessive use of force and officer thefts. Cops "do not have to break the law or violate the Constitution to be a good police officer," says Anthony Ambrose, a former police chief who returned in January as public safety director to try to repair the department.
Federal investigations in other cities suggest police misconduct is systemic, regardless of race. In Cleveland and Seattle, the Justice Department found patterns of excessive force; in Ferguson, it exposed how cops targeted minorities with fines to generate revenue.
More recently, on Wednesday, the Justice Department announced it believes that Baltimore City Police Department (BPD) officers stop, search and arrest people without cause, especially African Americans, retaliate against critics of the police and use excessive force. The federal agency said the misconduct is the result of "systemic deficiencies that have persisted within BPD for many years," and detailed investigation findings in a 164-page report. Lawsuits have turned up similar abuses around the country.
"It's not just bad apples," says Donna Lieberman, executive director of the New York Civil Liberties Union. She points to the case of Eric Garner, a black man NYPD officers confronted in 2014 for allegedly selling loose cigarettes; he died after an officer put him in a chokehold. "You had several officers on the scene," she says, "and nobody, not a single one of them, did anything to de-escalate that situation. That's a culture where blue loyalty is valued more than morality."
Free Hot Dogs and Inflatable Slides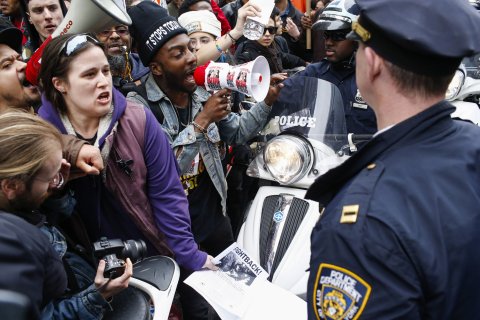 New York City's 75th police precinct has a reputation, and it's not for balloon animals, bouncy castles and clown noses. One writer recently described the area, home to Brooklyn's East New York neighborhood, as "sicker, sadder, more dysfunctional, more isolated, harsher, frailer, madder, toxic—broken through and through everywhere." There were 15 murders there this year through the end of July, making it the deadliest precinct in the city. That's part of what makes the Seven-Five a surprising place for National Night Out, an annual event across the country in which police throw parties for their communities.
The event, held in a local park hours after Bratton announced his departure on August 2, offers free hot dogs, an inflatable slide, a face-painting station and a DJ playing Beyoncé and other popular artists. At one point, kids from a drum line march through the crowd, with six dancers in black track pants and shimmering blue tank tops in the lead, followed by drummers in wrinkled blue uniforms and blue hats with yellow on top. Locals trail behind them, dancing and wielding camera phones.
Officer Marcus Johnson, who is black and handles community affairs for the precinct, seems almost hurt when asked about the crime rate in his precinct. "We're all out to have a good time and support the community," he says. "And likewise, the community comes out to support us." A trio of older black women interrupts so they can get a photo with him. Later, another woman approaches and gives him a hug.
Taking pictures with people or giving them hugs isn't everyone's idea of policing. But the type of cop America needs is always evolving. It may no longer be the officer at a diner counter chatting with a young runaway, as in the iconic Norman Rockwell cover of The Saturday Evening Post; it could be a cop passing out hot dogs or balloons. It could be an officer disarming a mass shooter or stepping in when social services have failed a family.
In recent decades, many of America's social problems have only grown worse, as the institutions charged with taking care of those in need have been decimated by budget cuts. The number of Americans on food stamps is now 16 times what it was in 1969, according to the U.S. Department of Agriculture. Nationally, there are more than 200,000 fewer public housing units available than in the 1990s, the Center on Budget and Policy Priorities recently reported. And if police find themselves confronting more people suffering from mental health crises, it's likely because, according to one estimate, 95 percent of the public psychiatric beds available in 1955 are gone.
Police officials in some of America's largest cities tell Newsweek the same thing—that all of these social problems fall on their officers' shoulders. Police chiefs estimate that three-quarters of their job now involves playing social worker or surrogate parent, especially in poor communities. The hundreds or even thousands of people killed in officer-involved incidents each year, they point out, are a fraction of the estimated 40 million people 16 or older who have contact with law enforcement annually.
"If there was not a single police shooting," says Charles Ramsey, a former police chief in Washington, D.C., and police commissioner of Philadelphia, "we'd still have about 13,000 murders" nationally per year. And those murders affect African-Americans at a higher rate than other groups. Which is one of the reasons why police find the anti-cop rhetoric so frustrating. As Flynn, the Milwaukee police chief, puts it: "We are the only organization in society whose members get killed protecting black lives."
'We're Hiring'
Long before four of its men (plus a transit cop) were gunned down in July, the Dallas Police Department was facing an officer shortage and plummeting morale. Low pay and poor management were part of the problem, but given how hard policing has become, the tension between cops and the people they're sworn to protect, and the ubiquity of camera phones and how they subject every stop or arrest to scrutiny, it's no wonder fewer people are signing up for the force. In many municipalities, there's been a "cop crunch" for at least a decade. In 2002, 61,000 people entered police training. In 2013, the number was 45,000.
Jeremy Wilson, a criminal justice professor at Michigan State University and founder of the Police Consolidation and Shared Services program, blames changing generational preferences (millennials don't want to work such bad hours) and competition from related industries, like private security. But the anti-police rhetoric and high-profile killings by law enforcement have likely discouraged people too, he says. No one wants to become the next Darren Wilson.
Yet some police chiefs hope to find new recruits in an unlikely place: among their staunchest critics, such as those who support Black Lives Matter. "We're hiring," Dallas Police Chief David Brown said after the July 7 slayings. "Get off that protest line and put an application in, and we'll put you in your neighborhood, and we will help you resolve some of the problems you're protesting about."
The Dallas Police received 467 applications in the 12 days following the shooting, a 243 percent increase over the same period in June. Similar upticks occurred in Baton Rouge and Orlando after the recent tragedies in those places.
One person who heard Brown's call was Jaiston Sawyer, a 30-year-old African-American Navy veteran who lives in Denton, Texas, about an hour and a half north of Dallas. He works as a security guard and had often complained on social media about police brutality. When Brown issued that challenge, Sawyer says, "it was like he was talking to me." Posting about police brutality on Facebook, he says, "you get a few likes and a few people agree with you, but after a couple of days that post is dead and nothing was accomplished. I have three sons, so instead of hoping my sons don't run into a bad cop, I can be the cop out there patrolling the community that I grew up in." He applied to take the civil service exam in Denton and will likely apply in Dallas too.
Sawyer is hopeful for the future cops of America. So is Nakia Jones, the officer who made the viral video. Her son, the one who showed her the Alton Sterling clip, wants to be a neurosurgeon. But her 6-year-old daughter—the one who now tells her each night to come home safe—has long talked about becoming a police officer—and still does.
"I want to be a police officer just like you and Daddy," she tells her mother. "I want to protect people."