As Washington and Baghdad continue to ramp up their preparations for the offensive on Mosul, humanitarian organizations are warning of a "dire" winter facing hundreds of thousands of Iraqis who will be forced to flee the northern city held by the Islamic State militant group (ISIS).
U.S. and Iraqi officials announced on September 28 the addition of 600 American troops to assist local Iraqi forces readying to move on the country's second-largest city, in an operation expected to begin in October. Mosul remains ISIS's largest remaining prize after a series of defeats in its self-proclaimed caliphate in Iraq and Syria.
The city has provided the group with a logistics hub that harbors some of its most senior figures and where the implementation of its brutal brand of Islamic law is strongest. But the acceleration towards the final assault on the city has left aid groups underprepared for the humanitarian fallout just two months before temperatures in northern Iraq drop significantly.
"Basically, a million people will be displaced, of which 700,000 will require humanitarian assistance. The task in front of us is very, very hard. It is causing me and my team many sleepless nights," Aleksandar Milutinovic, the International Rescue Committee's (IRC) country director in Iraq tells Newsweek about the worst-case scenario facing aid groups in the aftermath of the offensive.
"Many people will flee with only the clothes on their backs and documentation in their pockets. It is a dire situation. We are working around the clock to prepare ourselves the best we can," Milutinovic continues, adding that IRC at present only has the capacity to support 60,000 people in a crisis that will last at least "six months."
Iraqi forces, expecting to be backed by militias and U.S. air power, including Kurdish forces have edged closer to Mosul by retaking key ISIS-held villages and towns in Nineveh Governorate around Mosul, already causing a significant number of people to flee their homes. Aid groups estimate that 126,000 people are already displaced in the Mosul corridor, which stretches from Salahuddin to Tikrit and Mosul, leaving them with a monumental task before the Mosul onslaught has even begun.
But the U.S. and Iraqi forces have planned for the offensive to take place out of the crippling summer heat in Iraq, a decision that will benefit the operation but make life extremely tough for those fleeing, particularly the most vulnerable, with the colder months on the horizon.
"With the winter coming, the health system will be overwhelmed because a lot of people will be coming to the health facilities with respiratory problems," he says. "We expect there will be a rise in respiratory diseases, especially for children, because of the cold weather, so we will require more doctors and more pharmaceuticals."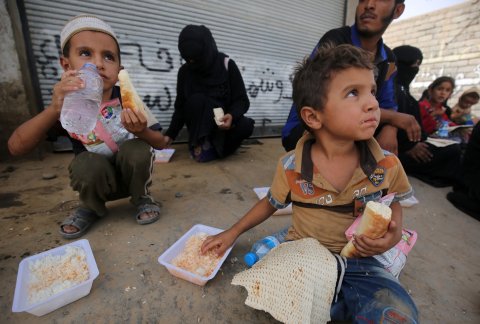 Milutinovic warns that the international community has only pledged half of what is required by the IRC, U.N. agencies and other aid groups to meet the needs of the humanitarian effort. They have requested $284 million. The biggest donors so far are the European Union, the U.K., the U.S. and members of the U.S.-led coalition, such as Denmark.
Provision of tents, blankets, heaters, water and sanitation are being made for those expected to flee Mosul; mosques, schools and uncompleted buildings in the wider Mosul region are being earmarked for shelter, but, without more funds, there will not be enough resources for everyone in need, he adds. In other areas of Iraq, he says, a tent that should house one family is now housing up to six families at a time.
"At the moment, only half of that amount has been received in pledges from donors. The amount of money received right now is not at the level we need," he says. "We need money because if we don't work together, if we don't do a good job, if people are suffering, there are going to be more problems down the road."
The crisis is expected to be on a similar level to that caused by ISIS's lightning offensive across northern Iraq in June 2014, forcing more than a million refugees to flee their territory into the semi-autonomous Kurdistan region and other surrounding areas.
But Mosul could present a humanitarian operation seven times larger than the assistance provided to 100,000 people after the Iraqi offensive to capture the western city of Fallujah from ISIS, in which Milutinovic says there were instances when internally displaced people fought each other over water distribution due to sheer desperation. Aid groups are now bracing for a bitter winter in which they may have to prioritize women and children over men, potentially tearing families apart.
"We are looking at providing help for all families. But, if we have to unfortunately look at the most urgent needs, we will definitely prioritize women and children," concludes Milutinovic. "It is the worst nightmare for any humanitarian."