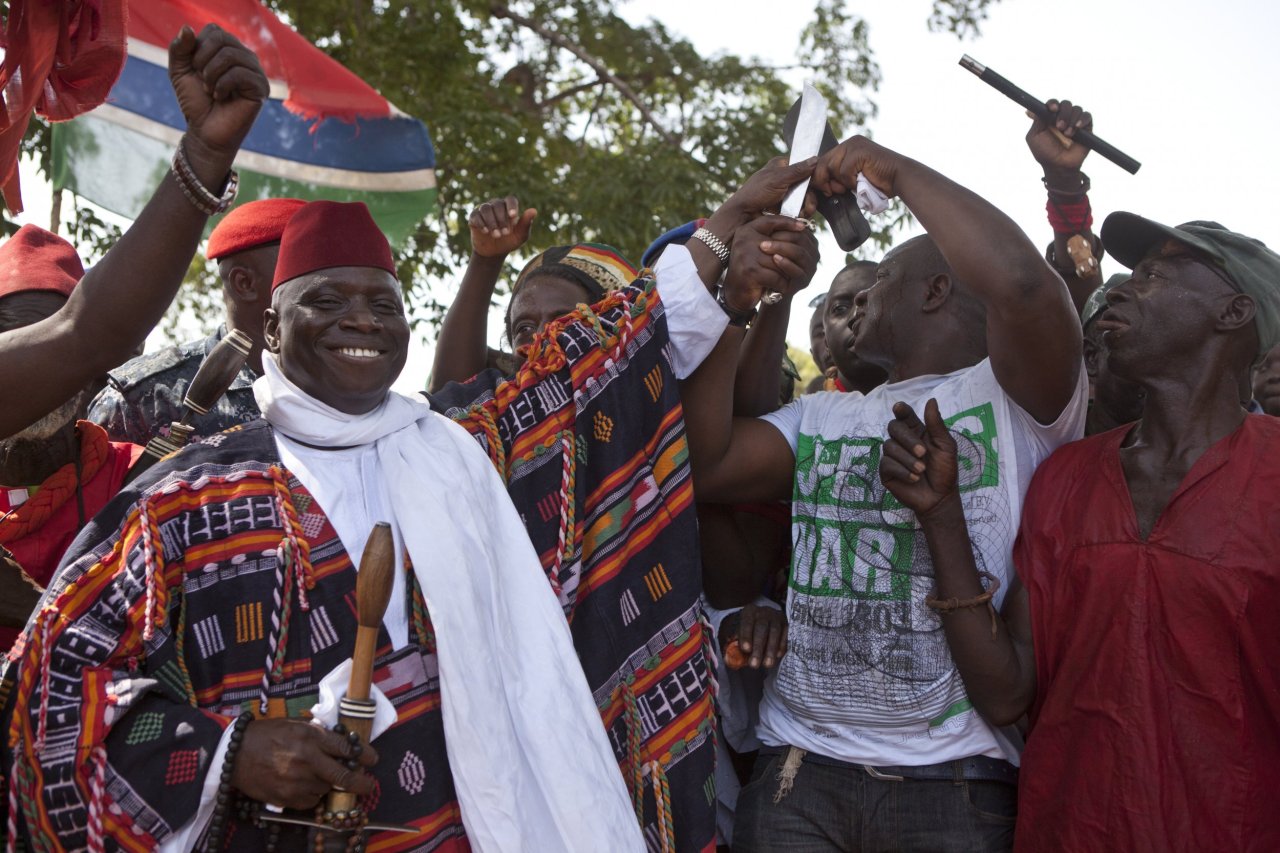 The metal gates lock behind Fatoumatta Sandeng as she leads the way across a small dirt yard into the concrete structure where her family of 10 sleeps on foam mattresses on the floor. This home, in a dusty town in Senegal, is where the Sandeng family has been hiding since Fatoumatta's father, activist Solo Sandeng, was allegedly tortured to death in detention by Gambia's secret police after they arrested him for participating in a peaceful protest on April 14.
Solo was a prominent member of the opposition United Democratic Party in Gambia. He was marching for electoral reform with youth activists near the capital, Banjul, when he was arrested. "My father and the other protesters took to the streets to demand reforms for a free and fair election that could bring a change," says Fatoumatta. "There had been a lot of killings and illegal arrests by the government, and nothing was coming out of it because the judiciary and the media are censored. Everything that goes on in the Gambia is controlled by the government."
Gambia's state-sponsored intimidation could come to an end on December 1, when voters go to the polls in an election that opposition activists say is their best chance yet to oust autocratic President Yahya Jammeh, who took power through a military coup in 1994. Human rights organizations have long criticized Jammeh's government for what they describe as the frequent use of torture, arbitrary detention and the intimidation of journalists by members of the security forces. Jammeh has won four previous elections; rights groups have described the fairness of those results as deeply compromised.
This year, the sometimes fractious Gambian opposition parties have formed a coalition; they hope their new unity will bring them victory. Opposition leaders say defeating Jammeh would also help improve the economy and, in the process, dissuade young Gambians from abandoning the country and heading for Europe. One of the smallest countries in Western Africa, with a population of 2 million, Gambia is nonetheless the fourth largest contributor of migrants arriving in Italy after making the dangerous journey across the Mediterranean, according to the International Organization for Migration.
"So many Gambians are leaving," says Gambian Fatou Jagne, regional director of human rights organization Article 19, based in Dakar, Senegal. "This is not simply an election but a human resources issue."
Jammeh remains confident of scoring a fifth consecutive win. "Allah elected me, and only Allah can remove me," he declared on state television in early November. Opposition news outlets have reported attempts by the ruling party to influence the vote through bribery and intimidation, while police have been arresting journalists reporting on the election.
Sabrina Mahtani, a researcher at Amnesty International, says it's important that Gambians are able to freely exercise their rights. "It is important for the international community to engage Gambia on improving human rights," she says. "After election day, if Jammeh stays in power, the danger is the international community turns a blind eye, and he will become even more oppressive."