When Miles Teller landed the role of the American boxing champion Vinny Pazienza in Bleed for This , he tells me, the real-life Pazienza sent him a signed photo. With an inscription. "Miles," it said, "put a banana in your undies if you have to make it look bigger. Don't fuck up my reputation." But just months later, it was Teller's reputation that was on the line.
At 29, Teller has already experienced the kind of tabloid scandal that can derail even the most promising of Hollywood careers. His troubles began in summer 2015 when Esquire magazine ran a cover story identifying him as a "dick." The interview was a litany of misjudged humor—including Teller comparing his penis to a highball glass. The piece went viral and spawned a thousand listicles.
Bleed for This is a comeback story based on real events. In the early 1990s, at the peak of his career, Pazienza broke his neck in a near-fatal car accident and was told he may never walk again, let alone get back in the ring. But just days after having surgery, Pazienza began working out; and within 13 months he'd competed in, and won, his comeback fight. It was a feat of superhuman fortitude that Teller says was actually "more crazy" in real life than on film, in which Teller's version of Pazienza waits several months before returning to training.
The film is also Teller's comeback: If any performance can refocus the world's attention on his acting, it's this. As in Whiplash in 2014, Teller has an acute ability to convey a character's desperation through physicality. In Whiplash, it was drumming; here, it's bench-pressing with a brace screwed into his skull.
Critics praised Teller following early screenings of Bleed for This on the festival circuit, and its release is perfectly timed for the Oscars in early 2017. His co-star Aaron Eckhart, who plays Pazienza's balding, potbellied trainer Kevin Rooney, tells me: "Miles definitely should be considered for best actor, there's no doubt about it." But when we meet in a hotel room in London, Teller says he's not much concerned. "The parts available to me are so much more prevalent. As I get older, the parts get better. Whereas for women, it kind of gets pretty thin." The only accolade he says he'd really like is a Screen Actors Guild award, voted for by his peers. "If you win that , that's cool. I want to walk into a room with actors that I respect and admire and not feel like I need to look down [at the floor]."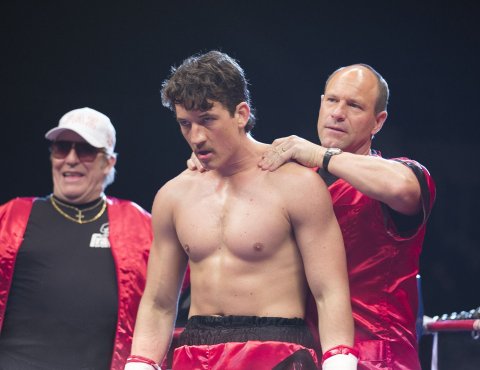 Following a misstep with last year's superhero flop Fantastic Four, Teller plans to take on more serious parts: next up, a leading role in Granite Mountain . He'll star opposite Jeff Bridges and Taylor Kitsch in the movie, which is based on the true story of the team that fought an Arizona wildfire in 2013.
That part inadvertently put Teller back into the headlines. While filming over the summer, his newly dyed ultra-blonde hair and eyebrows sparked a largely negative uproar on Twitter.
"It just surprised me that people didn't assume it was for a role," he says. "I'm not a musician, I'm not just, like, a famous reality star. It was funny that it got as much traction as it did, 'cos it's like, who cares?"
The experience was humbling for Teller. He gained insight into the kind of criticism women face when trying to achieve a certain appearance, for an acting role or otherwise. "Women are scrutinized and ridiculed in this business a lot more than men are. I have scars on my face and scars are considered manly, or it gives you edge," he says. "If a woman had it, I feel like they would be really shunning her for her lack of beauty or femininity."
He's back to his natural brown hair now, but when the film is released in 2017, the memes and social media chatter are sure to resurface. Ultimately, Teller says, "I just want to be judged by my work. I'm pretty confident that as I continue people will be talking about the movies or the acting, and not the gossip and bullshit."
Little seems to shake Teller's confidence. The real Pazienza tells me over the phone that he was initially unsure Teller "could handle playing the Pazmanian Devil." But Teller convinced him. "He said to me: 'Vinny, I want to be the greatest actor in the world.' When you're trying to be the best, you got to be a little arrogant." Dick? Not that I could tell. Cocksure? A little, maybe.
Bleed for This is released in the U.K. on December 2 and is in theaters now in the U.S