The leaflets fell from the sky over Aleppo, offering dire warnings. "If you don't leave these areas quickly," they admonished civilians, "you will be annihilated. Save yourselves.… Everyone has left you alone to face your doom.…"
As Syrian government forces continue to steamroll through eastern Aleppo, the rebel opposition's last stronghold in this war-ravaged city, the leaflets aren't just a warning for residents; they're also an indication that President Bashar al-Assad is poised for victory. It was only a year ago that the rebels seemed on the verge of taking Aleppo, once Syria's bustling commercial capital. But due to a massive Russian bombing campaign, the ophthalmologist turned strongman has held on to power—and reduced the city to rubble.
Yet even with Aleppo under the regime's control, the Syrian Civil War would still be far from over, and the conflict promises to be as much of a nightmare for U.S. President-elect Donald Trump as it has been for his predecessor, Barack Obama.
This is not how the U.S. had hoped the war would end—Washington once hoped that moderate rebels would take over a democratic, post-Assad Syria. That didn't happen, and much of the Sunni-dominated opposition has largely morphed into a bewildering array of radical jihadi groups. Now, the White House has run out of options to challenge Assad, and for all its condemnation of the regime's assault on Aleppo, the Obama administration has also done nothing to stop it. "Essentially, U.S. policy has become to acquiescence in Assad's retaking of Syria," says Joshua Landis, the head of the Center for Middle East Studies at the University of Oklahoma. "It's clear that the Obama administration has decided that it cannot risk dislodging Assad from Damascus. The rebels are too Islamist, too radical."
Related: How should Trump tackle the Syrian civil war?
Instead, over the past year, the U.S. and its allies have concentrated on two things: "fighting ISIS and avoiding starting a war with the Russians by accident," says one senior European diplomat who asked for anonymity because he was not authorized to speak on the record.
This position—leaving Assad in place and focusing on fighting the Islamic State group (ISIS), in coordination with the Russians, if necessary—is precisely the one advocated by Trump during the 2016 campaign. "Trump has merely articulated what has been the U.S.'s actual policy" for at least a year and a half, says Landis. For perhaps the first time this year, that puts Obama and Trump in agreement on foreign policy. Both are skeptical of the neoconservative doctrine of democracy through regime change—and both agree that ISIS, not Assad, is the main threat to world (and American) security. Even Trump's idea of fighting ISIS alongside Putin is Obama's ; for months, Secretary of State John Kerry was discussing joint operations against the militants with his Russian counterpart Sergei Lavrov in Geneva.
It was Hillary Clinton, as Obama's secretary of state, who was pushing for "regime change and democracy promotion in the wake of the [2011] Arab Spring," says the senior diplomat. But by 2014, after the U.S. failed to find democratic and secular allies on the ground in both Libya and Syria, the White House "gave up on regime change. Obama put the brakes on."
Assad Has Won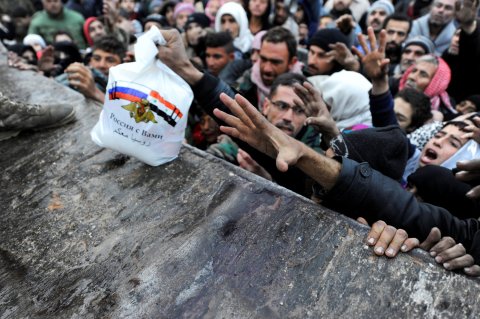 Trump's Syria policy is far from clear—but he has been a vocal critic of regime change in Libya and Iraq. But the Syrian problem might not be any easier for him to solve than it was for Obama. Even if ISIS can be destroyed on the ground and Assad fights the remaining rebels in Syria to a standstill, military victory will not bring any simple political solution. "There is no chance that [Assad's] generals will sit down with rebel groups like Ahrar al-Sham and come up with form of workable government," says Landis. And the regime's victory would strengthen Iran, the nation most Trump advisers see as the greatest threat to U.S. interests and allies in the Middle East.
In April, Trump promised to hire "new voices," instead of old foreign-policy hands "who have perfect résumés but very little to brag about except responsibility for a long history of failed policies and continued losses at war." As Aron Lund, a Syria expert with the Carnegie Institute in Washington, D.C., points out, the New York real estate mogul's understanding of policy detail during the campaign was vague. His stated positions included "bombing the hell" out of ISIS, complaining that the Kurds deserved more support and toying with the idea of a "safe zone" within Syria.
When it comes to Syria, Trump's foreign policy team includes an eccentric mix of lobbyists and right-wing pundits. One prominent adviser to the Trump campaign is Jack Kingston, a former Republican congressman from Georgia. As Lund notes, he's a paid lobbyist for the Syrian opposition. Trump's list of foreign policy advisers also includes Walid Phares, a controversial Fox News commentator and former member of the Lebanese Forces militia, who regularly castigates the White House for not having intervened early enough in Syria. Phares recently attacked Obama for not having "finished off" Assad during the early years of the war. Yet as Lund explains, the president-elect, seems only vaguely familiar with the views of his ostensible adviser and at one point even appeared to believe that Phares, a lifelong Christian activist, was Muslim.
His team is equally disjointed on Russia. Republican Representative Mike Pompeo of Kansas, Trump's pick to head the CIA, has been skeptical of Moscow's 's motives in Syria, telling a foreign policy forum in Washington last year that Russian President Vladimir Putin is "heck bent on changing the geopolitical future." He also suggested Russia's real goal is trying to establish a foothold in the Middle East. Trump's new national security adviser, Lieutenant General Michael Flynn, on the other hand, has appeared frequently on Kremlin-sponsored RT television and has long been an advocate of working with Putin. "Russia has its own national security strategy, and we have to respect that," Flynn said on RT in April. "We have to try to figure out: How do we combine the United States' national security strategy along with Russia's national security strategy, despite all the challenges that we face?"
For Trump, however, making a deal with Assad and Putin is less a matter of ideology than of acknowledging the reality on the ground, which is why taking Aleppo in the final months of Obama's presidency has become a priority for Moscow and Damascus. "I think we have to concede that Assad has won," says a senior British military commander, on the condition of anonymity because of the sensitivity of the matter. "The only way to end the horrific humanitarian catastrophe is to give him the victory."
'There's Nothing Left'
To allow Assad to remain in power would be a massive failure for the United Nations; his forces have killed too many civilians and done so indiscriminately. But for many Syrian analysts, it is also necessary. Letting him remain is the only real way to end the war, the only way to help the nearly one million people living under siege in Syria, not to mention the 9 million who are internally displaced or the almost 5 million refugees, who want to come home.
"[The situation in Aleppo] is the beginning of the end," says Abdullah, an activist who declined to give his last name, fearing punishment for speaking out. He is beginning to make plans to leave the city where he was born, where he once played on the streets and where he attended college. "There is nothing left," he says, "The city we knew is gone."
The destruction of Aleppo, once Syria's second largest city, has been steady and brutal. First there was urban warfare; then came the barrel bombs, which Assad's forces dropped, many analysts say, with the explicit goal of killing as many civilians as possible. As more bombs fell, the city became a giant tomb, where survivors struggled to find medical care and put their children in makeshift schools.
Yet life in Aleppo has grown significantly worse since September 2015, when the Russians began relentlessly bombing the city on Assad's behalf. Moscow has employed the same strategy it used to destroy Grozny, the Chechen capital. This strategy has broken the stalemate and helped the regime, but it has killed and terrified more Syrian civilians than ever. Members of the White Helmets, a volunteer Syrian rescue team, recall attempting to save civilians trapped beneath the rubble, only to have the Russians launch a "double tap"—a second bomb launched to cause maximum damage to first responders.
Things only got worse for civilians. Then came the "submit or starve" policy, where access to food was tightly regulated as a means of control over local people who dared to resist Assad. This was all part of the siege of eastern Aleppo, efforts which included deliberate targeting of doctors and medical facilities, largely by Russian aircraft. The result: There are only 30 doctors and left in the city to treat Aleppo's entire population. As Human Rights Watch deputy director Ole Solvang put it in a recent press release: "Those who ordered and carried out these attacks should be tried for war crimes."
An Impossible Contradiction
Even after Aleppo falls, President-elect Trump will have to address the war in Syria, whether he wants to or not. Ignoring the conflict, and its aftermath, will not make it go away; a failed state in the Levant would be a disaster for all sides. ISIS recruitment is on the rise, and many of the group's fighters are fleeing Mosul as Iraqi, Kurdish and American forces continue to advance. Some will return home to Europe or North America, where the authorities fear they will strike—just as they did last year in Paris and Brussels.
Whereas Obama's policy was simply to fight ISIS abroad, with a rapidly increasing number of Syrian civilians dying, Trump will be forced to acknowledge what Obama ignored: the civil war and the humanitarian catastrophe. "Even if fighters put down their arms tomorrow, there would still be an emergency humanitarian situation for at least a year," says Jens Laerke, the U.N. Office for the Coordination of Humanitarian Affairs' Geneva spokesman.
Until now, the U.S. has remained committed to a unified Syria, but the war has divided the country. Uprooting extremists and providing humanitarian protection in Syria would have to be world's priority. But who is going to do it? The Russians who helped to destroy the country? The Iranians who sent fighters and military trainers into Homs and the Damascus suburbs? As one U.N. senior official working on the Syria file tells Newsweek: "If Assad wants the international community to help rebuild his country, he is going to have to negotiate."
The bigger problem for Trump will be that Assad's victory, and the eventual success of the Iraqi campaign in Mosul, will be a major triumph for Iran. It will also outrage and alienate America's longstanding Sunni allies such as Turkey, Saudi Arabia and Qatar, who have been the Syrian opposition's most active supporters.
Obama negotiated a historic deal with Tehran, offering an end to sanctions in exchange for Iran surrendering its nukes—and the most difficult part was getting Tehran's enemies to sign off on it. Trump has threatened to scrap that deal, potentially destabilizing the delicate truce between Iran and its neighbors. His stated policies represent an impossible contradiction—to help Assad, an ally of Iran, in Syria, but isolate the country elsewhere. How Trump resolves this paradox will determine where the U.S. stands on the escalating tension between Middle Eastern superpowers Saudi Arabia and Iran—a massive proxy war in which Syria, Iraq and ISIS are just bit players.
Read more from Newsweek.com:
- How should Trump tackle the Syrian Civil War?
- Syria's Assad expects Trump to be an ally, unless Congress gets in the way
- How the war in Syria could lead to the end of antibiotics