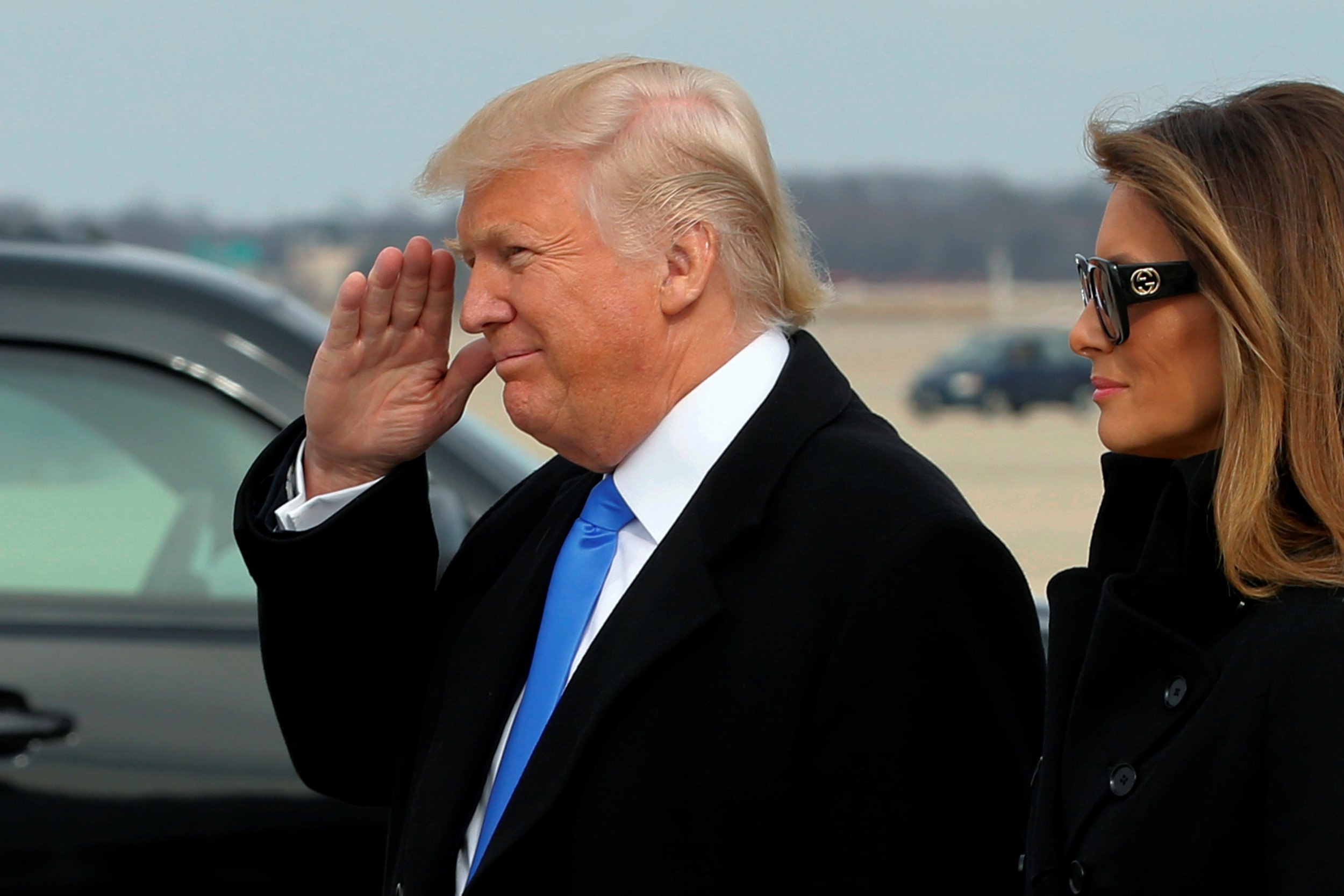 Donald Trump is set to be sworn in as the 45th president of the United States at noon Friday on the West Front of the U.S. Capitol in Washington, D.C. Supreme Court Justice John Roberts Jr. will administer the oath during the country's 58th inauguration.
Related: Donald Trump's day in photos
The day's events begin earlier: View the official schedule here. Here are some of the major TV networks' plans for Inauguration Day. All events are in Eastern time.
On Television
ABC News: Chief anchor George Stephanopoulos leads coverage from D.C. with a special edition of Good Morning America at 7 a.m., and continues until 4 p.m. World News Tonight With David Muir, Nightline and 20/20 each air special editions from the nation's capital. Muir, Robin Roberts, Martha Raddatz, Byron Pitts, Matthew Dowd, Cecilia Vega and Tom Llamas join Stephanopoulos to report on the swearing-in ceremony, Trump's inaugural address, the parade and the performances.
CBS News: Charlie Rose, Gayle King and Norah O'Donnell anchor CBS This Morning and the network's special coverage live from the National Mall in D.C., from 7 a.m. until 4 p.m. Scott Pelley anchors an expanded, one-hour edition of CBS Evening News at 6:30 p.m. Gayle King and John Dickerson anchor a one-hour live, prime-time special at 8 p.m. that explores what's ahead for the country in the first 100 days of a Trump presidency.
CNN: Live special coverage from D.C. starts at 5 a.m. with Chris Cuomo and Alisyn Camerota on New Day. From 9 a.m. until 2 p.m., Wolf Blitzer, Jake Tapper, Anderson Cooper and Dana Bash anchor special coverage of Trump's inauguration and President Barack Obama's send-off. From 2 to 4 p.m., Cuomo, Camerota, Cooper and Brooke Baldwin anchor special coverage during the parade. The Lead With Jake Tapper and The Situation Room With Wolf Blitzer are live in front of the White House at Lafayette Square; and Erin Burnett Out Front, AC360 and CNN Tonight with Don Lemon are live from the inaugural balls.
C-SPAN: Live programming begins at 7 a.m., and includes complete coverage of the entire inaugural ceremony, the parade and the balls.
FOX: Fox & Friends kicks off the day's coverage live from the National Mall at 5 a.m., followed by America's Newsroom with Bill Hemmer and Shannon Bream live from Lafayette Park. Bret Baier and Martha MacCallum co-anchor coverage from 11 a.m. until 5 p.m. The Fire, Special Report with Bret Baier and The First 100 Days are live from the National Mall; The O'Reilly Factor is live from D.C.; Tucker Carlson Tonight and Hannity are live from the Liberty and Freedom Ball.
NBC News: Broadcast network coverage begins at 7 a.m. with Matt Lauer on the Today show live from D.C. At 10 a.m., Lester Holt leads coverage from Capitol Hill, joined by Chuck Todd, Nicolle Wallace and Tom Brokaw. NBC Nightly News originates live from D.C. with an expanded one-hour broadcast.
MSNBC: Coverage begins with a special four-hour edition of Morning Joe live from The Dubliner Restaurant in D.C., from 6 to 10 a.m. Rachel Maddow, Brian Williams and Chris Matthews lead MSNBC's all-day coverage, beginning at 10 a.m. from New York City. Prime-time coverage and analysis continues on MSNBC through the night.
On the Internet
Live streams are available on ABCNews.com (beginning at 8:30 a.m.), NBCNews.com (at 10 a.m.), CNN.com (at 6 a.m.), C-SPAN.org (at 7 a.m.) and FoxNews.com (at 11 a.m.). Live coverage begins on CBSN, CBS's video news channel, at 7 a.m. Other news outlets, including Politico, NPR, PBS and The New York Times will host live streams on their respective websites.
Many publications also are providing live streams on their YouTube channels. Check their Facebook and Twitter pages to view some events in real time.
On Radio
ABC News Radio will offer multiple status reports each hour, along with a one-hour special available at 7 p.m. C-SPAN Radio's live programming begins at 7 a.m. (In Washington, C-SPAN Radio can be heard on 90.1 FM., and listeners nationwide can tune-in through the free C-SPAN radio app.)
CBS Radio News provides live, anchored and short-form special reports of the ceremonies.
FOX News Radio provides complete coverage of the day's events.