Updated | Just a few hours after American voters bitch-slapped feminism on November 8, two women followed Donald Trump onto the stage at his postelection party. Gliding in heels that would challenge a ballerina, first-lady-to-be Melania Trump and first daughter Ivanka Trump were camera-ready at 3:30 a.m. Melania had wriggled into a white, off-the-shoulder Ralph Lauren palazzo pants jumpsuit; Ivanka was wearing one of the ice-skating dresses she favors, a powder-blue Alexander McQueen frock that showed off her long legs. Somewhere out of the frame, two former wives of the president-elect, Ivana Trump and Marla Maples, already had notions of ambassadorships buzzing in their brains like vibrators.
These queens in the House of Trump—all of them having served variously as models, arm candy, reality-show stars, humiliated sidekicks and shopping channel mavens—are vestal virgins in the temple of acquisition. They are significant even for those who don't worship there for what they reveal about the emotional life of the 45th president of the United States and his views on the role of women. During the course of Donald Trump's adult life, a span of 50 years, America became a better, more tolerant nation, and the women's movement was a big reason why. Trump, however, is a living link to another era. His first prenuptial agreement was penned by mob lawyer, Senator Joseph McCarthy acolyte and Richard Nixon ally Roy Cohn. (Former President Barack Obama was in junior high when Cohn wrote it up.) Norman Vincent Peale—evangelist of mid-20th-century self-improvement—presided over his first wedding.
Related: Inside the Ivanka Trump brand
When Trump first married, marital rape was still exempted from American laws. (In fact, in a divorce deposition, his first wife would accuse him of marital rape, but she backtracked later and claimed she meant that she felt emotionally violated.) There were still families—Trump's own, for example—where the elder generation found the word pregnant offensive. Abortion had been legal for only three years. Women were either Mrs. or Miss and were still vastly outnumbered by men in graduate schools (they are now in the majority). About half as many women worked outside the home as do today. Now that women are more independent and working mothers have pushed men a little into the drudgery of domestic work, some men are confronting an existential crisis. As much as any lost factory job or fading national whiteness, putting Dad back in charge is the "great" part of Trump's "again."
The wheels of that change are already rolling: Congressional defunding of Planned Parenthood means fewer legal abortions and less affordable contraception, the repeal of Obamacare ends the federal mandate that insurers cover contraceptives, and Trump's promise to appoint anti-choice judges will soon kill Roe v. Wade. Many Americans could soon be where women were when Trump was born—1946—giving birth whether they want to or not and, consequently, unable to pursue careers.
The Trump Queens, in many ways as surreal as their king, exist beyond the dramatic changes in the lives of the average American woman over the past half-century. They will preside over the court of an end-times Camelot on acid, wielding enormous power over stylists and foreign dignitaries in exchange for surviving the ultimate reality-show challenge: impressing Donald Trump, his fellow oligarchs and captains of supranational corporations with their looks and poise. They have paid for that power in measures of dignity. As the new president once said, "It doesn't matter what they write [about you] as long as you have a young and beautiful piece of ass."
Dream Queen for a Queens Boy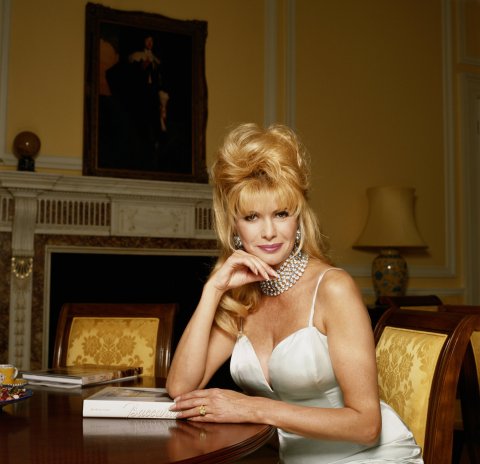 Of the three Trump wives, the first, Ivana, is the only one close to Donald Trump's age—just three years younger. She, like him, came of age in the yuppie era, and she, alone among the Trump wives, aspired to be a working woman and is the only wife with whom Donald ever shared his business life.
They were married just before Easter of 1977, a few months after Donald presented her the Cohn prenup that required her to return all gifts given to her by Donald, which nearly killed the deal. Eventually, the two men agreed to let Ivana keep the jewels if this love bond proved less than eternal, and the wedding proceeded. Later Donald would say, in front of his wife, "I would never buy Ivana any decent jewels or pictures. Why give her negotiable assets?"
Ivana, with her Bond-villainess accent, spoke such baffling English that friends in the early years of the marriage could barely understand her, but it didn't matter because Donald was notoriously bad at small talk. She introduced her husband—provincial in taste and experience—to Eastern Europe, and they visited Russia in 1987, which was the first time Donald publicly expressed interest in doing business there. He failed to get a sit-down with Soviet leader Mikhail Gorbachev on that trip, but eventually he licensed his brand to a Russian vodka with gold leaf labels and spent years investigating possible development deals in Moscow and elsewhere.
In 1986, Donald bought the 126-room, 110,000-square-foot house/castle and 17 acre-grounds of Mar-a-Lago, a jazz age millionaire's sandbox. At the Palm Beach, Florida, dinners the Trumps hosted, local grandees snickered at Donald in his business suit, at Ivana wearing stiletto heels in the boggy Florida grass, but Ivana kept her game face on, predicting, "In 50 years, Donald and I will be considered old money, like the Vanderbilts."
They were, for a while, an effective team. He got richer, and her Barbie-doll big hair became a New York City '80s icon as she grabbed seats on charity boards. In Atlantic City, New Jersey, Donald made Ivana CEO of the Trump Castle casino, overseeing 4,000 employees and a $1.2 million weekly payroll. In New York City, Donald put her in charge of his Plaza Hotel, and she oversaw a $60 million renovation. But she still presented herself as primarily a wife and mother, a traditional "European wife.… I don't mind that Donald is the boss. I like it that way. I have to have a strong man.… This is why most feminists aren't married and have no children. I like to have both."
She called herself his "wife-twin," but he would later say her professional aspirations ruined their 14-year marriage. "Putting a wife to work is a very dangerous thing," he said after their divorce.
It took several years to hammer out the settlement. Trump, now deep in debt and trying to stall, according to Trump biographer Harry Hurt III, regularly called his estranged wife and whispered "I love you, Vaska"—her Czech pet nickname. Barely 40, Ivana told gossip columnist Liz Smith she had no intention of looking older than 28, and she hired Michael Jackson's plastic surgeon. She returned to New York City after two weeks away with a new face, fuller lips and a much larger bust.
Ivana finally settled, taking $14 million in cash, plus a few properties. She then created her version of her ex-husband's businesses, launched her own books and hawked her trinkets on the shopping channels—everything value-added with the marital-name brand she kept. She bought some properties in the South of France, and she also tried to make some lemonade out of her romantic travails with various Italian playboys (she married two…and divorced two) by doing a reality-TV dating show called Ivana Young Man.
The exes are said to be on good terms now, although she hasn't yet been given the ambassadorship to the Czech Republic she wants. Ivana spent part of Christmas week at Mar-a-Lago with her kids and grandkids, but it is impossible to imagine Donald with Ivana on his arm today. She is his picture of Dorian Gray, tucked away in Saint-Tropez, walking her little dog on the plage, sagging skin on display like all the rich Russians of a certain age in the South of France.
Sage-Appropriate Sex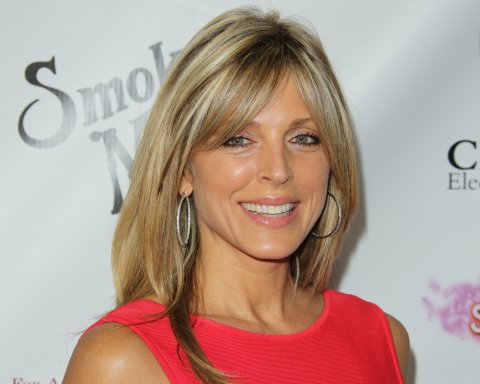 Between his first and third marriages, Trump evolved from the brash, rich, yuppie family man with a "wife-twin" to a too-big-to-fail businessman who dragged down banks and shareholders with his $900 million midlife debt crisis. His consort during this very costly transformation was Marla Maples.
Maples was born in Cohutta, Georgia, in 1963, an overachiever in high school who earned trophies for everything from basketball to swimming to clarinet and was almost Miss Georgia Teen. (She lost to a clogger with a better community service record.) She tried college for a while, held on to her high school boyfriend too long, then moved to New York City, where she got a few modeling jobs—a Delta Air Lines billboard—and a small part in a Stephen King movie. (She played a woman crushed to death by watermelons.)
Trump first took up with Maples after a party he threw himself to celebrate the publication of The Art of the Deal in 1987. Their eyes locked in a receiving line studded with celebs like Michael Douglas and Cheryl Tiegs, politicos and socialites. "You could see the fireworks go off the second Donald and Marla set eyes on each other," Maples's walker that night, an ex-NYPD cop named Tom Fitzsimmons, told Trump biographer Hurt. "I'll never forget the way he kept winking and staring at her even though Ivana was so close to them she couldn't help seeing the whole thing."
Maples was a Baptist by birth, but by the time she met Trump, she was a disciple of New Age theories, doggedly trying to channel the wisdom of ancient sages. "I just think the first moment I met him, I had a sense like I had known him before," she told Access Hollywood last year. "It was much deeper than just whatever you might feel. We had a sense of like, if you believe in past lives or you don't, it was as if we had known each other."
Even though he had a wife and three kids, Trump wooed Maples hard, bombarding her with news clips about himself and declaring publicly that their time in bed was the best sex he'd ever had. She returned the compliment—in the New York Post—but also reported that he would never let her see him naked: He made her leave the room while he got undressed and would be under the covers when she came back.
Even before Ivana was out, Donald was loaning money to Maples's father and inviting him up to Atlantic City to attend prizefights. Trump also agreed to help Maples get modeling and acting gigs, but according to Hurt, he made her sign a contract in which she agreed to pay him a percentage of every job she got.
They wed in December 1993, three months after she'd given birth to Trump's fourth child, Tiffany. Maples wore an off-the-shoulder Carolina Herrera gown and a tiara studded with 325 diamonds. Guests noshed from a groaning board piled with $60,000 worth of caviar, sushi, smoked fish, lamb, turkey, beef, plus six vertical feet of vanilla-cream wedding cake.
Trump's three children from his first marriage didn't show.
In Maples, Trump no longer had a wife-twin, but she was a demanding young woman and their bliss didn't last long. In 1999, he let Maples know that he was divorcing her by first telling a few reporters at the New York Post. The National Enquirer reported that she got ticketed for frolicking on a Florida beach at 4 a.m., a few miles south of Mar-a-Lago, with one of her security guards. Marla denied any hanky-panky, but after that, she didn't have much leverage to renegotiate her prenup, so she settled for just $2 million—coincidentally, the cost of her wedding tiara—and moved with Tiffany to Southern California to "find a quieter, more spiritual existence." Her agents proposed a tell-all book, All That Glitters Is Not Gold . HarperCollins bought it, describing it in its 2001 catalog as "this remarkably candid memoir"—but never published it.
Donald and Marla have remained friends, possibly because that remarkably candid book was never published. A few days after the election, she slipped into Trump Tower for a 45-minute audience with the president-elect. She flashed her famous sweet smile at reporters on the way out without saying a word, but her publicist let it be known that she was angling for her dream job, U.N. ambassador of goodwill to poor African nations. The only problem, journalists snickered, is that U.S. presidents don't appoint U.N. ambassadors to Africa.
In a New York Times profile of Tiffany shortly before the election, Maples wielded the Southern shiv of faint praise: "I had the blessing of raising her pretty much on my own," adding that Tiffany "would like to get to know her father better and spend time with him like his other children did, by going to his office and watching him work. Only now, he's not in the office anymore. He's on the campaign trail."
But long before the presidential campaign, Tiffany was destined to be the forgotten Trump child. The Lion in Winter had moved on.
Psychedelic Eyes on the Prize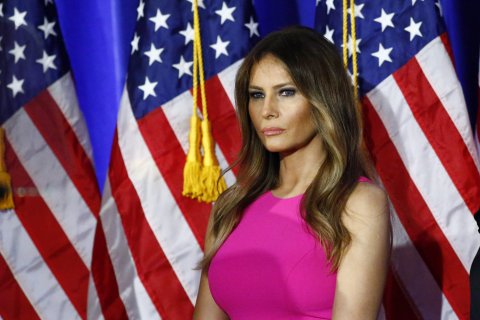 Donald Trump's three wives and eldest daughter all have enough modeling experience to know what a camera can do to or for a woman. Melania is said to be planning a "glam room" in the White House where makeup artists can do her face under professional camera lighting. A Google image search of any woman in the public eye turns up at least one bad shot, but the Trump women are almost never caught squinting, winking or, mouth ajar, speaking.
That changed on Inauguration Day, when Melania was caught on camera with a look of despair after Trump turned and scowled at her on the reviewing stand. She smiled through their awkward first dance later that night but appeared to be pushing him away. Nothing about their body language suggested a warm relationship. Next morning, a #freemelania meme shot through Twitter, along with links to articles speculating that she was unhappy at best, abused at worst.
Donald was an avid "modelizer" long before Melania could walk. He came of age at a propitious time for a man with his proclivities and wallet. Before the '70s, Manhattan fashion models were housed in convent-like apartments on the Upper East Side. Then the industry began to change, and predatory men like John Casablancas started running stables of girls. Chaperones were a relic of square times, and the boundaries between agent and model, client and date, woman and girl blurred.
Trump always held an all-access pass to New York's models. He called sex with them "my second business," told Howard Stern that avoiding sexually transmitted diseases had been his Vietnam and boasted to author Michael Gross, "You had drugs, women and booze all over the fuckin' place. If I hadn't got married, who knows what would have happened?"
He emerged from the ruins of his casino empire and the wreckage of his second marriage with a new approach to women and business. He bought the rights to the Miss Universe franchise in 1996 and three years later started his own modeling agency—T Models, later changed to Trump Model Management. These new properties, while smaller than his buildings, held out more than a financial reward. He still couldn't make small talk, but with a stable of fetching women who had signed nondisclosure agreements vying for crowns, who needed to talk? According to Gross, he used his T models to decorate parties at which he sealed deals. Fellow modelizer Leonardo DiCaprio once called Trump's agency "one-stop date-shopping."
As a pageant impresario, Trump moved with the other self-styled players running portfolios of pulchritude. When Casablancas was shamed out of the business in the '90s—he famously had sex with 15-year-old model Stephanie Seymour when he was 41—Trump found him a seat on the board at Trump Realty Brazil. In 1998, Paolo Zampolli, another Trump running buddy and professional connoisseur of firm female flesh, dispatched a team of his girls over to a Fashion Week event at Manhattan's Kit Kat Club with photographers, producers and rich playboys. And that's where Trump first saw his third wife.
Melanija Knavs was born in 1970 and spent her first 19 years behind the Iron Curtain, in a tiny, colorless slab of the former Yugoslavia now called Slovenia. Her father was a businessman and car dealer who did well enough under the Communist regime to nurture a habit of collecting Mercedes-Benz cars. Her mother was a pattern-maker who got her two daughters into fashion. The family was well-off enough to ski in Italy and Austria in the winters, but for most people in the former Yugoslavia, luxuries were rare and even more coveted for being scarce.
But Melanija, tall and stunning, knew she had something to leverage. Her beauty "was not the classic type," a friend from Ljubljana told journalist Julia Ioffe. "She had eyes that were kind of psychedelic. You look in those eyes and it was like looking in the eyes of an animal."
In 1992—three years after the fall of the Berlin Wall—she came in second in a Look of the Year modeling contest in the newly independent Slovenia. Four years later, she came to New York City, where Zampolli brokered her work visa and American modeling contract and paid for an apartment. She was only 26, but in Manhattan, Melania K, as she was now calling herself, confronted the grim news that she was already, by the standards of professional modeling, too old. She was booked for mostly commercial work—including an ad for Camel cigarettes, as tobacco and alcohol ads were reserved for "older" models.
At the Kit Kat Club, Trump was smitten by the animal-eyed young woman. He sent his companion to the bathroom and flirted with Melania, but she refused to give him her phone number. She didn't go on a date with him until three months later, and after dating him for a few months, she broke up with him. It took him six months to get her back.
Their 2005 wedding was the Trumpiest yet: She wore a $100,000 Dior dress. ( Vogue , which put her in bridal mode on the cover, reported that workers put in 550 hours attaching 1,500 crystals to it.) Wedding guests included Rudy Giuliani and Kelly Ripa, Bill and Hillary Clinton. Billy Joel serenaded guests as they ate caviar and sipped Cristal in the shadow of a 5-foot-tall Grand Marnier wedding cake.
She became an American citizen a year later. When the Associated Press reported that Melania had worked in the U.S. without a work visa, Trump's lawyers threatened to sue over the report but did not. She has said she followed U.S. immigration rules to the letter.
Like all the other Trump women, Melania hawked her own products with the Trump name affixed: a line of "affordable" jewelry on QVC, including a $150 "replica" of her 10-carat, emerald-cut diamond wedding ring, and a beauty line featuring a caviar-infused anti-aging cream that never took off. In midsummer 2016, her personal website disappeared, and her jewelry disappeared from QVC. She is rarely photographed smiling, leading to cruel suggestions that she fears moving her face lest her crow's feet show. Her makeup artist, Nicole Bryl, recently said she spends at least an hour and 15 minutes preparing Melania's face. Andre Leon Talley, her wedding groomer and former Vogue editor at large, called her the most moisturized woman he'd ever encountered.
Not long after Trump was elected president, the campaign announced that Melania woudn't be moving to the White House. While her husband moves a few hundred miles south, she will get to pad around alone in their spacious triplex penthouse apartment atop Trump Tower, with a Versailles-style hall of mirrors, a white marble fountain and ceilings festooned with hand-painted cherubs. She has a personal chef and assistant. But no nanny stands between her and her only son, Barron, now 10. "We know our roles," Melania once told Parenting.com, referring to the division of labor with her husband. "I didn't want him to change the diapers or put Barron to bed."
Trump has called Melania "the rock" and highly prizes her self-containment. Before they wed, Trump told Howard Stern that he'd never "seen any of that" when asked whether Melania farted or "made doody."
Trump: I've never seen any of that.
Stern: Wow.
Trump: It's amazing.
Donald and Melania have now been married 12 years—as long as he and Ivana were together. Their wedding was not the only family milestone in 2005. That same year, daughter Ivanka, fresh out of the Wharton School, joined the Trump Organization, filling her mother's long-empty pumps as Trump's savvy work-wife.
Daughter Dearest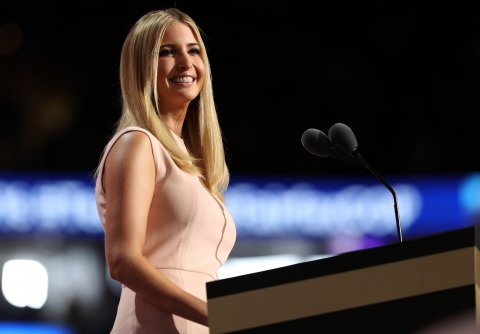 The French have a phrase for parents whose first child is a boy and second a girl: choix du roi. The king's choice is considered the ideal order: The first son to inherit the kingdom and the daughter to marry off and expand it. And by marrying Jared Kushner, scion of another multibillion-dollar real estate concern, that's exactly what Ivanka's done.
Ivanka is still Daddy's girl, even if she's no longer bouncing on his knee with his hands all over her. It's not her fault people see more in those pictures than what she remembers—she was happy to have his attention. After all, she could have been Tiffany.
Trump was never an attentive dad. He couldn't remember the names of the private schools, and his assistant gave him reports from the nannies. To get his attention, Ivanka got in the habit of running up to his office on her way home from school every day, according to her memoir, The Trump Card: Playing to Win in Work and Life.
In the 2003 documentary Born Rich, featuring a pack of New York City mega-wealthy heirs and heiresses, Ivanka projects a level of humility that is unusual among her preening and whining peers. No one was more surprised than those peers to see her conversion from progressive New Yorker to a member of the inner circle of advisers around a man called by some the second coming of Hitler.
Ivanka's rightward swerve started years before her father's latest campaign. In 2007, she started talking about converting to Judaism in order to marry Kushner, whose Orthodox Judaism forbids women from becoming rabbis and officially assigns them duties as keepers of hearth and home. Some male adherents refrain from contact with women who might be menstruating, menstrual blood being a primitive biblical taboo. She now keeps a kosher home for her husband and three children, and she assiduously follows the Sabbath, when observant Jews turn off all electronics and take 24 hours off every Saturday. "It was very brave of her," says family friend Nikki Haskell. "And she is very, very strict about it and keeps a very tight ship."
Her political conversion roughly parallels that of her libertine and formerly Democratic father. "She struck me as a liberal New York Democrat and rather typical of her group," Born Rich producer Dirk Wittenborn says. "Her conversion and marriage—and motherhood—all coincided with her becoming more conservative. I think she's someone who understands the responsibility of her position. She understands the role she has to play."
Trump used Ivanka's Judaism to deflect charges that his campaign encouraged anti-Semitism among his supporters. "I have Jewish grandchildren" was all he had to say when confronted with his Nazi dog whistles. When Ivanka introduced her father at the Republican Convention, she delivered a "Democrat-sounding" speech endorsing child care and maternity leave. She's never objected publicly to his anti-abortion agenda; nor did she ever voice dismay over his yearslong "investigation" into the legitimacy of President Barack Obama's birth certificate.
As her father barnstormed the nation last year, inciting near-riots at some of his rallies, Ivanka's Instagram account remained cheerfully apolitical. She posted short videos of her adorable kids or glamour shots of herself in funny Boomerang video poses at various campaign stops in the hinterlands, chic coats wafting in the cold wind on the tarmac at Buffalo or Eau Claire. She was snapped vacationing in Croatia with her close friend, Shanghai girl Wendi Deng, another Olympian social climber in the process of catapulting from Rupert Murdoch to some even bigger man.
She had plenty of good reasons to push hard for her dad. Besides filial duty, an election loss might have ruined the Ivanka brand. Reporters had already been digging out embarrassing facts, including merchandise made in China and Indonesia and lawsuits over copycat products. Just before the election, Nordstrom and other stores were selling her brand at a discount in the face of boycotts. Her second book, Women Who Work: Rewriting the Rules for Success, once looked like a project to pre-empt damage from Donald's political implosion. It is still due out this spring. By then, Ivanka will have rewritten her own rules for success, multitasking as mother, de facto first lady and unofficial adviser and conduit to the most powerful man on the planet.
The most empowered and enlightened of the Trump Queens has smiled her way through parental behavior that might have provoked less stoic women to cut ties. Her dad has publicly called her "hot," gleefully agreed with Howard Stern that she's "a piece of ass" and said on national TV that if she wasn't his child, "perhaps I'd be dating her."
Born in the 1980s, Ivanka Trump will indeed be a role model for millennial women, with her Instagram account of cute babies bouncing and herself flouncing in haute couture around the White House. Gracefully, she leads them back to when their grandmothers were young and wanted to be Jackie Kennedy, when women spoke softly, dressed impeccably and endured, with the utmost grace, the maddest of Mad Men.
This article has been updated to correct a reference to Slovenia, which was part of the former Yugoslavia, not the Soviet Union.