If Alaska—vast, untamed and magnificent—is "The Last Frontier," then Unalaska is Alaska's last frontier. Roughly 800 miles southwest of Anchorage on the necklace of volcanic islands known as the Aleutians, Unalaska is out there. Way out there. No community in the United States with more people than your typical high school reunion is farther west than Unalaska.
Unalaska, a term from the indigenous Unangan (or Aleut) language meaning "near the peninsula," is the name of both the island and its lone pocket of civilization. It is a treeless outpost twice the size of Oahu and it is also a city (population 4,500) that represents the largest community within a radius of 600 miles. It is home to Dutch Harbor, the largest commercial fisheries port in the U.S. (home port of Deadliest Catch) but also to an array of idiosyncratic wonders that seem sprung from Garrison Keillor's frontal lobe: a herd of feral cows that graze in the shadow of an active volcano, Mount Makushin; a road span, linking Unalaska to neighboring Amaknak Island, named the Bridge to the Other Side; and 200 or so Unangan people whose ancestors first arrived in the Aleutians 9,000 years ago, making them, as far as anyone knows, the lone ethnic group that has maintained the same address from the Stone Age to the Nuclear Age.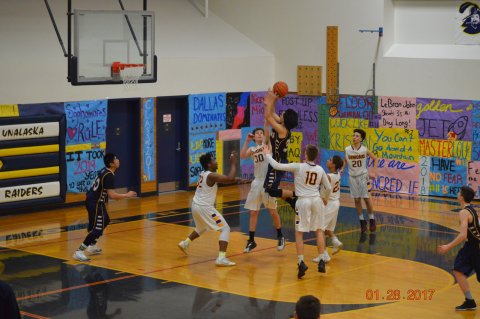 Unalaska is also home to the best Class 2A prep boys basketball team in the state, the Unalaska City High School Raiders: the basketball team at the end of the world. "You're from 'Not Alaska?'" confused mainlanders ask team captain Carter Price when he ventures inland. "No, Unalaska," says Price. "I live on a rock out in the middle of the Bering Sea."
To the typical American—and even to many Alaskans—Unalaska seems impossibly remote. It is reachable only by air or as the last stop on the Alaska Marine Ferry, a four-day voyage out of Homer. No one just happens upon Unalaska. "I first came up here in 1995," says deputy police chief Jennifer Shockley, a native Texan. "I didn't know what I wanted to do, but I knew I wanted to go some place I'd never been before."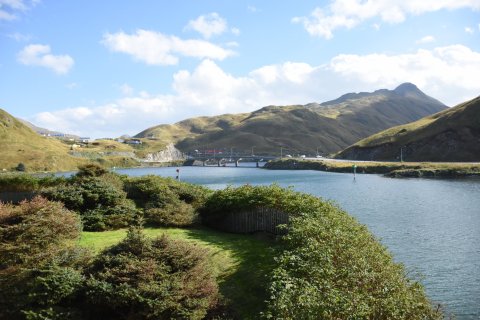 Kent Russell, the Raider basketball coach, played college football at Chadron State in Nebraska, and sought a teaching job in Alaska because it "is Colorado on steroids." Five years ago, Russell accepted a job at Unalaska without a clue as to its location. "When I phoned my dad, he laughed," Russell says. "'Have you looked at a map yet?'"
Last year, the Raiders won their first state championship in 18 years. In the past two seasons they are 31-2, both losses coming to larger 3A schools. In a place without pretension (or high-speed internet), Russell is an ideal fit. "I'm a defensive coach," says Russell. "I don't like the NBA. I like team ball."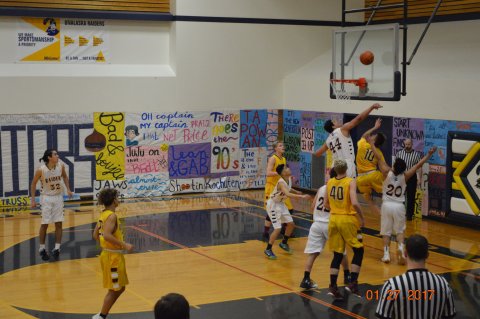 "He's a football guy," says Unalaska City High principal Jim Wilson, whose son, Trevor, a sophomore, is the team's leading scorer. "I kid Kent that he's taking basketball back 50 years."
The Raiders rarely eclipse 50 points in a game, but they are immensely popular, even more popular than the witty, weekly police blotter Shockley writes. A recent sample:
"Sunday, 11/13/16, 03:55 The captain of a vessel called 911 to report he was unable to control his drunken crew. The crew showed no respect toward the captain and showed this disrespect by continued food fights. Officers determined there had been no crime committed."
The bard of the blog scoffs at the suggestion she is a celebrity. "Unalaska basketball is the biggest event in town," she says.
And why not? In a community with no movie theater, no bowling alley, no streaming video services and limited dating options ("There's an attractive single person behind every tree," the local joke goes), gainful winter distractions are few. "We carry all the Raider games," says Lauren Adams, station manager of 660-watt KUCB, the local public radio affiliate. "Unalaska basketball is by far our most popular broadcast all year. By far."

Far is the adjective that also describes all of Unalaska's competition. "We are the only school within 400 miles," says principal Wilson. "Our nearest conference opponent is 600 miles away. We take a lot of road trips, which is a misnomer: We fly."
A flight out of or into Unalaska Airport, incidentally, is not for the faint-hearted. "Oh my God," says Sharon Svarny-Livingston, a native. "It's terrifying." The twin-engine turboprops that land on the airport's 4,100-foot runway (LaGuardia Airport in New York City, by comparison, 7,003-feet long) have water surrounding them on three sides and a carved-out mountain on the fourth. The winds are fierce and fickle. "I've seen the wind socks at either end of the runway pointing toward each other and away from each other," Russell says.
Related: Alaska-Anchorage is the best women's basketball team west of UConn—and the Yukon
This year the Raiders have taken four extended odysseys, venturing 1,500 miles east to play in Metlakata and Haines on separate occasions and more than 1,200 miles north on different pilgrimages to coastal Nome and Kotzebue (every road trip becomes a miniature round-robin tourney, as four teams customarily assemble for games). Iditarod mushers, by comparison, are out for a Sunday stroll.
Each tour of duty involves Russell and eight players packing uniforms, shoes, basketballs, air mattresses and sleeping bags. "Teenagers here become mileage-plus gold members before their parents do," says Adams, the radio station manager.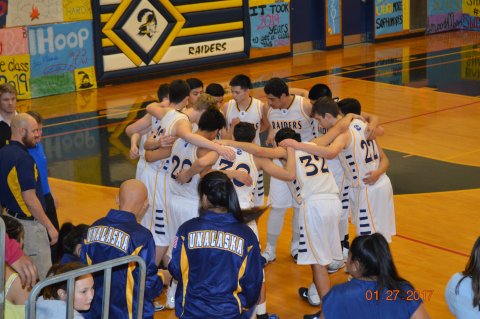 A few weekends ago, the Raiders flew 1,300 miles north to Kotzebue—the first leg of any trip always involves a layover in Anchorage— north of the Bering Strait on the Chukchi Sea. To ease costs, they played three games in three nights and slept, all nine of them, in a borrowed classroom. "NBA teams talk about how tough it is to play back-to-backs," says Price, the team captain. "They're spoiled."
Russell attempts to make every "road trip" an Outward Bound exercise. Earlier this winter in Nome, the squad took a photo at the finish line of the Iditarod Sled Dog Race when it was minus-20 degrees. On the recent sojourn to Kotzebue they sampled muktuk, i.e. whale blubber. "It's important for us to expose our kids to worlds beyond Unalaska," says Russell. "They're not even used to seeing trees. It's a big world out there."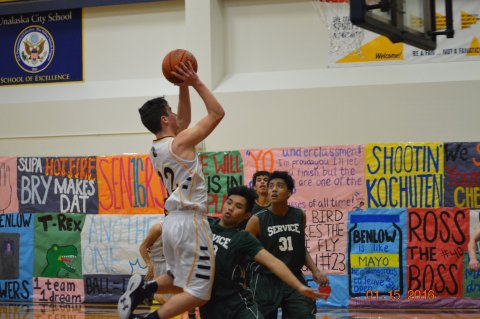 On that same trip, Russell roused his players for a walk on the ocean. In February, the Chukchi Sea is frozen, so the Unalaska City High Raiders went for a walk on the ice. Somewhat by accident, the team was re-enacting, on a smaller scale (and in reverse), the migration that some nine millennia ago brought the first inhabitants to North America.
For the one or two home weekends Unalaska has each season, the gym is jammed with 250 locals and a pep band. How do the Raiders entice opponents to travel out to a rock in the middle of the Bering Sea for what will almost certainly be a loss? "We'll pay part of the visiting team's costs," says Svarny-Livingston, who is half Unangan, "because we just want to cheer on our kids in person so badly."
Svarny-Livingston is acutely aware of the irony of Unalaskans inviting outsiders for an exercise in friendly strife. In June 1942, a squadron of Japanese planes attacked Unalaska—the last military engagement on U.S. soil of World War II. Six weeks later all of Unalaska's 350 or so Unangans were given 24 hours' notice, then forcibly repatriated 1,500 miles east, where they would remain in exile for three years. "No one complained at first because they were U.S. citizens and thought they were helping their country," says Svarny-Livingston, whose 87-year-old mother was among those removed. "There's still resentment."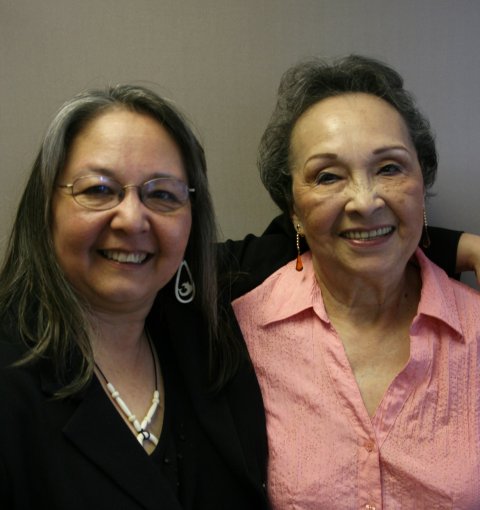 While mainland Alaska braces for sub-zero temperatures, Unalaska, whose climate is relatively temperate, braces for winds. On a treeless island located at the crossroads of two major bodies of water (the Pacific Ocean and the Bering Sea), the torrents are ferocious. Unalaskans take them in stride, provided such strides are short and purposeful. "We get hurricane-force winds several times a year, but nobody names them," Shockley says. "It's just 'Wednesday,' you know?"
"Most of the time, you can't even play basketball outside because of the wind," says Price, whose grandmother is full Unangan and thus has family on the island dating back thousands of years. "You just deal with it. People only talk about the wind when there isn't any."
What is wind, after all, but the migration of air? Unalaskans are familiar with migration for, as isolated as this island is, it is hardly insular. Its population is remarkably diverse—there are Unalaskans whose families have been in the Aleutians for 9,000 years and others who arrived on the last ferry out of Homer. "I have never seen a town, school, or community like Unalaska," says Wilson, who was raised in Montana. "It begins with a welcoming acceptance by local Unangan residents to those who have come."
The Raiders' starting five includes two Filipinos, a Caucasian, a Caucasian-Unangan, and a 6-foot-3-inch, 295-pound Samoan. Two top reserves are Vietnamese. "The demographics at our school are crazy," says Russell, who also teaches math. "When you enter a class of 20 kids, you have 15 different ethnicities."
The city prides itself on inclusiveness, as does the school. Early last December, 41 of Unalaska City High's 60 male students tried out for basketball, and they all lace up for practice every afternoon. "We don't make cuts," says Russell, who takes eight players for road trips. "But how do you work on your transition game when you have 40 kids at practice?"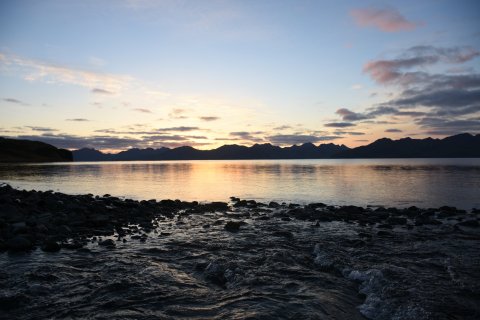 If Russell sounds perturbed, he is not. An avid scuba diver, he understands that wonders lie beneath the surface. His junior center, Matthew Faoasau, for example, emigrated from American Samoa two years ago. Faoasau is already an indispensable and imposing figure on the court, even if he is still learning the game. Wilson recalls Faoasau asking during a game this season why the opposing team's center had left the game. "He fouled out," Wilson explained.
Faoasau said to his coach, "You only get five?"
To play for Unalaska is to discover that you are allotted more fouls in a game than home games in a season. It is to be part of a team whose center is a recent immigrant and whose team captain's roots here are as deep as civilization itself, which is quite ironic on an island without trees. That's life for the basketball team at the end of the world.