On a sunny afternoon in Toretsk, a mining town near the front lines in eastern Ukraine, a small, wiry man in his 60s staggers down a potholed street, playing the accordion and busking for change. He's unshaven and disheveled, sporting a camouflage cap, baggy sweatpants and a grubby telnyashka —the striped undershirt worn by Soviet and Russian troops. He passes by as I chat with a group of Ukrainian government soldiers on a corner opposite the local barracks. The men eye him with disdain; one tosses him a cigarette, and he drifts off.
"Lumpen proletariat ," says Aleksandr Lubichenko, a Ukrainian military press officer. "He's an old separatist—I can tell a mile off. Small man, big gun."
"But he's only holding an accordion," I say.
"He's only holding an accordion now. But give him some money, and the first thing he'll buy is an AK-47."
Strained encounters like this are common here in Donbass, Ukraine's easternmost region on the Russian border. This is the nation's industrial heartland—a windblown steppe of coal mines and smokestacks that tower over vast fields of sunflowers. For three years, government forces and Russian-backed separatists have been locked in a war that's killed roughly 10,000 and forced 2 million from their homes. Despite a 2015 peace deal, the two sides continue to trade fire along a 280-mile front line.
The unrest began in March 2014, not long after massive, pro-European demonstrations in Ukraine toppled the authoritarian government of Viktor Yanukovych, a Kremlin loyalist. In response, Russia seized Crimea and stirred up counterprotests in Donbass. These morphed into a full-fledged insurrection as the Kremlin sent arms, soldiers and intelligence to help separatist forces.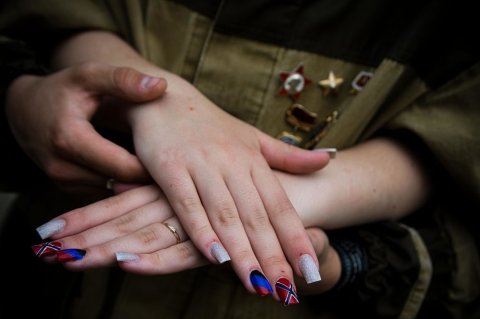 War has turned large swathes of the area into a militarized rust belt full of contested ghost towns, bombed-out factories and flooded mineshafts. But even before the conflict, jobs were scarce in eastern Ukraine, which had been crumbling since the fall of the Soviet Union. Many here feel abandoned by their government (despite the billion-dollar subsidies Kiev has injected into the region's ailing coal-industry). While activists in the capital's Maidan Square rallied against corruption and Kremlin influence, striving to become a part of Europe, many in the east have more in common with their neighbors in Russia. Some in government-held Donbass see the Ukrainian soldiers patrolling the streets as guardians against the Kremlin's machinations, but others regard them as part of an unwanted, even foreign, occupation.
The divisions in Donbass put Ukrainian lawmakers in a bind. Privately, some admit they would like to discard the territory, to jettison any hope of a unified nation. But losing the east could create more dysfunction and even encourage further uprisings, leading to more lost territory and a return to full-blown war.
To secure the region, the Ukrainian military and civilian activists are trying to win over their eastern compatriots who may secretly back the separatists. This effort has acquired a new sense of urgency; despite the recent U.S. airstrike in Syria, Kiev still fears the Trump administration could align itself with Russian President Vladimir Putin. In this volatile climate, Ukrainian troops are using classic hearts-and-minds tactics—like the ones the U.S. has tried in Iraq and Afghanistan—on their own soil.
The problem: Neither of those conflicts has turned out well.
Cupcakes, Not Kalashnikovs
In a backyard on the outskirts of Toretsk, surrounded by run-down cottages with corrugated roofs, two Ukrainian soldiers kick a soccer ball around with a dozen children. At sunset, the group heads into a large, neighboring home that two missionaries from Florida have turned into a youth center. Clad in full army fatigues, one of the soldiers—Aleksandr Drol—sits chatting with the kids while his stocky, bearded colleague hands out freshly baked cupcakes.
A quiet, intelligent major in his mid-30s, Drol works as an outreach officer in Toretsk with the Civilian Military Cooperation, an offshoot of Ukraine's armed forces, funded by the country's Defense Ministry and trained by NATO instructors. He is among 120 personnel tasked with gaining the trust of the populace along the front—from the port city of Mariupol in the south to the small, battle-scarred Stanitsa Luhanska in the northeast.
One of the group's biggest tests is in Toretsk, a town that's a microcosm of the wider crisis. In 2014, separatists grabbed this coal-mining town, with a prewar population of around 35,000; Kiev's troops retook it that summer. Today, it has some of the largest pro-separatist support in government-controlled Donbass. Even its former mayor, Vladimir Sleptsov, stands accused of assisting pro-Russian militants several years ago. Authorities have since hung a bevy of Ukrainian flags around the city, and occasionally hold patriotic concerts in its main square, but tense undercurrents run beneath this town's seemingly calm surface. "Many people keep their views to themselves," Drol says. "If asked whom they support, they just say, 'I'm for peace.' [But] the militants didn't even have to fight for the town in 2014."
In Toretsk, Drol runs a multipronged charm offensive: holding town halls, delivering aid, evacuating civilians from front lines, clearing unexploded munitions and helping repair damaged power lines, homes, hospitals and schools. In the early days of the conflict, before the West sent nonlethal military aid to Kiev such as Humvees, combat trainers and body armor, Ukraine's army—plagued by years of corruption and neglect—could barely support its troops, let alone help the local population. This caused "much bitterness and disappointment in eastern Ukraine, where the fight for hearts and minds is crucial," says Gustav Gressel, a senior policy fellow at the European Council on Foreign Relations, a Berlin-based think tank.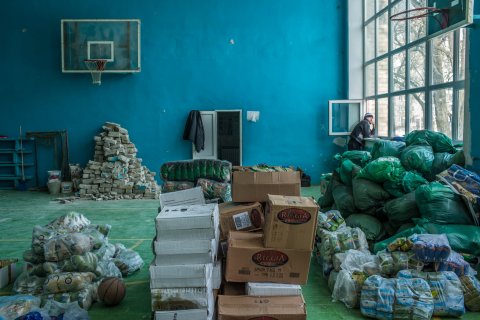 Drol wouldn't be able to do his job without the help of activists like Sima Dzhoy , who moved from Kiev to manage the youth center. She supervises after-school classes—from history to dance—to keep teenagers out of trouble and convert them into patriots. "Locals tend to have a bad opinion about Ukrainian soldiers—they resent the constant military presence and find their guns intimidating," says Dzhoy. "They regard our boys as an occupying force, even though the soldiers are in their own country."
Activists in Toretsk say the town is still run by a cabal of pro-separatists in Moscow's thrall, despite the arrest of the former mayor. I ask another Civilian Military Cooperation officer, Captain Alexander Teslenko, how best to root out these individuals. Deadpan, he replies: "Slam their fingers in the door till they change."
Rolling his eyes, Drol explains how he once renovated a playground after the authorities ignored a teacher's request for help. "Small acts like that go a long way here," he says. "We can't stop the shelling, but if we can turn just five civilians to the Ukrainian side, then, for us, that's a victory."
Fake News and Patriotic Power Ballads
Some 20 miles from Toretsk, in the half-deserted, government-controlled village of Karlivka, soldiers at an army checkpoint hunch over in the morning rain as military trucks rumble past them toward the front lines. Nearby, down a muddy lane, there's a derelict water utility converted into a pirate radio station. Inside the studio, hard rock music blares out amid a jumble of wires, turntables, cologne and family photos. On the walls, a calendar of topless models hangs next to Ukrainian flags and patriotic slogans.
This is the headquarters of Tryzub (Trident) FM. On the ground floor, Igor Yaschenko, an activist and part-time dentist, offers free care to servicemen and civilians. Upstairs, in his cramped bedroom, he wages a one-man information war against Russia's powerful, state-run media that dominates the airwaves in Donbass. "Patriotic songs for a patriotic impact!" he yells with a grin, cranking up the volume of a Ukrainian song.
Despite Yaschenko's enthusiasm, his efforts only highlight the limitations of Ukraine's attempts to win over the denizens of Donbass—tough working-class people who have long lived in Russia's orbit. In the late 19th century, when Czar Alexander II ruled the area, tens of thousands of Russians—along with Greeks, Croats, Poles and other European migrants—poured into the region to extract coal, construct railways and toil in steel foundries. In the 20th century, Soviet authorities glorified Donbass as the utopian powerhouse of the USSR, but the collapse of Communism hit the region hard. The chaotic 1990s ushered in a predatory class of gangster capitalists who blurred the lines between business, politics and the criminal underworld.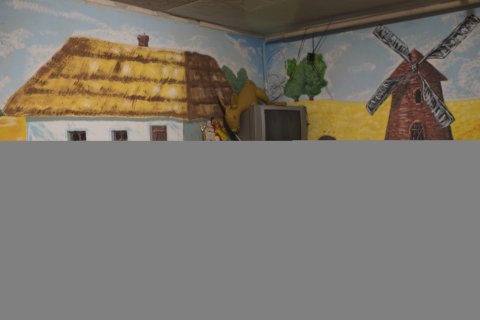 Despite living in Ukraine, many in Donbass still heavily identify with Moscow, and most speak Russian as their first language. Yet figures also show how this populace prizes its independence. As of the 2001 census—the only survey in post-Soviet Ukraine—more than half of Donetsk province's inhabitants saw themselves as Ukrainian, but nearly 40 percent saw themselves as Russian, compared with 17.3 percent across the country. When given the option of a regional identity —as the journalist Tim Judah notes in his book In Wartime — 41 percent here opted for Ukrainian, 11 percent for Soviet and 48 for a local reference such as Donbass. "The population [of government-held territory] don't welcome the Ukrainian army and they wouldn't welcome separatists" explains Mikhail Minakov, a Ukrainian philosopher and political scientist. "For them, any kind of authority is foreign and unwelcome."
Yet given their ties to Russia, it is natural for some in Donbass to look east, not west. And in the years since 1991, when Ukraine gained its independence from the USSR, industrial paralysis and subsequent war have left many to romanticize the old Soviet order. This puts them at odds with their western countrymen eager to join the European Union. As Galina Studelkova, a pro-Ukrainian activist in Toretsk, tells me: "They've never known Europe or what it stands for—even less so when they watch all this [Russian] propaganda."
Tryzub FM airs only "morale-boosting" news, rebroadcast from other local reports. If a bulletin mentions Ukrainian casualties, Yaschenko drowns it out with any music he can find. "We only want positive news for the soldiers," he says. "We must give the impression that everything is improving."
Despite Yaschenko's lofty ambitions, the transmitter has just a 10-mile range, making Tryzub FM mostly a symbolic gesture. Ukraine has far bigger broadcasters, of course, but many in the east tune in to Russian stations. These include Rossiya-1, which routinely deploys half-truths and outright falsehoods to sow division and demonize the Ukrainian army. Kiev's forces have made terrible mistakes during the war—including shelling civilian areas in botched attempts to dislodge their enemies—but Russian state media's horror stories of child crucifixion and far-right death squads are nothing more than fake news. Moscow's barrage of broadcasts, however, is expertly produced and delivered in the language of preference of Donbass—Russian, not Ukrainian—putting Kiev firmly on the defensive.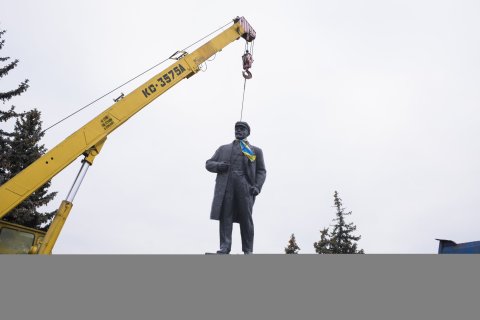 As activists like Yaschenko try to win over Donbass residents, Ukraine can draw an important lesson from the U.S.-led, counter-insurgency campaign in Afghanistan. According to experts like Jason Lyall, a political scientist at Yale University, an individual's allegiance is swayed far more by acts of violence than by aid donations. And even if a military power takes "great pains to minimize civilian suffering," this is "no guarantee that civilians can be won over." Lyall argues that ingrained biases make individuals prone to favor certain armed groups over others. In many cases, these biases can't be fully overcome but can be "dampened on the margins" by a range of tactics. These include providing compensation directly after an attack, promoting a counternarrative that clarifies your intentions and dividing groups so that some members join your side thus disrupting simple us-vs.-them portrayals. If authorities fail to engage these prejudices, Lyall warns, campaigns to charm hostile populations are likely to be expensive, protracted failures.
So far, Ukraine's response to the war has been consistently clumsy, draconian and self-defeating. In January, Kiev blacklisted the independent Russian channel, Dozhd (TV Rain), an organization that has given balanced coverage of the war and provided a platform for Kremlin critics. Elsewhere, red tape has hindered many civilians living on the front lines from accessing pensions and aid. Meanwhile, Kiev's program to encourage separatists to defect has had limited success; news of these desertions rarely gets a mention in breakaway territories, where Ukraine would like to convince people to switch sides.
These shortcomings have accompanied a deepening linguistic divide. Before the war, language wasn't a major issue, but propaganda has thrust it to the center of this conflict. In March, a law requiring at least 75 percent of national TV broadcasts to be in Ukrainian passed its first parliamentary reading. While some view the Ukrainian language as central to the country's identity, critics warn that such regulation will simply alienate Russian speakers, including many in Donbass.
In these far eastern reaches, Tryzub FM's Yaschenko knows how language can divide a nation. In his makeshift clinic, he manages a team of volunteer dentists who treat servicemen from the front lines. Civilians occasionally get help too. But this free health care comes at a price. "Some dentists say they're only here to help soldiers," Yaschenko explains. "I tell them, 'Listen, these civilians can barely afford heating and electricity. How can we refuse?' And they reply to me: 'Fine. But on one condition: These patients speak Ukrainian during the checkup.'"
Making Donbass Great Again
In a trench dug into the base of a volcano-like slag heap, a Ukrainian soldier named Vasily eats his dinner, beef-and-buckwheat soup, before the night's battles begins. This redoubt provides a fine view of the fields near rebel-held Horlivka strewn with land mines, though the threat of sniper fire means most men keep their heads down. Looming over Vasily (who gave only his first name due to security concerns), this mountain of detritus is cast in a warm, orange glow as the sun sets on the plains of Donbass.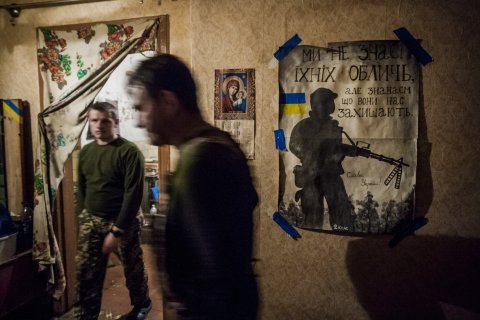 This desolate outpost captures the tragedy of the region's downturn and descent into war. Long the economic lifeblood of Donbass, the coal industry has been in free fall since Ukraine left the Soviet Union. Yet the conflict has also offered quick, easy money to some unemployed miners, albeit temporarily. Vasily, a soldier in his 40s, gestures towards a group of silhouetted figures working beneath the headframe of the mine shaft, which has been ravaged by repeated artillery attacks. We watch the former miners dismantle the tracks and girders of their ruined workplace in hopes of selling the hardware as scrap metal. This will earn them money—in the short term. After that, their future is far less certain.
The military's efforts to win over locals will not succeed unless the government can find a way to revive the economy and provide steady work for people like these miners. But rebuilding the region will costs billions, so—with Kiev's finances squeezed by war and inflation—the bulk of support must come from international donors and private investors. "People need a good standard of living—a decent salary paid on time; destroyed houses repaired without delay," says Yuri Yevsikov, Toretsk's acting mayor.
A former miner, he took over Toretsk last summer after special forces arrested his boss for allegedly colluding with separatist militants. I tell him it seems remarkable that his predecessor could cling to power for so long, even after Ukrainian forces had recaptured the town. "We needed a strong man who could deal with problems during times of war," responds Yevsikov, an introverted official who helped run Toretsk while under rebel control. "I needed to keep working and look after my family. I was a hostage of events."
Yevsikov seems typical of the region's pragmatic leaders who have mastered the art of survival. Likewise, his decaying Toretsk is typical of towns across Donbass that could have benefited from the subsidies and investment that the ruling class siphoned off for years. Yet any urge to start throwing money at the region's problems must also involve attempts at inclusion. Chaos in the east has prompted an outpouring of patriotism across the country but there are peculiar—even creepy—elements to this resurgent nationalism.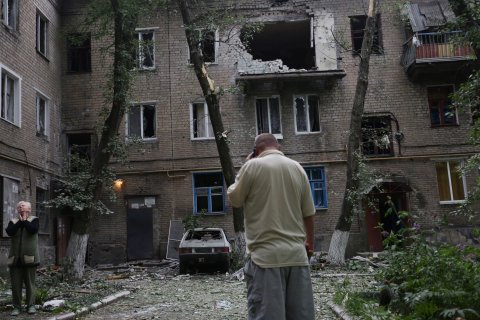 A friend in Kiev showed me an odd questionnaire her son's nursery teacher had given out to assess whether the kid's upbringing was sufficiently pro-Ukrainian. Questions included: "Do you attend events dedicated to the day of the city?" and "How often do you and your children sing or listen to poems about your motherland and nature?"
This siege mentality is the natural product of three years of armed conflict. It's also deeply damaging. Polls suggest that around half of all Ukrainians favor stronger ties with the EU. Yet less than a quarter of people in government-controlled Donbass prefer this route. War fatigue exacerbates this divide. "Ukrainians are tired of the conflict—society is poorer and much less tolerant," says Minakov, the political scientist. "This tiredness leaves many people looking for internal enemies, and the usual suspects are Russian speakers."
The country cannot succumb to more division. Kiev cannot make Donbass Soviet again, but it must somehow resuscitate its rust belt and help its eastern inhabitants thrive. The stakes are too high. If Ukraine loses the region for good, it could set a dangerous precedent for further separatist uprisings. This would force the state to funnel more funds into defense—money that could be used to weed out corruption and finance education and health care.
Publicly, Ukrainian President Petro Poroshenko's administration demands the return of the eastern breakaway territories, but privately, Kiev's pro-European leaders worry that re-integrating the self-proclaimed "Donetsk and Luhansk People's Republics" would bring back hostile voters, thus weakening their grip on power. "There is an unspoken consensus among lawmakers that the occupied Donbass should not return to Ukraine. They feel it may hinder their electoral future," Minakov tells Newsweek . "Re-integrating Donbass presents many challenges. But, if we don't do this, we threaten the integrity of the entire country."
Back on the front lines, Vasily watches the crew of unemployed miners finish their work. It's pitch black outside, save for the flashes of exploding mortars. "There's still coal in the mine, but the war has destroyed their machinery, so they can't get it out," he says. "This is the only way they can make any money now. The poor bastards are out of options."
Much like the Ukrainian government itself.