Updated | James Comey talked too much. He talked too much about Hillary Clinton's emails. And then he talked too much, too late, about the Russians and Team Trump.
Both got him fired. While President Donald Trump and his feuding advisers have been ham-handed about almost everything since they occupied the White House a little over 100 days ago, removing Comey as FBI director was a clean kill. Or so they seemed to think.
You can see their reasoning: Comey had turned into an immediate threat by confirming in his May 3 testimony before the Senate Judiciary Committee that the FBI was running a counterintelligence operation into the relationships of Russian officials and Trump associates. But during the same hearing, under prodding from Republicans on the panel, Comey had vastly, and unaccountably, exaggerated the number of emails that Hillary Clinton's aide Huma Abedin copied to her disgraced husband Anthony Weiner's home computer. When ProPublica got wind that the FBI was preparing to "supplement" Comey's testimony with a correction, Team Trump saw a brief opening to take him out.
Related: Michael Flynn, security risk
Indeed, the speed with which the Justice Department published its detailed rationale for firing Comey suggested that somebody allied with Trump had teed up ProPublica for the hit. Within hours of its publication, the administration released a memorandum from Deputy Attorney General Rod Rosenstein that went on and on about Comey's bumbling handling of the Clinton emails case from the beginning. There was no mention, of course, of the FBI man's continuing investigation into Team Trump's multiple connections to the Kremlin.
"Almost everyone agrees he made mistakes" in the Clinton case, Rosenstein wrote. "It is one of the few issues that unites people of diverse perspectives."
Attorney General Jeff Sessions, who had to recuse himself from the Justice Department's Kremlin probes because of his own meetings with the Russian ambassador, added a pious-sounding statement about Comey's removal. "It is essential," he said, "that the Department of Justice reaffirm its commitment to longstanding principles that ensure the integrity and fairness of investigations and prosecutions"
The topper came from President Trump, who issued a statement calling the FBI "one of our Nation's most cherished and respected institutions"—no matter that he had cheered on the Russian theft of embarrassing emails from the Hillary Clinton campaign and Democratic National Committee and whacked Comey for dropping the Clinton probe. Since taking office, the president had constantly accused the FBI (along with other U.S. intelligence agencies) of spying on him and leaking information about his campaign advisers' frequent meetings with Russian agents.
And in classic Trump fashion Tuesday, the president wrote to Comey that, while he had to go, "I greatly appreciate your informing me, on three separate occasions, that I am not under investigation." Surely Trump knows that the FBI has asked his disgraced and departed national security adviser, Michael Flynn, whether his back-channel communications with Moscow's ambassador Sergey Kislyak, about lifting Russian sanctions, among other matters, were authorized by his boss.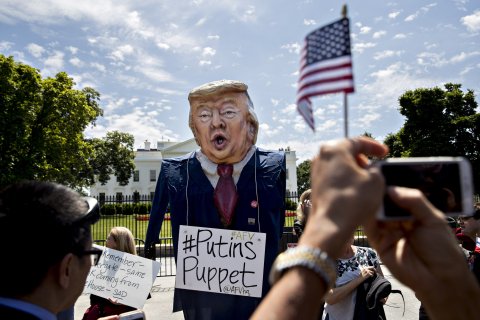 In yet another odd moment from his daily White House briefing, spokesman Sean Spicer said Trump had engaged "a leading law firm in Washington, D.C., to send a certified letter" to Republican Senator Lindsey Graham, a member of the Senate Judiciary Committee, saying "he has no connections to Russia."
That statement came only days after a story came out quoting Trump's son, Eric, allegedly bragging to noted golf writer James Dodson that "we don't rely on American banks," for building golf resorts. "We have all the funding we need out of Russia." (Trump charged Dodson, the celebrated author of nearly a dozen well-received books on the industry, with making the story up.)
For many longtime Washingtonians, Trump's firing of Comey once again conjured up memories of Richard Nixon's 1973 "Saturday Night Massacre," when he wiped out the topmost rungs of the Justice Department for not following his orders to fire Archibald Cox, a special prosecutor who had traced the Watergate break-in of the Democratic National Committee back to Nixon's door. (The first Trump jolt came in January, when he fired acting Attorney General Sally Yates for not supporting his Muslim travel ban.) Nixon's attorney general, Elliot Richardson, resigned rather than fire Cox. His deputy, William Ruckelshaus, also refused and stepped down. Nixon reached further down in the ranks and got his solicitor general, Robert Bork, to do the deed.
It was a pyrrhic victory. A poll taken a week after the firings showed a slight majority of the public now favored Nixon's impeachment.
As Trump and his aides expected, pro-Trump voices on Fox News "applauded the firing, said it was absolutely justified, and some said it was 'overdue,'" CNN media analyst Brian Stelter reported on his Reliable Sources blog. "Almost every time I flipped the channel to Fox's opinion shows, the focus was on Comey's missteps, Hillary Clinton's emails, etc."
And some of the initial reaction to Comey's firing was unexpectedly muted. The initial statement from Democratic Senator Dianne Feinstein of California, a Hillary Clinton ally who has vigorously pursued the Trump-Russia connections on the intelligence and judiciary committees, said that "the next FBI director must be strong and independent."
Graham, despite pursuing the Trump retinue on business dealings with Russia, parried a question about Comey's dismissal with a statement that "a fresh start will serve the FBI and the nation well."
That was about as optimistic a spin anyone in official Washington could put on the latest eruption of the 14-week-old administration, which shook the capital's political class like a high Richter-scale earthquake. A number of congressional Republicans involved in the Russia probes sounded aghast. The chairman of the Senate Intelligence Committee, Senator Richard Burr of North Carolina, said he was troubled by the "timing and reasoning" of Comey's firing and called the FBI director "a public servant of the highest order." Comey's dismissal, he said, "further confuses an already difficult investigation by the Committee."
Senator Ben Sasse of Nebraska, a conservative Republican who had expressed dismay over Russian contacts with Trump administration figures during Monday's Judiciary subcommittee hearing featuring Yates, said the firing was "very troubling" and called Comey "an honorable public servant." Jeff Flake of Arizona penned a plaintive tweet about the dismissal. "I've spent the last several hours trying to find an acceptable rationale for the timing of Comey's firing," he wrote. "I just can't do it."
But the Hill's top Republicans, House Speaker Paul Ryan and Senate Majority Leader Mitch McConnell, hunkered down. Congressman Jason Chaffetz of Utah, who has shown little interest in investigating the Trump ties to Russia (and in any case is retiring) had nothing to say. Texas Republican Senator John Cornyn snarked on Twitter that Democrats "were against Comey before they were for him."
Maybe. But on Tuesday afternoon, leading Democrats expressed rage at Comey's dismissal and vowed to put more heat on Trump.
The Senate Intelligence Committee's ranking Democrat, Mark Warner of Virginia, called Trump's action "shocking," in that it comes "during [the FBI's] active counterintelligence investigation into improper contacts between the Trump campaign and Russia."
Charles Schumer of New York, the Democratic leader in the Senate, said he gave Trump a piece of advice when he called with advance warning of the Comey firing.
"I told the President, 'Mr. President, with all due respect, you are making a big mistake,'" Schumer said in a statement. He wondered about "the timing" of Comey's dismissal. If the president was so upset about the FBI chief's handling of the Clinton emails case, Schumer asked, why did he wait until now to fire him? Something else had to be afoot.
Schumer noted "they fired Sally Yates," whose "urgent" warnings to the White House about Flynn's dealings with the Russians went unheeded for three weeks. "They fired Preet Bharara," the federal prosecutor who was looking into Health and Human Services Secretary Tom Price's trading in medical and pharmaceutical stocks, Schumer said. "And now they've fired Director Comey, the very man leading the investigation" into Trump and his associates' dealings with Russia. "This does not seem to be a coincidence," the four-term New Yorker said.
Nixon thought the fire wall he built at the Justice Department to stave off the Watergate flames would save him, but it turned out to be temporary. The wheels of justice ground slowly, but they never stopped grinding, with constant goading from the press.
If Trump and company really thought they could stop the Justice Department's Russia probes by taking out Comey, they have even less understanding of the sprawling, often unruly federal government than they've demonstrated with earlier missteps and flubs. According to CNN, federal prosecutors in Alexandria, Virginia, have issued grand jury subpoenas to "associates" of Flynn "seeking business records, as part of the ongoing probe of Russian meddling in last year's election." Former Bill Clinton White House staffer Claude Taylor tweeted that, according to "a source with knowledge of the investigation...nine sealed indictments came down in one case with sixteen more expected in others."
It was a day of "stunning news, even for President Trump, who has been known to shock people," CNN anchor Jake Tapper said. Others were calling it a "constitutional crisis."
It is not—yet. A president is free to fire his FBI director, as Bill Clinton did when he booted the self-serving William Sessions from the J. Edgar Hoover Building in 1993. A constitutional crisis comes when and if a president ignores a court order or writ of impeachment from the House of Representatives.
Meanwhile, there's nothing blocking federal prosecutors across the land from launching their own probes of Trump and his associates, as long as they can establish evidence of a crime committed under their jurisdiction.
Trump owns businesses in 10 states, the District of Columbia and 25 countries around the world, according to reports. They used to be called conflicts of interest.
Now they might be called targets of opportunity.
Emily Cadei and Nina Burleigh also contributed to this story.
Correction: An earlier version of this story gave the incorrect name of the U.S. health and human services secretary. He is Tom Price.