On July 27, 1959, Thelonious Monk entered Nola Penthouse Studios on Manhattan's 57th Street for a recording session. He was wearing a very strange hat. This was often the case; the enigmatic jazz pianist was known for his bobble hats, trilbies, fur hats, even skullcaps. But this headpiece, a gift from Ghanaian Afro-jazz pioneer Guy Warren, was particularly distinctive: large and round, like "some weird modernistic lampshade," as the trumpeter Humphrey Lyttelton described it. Monk was still wearing it, photos reveal, when he sat down at the piano that day to record music for the soundtrack to the French film Les Liaisons Dangereuses, a racy adaptation of Pierre Choderlos de Laclos's novel directed by Roger Vadim.
Monk wore many hats in the figurative sense, too: composer, pianist, bandleader, eccentric style icon—and, for a brief moment, film scorer. Les Liaisons Dangereuses was the only film Monk would ever soundtrack. His music, off-kilter and dissonant, helped set the seductive, scandalous mood of the film. And it nearly didn't happen.
It was a troubled, exhausting time for Monk—a wonder, in fact, that he made it to the recording session at all. In late 1958, the musician fell into a deep depression after an arrest on drug charges that included a vicious beating by cops. Monk lost his cabaret card, which meant he couldn't play in clubs. Worse, after being hired to score the adaptation of Les Liaisons, his legal problems made it impossible for him to travel to France, where the adaptation was being filmed in 1959. Plagued by insomnia and erratic behavior, Monk spent a week in a Massachusetts insane asylum. The music supervisor for the film, Marcel Romano, eventually had to travel to New York to chase him down, with a strict deadline to procure the soundtrack: July 31.
Romano found a man in bad shape. Monk, overcommitted and anxious, was barely able to sign the contract, let alone write new material for a film. Instead, when he finally made it into the studio five days before the deadline—supported by a band that included Art Taylor on drums and Sam Jones on bass—he recorded new arrangements of some of his best-known compositions (including the sly ballad "Crepuscule with Nellie" and the widely covered "Rhythm-a-Ning"). He also included a gospel hymn—"an ironic choice to underscore the film's theme of seduction and innocence," according to Monk's biographer, Robin Kelley.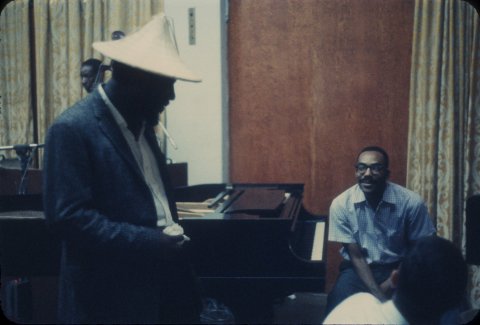 Credit that strange hat. According to Kelley, Monk wore it nonstop—even in bed—during this period. Furthermore, he managed to complete the soundtrack in just three nights. A relieved Romano returned to Paris carrying the recordings in his briefcase.
The film premiered in the fall, scandalizing censors (one lawsuit, brought by France's Société des Gens de Lettres, claimed to be protecting the reputation of the novel). The soundtrack was never released, quickly lost to history. Monk carried on with his career, retired from public life during the 1970s and died of a stroke in 1982.
Now, 35 years after Monk's death, two friends at small French labels are co-releasing the long-lost recordings. The story behind the soundtrack's chance rediscovery? It's as eccentric as the legendary musician's hat.
It was Marcel Romano who introduced Monk to Roger Vadim. Romano had developed a reputation in the French jazz scene of the 1950s while booking the Club Saint-Germain in Paris. After Les Liaisons Dangereuses was released—and the soundtrack not released—Romano held onto the reel-to-reel tapes for more than four decades. Several years before his death in 2007, Romano handed them over to his friend Laurent Guenoun, a jazz fanatic and former professional diver who specialized in filming underwater, working at times with Jacques Cousteau.
Grenoun, through a translator, tells me of that day, in Romano's small 11th arrondissement apartment in Paris. Romano "decided to entrust something very special to me," he says. "At some point, he came back with a bunch of reel-to-reel tapes and a pile of magazines. The tapes were Monk's session recordings for Les Liaisons Dangereuses. As for the magazines, it was a complete collection of old Jazz Hot issues from the 1930s. I preciously kept these documents as if they were secret treasures."
Years passed. In 2014, Francois Le Xuan, the founder of Saga Jazz (which specializes in reissues) and his friend, Fred Thomas, founder of Sam Records, were searching for unreleased recordings by Barney Wilen, the French saxophone wiz who had played on Les Liaisons Dangereuses and in Miles Davis's band at the age of 20. Le Xuan had become acquainted with Guenoun and Romano 15 years before, when he worked for Universal Music Jazz France in Paris. He hoped Romano's archives might contain Wilen recordings. Instead, Guenoun dug out a mysterious tape emblazoned with a single name: "Thelonious Monk."
"It seems I excited their curiosity," Guenoun says.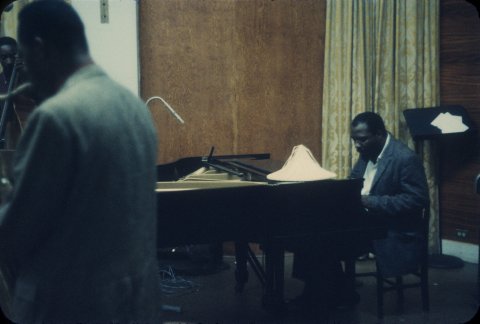 Intrigued, Le Xuan and Thomas listened to the seven reels of tapes, assuming they contained a live performance or copy of some preexisting album. Instead, what they heard was the soundtrack session from July, 1959—recordings never released outside of the film. It was an emotional experience. "We exchanged hardly a word while we listened to the tapes," the pair recounted in a recent interview with Superfly Records. "We had a jubilant, almost unsettling feeling that we were in the same room as the session that had taken place 55 years earlier."
Le Xuan and Thomas decided to release it, a task that took nearly three years of planning. The two men first reached out to Zev Feldman, an L.A.-based jazz producer who tells me that he's been called "the Indiana Jones of jazz." By this he seems to mean that he has a flair for tracking down unheard or historical recordings ("jazz archaeology," he calls it), not that he fights Nazis for the Holy Grail—though, for Feldman, the Monk project basically is the Holy Grail. "It was like uncovering a new Van Gogh painting or a Leonardo da Vinci masterpiece," Feldman says, speaking at a rapid clip. "It really was up there at that level."
By day, Feldman manages the nonprofit label Resonance Records. He's also a freelance producer who routinely works with families of late jazz icons. In December 2014, he was visiting Paris when he received a strange email from Fred Thomas, who somehow knew that he was in Paris; newly discovered Monk recordings from 1959 were mentioned. "I think my eyes popped out of my head," Feldman says of reading the email. "I couldn't believe the notion that over a half century later, we were talking about a studio album. Not just any recording, but a studio document! From Monk!"
Feldman met up with Le Xuan and Thomas, and the pair asked him to co-produce the 58-years-late release. What followed, says Feldman, was "one of the most incredible journeys in my career and really in my life," even if it came with understandable anxiety. "I was just trying not to break anything."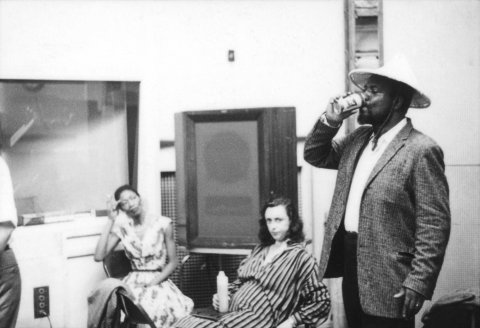 Feldman was tasked with contacting the Monk estate. The late pianist's 67-year-old musician son, T.S. Monk, was aware of the soundtrack's existence but "had no idea the actual recording might be available." When he heard it, he said: "We need to put this out!"
The legal tangles were trickier: Monk was, in the late 1950s and early '60s, signed to Riverside Records, which had bought out his prior contract for only $108.24. But Riverside no longer exists; the company's masters were acquired in 1972 by a company called Fantasy Records, which in turn was sold and merged with Concord Records.
"It has been a trip to figure this out," says lawyer Steven Reich (no relation to the minimalist composer), who administers international music publishing rights for Monk's estate. After much investigation, he determined that a prior lawyer for the Monk estate had reached a settlement with Concord stating that any recordings not in possession of Concord Records were free to be released.
The 58-year wait is nearly over.
The soundtrack recordings will be jointly released by Sam Records and Saga Jazz on CD and digital formats on June 16. The extravagant 2-LP deluxe box set includes a 56-page booklet with unseen photography from the session and tributes from authorities like 82-year-old historian Alain Tercinet. (The second disc contains alternate versions of tracks and some bonus material, such as a "making of" track.)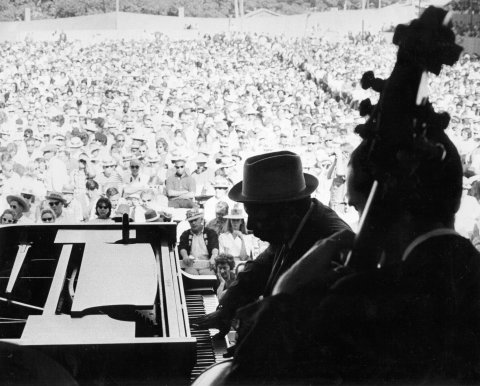 The timing is neat: 2017 also marks the centennial of Monk's birth. Nobody seems more pleased with this turn of events than his son T. S. Monk. "My father didn't think the world got it at the time that he left us—I know he didn't," says T.S. Monk. "It's funny, because the day before he died in 1982, he hadn't played in six or seven years. I won't say he was thrown in the dustbin of history, but he was out of sight, out of mind. But the day he died, it was like: Whoa! In terms of how important Thelonious was, everything just exploded. Slowly but surely, everybody is beginning to accept the reality that Thelonious is pretty much the father of modern jazz."
Related: Neil Young hung up on me
In recent decades, Monk has been honored with a posthumous Pulitzer Prize, a Grammy Lifetime Achievement Award and a street in Manhattan. The greatest compliment, perhaps, is that his musical style—angular, abrupt—remains inimitable. "The mother load of jazz is the ability to play your instrument in a fashion that no one can copy," says T.S. Monk. "I've never heard another jazz musician that can play and sound like Thelonious for more than three goddamn notes."
When this particular recording was made, T. S. was not yet 10 years old. Back then, "I had no idea, to put it simply, who the fuck my father was," he says. "Daddy just did what daddy did, but everybody seemed to think it was outrageous and great." People frequently told him, "50 years from now, your father's music is going to be bigger than it is today." He found this difficult to believe. "When you're 8 or 9 and somebody says '50 years from now,' they might as well have said 500 years from now. I didn't even believe it!"
Now, he says, "I'm 67. It's 50 years later, and he's bigger than ever. They weren't lying to me!"