The first step was: get ahold of a PonoPlayer.
"Neil is going to ask you if you've listened to the album on Pono," I had been warned. I needed to have an answer. That answer needed to be yes.
Neil Young was preparing to release his bonkers new live album, Earth. I was preparing to interview Young, ostensibly about Earth, the album and (perhaps) the planet. And, just as urgently, I was preparing to listen to Earth on the format Young required of me: Pono, the extremely high-resolution, "no-compromise" portable music player he's been developing for half a decade.
The opportunity had fallen into my lap with the sudden shock of a surprise album drop. Would I like to interview Neil Young? Yes. Yes, I would like that. Despite Young's somewhat ornery reputation—one veteran journalist described him as "surly and monosyllabic" in conversation—I jumped at the chance for a brief phone chat with a longtime hero. I've loved Young since I was old enough to spell "Cortez." Some of my earliest musical memories involve Everybody Knows This Is Nowhere blaring in my dad's Subaru wagon. I've happily paid money for albums as widely loathed as Fork in the Road and Everybody's Rockin'. And in April of this year, I traveled to Seattle to give a Pop Conference presentation about the enduring influence of Young's unfairly disparaged 1982 electronic album Trans.
Since I don't own a PonoPlayer—the price tag is somewhere in the range of $399—Warner Bros. Records invited me to spend a few hours at its headquarters listening to Earth on a Pono device there. "Just so you know, it's 97 minutes long," a rep warned me, in a voice you might use to talk about an invasive dental procedure. Instead, I wound up receiving a loaner PonoPlayer and high-resolution headphones in the mail from Young's manager's office.
Basking in my new luxury audio, I spent a few days listening to the album. It's not bad! The performances (featuring Lukas Nelson's band, Promise of the Real) are crisp and fuzzy in the right places, the track list full of surprises. Earth eschews the obvious hits in favor of lesser-played '90s gems like "My Country Home" and "Western Hero." The latter half is a bit bogged down by overlong protest songs from last year's The Monsanto Years, railing against genetically modified organisms and "big business!" with the aid of overdubbed vocal treatments. Young's in a political mood of late: If the Ragged Glory tracks don't remind you of 1991's fantastic live outing Weld, the war sound effects on "Big Box" will.
There's an environmental thread running through the record, which manifests itself in cuts like "Mother Earth" and "After the Gold Rush"—songs Young describes as being "about living here on our planet together"—as well as prominent animal sounds that pop up on virtually every track. The effect is bizarre: The opening track fades into an aggressive swarm of bees, while 1974's "Vampire Blues" is interrupted by a whinnying horse. Listening on Pono, the sound was disturbingly clear; it felt like farm animals were in the room with me, barking and yodeling.
Speaking of barking and yodeling, I had an interview coming up. It was set for late one Wednesday afternoon. I sat by my phone and waited. And waited some more. The appointed hour came and went. Young's publicist called to tell me they were running late. No problem. I was nervous. I was sweating bullets. I was fine.
I fiddled with the lengthy list of interview questions I'd prepared. I planned to begin by asking him about the new record. Then I'd shift to more career-spanning topics, like whether he had any regrets about ditching streaming services and how he felt about Trans's conflicted legacy and his thoughts on performing at the upcoming "Oldchella festival and whether he had actually heard of the nickname "Oldchella." (Save that question for the end, my editor jokingly suggested, "in case he gets mad and hangs up.")
Finally, after a nearly 45-minute wait, I was exchanging pleasantries with Neil Percival Young. "Hello! How are you?" "I'm fine. How are things going over at Newsweek?" Young spoke in a high, mild-mannered voice. I was surprised by how prominent his Canadian accent seemed over the phone.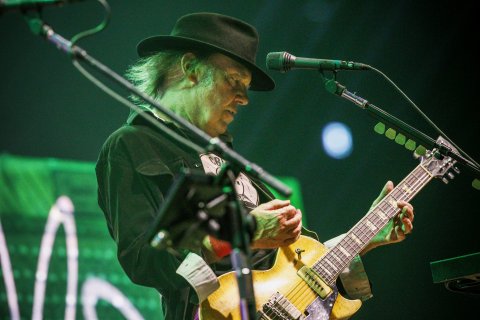 When I steered the conversation towards Young's new album, I found that I was the one being questioned. "You've done many, many live albums before," I observed. "What was it about this tour that you wanted to document with a double album?"
"Have you heard the record?" Young responded.
"Yes, I've been listening to it on—"
Before I could get out the word "Pono," Young shot back: "Have you heard the whole record?"
"Mmm-hmm."
"Have you listened to it all the way through, from the beginning to the end?"
"Yes, I have," I answered.
I briefly wondered whether there was a hidden message within the endless 28-minute recording of "Love and Only Love" that, when played backwards, would have answered my question perfectly.
"OK, great," Young said. "So what would you like to know about it?"
I tried a new line of inquiry: the animal sounds. "What gave you the idea to put animals on the record?"
"The record itself is a collection of songs that came from the tour," Young said. He seemed to be addressing my previous question. "They were chosen from the tour because they were the best songs, the best-performed songs on the tour. There was no plan for making a record when we went through all the songs on the tour.... When we listened to all of them, we realized that there was a theme going through them. That's kind of what got us started."
Then Young turned my attention to the vocals on the record. I let him direct the interview toward subjects he wanted to discuss. But his responses remained somewhat terse.
Young: On some of the songs, you may have noticed some additional vocals. Did you hear those?
Me: I did. Some vocals sounded like they were being fed through a processor or some sort of effect.
Young: Umm. I'm just trying to think of which ones would be like that. Certain words were [put through] processors. Words like "GMO"?
Me: Mmm-hmm.
Young: Yeah. They were processed. Like GMOs are.
Me: Those were overdubs that you added later?
Young: Those were, yeah. There's a lot of overdubbing on this record.
Me: So can you tell me about the animals that are included?
Young: Uh, which ones?
Me: All of them. Where did the idea come from? I've never heard a live album that features sounds quite like that before
Click. We'd been disconnected. Weird—the landline connection seemed so clear. We'd been speaking for just over three minutes.
Before I could call back, the phone rang: Young's publicist. He sounded concerned. "Neil's a bit confused," he told me. "You said that you did hear the record on Pono. You did, yeah?" I did. Yep. "We want to make sure that people understand what the record is," the publicist explained. "He doesn't want to re-explain what it is.... He's under the assumption maybe that you didn't hear the record completely."
The realization hit me: It wasn't a phone issue. Young had hung up on me. He didn't want to get back on the line either. Maybe another day, I was told. I struggled to recap the interview to my editors, not quite sure what I'd said to aggravate the Godfather of Grunge. I went home in a daze. Neil Young hung up on me. Neil Young hung up on me. The words cycled through my head like some weird mantra. Now what?
Later, I was told that Young did not want to retry the interview, that it wasn't my fault—he can be tough sometimes. This was just one of those times. I watched the singer's appearance with Jimmy Fallon on The Tonight Show. I wondered whether Fallon had listened to the album on a PonoPlayer. Did Fallon even own Everybody's Rockin'?
Fandom is a strange drug. Suddenly, I knew how Chris Christie feels when Bruce Springsteen—his longtime idol—rejects his repeated overtures. You can worship a songwriter for decades of your life. Doesn't mean he gives half a shit about you.
Young's recording career has spanned nearly 50 years. Any artist is bound to baffle and disappoint in that time span. I remembered a story my dad told me about going to see Young perform at Carnegie Hall in 1970. Irritated by noisy fans shouting out requests, a disgruntled Young stormed offstage mid-performance. Today, there's a trope of depicting pop stars as gods, queens—existing on a plane beyond the human realm. Not Neil Young, whose records have always veered away from studio-polished perfection. (That's what makes Tonight's the Night so great.) He's not a god. He's a 70-year-old man. He gets moody. So do you. And it's better to hang up than to fade away.
Anyway, the week wasn't a total wash. Two days later, I interviewed an actual dog. It was a lot easier than interviewing Neil Young.