Updated | When Fernando Braga arrived at Vassar College for freshmen orientation, he immediately had second thoughts. Most of his new classmates were young and living on their own for the first time. But Braga, 34, had a wife and daughter and lived in a house off-campus.
He had also been to war.
Braga had served with the Army in Operation Iraqi Freedom. After returning from overseas, he worked in rail maintenance for the Metropolitan Transportation Authority in New York City. His life experience and age set him apart from his new classmates. He felt like Adam Sandler's character in Billy Madison, who at 27 must repeat grades one through 12. "It was like, 'Did I do the right thing?'" Students who saw him dropping off his daughter at day care thought he was a faculty member.
His struggles weren't unique. Veterans at other schools have spoken about how difficult it can be to fit in at college, and a study published in March in the Journal of Postsecondary Education and Disability found that because of the mental health problems veterans might face after returning from combat, they are at higher risk for dropping out of college and are more likely to show lower academic achievement.
Fortunately for Braga, he had people with similar backgrounds for support. He is one of 11 U.S. military veterans who enrolled in a special program at Vassar, a small liberal arts college in Poughkeepsie, New York, in fall 2013. Through the nonprofit Posse Foundation, Braga and his fellow veterans received scholarships that supplemented federal education funding. The hope was that the veterans would find attending college together more manageable than going on their own.
Related: Ivy Leaguers demand deportation 'sanctuaries'
"If you're a 27-year-old and you've been deployed to Afghanistan twice or three times, or [to] Iraq, you come home, you're not necessarily thinking it's the best idea to go to Poughkeepsie to Vassar's campus with a bunch of 19-year-olds," says Deborah Bial, president and founder of the Posse Foundation. "But if you have nine other veterans that you're going with, that changes the equation."
Braga and the first group of veterans at Vassar graduated in late May, marking the completion of the program's first round. So far, the results are promising. Seven of the 11 students from the group graduated, and one more is expected to finish. Three dropped out. National figures on veteran graduate rates are elusive, but a February report by Student Veterans of America, a coalition of student-veteran groups at colleges, found that 53.6 percent of veterans on the GI Bill who started college in fall 2009 graduated within six years.
For the first Vassar group, the rate is 63.6 percent, and that could rise if that final person graduates by 2019. Those behind the program believe the rate for subsequent groups could reach 90 percent, which would be a massive improvement over the national rate. As Vassar Dean of Studies Ben Lotto puts it, "The men and women [in the program] are smart, and they are tough, and they are determined."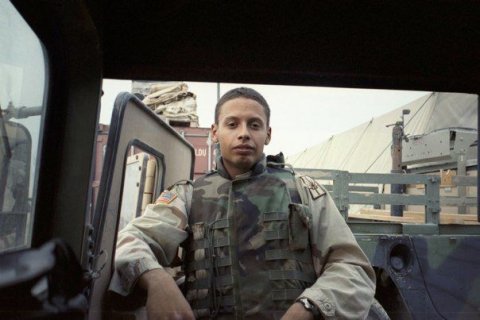 An Army of 800,000
President Franklin Delano Roosevelt signed the GI Bill into law in 1944. It provided benefits to veterans returning from World War II, including tuition and living expenses so they could attend school. "This bill," Roosevelt said at the time, "gives emphatic notice to the men and women in our armed forces that the American people do not intend to let them down." Between 1944 and 1956, 7.8 million veterans used those benefits for education or job training.
The GI Bill didn't receive a major overhaul until nine years ago , when President George W. Bush signed into law a version that expanded the education benefits. The new GI Bill, for people who have served since September 11, 2001, covers up to 36 months of tuition and fees (full for in-state students, up to $18,000 per year for those at private institutions), a living expenses stipend and cash for textbooks. Veterans can also transfer the benefits to family members (about 8 percent of them do).
As of fiscal year 2015, nearly 800,000 veterans and their families had used these benefits, according to the U.S. Department of Veterans Affairs (VA). The program has critics, but the Student Veterans of America report found that "with the help of the Post-9/11 GI Bill, student veterans are earning marketable, college degrees that will prepare them for the civilian workforce."
A clear picture of typical GI Bill students emerges from VA reports. A little more than half are under 25, just as many pursue bachelor's degrees as they do associate degrees, and besides general studies, the top fields of study are business administration, criminal justice, science and nursing.
But experts tracking student veterans worry that too few are attending the country's top institutions. Four of the five schools that attract the most GI Bill veterans offer primarily or only online classes (the University of Phoenix, Ashford University, University of Maryland University College and the American Public University System), and the other school, Liberty University, has such a low U.S. News & World Report ranking that the outlet doesn't publish the figure. Those five schools have a combined 65,771 students using the benefits.
Far fewer veterans are attending upper-tier schools. "The number of veterans at elite institutions is, frankly, appalling," says Lotto, the Vassar dean, who also mentors Posse students. In the 2016-17 school year, Yale had 11 undergraduate veterans, Harvard had three, Williams had three, Wellesley had two and Princeton had one. Last fall, according to an analysis by Inside Higher Ed's Wick Sloane, Swarthmore and Oberlin had none. Sloane found that at the colleges he surveyed, just 645 of the roughly 160,000 undergraduate students were veterans, or 0.4 percent. By comparison, a single community college, where Sloane works, had more than 400.
Some schools have more impressive numbers. Columbia University, which is opening a Center for Veteran Transition and Integration next school year to help its student veterans shift from active duty to college and beyond, had 466 veterans in its School of General Studies, Georgetown had 72 (plus nine active service members), and Stanford had 21.
Having even a few dozen veterans on campus is "definitely not enough," says Peter Kiernan, a recent Columbia graduate who served with the Marine Corps and started the Ivy League Veterans Council, an organization that wants to boost those numbers of veterans at top schools. "These schools do recruiting for all sorts of athletics programs. Surely they meet a certain profile when it comes to diversity of racial background and economic background," he says. "There's really no reason why a school can't put the same sort of resources and commit them to recruiting talented veterans who are more than qualified to go to their school."
'I Just Needed To Vent'
Since 1989, the Posse Foundation has sent groups of "nontraditional" students to college "so they can back each other up," says Bial, who delivered the commencement address at Vassar's graduation ceremony in May. The foundation has since sent more than 7,700 students to college on more than $1 billion in scholarships.
But it wasn't until around 2012 that the foundation began thinking about veterans as "nontraditional" students. Catharine Bond Hill, then Vassar's president, called Bial and made the suggestion. "We normally turn ideas down," Bial says, "but this seemed to me to be smart and to be a good application of the model."
Having such a program made sense at Vassar, according to Lotto. A brewer named Matthew Vassar founded the school for women in 1861, at a time when they made up just around 21 percent of college students in the U.S. "Vassar is a place that was founded on the idea of opening up education to groups that were not traditionally afforded an education," Lotto says. "That spirit remains today."
The first round of vets started at Vassar in fall 2013. The transition to campus life was not easy for all of them, even those who had been out of active duty for years. Besides the age gap, Braga, an international studies major, felt different from other students because of his academic background. He says he struggled to get good grades in high school, which was likely not the case for most students at Vassar, where the acceptance rate for his class was 24.1 percent, and almost half of those admitted were in the top 5 percent of their high school classes.
His regrets didn't stop until halfway through his sophomore year, when he began making friends outside of his veterans group. But he relied on his time with other Posse students, which often involved sipping bourbon, to get through the challenges. "The moments that I shared with Posse members prevented culture shock," he says. "It would become overwhelming, and I just needed to vent."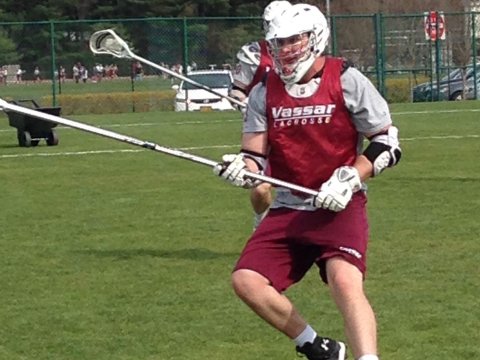 Martha Pita, 25, was only eight or so months removed from her last overseas deployment with the Navy when she arrived at Vassar in 2016 in a subsequent group of veterans. She soon found the slower pace of campus life challenging. "In the military," she says, "I was always extremely busy…. You kind of become addicted to the rush, the running around." She's also found it surprising how lenient faculty members are when it comes to handing in assignments late. In the military, her deadlines involved briefing commanders, she says. "Here, it's like, 'Well we have a grace [period].'"
Not all the Vassar veterans faced those sorts of challenges. Patrick Hood, 29, who joined the first Posse group with Braga, had left the Army in 2010 after participating in Operation Enduring Freedom, in Afghanistan. He says the fact that he lived in the Vassar dorms and joined the lacrosse team helped him make friends. "I'm definitely generally a pretty outgoing person, so I had no problem talking to people and getting to know people," he says. He refused to think of his nonveteran classmates as immature, even if they were younger and had fewer life experiences. "I think the Vassar population does have a lot to offer intellectually and in terms of friendship," he says, "so I never really looked at it like they were so different from me."
American college campuses are facing sharp political divides, with some students on the left shutting down lectures by conservative speakers and some on the right criticizing leftist students as "snowflakes." But veterans at Vassar, which The Princeton Review ranked the third most politically active school in the nation, and whose students are typically liberal, say they faced little to no opposition about their military pasts. "I definitely have friends who are anti-war, but no one has come up to me who was anti my having participated in the war," Braga says, adding that he would speak up about his experience in class before anyone could "pull things out of their ass."
Hood, a science, technology and society major, made a similar effort to confront biases, especially in a class he took called The American Military at Home and Abroad. "People just start assuming things," he says. "You have to challenge those narratives, just like you would challenge any other harmful narratives about any other minority groups on campus."
Pita, who plans to double-major in political science and Latin American studies, says she supported Bernie Sanders for president and has challenged classmates who assume she is politically conservative. She recalls someone in class once saying, "I just don't know how these people can go and kill these other innocent people" using drones. "It was a huge argument," Pita says. "People here complain about other people putting others in a box and assuming things. They have to stop doing it themselves."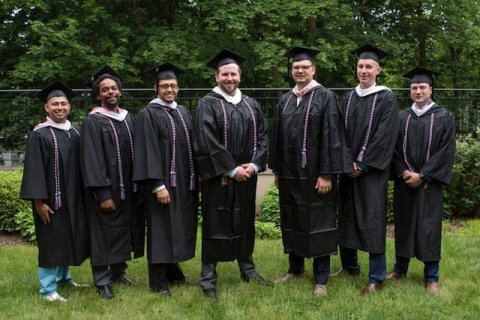 The veterans don't always want to stand out. Pita says she is sometimes reluctant to speak in class about her time in the Navy, especially when it comes to her experience as a woman. "Sometimes it is kind of painful remembering some of the stuff that was said to me or the things that happened out there," she says. She also doesn't want her presence in the classroom to be a constant teaching moment for nonvets. When she's around other veterans, she says, "we vent about how hard it is sometimes to blend in."
Since those first veterans arrived at Vassar in 2013, the school has established three more "posses" of veterans, with a fourth on the way, and the foundation has introduced similar programs at Wesleyan and Dartmouth. It hopes to bring veterans to 10 to 12 additional colleges over the next few years.
The veterans in that first Vassar group have left the idyllic campus and are entering or re-entering the workforce. In late May, when Braga accepted his diploma before hundreds of classmates and thousands of guests, he was probably thinking about the veterans who helped him get there, almost a decade after leaving the Army. If not for them, he says, "I would have quit."
An earlier version of this article was published online on May 29. The version published here reflects the one in Newsweek'​s June 16 print edition.