The foothills of the Spin Ghar mountain range, two dozen miles south of Jalalabad in the borderland between Afghanistan and Pakistan, were once home to hundreds of olive plantations. For tens of thousands of acres, there used to be farms clustered along the banks of the Nangarhar Canal, a monumental hydroelectric irrigation project completed in the 1960s, when Afghanistan was safe and liberal enough to form a regular stop on the hippie trail from Europe to India and the Far East. By the turn of the new millennium, however, more than 20 years of continuous warfare had almost destroyed the canal's capacity to pump water to the groves, all but killing what had once been a flourishing business.
One day in the fall of 2001, with yet another foreign invasion brewing, a father sat with three of his young sons in the shade of one of the few remaining olive trees. Together, they performed a simple farewell ceremony. To each of the three boys, the father gave a misbaha—a set of prayer beads symbolizing the 99 names of God in classical Arabic. Then the father took his leave and disappeared into the mountains, heading for a familiar redoubt known as the Black Cave—or, in the local Pashto language, Tora Bora. "It was as if we pulled out our livers and left them there," one of the sons recalled in a letter in 2009.
The boy who wrote that letter was Hamza bin Laden, a son of Osama bin Laden, who was then the leader of Al-Qaeda. Hamza was to spend most of the next decade in captivity. He grew up behind bars, missing his father deeply. "How many times, from the depths of my heart, I wished to be beside you," Hamza wrote to him in the letter. "I remember every smile that you smiled at me, every word that you spoke to me and every look that you gave me."
Related: Inside Osama bin Laden's letters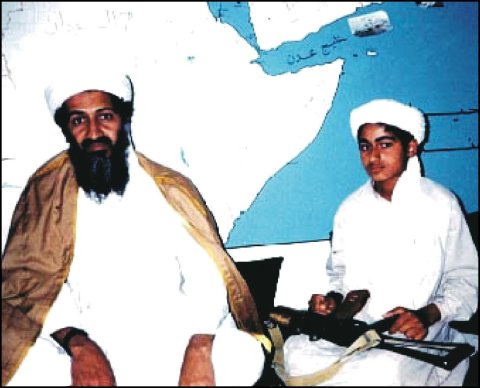 Hamza grew up with a fervor for jihad and a determination to follow in the footsteps of his notorious father. And toward the end of his life, the older bin Laden began grooming Hamza for a leadership role. He even made plans for Hamza to join him in his secret compound in Abbottabad—the place where Navy SEALs ultimately shot him dead. But 16 years after their farewell under that olive tree, Hamza's emergence as a jihadi leader, along with several of his father's most trusted and competent lieutenants, portends an Al-Qaeda resurgence.
Today, it might seem like the Islamic State group is strong, as its followers attack and kill innocents in London and Manchester. But its power is dwindling, as it loses men and territory in Iraq and Syria thanks to an assault by Iraqi, Kurdish and American forces. Meanwhile, Hamza's story—based on books, court documents, open-source intelligence, Al-Qaeda videos and records seized from his father's compound after his death in 2011, among other things—shows how ISIS's parent organization, Al-Qaeda, is making a comeback—one with potentially deadly consequences for the West and the rest of the world.
Three Jihadi Musketeers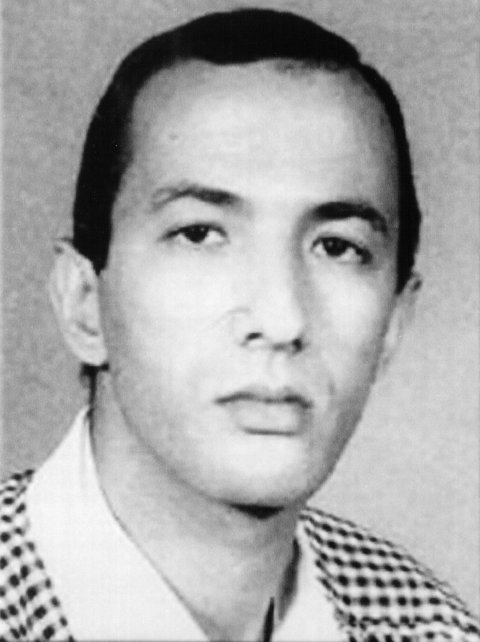 In the months after 9/11 and the fall of the Taliban, as the U.S. invaded Afghanistan, bin Laden family members and high-ranking Al-Qaeda figures escaped to the Shiite stronghold of Iran. That may seem like a surprising destination for some of the world's most fervent Sunni extremists—men who pepper their public utterances with slurs about their Shiite rivals. But in the wake of the attacks on New York City and Washington, D.C., Iran was the one place in the Muslim world where America's military and law enforcement apparatus could not apprehend them. The Iranian authorities deported most of the Al-Qaeda members they captured, but they held on to a few high-value detainees to use as bargaining chips in hostage negotiations and other sticky situations. Among these valuable hostages were Hamza and his mother, Khayria, as well as three key figures: Abu Khayr al-Masri, the head of the Al-Qaeda's political committee, Abu Mohammed al-Masri, the head of its training camps, and Saif al-Adel, its chief of security and tactician.
Immediately following the trio's arrest in Shiraz in April 2003, they were hauled off to Tehran and jailed for around 20 months in the dungeons of a building belonging to Iran's feared intelligence apparatus. The top tier of Al-Qaeda and their families were held incommunicado and without charge. Around the beginning of 2005, they were moved to a spacious military compound with an apartment complex, a soccer field and a mosque, adjacent to a training camp for one of the many Shiite militant groups on Tehran's payroll. Their families were allowed to join them, though at least one of the detainees suspected this was a ruse to allow the Iranians to keep tabs on potentially troublesome family members.
But the prisoners were restive. For these hardy mujahedeen, suburban comforts only heightened their humiliation. One of them told his captors he would sooner be extradited to Israel than spend any more time in Iran's gilded cage. In March 2010, the prisoners staged what one detainee later described as "a huge act of disturbance." Masked, black-clad Iranian troops were ordered to storm the compound. The soldiers beat the men and some of the children and hauled off the senior detainees to solitary confinement, where they stewed for 101 days.
The detainees' ability to communicate with the outside world seems to have varied over time. At first, they were held, as one U.S. official puts it, "under virtual house arrest, not able to do much of anything." Phone calls to family members were strictly limited. But the strictures gradually loosened, just as the detainees' living conditions slowly improved. The Iranian authorities eventually set up a system permitting prisoners to send emails and browse the web, albeit with limited access.
There were other ways of communicating with the outside too. Adel's father-in-law, Mustafa Hamid, who was held in Iran under looser conditions, visited the main group of detainees every few months. With his greater liberty, Hamid was in a position to serve as courier, and this may be how Adel was able to publish a column on security and intelligence in the house magazine of Al-Qaeda in the Arabian Peninsula, Muaskar al-Battar (Camp of the Sword). Other detainees escaped and brought manuscripts with them, written by the detainees; bin Laden's daughter Iman smuggled out a text called Twenty Guidelines on the Path of Jihad—a book highly critical of ISIS founder Abu Musab al-Zarqawi's violence against civilians in Iraq—and eventually had it published. (The book presaged the conflict that split ISIS from Al-Qaeda years later.)
Despite their restlessness, the detainees managed to create elements of their previous lives behind bars. The men came together five times a day for prayers and conversation at the mosque. The prisoners asked that their children be allowed to attend school—and the authorities said no— but Hamza's mother, who is well-educated, urged him to pursue learning as best he could, and a group of senior detainees took it upon themselves to educate him in Koranic study, Islamic jurisprudence and the Hadith, a collection of sayings attributed to the Prophet Muhammad. While in custody, Hamza married a daughter of Abu Mohammed al-Masri and had children.
He would never see his father again, but soon he would become just like him—an advocate of violent, radical jihad.
A 'Lion' Emerges From His Den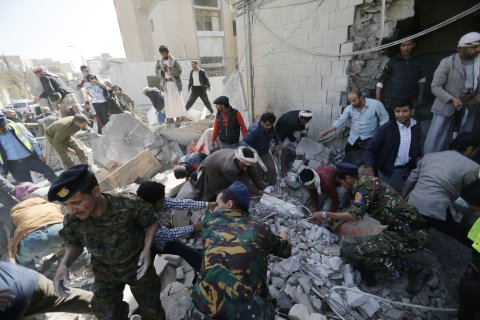 By 2014, Al-Qaeda and ISIS had officially split. ISIS had not only conquered territory in Iraq and Syria but shocked the world, beheading Americans on tape and broadcasting its brutality. In the eyes of the West, Al-Qaeda was no longer the most dangerous extremist group, and ISIS leader Abu Bakr al-Baghdadi had become a new bin Laden. To some jihadis, however, Baghdadi was much more: He was the leader prophesized to bring about a worldwide Islamic caliphate.
Baghdadi's rise came at the expense of Ayman al-Zawahiri, Al-Qaeda's leader. The Egyptian may have inherited bin Laden's portfolio and job title, but from his grave under the Indian Ocean, the sheikh could not pass on his aura. In July 2014, as the feud between ISIS and Al-Qaeda grew, Zawahiri renewed his group's bayat, or loyalty oath, to Mullah Omar, the Taliban leader. At the time, it seemed a smart symbolic move to underline the illegitimacy of Baghdadi's claim to supremacy. A year later, however, it emerged that Omar had succumbed to tuberculosis in April 2013; Zawahiri and Al-Qaeda had pledged allegiance to a man who had been dead for 15 months. This looked bad for Zawahiri; either he had known Omar was dead and sworn fealty to a cadaver—a grave transgression in Al-Qaeda's Salafi-jihadi version of Islam—or he had not known and was therefore too far out of the loop to call himself a true emir. The gaffe provoked ridicule from some jihadis, dismay from others. At a time when Zawahiri was already struggling to show his relevance in the age of ISIS, it seemed to confirm the worst fears about his leadership.
But Zawahiri does not stand alone at the prow of Al-Qaeda, and his crew has recently grown stronger—at a time when war with the West and its allies has weakened ISIS. In an audio message recorded in May or June 2015, Zawahiri triumphantly introduced a man he called "a lion from the den of Al-Qaeda." After four years of silence following his father's death, Hamza bin Laden's voice was heard once again, and his words remained faithful to Al-Qaeda's message. He praised the leaders of Al-Qaeda's various spinoffs, insulted President Barack Obama as "the black chief of [a] criminal gang," lauded the attacks on Fort Hood and the Boston Marathon, and called for jihadis to "take the battlefield from Kabul, Baghdad and Gaza to Washington, London, Paris and Tel Aviv."
In his 2015 statement, Hamza called for the release of imprisoned Al-Qaeda members, singling out the "sheikhs" whom he credits with his education while in captivity, including the Shura big three—Abu Khayr al-Masri, Saif al-Adel and Abu Mohammed al-Masri. "May God release them all," Hamza entreated.
His prayers were soon answered. Al-Qaeda in the Arabian Peninsula, in the middle of its ascendancy in Yemen, had bombed the Iranian ambassador's residence in Sanaa in December 2014. Later, it had shot dead an Iranian diplomat who was resisting a kidnapping attempt. The group had also successfully taken two Iranian diplomats alive. Sometime in 2015, it swapped them for Al-Qaeda's three top leaders in Iran, who got a hero's welcome in Waziristan.
The returning trio brought with them a combined century of experience in jihad. Abu Mohammed al-Masri had worked with Adel to train Somali militants in the early 1990s and plan the 1998 U.S. Embassy bombings in East Africa. American intelligence officials have called him Al-Qaeda's "most experienced and capable operational planner not in U.S. or allied custody." Abu Khayr al-Masri, an expert in explosives, had served as Al-Qaeda's de facto foreign minister and had sheltered bin Laden in the days after 9/11. And then there is Adel, whose long career has included serving in the Egyptian armed forces, helping found Al-Qaeda, precipitating the Black Hawk Down incident in Somalia, acting as a mentor to Zarqawi and serving as Al-Qaeda's head of security, with intimate involvement in virtually all the organization's attacks up to and including 9/11. All three men were closely involved in Al-Qaeda's first major blow against the United States, the embassy bombings of 1998. And after a long absence, all three were now involved in global jihad. (Abu Khayr was killed in a U.S. airstrike in Idlib, Syria, earlier this year.)
Their return came at a time when Al-Qaeda's main global affiliates had gained in strength, bolstered by the ongoing turmoil in Syria, Yemen and Libya. They have pushed back against ISIS, and in response to ISIS's recruitment around the world, Zawahiri even announced the formation of a new affiliate. Al-Qaeda in the Indian Subcontinent, led by a former commander in the Pakistani Taliban, aims to unify Sunni extremist jihadis across the region and "rescue" Muslims living in Bangladesh, Myanmar, Assam, Gujarat and Kashmir. Meanwhile, Al-Qaeda's Waziristani nerve center, Khorasan, continues to enjoy the protection of the Pakistani Taliban and the powerful Haqqani Network, which has ties to the Pakistani security services.
On May 9, 2016, one day after Zawahiri issued his latest call for unity among the jihadi groups fighting in Syria, Al-Qaeda posted a second audio message from Hamza. Entitled "Jerusalem Is but a Bride Whose Dowry Is Our Blood," the statement reiterated Zawahiri's plea for unity and urged jihadis to think of the Syrian conflict as a springboard to the "liberation" of the Palestinian territories. "The road to liberating Palestine," he said, "is today much shorter compared to before the blessed Syrian revolution." And as in his previous message, he encouraged "lone wolf" attacks on Jews and Jewish interests around the world.
The implication was clear: Zawahiri was preparing Hamza, the sheikh's son, to lead. And if ever Al-Qaeda wants to reunite with its own wayward progeny, Hamza embodies that chance.
The B-Movie Vampire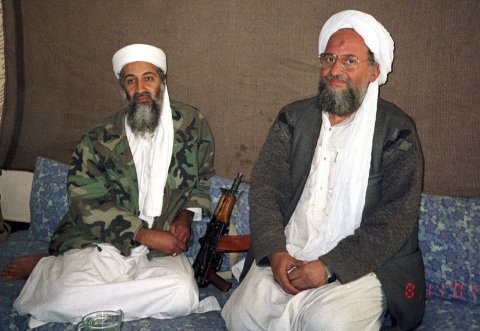 For 20 years, the world has been infected with a virulent disease. The name of this malady is bin Ladenism, and ISIS is merely its most recent symptom. As its impetuous behavior makes clear, the group thinks and acts exclusively in the short term. It succeeded in conquering large swathes of Iraq and Syria because, at first, nobody tried hard to stop it. Within weeks of the advent of American airstrikes, it became clear that ISIS had already reached its high-water mark. As presently conceived, it lacks a long-term future, although some of its members can no doubt look forward to long careers in terrorism.
By contrast, many powerful interests have been trying for a long time to destroy Al-Qaeda, and the group has outflanked them all. Since 9/11, it has increased its membership and its geographic reach. This stateless new Al-Qaeda possesses distinct advantages over ISIS. Its decentralized structure makes it almost impossible to pin down; like a B-movie vampire, try to drive a stake through its heart, and it transforms into a thousand bats and flies somewhere else. Contrast this with ISIS, now forced to defend its self-styled caliphate at high cost. When the world eventually summons the will to rid itself of this criminal movement, it knows where to find it. Not so with Al-Qaeda, whose subgroups stretch out in a loose band across the breadth of two continents, and whose sympathizers pepper the globe. The organization's fanatic patience, its insistence on playing the long game, has made it far more resilient than anyone expected.
For today's Al-Qaeda, there is little profit in antagonizing the West with spectacular terrorist attacks. Instead, its strategy for the present involves building up resources and territory in places like Syria, Yemen and North Africa while the world is distracted by the Syria conflict. When ISIS finally crumbles, however, the spotlight will return to Al-Qaeda. At that point, they will strike, and strike hard. With bin Laden's filial heir and ideological successors firmly back in the fold, and the group's affiliates making territorial gains in Yemen and elsewhere, Al-Qaeda once again has the means and the opportunity to attack.
Hamza is just waiting for the right time.
Ali Soufan was an FBI supervisory special agent from 1997 to 2005. He now runs the Soufan Group, a private intelligence firm. This story has been adapted from his new book, Anatomy of Terror.