Ivan Skripnichenko, a 35-year-old Russian opposition activist, was standing guard at a makeshift memorial to a slain foe of the Kremlin when a man dressed in army surplus clothing walked up to him. "Don't you love Putin?" he asked, then knocked Skripnichenko down with a punch to the face.
Eight days later, Skripnichenko was dead.
"It was a powerful and professional blow," Marina Lebedeva, an anti-government activist who says she witnessed the August 15 attack in central Moscow, tells Newsweek. The assailant also kicked Skripnichenko as he lay on the ground next to the flower-strewn "people's memorial" for Boris Nemtsov, the opposition leader who was shot dead at the exact same spot near Red Square by Chechen gunmen in 2015. Authorities have refused to give permission for the memorial, and so opposition activists have been guarding it around the clock since Nemtsov's death.
Although there are around a dozen security cameras on and near the bridge, which is within sight of the Kremlin walls, police say there is no closed-circuit TV footage of the attack on Skripnichenko. That's also what they said after Nemtsov was gunned down.
Skripnichenko, a father of two who was into Western rock music, died in hospital while being treated for his injuries. Investigators have not made any arrests over the assault and say Skripnichenko may have died of heart disease unrelated to the beating he received. Family members have contested this, saying the keen glider and parachutist was in perfect health. His fellow opposition activists have no doubt about what happened that evening.
"This was a political murder," says Lebedeva. "The beasts killed Ivan."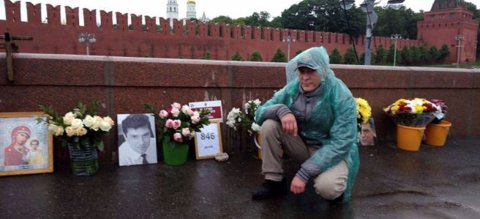 Acid in the Face
Skripnichenko's death is part of a surge in politically motivated violence ahead of next March's presidential elections, in which President Vladimir Putin is expected to seek a new six-year term. Tensions have been rising ahead of the election because, for once, Putin has a genuine challenger: Alexei Navalny, a charismatic anti-corruption lawyer. Although Russia's government-controlled election committee wants to keep Navalny off the ballot, the 41-year-old opposition leader has been campaigning across Russia for months. His campaign has attracted tens of thousands of young people as volunteers and raised over a million dollars in donations from ordinary Russians. Putin has called opposition figures like Navalny "national traitors."
Navalny's success has provoked a series of vicious attacks by pro-Kremlin activists and shadowy thugs with suspected links to the authorities. In Siberia, people involved with Navalny's campaign have been stabbed or beaten with baseball bats. In September, Nikolai Lyaskin, the head of Navalny's election campaign headquarters in Moscow, was assaulted by a man armed with an iron bar. "He hit me twice while I was taking out campaign materials to a fellow activist's car," says Lyaskin. "A few minutes after the attack, my cellphone buzzed, and I received a text message that read 'It's Done.'" Lyaskin, who suffered severe concussion as a result of the beating, says he had no idea what the message meant. He would soon find out.
Within days of the incident, police in Moscow detained Alexei Shcherbakov, who confessed to targeting Lyaskin. Opposition figures were astonished: The vast majority of violence against government critics goes unpunished in Russia. But their surprise quickly turned to outrage.
Shcherbakov told police Lyaskin had promised to pay him 150,000 rubles ($2,570) to attack him. He gave no reason as to why Lyaskin, who denies the allegations, would have done this.
Despite his admission, police swiftly released Shcherbakov from custody pending the results of their investigation into the assault. He was not even required to post bail. It was a rare show of leniency by Russian authorities, who frequently hold people charged with "extremist" social media posts—which often means online criticism of Putin—in custody until their cases comes to court. "This is frightening," says Lyaskin. "I have a wife and a small child, and this man is out there somewhere."
Lyaskin believes Shcherbakov, who could not be contacted for this article, is working with the authorities as part of an ongoing attempt to both frighten and discredit opposition activists. "The 'It's Done' message was likely sent to provide the police with some kind of false proof that Shcherbakov was working on my orders," he says. Pro-Kremlin supporters used social media after the incident to allege Lyaskin had ordered an attack on himself to drum up publicity for Navalny's campaign.
Related: Who is behind Moscow's Grand Theft Auto Gang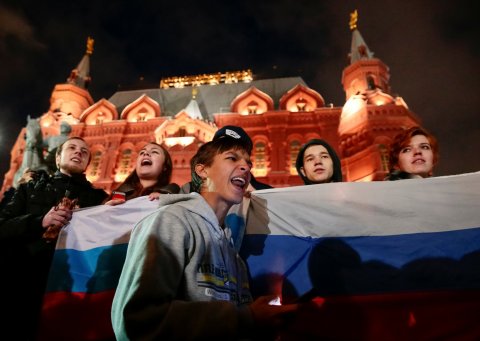 Navalny has also faced violence as he mounts his unprecedented challenge to Putin. The most serious incident came in April, when the opposition leader was almost blinded in one eye after an assailant threw a harmful chemical into his face outside his headquarters in Moscow. His eyesight was only saved after an operation in Spain. Television footage exists of the incident, but opposition activists have been unable to identify the attacker with 100 percent certainty, because the pro-Kremlin TV channel blurred out his face.
For Lyaskin, the mounting violence is a sign that Putin is worried by the growing ability of Navalny—who is banned from speaking on state media—to get across his message of defiance via the internet and by his frequent trips to the provinces. On the day that Lyaskin was assaulted, Navalny was campaigning in front of a large and enthusiastic crowd in Murmansk, a Russian city within the Arctic Circle.
"The Kremlin can't fight against us with their own campaign volunteers or campaign rallies because they don't have these things," Lyaskin says. "Violence is all that Putin has left now."
Russia's 'Western Revolution'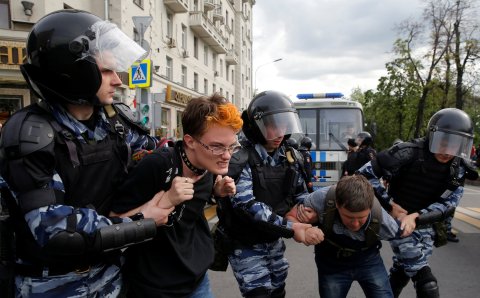 Although no one has been charged over the attack that almost cost Navalny his eyesight, the opposition leader has pointed the finger at a member of a notorious nationalist group called the South East Radical Block. Igor Beketov, the leader of SERB, makes no effort to disguise his loathing for opposition figures. "Opposition activists are like malign tumors on Russia's body," he tells Newsweek. "It's our job to draw attention to them."
The nationalist group, which was formed during violent pro-Russia protests in eastern Ukraine in 2014, has been involved in numerous assaults on people opposed to Putin's long rule. The chemical attack on Navalny came the day after SERB activists visited the Russian parliament for a meeting with what Beketov says were senior lawmakers. "They listened very attentively to our experiences in fighting against attempts to stage a Maidan in Russia," says Beketov, in a reference to the 2014 protests that toppled Ukraine's pro-Moscow president.
While Beketov refuses to say exactly who sponsored the group's visit to parliament, SERB members have managed to get face time with a number of prominent pro-Putin politicians, including Pyotr Tolstoy, the deputy speaker of parliament.
Beketov denies the group had anything to do with the assaults on Skripnichenko or Navalny. He has no qualms, however, about admitting that the pro-Kremlin group often hurls urine, excrement and other substances, including a bright green dye known in Russia as zelyonka, at opposition activists and journalists. "These people want to harm Russia," he says, by way of justification for the group's actions.
SERB has ideological links to the National Liberation Movement (NOD), a fanatically anti-Western movement founded in 2012 by Yevgeny Fyodorov, a former presidential adviser and senior lawmaker with Putin's ruling United Russia party. NOD, whose activists regularly clash with opposition activists, claims 200,000 members across Russia, although analysts say the true figure is likely much lower. While Fyodorov says he does not condone attacks against opposition figures, he also says that he "understands" the anger behind them.
"We know that the United States has invested a great deal of money into a massive unrest before or after the elections. They want to get millions of people out on the street," says Fyodorov, who remained virulently anti-American throughout the brief thaw between the United States and Russia following Donald Trump's election victory. "NOD activists are people who simply want to stay alive. They are doing everything they can to prevent a Western-sponsored revolution in Russia."
Goons Cross the Line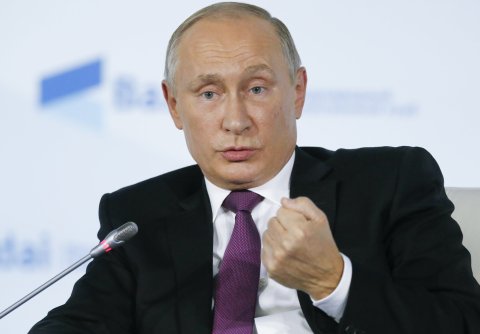 Violent fanaticism has forced some opposition figures to flee Russia over fear for their lives and the lives of their loved ones. Yulia Latynina—a 51-year-old journalist who writes for Novaya Gazeta, Russia's oldest and only opposition newspaper—knows all too well about the pressures faced by those opposed to Putin's long rule.
In August 2016, an assailant hurled a bucketful of excrement over Latynina as she was walking to the offices of Ekho Moskvy, a Moscow radio station, where she hosts a weekly show. "You are pouring shit on Russia, you bitch!" shouted the man, who was wearing a motorcycle helmet, Latynina says. Russian authorities refused to open an investigation into the incident, which they deemed insufficiently serious to be considered a criminal offense.
In July, a noxious liquid was smeared over the journalist's car, as well as the walls of her home in the countryside. No one was hurt in the incident, which happened in the middle of the night, but the resulting fumes left Latynina and her elderly parents feeling nauseated. Independent experts hired by Novaya Gazeta later identified the liquid as containing dimethylformamide and high molecular phthalates, a potentially fatal combination. Neighbors told Latynina they had seen a black car driving away from her home shortly before the attack. A month later, someone set fire to Latynina's car while it was outside her home. That was the cue for her to leave Russia. She has no plans to return anytime soon.
Latynina tells Newsweek she holds Putin ultimately responsible for the violence against her and other Kremlin critics. Even if Putin isn't directly ordering the assaults, she says, his comments and the lack of action by the authorities have sent a signal that aggression against opposition figures will go unpunished. "Putin is an old KGB guy who likes to have the possibility of denial," Latynina says, speaking via Skype from an undisclosed location outside of Russia. "There is an endless supply of small-fry gangsters ready to do his dirty work for him. And Putin is now willing for these goons to cross the line."
Shortly after Latynina's comments, Putin's ruling United Russia party named Andrei Turchak, a regional governor, as its new secretary-general. Turchak, 41, has been linked to the near-deadly beating of Oleg Kashin, a well-known opposition journalist, in 2010. The wife of one of the alleged assailants says Turchak ordered the attack on Kashin as revenge for critical comments. Some analysts believe Turchak, who denies the allegations, but has not been questioned by police, is now a contender to become Russia's next prime minister.
The violence seems likely to continue. On October 23, a man stormed into the offices of Ekho Moskvy and stabbed Tatyana Felgenhauer, the radio's station's deputy editor, in the neck. Felgenhauer, 36, was sent to the hospital, in a critical condition. She is now recovering after an operation. Police arrested a 48-year-old man over the attack. His motives are unclear: The man said he targeted Felgenhauer because she had "telepathically" harassed him. However, opposition figures suggested the stabbing could have been connected to a recent state media report that described Felgenhauer and her colleagues at the radio station as agents of the U.S. State Department. "This is the propaganda of hatred, and it's putting people's lives at risk," says Ilya Yashin, a pro-democracy activist.
Back at the makeshift memorial to Nemtsov, a photograph of Skripnichenko has been placed next to a portrait of the slain opposition leader. "They've killed two people here now," says Lebedeva, the activist. "Who knows when the deaths are going to stop?"