Women Donating to U.S. Political Candidates Surges 182 Percent, Majority Democrats
American women have donated an unprecedented amount of money to political campaigns since the election of President Donald Trump, sparking a 182 percent surge in contributions since 2016.
Data released this week by the nonpartisan Center for Responsive Politics shows U.S. women now make up about 46 percent of all donors in this current 2018 election cycle. If the women donating smaller amounts above the $200 Federal Election Commission threshold are counted, that percentage balloons to a 422 percent increase since 2016. A slight majority of female donors—55 percent—are giving to Democratic Party candidates.
The federal candidate donation statistics illustrate a parallel to the rising number of women running for office, with an unprecedented 23 percentile of 2018 congressional candidates being female. As The New York Times reported, 472 women are running for the U.S. House of Representatives, 57 women filed to run for the U.S. Senate and 78 women are in gubernatorial campaigns. Democratic Party female candidates running for House seats are up 146 percent from 2016, while Republican Party female candidates are up by 35 percent. Currently, only 20 percent of Congress is composed of women, with only 22 senators and 83 female representatives out of 535 seats. The Center for Responsive Politics noted in its new report this week that 657 total women are now in campaigns for Congress.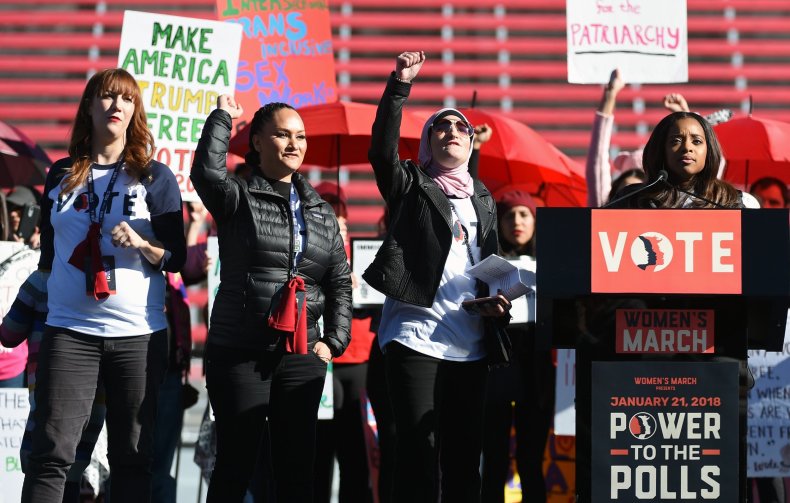 "It's a huge increase," said Sarah Bryner, research director for the Center for Responsive Politics, in an interview with Roll Call. "It reflects a change in how women see political fundraising. In the past, people didn't really view political donations as something that important or even that impactful, and it still may not be. But they are ramping up their activism — and money and contributions are included in that, especially on the left."
In 2012, about 133,000 women donated to federal candidates across the country, according to the software-collected data. Five months into 2018, more than 850,000 women have donated to U.S. candidates seeking a Washington position. However, men still dominate the number of congressional candidacies, with 1,772 men having run in 2016 compared to 2,215 male candidates running for Congress this year.
And male donors are also increasing, though not at the pace in which women are contributing to federal elections. Nearly 1 million men have made political contributions to this year's congressional races, compared to about 615,000 males who contributed at this point two years ago. Men are also in an even 50/50 split for the parties in which they are donating.
According to Bryner, candidates that won House campaigns in 2016 were able to fundraise an average of $1.7 million. Average Senate campaign winners in 2016 raised $12.8 million. In terms of total contributions between the sexes, men vastly contribute more to federal candidates. While women have raised a total of $441 million so far in 2018, men have paid out more than $1.1 billion. In 2016, women donated about one-third the amount of male candidates who put up $984 million.
But despite the remaining donation and candidacy gaps, women from both sides of the aisle are hopeful that women will make the difference in this year's midterm elections. Republicans have not increased their share of support from women, but the GOP still holds a large portion of the 42 percent of female voters for Trump in 2016.
"Women are willing to spend more money this year than they normally would," Anne MacMillan, a Democratic lobbyist at the firm Invariant, told Roll Call. "There are just so many candidates that are so good, and there's such a legitimate chance that Democrats will take back the House or the Senate or both."