Updated | Watch Millie March or Cole McCafferty, both of them age 12, expound to alt-right interviewers about their love of President Donald Trump and the platforms and candidates he endorses (most recently, Millie deployed to Alabama for a cute-if-it-weren't-so-contextually-creepy interview with Alabama Senate candidate Roy Moore), and you'll notice that they share a cadence in their speech. Both children speak like Trump. And like him, they seem very comfortable in front of the cameras.
Here's Millie on Trump in a 2017 video interview with Jennifer Lawrence, vice president of the America First Project, a populist-nationalist super PAC: "One of the other reasons I like him is because, and this is my favorite reason: 'We will build a waaaallll on our southern borders. And Mexico, no buts about it, Mexico will paaaay for the wall. Mexico—Mexico, not us—Mexico, one way or the other, they are paying for that waaaallll.'" Or Cole, to Infowars's Alex Jones, last October: "By the way, I saw your interview with Megyn Kelly; you got her good. You got her good. She thought she was going to make a fool of you, but you turned it around, and you proved her to be a liar." To which Jones replies, "Well, I knew as soon as she was lying to me, saying that I turned her on and stuff, that she would try to set me up…. A lot of folks said, 'Wasn't she hot?' I didn't find her to be attractive."
Both instances demonstrate how some Trump supporters are recruiting children as spokespeople for hard-right causes. Jones, once he got done digressing to his 12-year-old guest about Kelly's hotness, hailed Cole as part of the new wave of resistance to the "globalists"—a term the Anti-Defamation League considers an anti-Semitic dog whistle.
"These kids are being weaponized," says Todd Gitlin, a professor of journalism and sociology and chair of the Ph.D. program in communications at Columbia University. Gitlin says the interviews with Millie and Cole "camouflage" the political positions of the hard right "as feel-good sweetness and light, when, in fact, they are defending raw racism and sexual abuse."
Republicans and Democrats both use kids for political purposes, Gitlin adds. Before the 2016 election, J.J. Holmes, a 12-year-old from Florida who suffers from cerebral palsy, preprogrammed his computerized speech device to chant "Dump Trump" and "Trump mocks the disabled" and then hit Play at a Trump rally in Tampa. (He was booed by the crowd, and he and his family were escorted out.) Days later, J.J. gained even more media attention when he met President Barack Obama (thanks to the intervention of a reporter) at a campaign event in Kissimmee.
Read more: Trump group sends 12-year-old girl to interview Roy Moore ahead of Alabama election
But there is a distinction, Gitlin says, between demonstrating at rallies and being held up as underage political pundits in videos intended to go viral. "What I find repulsive is featuring children as spokespersons. That's hiding behind children." The younger they are, the less likely that they've come to their conclusions through independent research, he says, and "the more [likely] they're being made use of in a fashion that is unseemly."
Millie's big break came last February at the 2017 Conservative Political Action Conference, where the America First Project published the video of her talking about Trump's wall, his positions on illegal immigration and how she believes teachers unions control American education. The video has earned nearly 750,000 views.
Several former Breitbart News employees started the America First Project, which also organized Millie's interview with Moore. One of them, Patrick Howley, told The Atlantic early this year that he quit Breitbart because he believed it had gone mainstream after Steve Bannon left the organization to join the Trump campaign in August 2016. During the campaign, Bannon characterized Breitbart as a platform for the so-called alt-right, a loose-knit group of nationalists, white supremacists and conspiracy theorists. Infowars's Jones caters to the alt-right in his politics and screeds.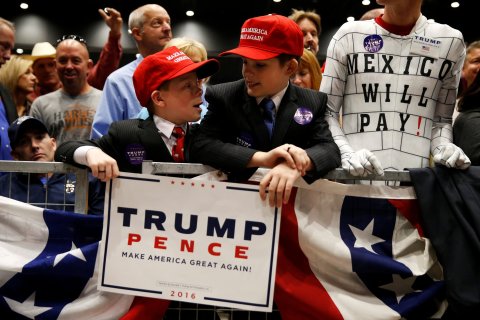 Howley described the America First Project as an "advocacy organization that is going to advocate for Trump administration policies that generally fall under a populist-nationalist window." The group has been active in supporting Republicans who are allied with Trump's hard-right policies.
In his interview with Millie, Moore supported sending America's military to the U.S.-Mexico border to stop illegal immigration. He has also spoken against homosexuality. Recently, he said the last time America was "great" was during slavery, and he has advocated for doing away with constitutional amendments against the institution. Millie did not ask Moore about the sexual-assault accusations against him.
"The picture has been painted that Millie does not have the ability to think for herself or that somehow she was forced into going to Alabama," America First's Lawrence says in an email to Newsweek. "To believe that takes away from the amazingly talented little girl that Millie March is and the force she brings to the entire political movement." Millie did not respond to a request for an interview.
"She is better spoken and a better interviewer than most people working for mainstream media outlets today," Lawrence adds. "We were contacted by Millie's father, Frank, about Millie wanting to go to Alabama to campaign for Judge Roy Moore—someone who she met in the past—following the allegations that were brought against him by attorney Gloria Allred."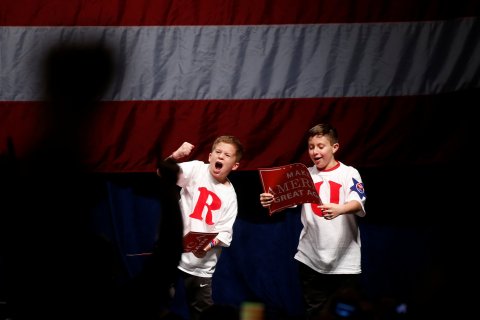 Allred represents Beverly Young Nelson, who says Moore sexually assaulted her while he was a district attorney in his 30s and she was 16. A woman named Leigh Corfman accuses Moore of assaulting her when she was 14. Multiple other women have shared stories about how Moore pursued them when they were teens.
"Besides what you see in the video, Millie knocked on doors, phone-banked and attended church with Judge Moore and his family," Lawrence says, pointing out that "alleged is the key word" in the accusations against him.
Paul Begala, a longtime Democratic strategist, said Millie's interview with Moore is at best a case of very poor judgment by her handlers. "Words fail me," he said on CNN after the America First Project published the interview. "The fact that he's accused of sexually assaulting a 14-year-old girl and would sit down with a 12-year-old [girl], when he's not talking to any journalists..."
"These kids are reveling in the chance to show off," Gitlin says. "They're getting the chance to be little celebrities. If a kid is...reading chapter and verse a text written by somebody else, and is circumventing grown-up questions, then I think that's bait-and-switch politics.
"There's a sinister quality to this," he adds. "Kids are being seduced with the promise of being celebrities. In this case, the instigators are recruiting for a sort of boys' and girls' auxiliary, for what they believe to be a sacred crusade."
Update: This story has been updated to reflect the version in the January 5, 2017 issue of the magazine.