A blow-dryer hot wind distorted the microphones as Arizona Representative Martha McSally and Homeland Security Secretary Kirstjen Nielsen took their places at an outdoor podium in the ­Sonoran Desert. It was late May, and the two stood under the baking sun on sandy soil near a section of steel border wall in ­Nogales. "If you crossed the border illegally with your family, we take the parents, and we prosecute them," Nielsen said, as U.S. agents were separating parents from children from Tijuana, Mexico, to McAllen, Texas. "People seem to think there should be no critical consequences if they have children." A cluster of TV cameras and a crew from the Spanish-language Univision recorded the scene.
As chair of the Homeland Security subcommittee on borders, McSally had invited Nielsen to meet with "border stakeholders." With the wall and a few ranchers in 10-gallon hats as backdrop, and border patrol helicopters maneuvering above, Nielsen responded to a question about family separations, which were just beginning to penetrate the national news cycle. She said incoming families contribute to "lawlessness and insecurity at our borders" and classified the children as fake news. "In the last couple of weeks," she said, "there has been a massive dishonest misinformation campaign by people who do not want to see our borders secure."
McSally, standing nearby in blue jeans and boots, looked pained and uncomfortable. Although the press conference fell within her purview as a subcommittee chairman—and it gave her a chance to look hawkish on the so-called border crisis in her run to become Arizona's new senator—it was the voters of the mostly immigrant-friendly Tucson area who had sent her to Washington. So when reporters moved in to ask about the family separations, she dodged, summoning an aide to corral the media behind the windows of a U.S. Border Patrol press bus.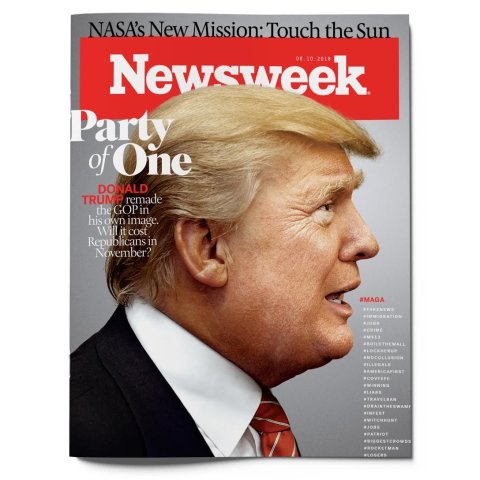 In normal political times, a woman with badass military cred who leans right-center would make an unbeatable Republican candidate in Arizona. McSally was the first female to fly in combat—she helped enforce the no-fly zone over Iraq in the 1990s—and the first woman to command an aviation squadron of fighters and bombers. She retired from the Air Force in 2010, after earning a Bronze Star and six air medals. Her district elected her as a moderate Republican in 2014. She supported citizenship for the young undocumented immigrants known as Dreamers and later opposed Donald Trump's presidential run.
But these are not normal political times. In 2018, the Republican Party belongs to Trump. The president began remaking the GOP from the ground up during his campaign. He cracked the Overton window, or range of appropriate discourse, and, in stumping for nationalism and against liberals and intellectuals, opened the door to the so-called alt-right and fringe conspiracy theorists. Supporters of the GOP, once the staid party of fiscal responsibility and conservatism, watched in disbelief as he was elected, then fell in line.
And now Republicans, like a mule with a burr, are stuck with Trump. To be sure, the president has accomplished many of the GOP's goals: tax cuts, deregulation and, very likely, a Supreme Court that could overturn Roe v. Wade. But his foreign policy ­decisions have decimated the pro-NATO and pro-coalition stance of both President Bushes, and his tariffs run counter to traditional free-trade policies. Still, few Republicans campaigning today could possibly publicly disagree with him and survive. Not when Trump will eviscerate critics on social media, and not when polls reveal that 90 percent of Republicans are behind him, even after the polarizing child separation headlines in June.
While his nativist influence has, arguably, made the party a happier home for racist or fringe-courting candidates—in Illinois and Virginia, for example—his popularity means even moderates running in the midterms have to move to the right to appease his base. Supporting Trump doesn't always mean victory, especially when candidates have other baggage—Alabama Judge Roy Moore, for example, was accused of sexual misconduct and lost a Senate race—but loyalty to the president has been a decisive factor in GOP primaries across the country, from South Carolina to California.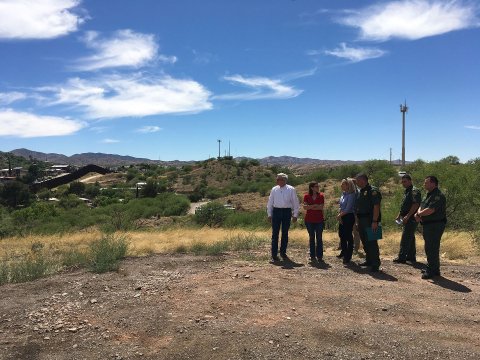 And it's Trump's immigration agenda, more than any other issue, that's galvanizing Republican voters, dividing Arizona and redefining the national GOP. McSally's main opponents for the party nomination are Kelli Ward, an osteopath, former state senator and self-described "build-the-wall, stop-illegal-immigration Americanist," and Joe Arpaio, the polarizing former sheriff and immigration hard-liner who made a national name for himself forcing prisoners to wear pink underwear and bake in an open-air tent city in the Arizona desert.
As summer approached, ­McSally was feeling more than the record-­breaking Phoenix heat on her bid. In March, Ward and Arpaio headlined a Trump unity rally in northern Phoenix, speaking to a crowd packed with members of militias and other organizations that the Southern Poverty Law Center characterizes as hate groups. The anti-immigrant Patriot Movement AZ organized the event. Its members had distinguished themselves at the Arizona Capitol earlier this year by shouting "Illegal!" and "Go home!" at people of color, including a Navajo state representative.
McSally did not attend the unity rally, but she was busy burnishing her Trump bona fides. That same month, she not only affirmed her support for a wall between the U.S. and Mexico but suggested that one might be necessary between Arizona and California to "protect Arizonans" from the Golden State's "sanctuary cities." She also withdrew her name as a co-sponsor of legislation that would create a path to citizenship for Dreamers and scrubbed her website of a YouTube video in which she challenged then–Homeland Security Secretary John Kelly about their safety if Trump were to end the Deferred Action for Childhood Arrivals (DACA) program.
With the border show in May, McSally's transformation seemed complete. She is now the favorite to clinch the Republican nomination in the August 28 primary. Establishment Republicans are pouring money into ads that portray her as a border hawk, including one featuring an ominous voice-over warning of "violent gang members putting us all at risk" over video of U.S. Immigration and Customs Enforcement agents arresting shirtless, tattooed brown men. One Nation, a Virginia-based nonprofit with ties to Senate Majority Leader Mitch McConnell and George W. Bush–era political mastermind Karl Rove, has spent a ­reported $500,000 on McSally ads running statewide.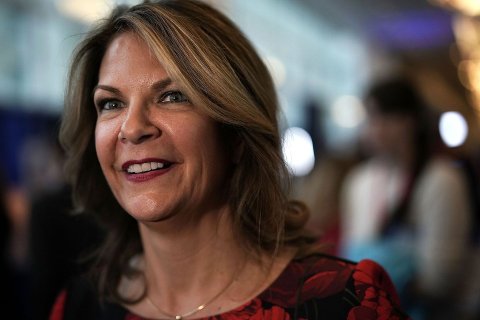 Meanwhile, Ward's supporters are pushing back; the airwaves in Arizona have been saturated with dire warnings about a border crisis. In July, GOP mega-donor Robert Mercer pumped half-a-million dollars into a super PAC to boost the former state lawmaker. One of the group's ads casts McSally as a "never-Trumper" who is pulling off a "Hollywood acting job pretending to support" the president.
Whoever wins, one thing is clear: The Republican nominee, as in scores of contests across the country, will be molded in Trump's image. That such a development could happen in Arizona, the spiritual touchstone of modern conservatism, is more than seismic. It represents a dramatic repudiation of the kind of moderate Republicanism that guided the national party for decades and produced the last two major attempts at comprehensive immigration reform. Just five years ago, it was Arizona's senators, John McCain and Jeff Flake, who pushed their party to compromise on immigration in hopes of political renewal.
Today, McCain, sidelined with brain cancer, is lashing out against Trump from his ranch in Hidden Valley. Flake is ­retiring and giving floor speeches on behalf of a party that doesn't seem to care. And the candidates seeking to succeed him are spreading the kind of incendiary rhetoric that he spent a career condemning. For some Republicans, this Trumpification is a much-needed electric shock to a moribund party; McCain and Flake, they say, were long out-of-step with conservatives, especially on immigration.
But to others, all of this has the stink of political death. Just 44 percent of registered voters in Arizona approve of the job Trump is doing as president. Recent polls show Democratic Representative Kyrsten Sinema leading McSally, Ward and Arpaio by at least 7 points in the November general election matchup. A victory would make her the first Democrat to represent Arizona in the Senate in 30 years and the first from her party to win statewide in a decade. Both parties see the seat as critical to their control of the Senate.
"Let's say the Republican establishment gets McSally over the primary line," says Rodd McLeod, a Demo­cratic political strategist in Arizona. "She will have spent the previous year running hard to the right and will have to spend 10 weeks trying to tell people, 'No, that's not really me.' ­Meryl Streep should watch out."
Or perhaps there will be no pivot at all. In 2018, it's all Trump, all the time.
Democrats hope for a "blue wave" in the midterms, and recent polls show they have a chance, especially with independents skeptical of Trump and moving away from the Republican Party. In November, Democrats face elections in 26 Senate seats; Republicans have nine. In the House—in some ways more crucial as the Mueller investigation rolls on and Democrats bray for impeachment—all seats are up for election, and Democrats need to take 24 of them from Republicans to control the House. Twenty-five of them are in districts Hillary Clinton won in 2016. The Democrats chances of taking the Senate are not as bright, but Arizona's race is testing Trumpism like nowhere else.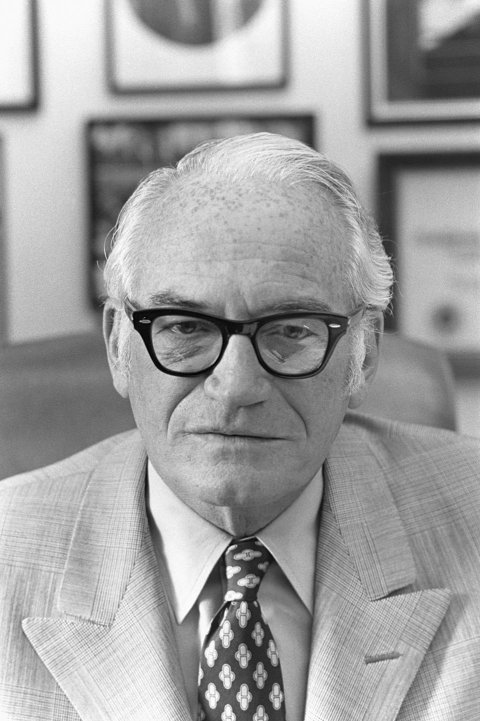 'It's Tribalism'
Arizona was reliably red long before the term red was used to denote Republican territory. It was home to Mr. Conservative himself, Barry Goldwater. The last time the state went for a Democratic presidential candidate was 1996, when voters backed Bill Clinton. Phoenix and its conservative suburbs are packed with GOP geriatrics in gated communities. And Tucson is a blue dot to the south. But the state as a whole is a demographic mélange of different sorts of conservatives: polite Mormons, veterans, alt-right biker gangs, libertarians and seniors who lean right but worry about their Social Security and Medicare. Voters who don't affiliate with either major party make up over 30 percent of the electorate.
At the same time, Arizonans have elected several notable Democrats to statewide office, as recently as former Governor Janet Napolitano in 2006, who went on to become President Barack Obama's homeland security secretary. Currently, four of Arizona's nine U.S. House members are Democrats.
Demographic change has fueled the platforms of both parties: Arizona has the sixth largest Hispanic voting population in the U.S., at 31 percent. And their numbers are growing fast. Between 2016 and 2017, Maricopa County's Hispanic population growth was second highest in the nation, after Harris County, around Houston.
Unsurprisingly, then, immigration has always been a dominant issue in the state, but attitudes vary widely. Polls consistently find two-thirds of Arizonans oppose the wall. At border towns like Nogales and Arivaca and even in Tucson—in McSally's district—it's easy to find residents who have worked with immigrants, who do business across the border and who support or belong to organizations like No More Deaths and the Samaritans, humanitarian organizations that medicate and even house dehydrated migrants. It's also easy to find people in the border area who will tell you that they have seen worse crises than the one talked of today. Ten years ago, residents of the tiny town of Arivaca say they would encounter hundreds of undocumented migrants stumbling out of the arid borderlands every week. Now, it's rare to see more than a handful.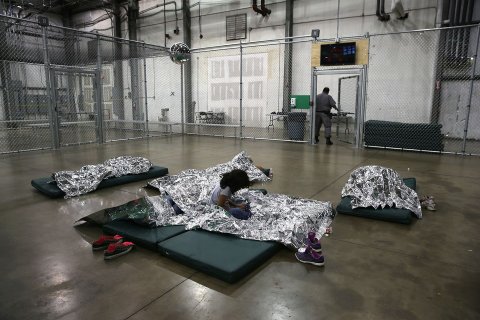 But another hour north, on Interstate 10—which bisects Ari­zona before veering west to California—political sentiment changes with the terrain. The land flattens, the saguaro thin out. A farming culture here has shriveled in recent decades, replaced in the barren wastes of the Santa Cruz River Valley by two white compounds, sprawling and well-fenced: a private prison and a detention center for immigrants who entered the country illegally. Farther north, in populous Maricopa County, golden years communities are filled with people who worry about immigrant crime and favor a wall. And they vote—in big numbers. That has helped to fuel a Republican-­dominated Legislature that passed one of the strictest and most controversial immigration bills in the nation: SB 1070 ­requires police to determine the immigration status of anyone arrested or detained based merely on "reasonable suspicion." Even McCain, the self-­described maverick who bucked the fringes of his party, had to pander to the wall-loving minority to win re-election in 2010. ("Complete the danged fence," he said in an ad.)
While Flake cut a more moderate position on ­immigration (he was one of the "Gang of Eight," along with ­McCain, who spearheaded a failed immigration bill in 2013), he successfully navigated these waters for almost two decades, first as a congressman for 12 years and then in the Senate. He ­succeeded, in part, because his conservative credentials on other matters were rock-solid. "We've always had personalities, like Joe Arpaio, pushing immigration hard from the right," Flake says. "But it has always been enough to be fiscally conservative and pro-life. You were given a little more leeway on immigration."
Then Trump ran for president. He campaigned in Arizona seven times, with calls to "build the wall" and accolades for "Sheriff Joe," who was often standing by onstage. GOP voters loved it. While most Republicans in Washington remained silent, Flake went to war, becoming one of Trump's harshest critics. After the election, he wrote and published a book, Conscience of a Conservative, in which he reminisced about how migrant workers on his father's farm "worked harder than we did."