On September 20, 2017, Hurricane Maria plowed into Puerto Rico with winds of 155 miles per hour, leaving the island in shambles. San Juan Mayor Carmen Yulín Cruz's voice quivers as she speaks of that day and the man-made disaster that followed. "I feel anger and sadness because this should have never happened," she says. "It has been a difficult year for Puerto Rico."
In a recent bombshell revelation from a Harvard study, the number of hurricane-related deaths jumped from the original 64—released by the Puerto Rican government last year—to 4,645. And life continues to be challenging for survivors: Thousands of Puerto Ricans are dealing with a deteriorated electric grid and crippled infrastructure, coupled with a crushing $70 billion debt that weakens the island's economy.
Maria was actually the second hurricane to hit the island that season, following Irma in August. In their aftermath, Cruz, 55, became the harshest critic of the Trump administration's handling of the crisis. "We are dying, and you are killing us with the inefficiency and the bureaucracy," she told the White House at a press conference last year. In response, President Donald Trump accused her of poor leadership and wrote on Twitter, "The Mayor of San Juan, who was very complimentary only a few days ago, has now been told by the Democrats that you must be nasty to Trump."
Cruz has been equally critical of Puerto Rico Governor Ricardo Rosselló, but she has maintained that the lives of Puerto Ricans must take priority over politics—particularly at a time when the U.S. territory is ill-prepared for another hurricane season.
In a candid interview with Newsweek, Cruz discusses Puerto Rico's stalled recovery and her hopes for the island's future.
After Maria, Puerto Ricans adopted the motto "Puerto Rico rises." What will it take for that to happen?
There has to be a plan to transform the country. We can't go back to building houses as we did, with zinc and wood, because we'll have the same safety issues. We also need an absolute exemption of FEMA's Stafford Act. The law allows the president to allocate disaster funds to states—including Puerto Rico—but in our case, it does not provide assistance for any improvements, which prevents the island from upgrading its deteriorated power grid. And we need the agency's policies to adapt to Puerto Rico's idiosyncrasies. FEMA will only offer help to those who possess titles to their homes, but there are thousands of people without paperwork, who inherited their homes from grandparents or great-grandparents.
Second, we need an exemption to the 1920 Jones Act, a cabotage law, because it only allows U.S.-owned or U.S.-built ships to operate and move between mainland ports. In Puerto Rico's case, we're forced to rely on American-flagged ships. During Hurricane Harvey, Texas received a full cabotage law exemption, and a similar move would help us receive aid from abroad. We were forced to purchase light poles and generators from the U.S., but they had run out of those goods because of Harvey. Allow Puerto Rico to purchase those items from other countries.
In 2016, the White House appointed a fiscal control board—a group to oversee the restructuring of Puerto Rico's multibillion-dollar debt. Do you agree with critics who think it doesn't solve the underlying economic issues, such as high unemployment, brain drain and lack of opportunities?
The fiscal control board must leave the island because they shouldn't decide what Puerto Rico's budget must be. That has a guise of colonialism, which in turn cost lives due to political and economic negligence.
What are your feelings about FEMA's August announcement that it would be scaling back assistance from 100 percent to 90 percent—likely costing Puerto Rico $100 million.
FEMA has been very irresponsible with Puerto Rico. I'll never forget the agency telling me that people needed to submit documentation online, in a country where electricity was not running! They were trying to cut aid prior to December. We still have thousands of FEMA blue roofs in San Juan, which temporarily protect a house but can't withstand another tempest.
I believe Puerto Rico is a stain for FEMA and Trump's reputation, because the world was able to see the lack of humanity, solidarity, compassion and service of an administration that could have helped us but decided not to. Racism and discrimination have nestled in the White House, and abuse against Latinos has found a powerful instrument in the president. Puerto Ricans will never erase from their memory images of Trump throwing paper towels to [hurricane survivors last October]. At the time, he said this was not a crisis, and the governor said nothing. The government in Puerto Rico set a plan to say that Trump "has given us everything we asked for." Well, I have news for Rosselló: His government did not ask for enough.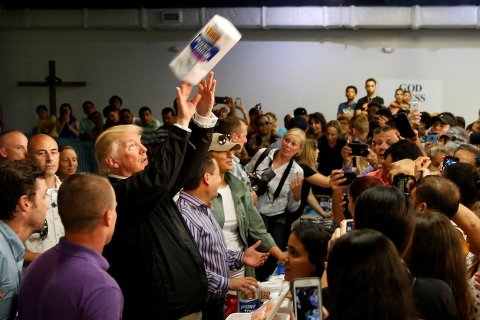 Puerto Rico has been a free associated state, or commonwealth, of the U.S. since 1952. After Maria and Irma, what do you think should be the future of the island?
A free associated state allows us to have autonomy over our own government, as well as our civil and criminal code without interfering with the U.S. Constitution. But Maria has revealed that we're not getting fair treatment from the U.S. I believe in life, liberty and the pursuit of happiness, and I want that for my country. Nevertheless, the myth of the American government's help to Puerto Rico above all else was debunked. Now is the time to discuss free determination.
In June, Representative Jenniffer González-Colón, Puerto Rico's nonvoting member of Congress, filed the Puerto Rico Admission Act of 2018, "to chart a path to decolonization and the island's entry" into the union as a state by 2021. What do you think of that?
I propose we sit down with the administration and Congress so they can explain what the admission act truly entails. It was announced with much fanfare because it has 54 co-authors. But when you read it, you see it's a farce. It's not about admission itself; it's about incorporating Puerto Rico as a territory. In other words, we pay taxes without representation.
Many Puerto Ricans moved to the U.S. after Maria, and Rosselló said they could change the political landscape by voting against Republicans ahead of the midterm elections. Do you share this view?
I concur. This will be an act of justice, especially when the Trump administration implicitly and explicitly demonstrated that it doesn't care about Puerto Ricans. Those nationals who moved to the U.S. have a responsibility to do justice to those who died because power generators did not work, because victims could not refrigerate their insulin, or because they had asthma attacks and there was no oxygen in their hospitals.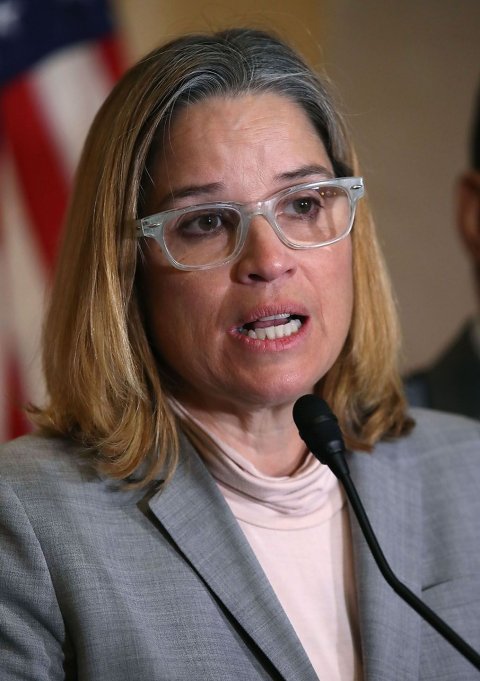 Last year, the mayor of another municipality, Miguel G. Ortiz-Velez, was indicted and arrested for embezzling $3 million. It was reported that you were involved—an accusation that proved false.
I'm an honest person, and I'm not worried about this. However, I feel sorry that my search for dignity generates this kind of attitude. Last September, a batch of emails from the Pentagon contained language against me. A 5-foot-tall mayor is becoming the U.S.'s largest obstacle to selling the narrative that Puerto Rico's efforts are going well. Brock Long, FEMA's director, told the press that I was "filtered out" because they didn't have "time for the political noise." There is a humanitarian crisis, yet they're concerned about how the world thinks about them. My voice will not be silenced.
You spearhead a group called Alguien Ayúdenos (Somebody Help Us). How do you see the role of this organization in the recovery efforts?
The foundation, which will last for three years, was created with help from Latinos and Puerto Ricans living in the U.S., as well as American citizens. We want to build stronger houses and solar power systems for the handicapped. I'm also looking for someone to create a solar-powered, 6-by-6-inch refrigerator [for storing] insulin and breast milk in future emergencies.
You have expressed interest in becoming governor of Puerto Rico. How has your role in the recovery shaped your politics?
I haven't decided whether I'm running; I said that it's something I'm considering. I can tell you that I'm not the same person I was before September 20, 2017. I'm still a passionate individual and am intolerant toward inequality and mistreatment, and I'm a firm advocate of solar and renewable energies. [Voice begins to crack.] I'm sorry, but there are thousands of people whose pain, agony and merciless death should not have taken place. That's why I will champion poverty eradication, Puerto Rico's decolonization and human and civil rights everywhere.