As leader of the indie-rock band Big Thief, Adrianne Lenker has developed a reputation for songwriting that channels big, unwieldy emotions—trauma, grief, desire—into intimate storytelling.
With a haunting new solo album, titled abysskiss, Lenker is narrowing the arrangements but not the ambition. "[The album] is about very basic things—observing life," Lenker says, casually. "And birth. And decay. And heartache. And longing. And just, like, curiosity about the mystery. But feeling like it's also so vast and unknown."
The songs on abysskiss quickly veer into cosmic reflection, just as a conversation with Lenker does. Ten minutes into the interview, she's expressing her thoughts on the certainty of death and the chaotic miracle of childbirth ("it's really intense—it's bloody and it's loud and it's wild!"), which inspired the album's dreamlike opener, "Terminal Paradise."
Lenker, 27, was born into a religious cult and spent her early childhood living out of a blue van with her parents. She wrote her first song at eight, was gigging in bars by 12 and recorded her first album around age 13, with her dad as her manager. "Who's formed their artistic vision when they're 13? I was just a kid," Lenker says. "I learned so much during that time. [But] things got tough with my dad. I got really pushed to the edges of myself." She has said she was on track to being a child pop star, a sharp contrast with the songs she writes today. (Her first real solo album—the first one she counts, anyway—was 2014's Hours Were the Birds, available on Bandcamp.)
Lenker skipped high school and got her GED at 16. After a stint at the Berklee College of Music, where she studied guitar on a full-ride scholarship, Lenker moved to New York. She formed Big Thief with three other musicians in 2015.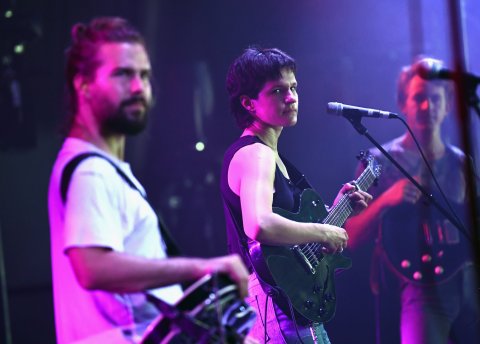 Since its first album, Masterpiece, came out in 2016, the band has drawn praise from, among others, Jeff Tweedy, Carly Rae Jepsen and the National, which recently selected Big Thief as its opening act. "It feels very luxurious," says Lenker of touring with The National. "It kind of feels like going to Disneyland." She is cautious not to place too much importance on the acclaim: "We could be building and getting all this recognition, and then the next minute put something out that nobody really takes to."
Lenker's songs, delivered in a haunted murmur, are fragile-sounding and sparse. Big Thief uses ramshackle guitar fuzz to achieve that sound; abysskiss is so quiet you can sometimes hear background noises from the studio's kitchen. "There's a lot of space on the record," says Lenker. Songs like "From" and "Cradle" draw power from hushed arpeggios and idiosyncratic melodies. Most songs were recorded in one or two takes. Friend and collaborator Luke Temple co-produced the resulting album.
The songs on abysskiss were written during a whirlwind two years of touring with Big Thief—in hotel rooms, green rooms, tour vans or a "corner of a venue after sound check," as the songwriter puts it. Perhaps it was a childhood spent on the road with her parents, but during this time Lenker had no stable address. In between tour dates, she crashes with friends or lives in the band's touring van, "Bonnie." "I haven't had a home base for about three years," she says. "I'm still very much transient."
Lenker has become impressively prolific, making two albums with the band and her new solo record in less than three years. "I get scared of the songs disappearing," she says. "It feels good to record them, because I don't have to carry them around anymore."